Beko Metallic-Flex 305g Elastic Adhesive & Sealant Metal Effect
Product number:
BEK-2473051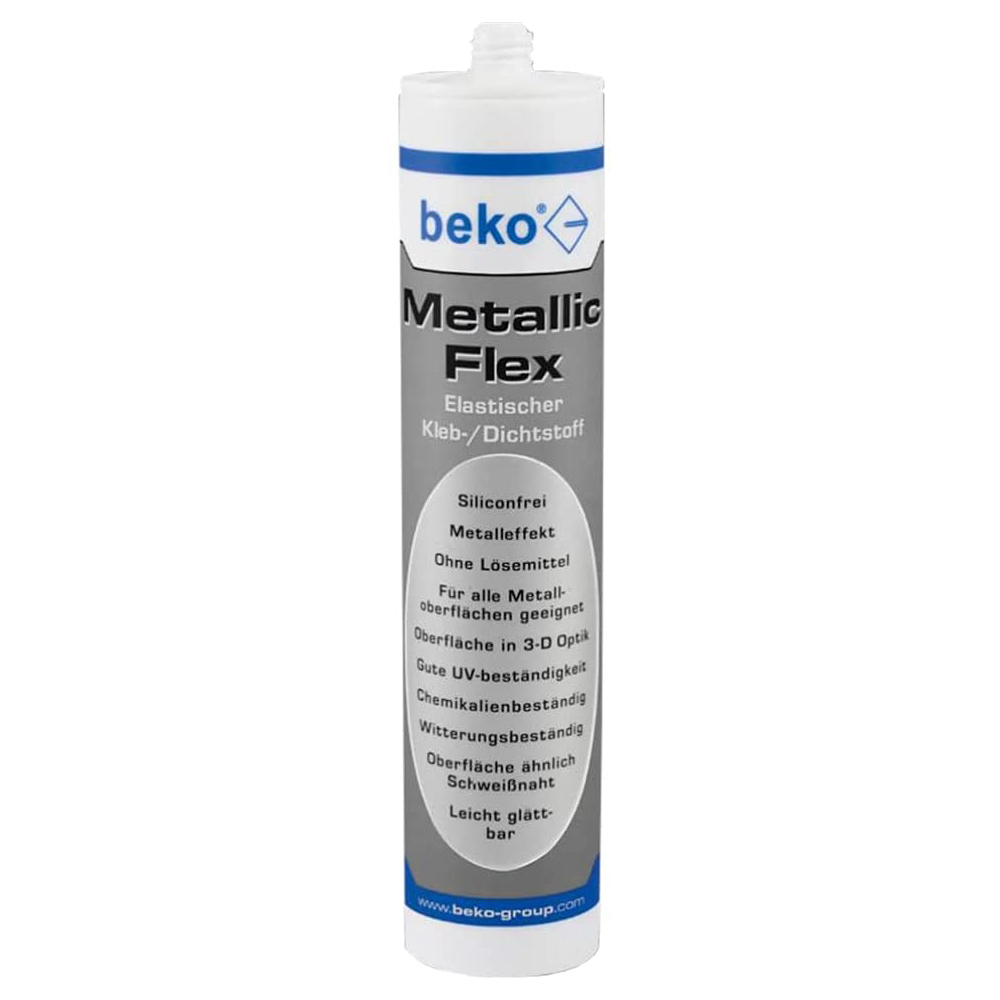 Shipped in 10-14 Werktage
€14.88*
Content:
305
(€48.79* / 1000 g)
Product number:
BEK-2473051
Beko Metallic Flex (mpn 247 305 1) is an elastic adhesive & sealant. It is easy to smooth, for damp substrates, and can be used indoors and outdoors. The sealant is suitable for all metal surfaces, wood, stone, concrete, polystyrene and many plastics. The bonding can be corrected for approx. 12 minutes. Metallic-Flex is suitable for a wide range of applications. The technical data can be found in the data sheet in the "Downloads" section.
Areas of application
Stress-free bonding and sealing in vehicle, body and container construction
For joints subject to expansion stress in metal and ventilation construction
Sealing of stainless steel pools and gutters
For use on anodized aluminum, on many painted surfaces, aluminum powder coatings and on galvanized sheet steel
Properties
Metal effect
3D optics surface
Good UV resistance
Silicone free & without solvents
Chemical & weather resistant
Paint compatible
Very low shrinkage
Surface similar to welded seam
Areas of application
Metal and ventilation construction
Car body and vehicle construction
Caravan and container construction
Industry
GaLa construction
Exhibition stand construction
Processing
The surfaces to be bonded must be firm, load-bearing, clean and free of dust and grease. Clean with beko Allclean if necessary. The substrate must not contain bitumen or tar. beko Metallic-Flex offers very good adhesion to anodized aluminum, galvanized sheet steel, rigid PVC, polystyrene and polycarbonate. For optimum adhesion to non-absorbent substrates and bare aluminum, we recommend our Metallic-Flex Primer. beko Metallic-Flex must be applied evenly with pressure to the material to be bonded. The materials to be bonded must be joined within 12 minutes. During this time, the position can still be corrected. The adhesive joint can be loaded after approx. 24 hours. Carry out adhesion tests and self-tests before processing. Discoloration cannot be ruled out.
Scope of delivery:
1x Beko Metallic-Flex 305g cartridge