Offgridtec PCB-ETFE 200W 39V semi-flexible Solarpanel
Product number:
3-01-010845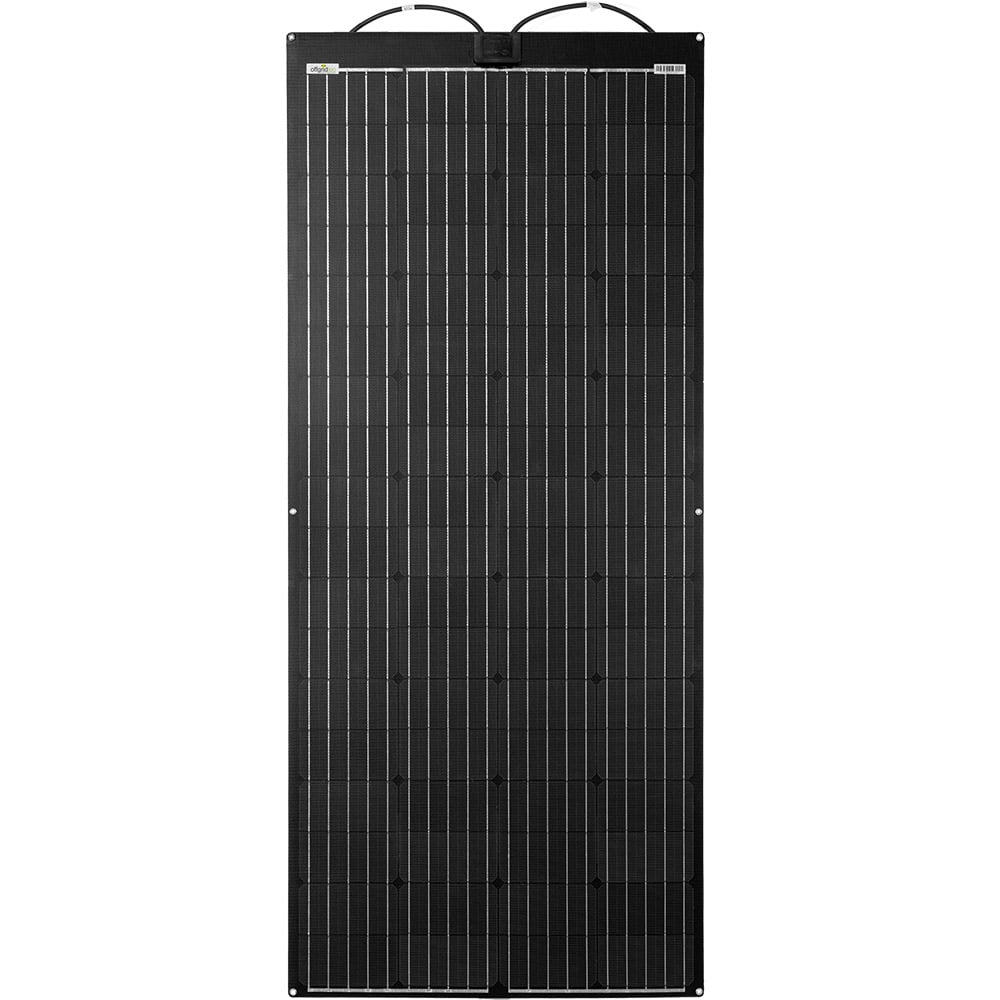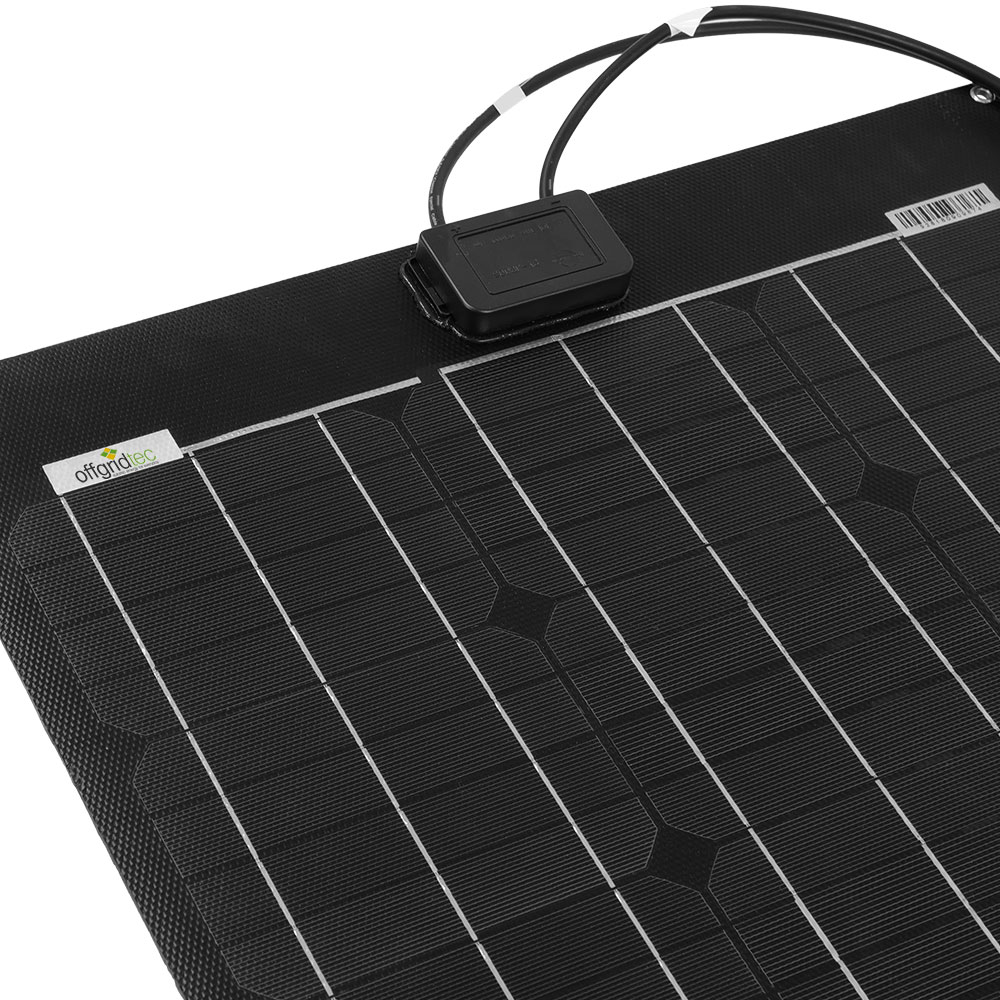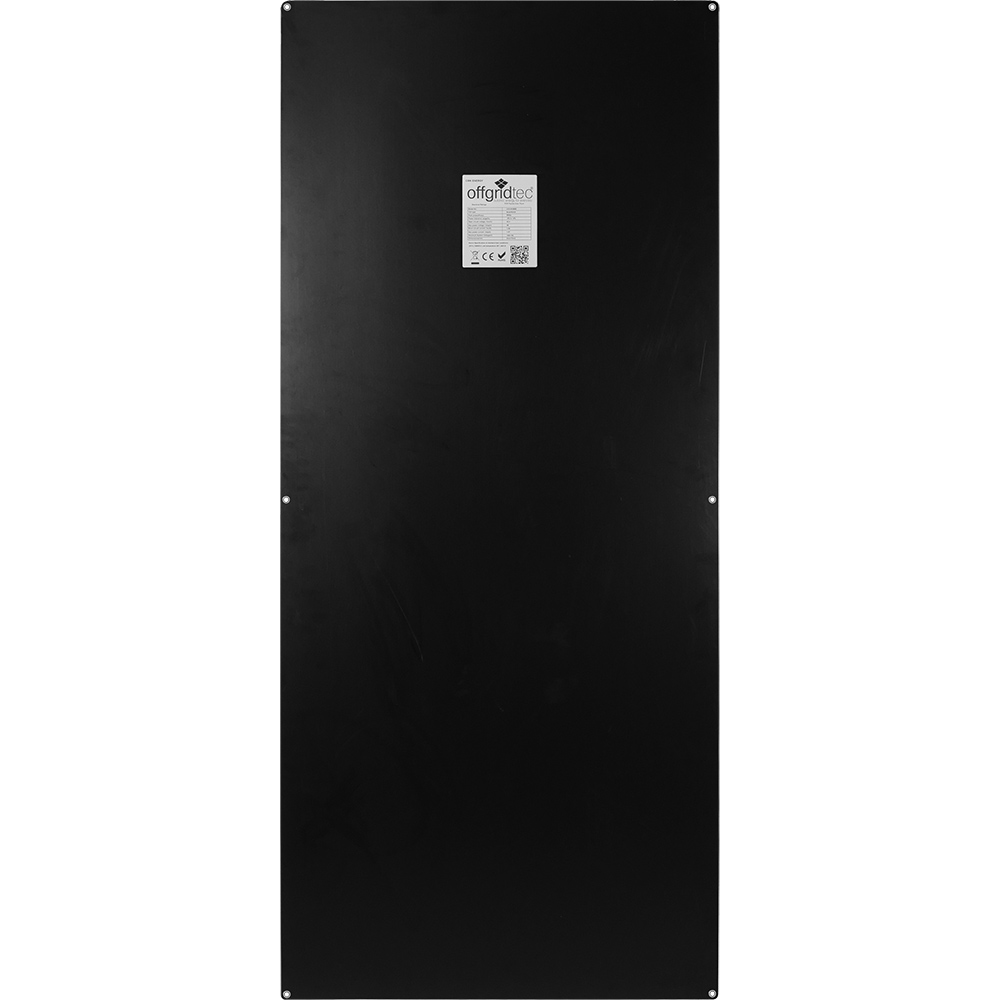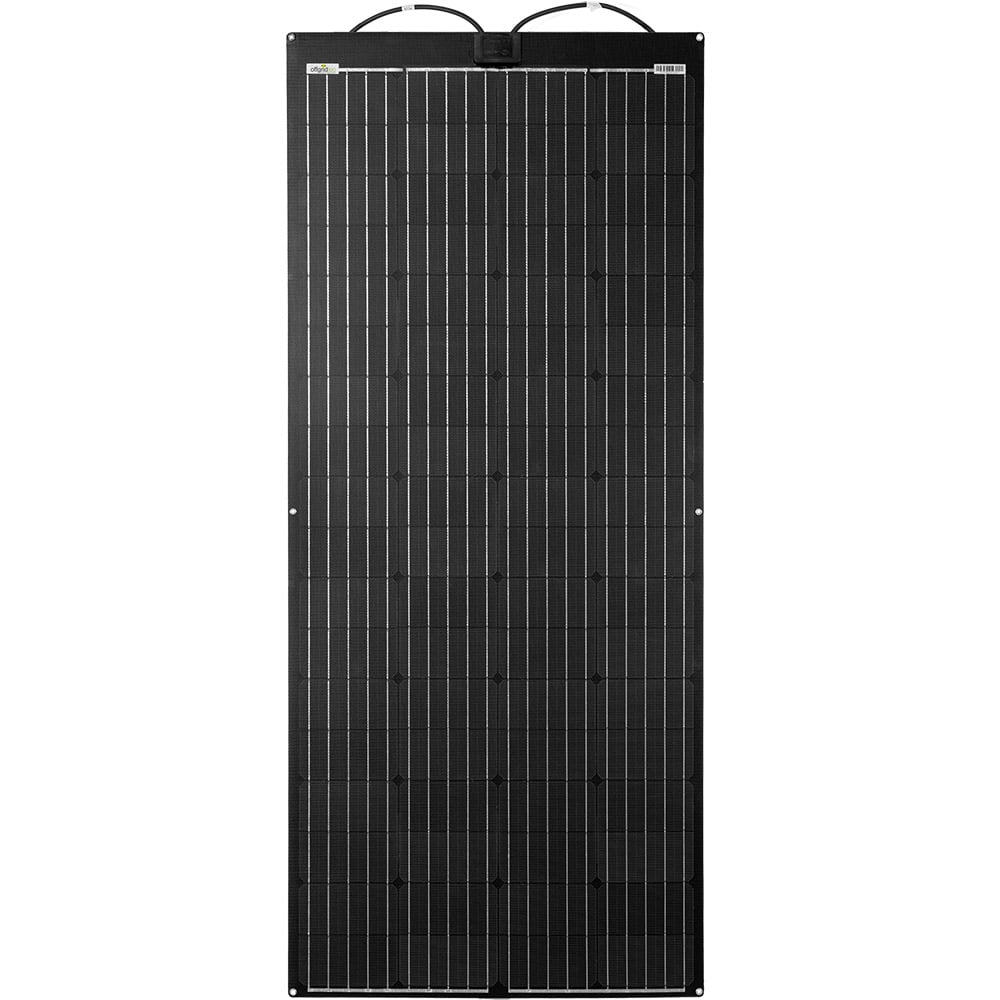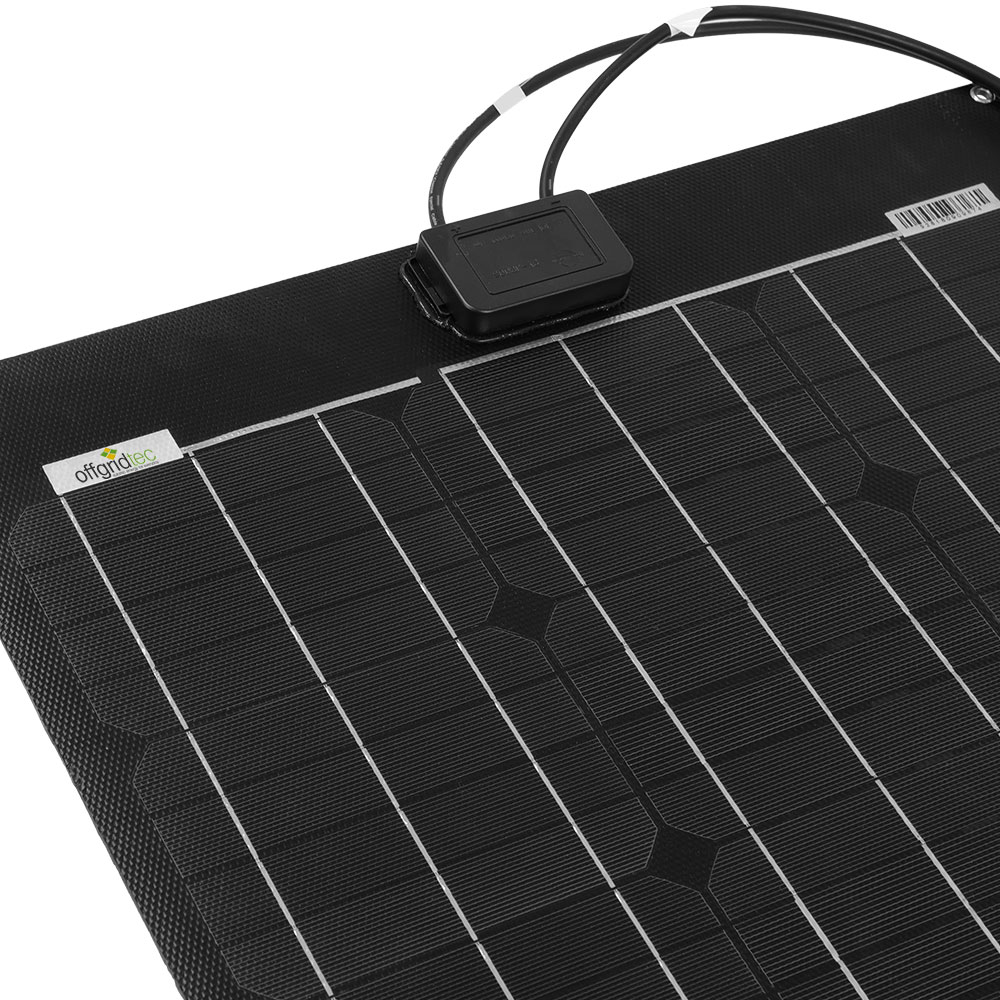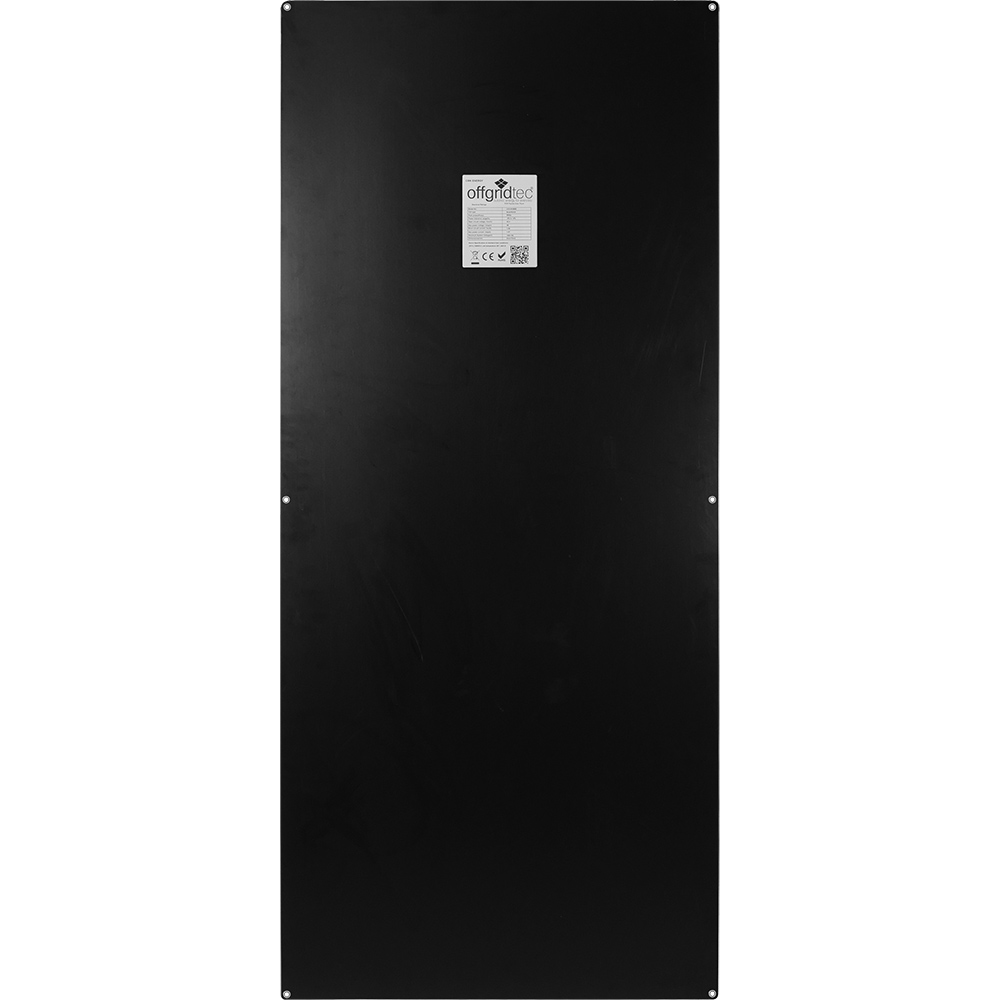 Product number:
3-01-010845
The PCB-ETFE 200W 39V from Offgridtec (MPN 3-01-010845) belongs to the latest generation of semi-flexible solar panels. The PCB-ETFE class sets new standards in the area of stability and reliability through the composition of high-quality materials. While the front side is based on Teflon derivative (PTFE), the back side is made of fibreglass (PCB). In addition, the module works with modern 5-busbar technology. These and other quality features make the PCB-ETFE 200W from Offgridtec a universally applicable product of the upper class that feels just as comfortable on boats as on vehicle roofs or other surfaces and combines stability, maximum reliability and performance like no other.
Thanks to its high operating voltage of over 39V, it is ideally suited for 24V systems or 12V systems (12V only in conjunction with MPPT charge controllers that can process a corresponding, maximum module voltage). The PCB-ETFE 200W 39V solar cell is flexible and, compared to normal flexible solar cells, can also be walked on without hesitation when fully bonded.
Features of the PCB-ETFE 200W 39V Solar Panel
200W nominal power, high efficiency and 5-busbar technology
equipped with monocrystalline A-grade solar cells
cell efficiency of over 22
higher heat tolerance compared to TPT modules thanks to PCB backsheet, thus less
susceptible to blistering due to poor adhesion
can be walked on and is even more slip-resistant than comparable solar modules on the market, even when wet
Semi-flexible - can be bent up to a maximum of 18 degrees (lengthwise)
Easy installation of the solar panel by gluing or using the ring eyelets
unrestrictedly suitable for salt water, universally applicable
ETFE High-Tec plastic ensures weight savings and a high light transmission of max. 96% at the same time
Junction box with high protection class IP67
Easy installation thanks to pre-assembled solar cable with MC4 plug and socket
Proven Offgridtec quality: manufactured exclusively from premium raw materials of the highest quality level
ETFE high-tech plastic on the front side
The front of the solar panel is covered with a high-tech plastic layer based on ethylene-tetrafluoroethylene copolymer ETFE - a Teflon derivative (PTFE) - and offers excellent protection against harmful environmental influences and is also suitable for use in salt water. ETFE is lighter and at the same time more translucent than other plastic solutions on the market.
Extremely stable fibreglass (PCB) carrier plate as backside
The fibreglass back (PCB) makes the module much more stable than conventional panels with a TPT back. This construction offers you the following advantages:
prevents bubble formation, which can occur with TPT modules due to incorrect bonding
tolerates higher temperatures compared to TPT construction
reduces the risk of cell breakage due to accidental overbending of the panel by the user
Technical features PCB-ETFE 200W 39V solar panel
Working voltage (Vmp): 39.6 V
No-load voltage (Voc): 46.61 V
max. current (Imp): 5.05 A
Short-circuit current (Isc): 5.45 A
max. system voltage: 200 V
dimensions: 1560 x 680 x 3 mm
Weight: 6.2 kg
Part number: 3-01-010845
Application areas of the Offgridtec PCB-ETFE series
Can be used without restrictions in the marine sector
ideally suited for installation on motorhomes, buses and other vehicles
for installation on rounded sheet metal roofs
recommended for all systems where highest reliability and performance are required
ideally suited for suspending e.g. tents when camping, due to the PCB carrier layer the ring
eyelets also withstand very high mechanical loads
About the PCB-ETFE series
This product is the result of accumulated experience from thousands of installations in every conceivable area of application. We were able to successfully establish our first series of flexible solar cells on the market 5 years ago and have since then continuously developed and optimised our modules. With the PCB-ETFE series, you benefit from this unique expertise and can look forward to a durable product that will reliably produce electricity for many years.
Scope of delivery:
Offgridtec 3-01-010845 PCB-ETFE 200W 39V semiflexibles Solarpanel
Dimensions:
1560 x 680 x 30 mm
Generator output wp:
200 Wp
Max. System voltage:
200 V/DC
Module voltage (VMP):
39,6 V
Open circuit voltage (VOC):
46,61 V
Short circuit current (ISC):
5,45 A
Solar module - bendability:
max. 18 degrees
Solar module - cable length:
0,8 m
Solar module - cell type:
monocrystalline
Solar module - diodes installed:
2x IOSQO50 Bypass Diode
Solar module - junction box (IP):
IP65 / IP67
, IP65 / IP 67
Solar module - number of cells:
72 (3x24)
Solar module - size connection cable:
4mm
Temperature coefficiency:
-0.45% / degree Celsius

Ist es möglich, diese Module mit einem Hoymiles HM-1500 Wechselrichter 1500W Micro Inverter für vier Module 4 x 300Wp bis 470Wp zu betreiben?
Ein Betrieb für die von Ihnen ausgewählten Module an einem Hoymiles HM1500 ist möglich.
Ist es möglich ein PCB-ETFE 200W 36V an einem Votronic MPP 250 Duo Dig. zu betreiben?
Ja, dies ist möglich, da der MPP 250 Duo bis zu 50V Leerlaufspannung verarbeiten kann und zudem die zulässige Gesamt-Modulleistung von 250W eingehalten wird.