Offgridtec® HomePremium m usv Solaranlage 3700Wp 7kWh LiFePo4 Speicher
Product number:
4-01-012870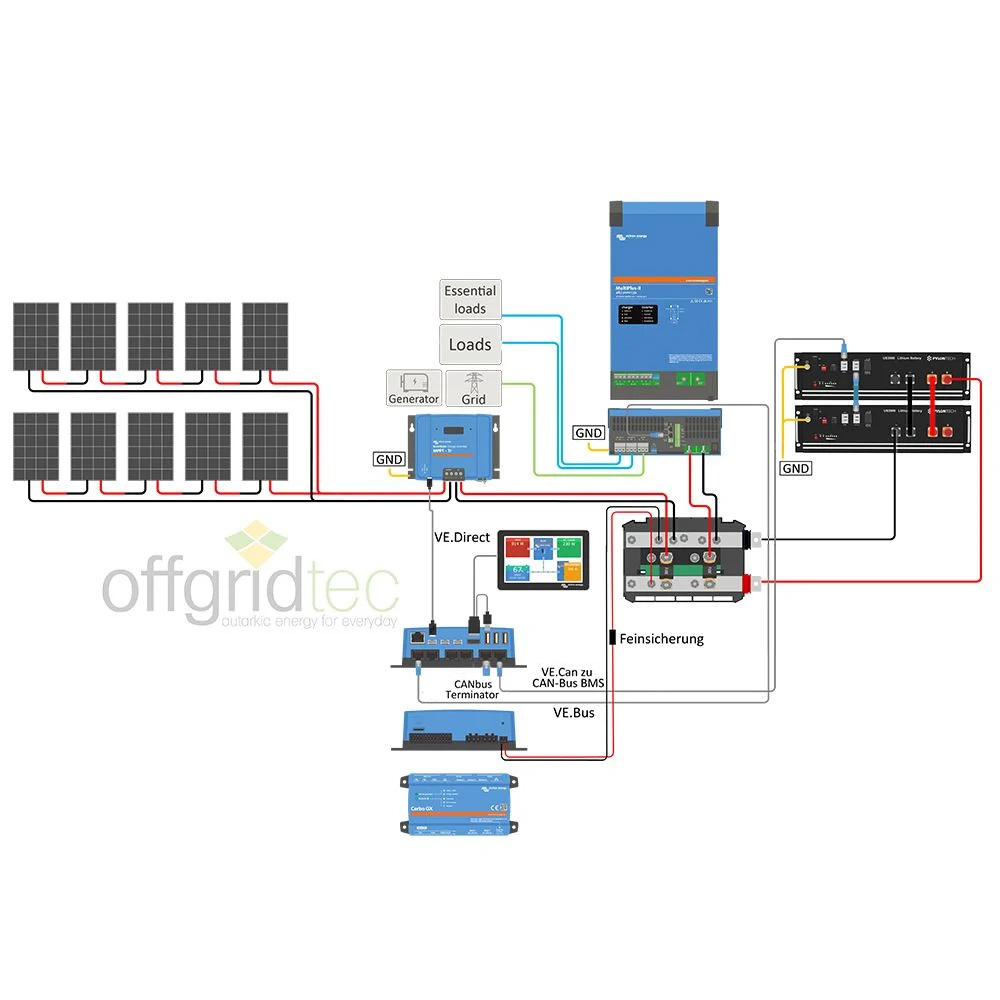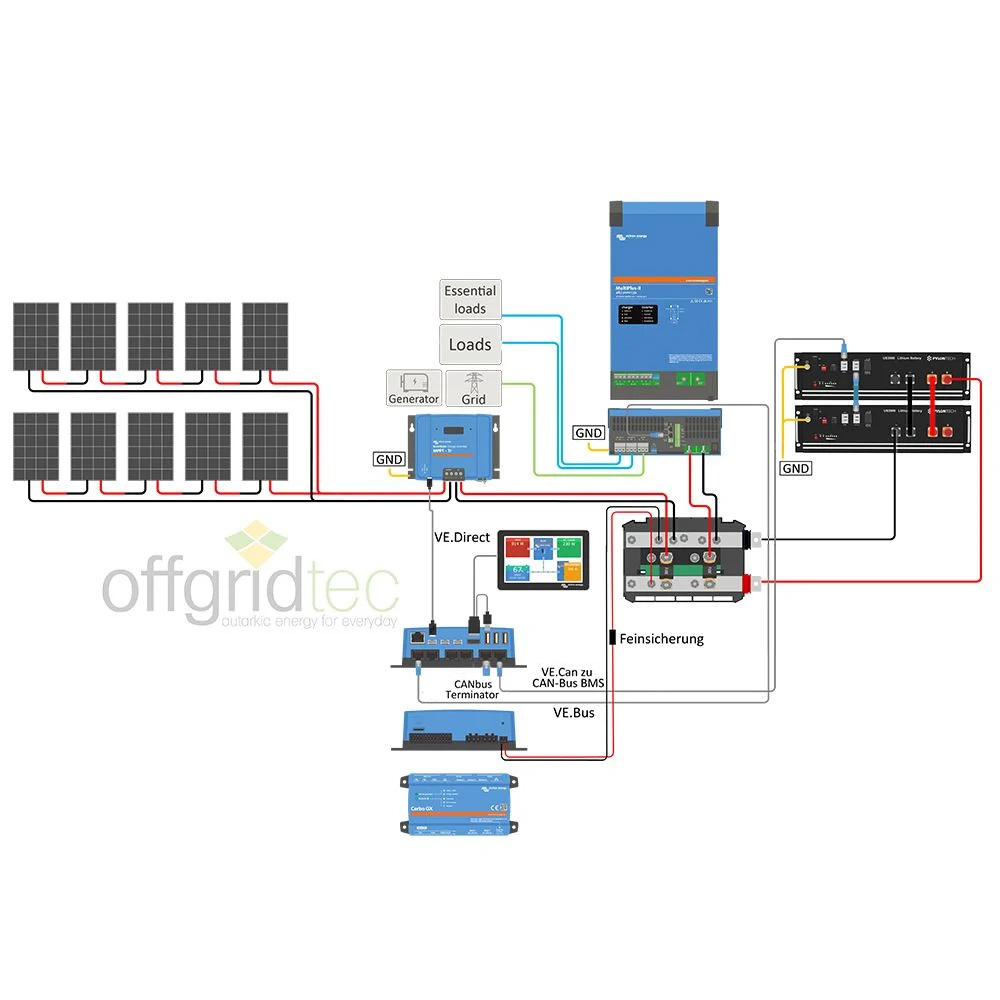 Product number:
4-01-012870
Extremely versatile complete package
The brand new Offgridtec® HomePremium series is a true all-rounder at an unbeatable price-performance ratio. In addition to the use as usv backup solution with the choice between mains and battery priority, this pv system can be used just as well as a self-consumption system. There are hardly any limits to the performance of this Solarasystem - depending on personal requirements and on request, extensions are possible, both on the module and on the battery side. if a higher output power is required at the inverter, further identical devices can also be added here to increase performance.
In addition to the power electronics, the storage unit and the solar modules, all components required for the connection are also included in the scope of delivery, with the exception of the solar module holder, which must be ordered separately. all other components are plug and play - this means no troublesome plug assembly or the like - connect and you're done.
Parts list - what's inside
Solar module depending on availability Jinko or Canadian Solar
Depending on availability, you will receive the Jinko or Canadian Solar module. both modules are perfectly matched to the set, as well as fully compatible with all supplied components. The Jinko Tiger N-type 60tr (mpn JKM370N-6TL3) with 370w and the Canadian Solar HiKu cs3l (mpn 014555) with 375w are equipped with monocrystalline cells and N-type technology. The solar cells use multi-busbar technology, with which the loss due to microcracks has been efficiently reduced, the current transmission path has been reduced by 50%, and the cell efficiency has been improved. The modules are manufactured with the Tiling Ribbon process and Hot 2.0 technology.
The Jinko Solarmodule is certified to withstand wind and snow loads of up to 2400 Pa and 5400 Pa, respectively, as well as high salt and ammonia resistance. for the Canadian Solar, the values are 3600 Pa and 5400 Pa, respectively. The annealed front glass with high light transmission and low iron content has a thickness of 3.2 mm and an anti-reflective coating. The frame has an anodized aluminum alloy.
Data sheets of the respective modules are available via the following links:
Jinko Tiger N-Type 60tr 370w Solar Module Mono Mbb Perc Half Cell Module Tiling Ribbon
Canadian Solar 375w mono solar panel perc HiKu cs3l-375MS
| Technical data | Jinko Tiger N Type 60tr | Canadian Solar HiKu cs3l-375MS |
| --- | --- | --- |
| Power (Pmax) | 370wp | 375wp |
| Voltage (vmp) | 34,49v | 34,50v |
| Max. Current (Imp) | 10,73a | 11,02a |
| Open circuit voltage (voc) | 41,46v | 41,2v |
| Short circuit current (Isc) | 11,43a | 11,68a |
| Cell efficiency | 21,25% | 20,5% |
| operating temperature | -40°C - +85°C | -40°C - +85°C |
| Max. System voltage | 1000v/dc | 1000v/dc |
| Cell type | N type monocrystalline | N type monocrystalline |
| number of cells | 120 (6 x 20) | 120 [2x (10x6)] |
| Weight | 19 kg | 21,1 kg |
| Dimensions | 1692 x 1029 x 30 mm | 1765 x 1048 x 35mm |
| Protection class junction box | IP68 | IP68 |
LiFePo4 storage technology from Pylontech - proven, reliable, safe
the us3000c storage battery from Pylontech is a lithium iron phosphate battery of the latest generation. This modular system guarantees the longest possible service life with maximum safety. In each module there is a battery management system (bms) which provides comprehensive protection against deep discharge and overcharge, as well as against damage due to high currents or too high or too low temperature. Also excluded is a defect of the battery by short circuit or polarity reversal.
Features of the Pylontech us3000c memory modules
Extremely cycle resistant - over 6000 cycles at 95% DoD (discharge per cycle)
absolutely intrinsically safe due to integrated protective shutdown (bms)
High charge and discharge power of up to 5kw per module
High storage density
Low weight and compact design
absolutely maintenance-free and easy to install
Pylontech grants 10 years warranty on the us3000c
The heart of the plant - the victron MultiPlus-II 48/5000
The Multiplus-II 48/5000/70-50 is a high-end device combination from victron Energy (mpn pmp482505010) that combines classic Multiplus components with an external current sensor and integrated anti-islanding function. This extends the PowerControl and Powerassist functions to 100 a and the potential range of use to ess applications, making this device virtually predestined for use in this system. The inverter delivers a whopping 5000 W at non-linear load, or 4000 W at linear continuous load. the 48 V battery charger is also very well proportioned, with 70 A of charging power, and is complemented by a 50 A transfer switch that allows lightning-fast switching between the aC connections.
Features and characteristics of the MultiPlus-II 48/5000
PowerControl and Powerassist -Increase mains or generator power
built-in anti-islanding function and connection possibility for external current sensor (optional)
can be used as backup device in grid-connected systems for power supply in case of grid failures
can be used in various ess (Energy Storage System) applications
best suited for use in both Offgridtec and ongrid systems
vE.bus interface for parallel and three-phase operation, remote monitoring and system integration
virtually unlimited power through parallel and three-phase operation
can be configured on-site or remotely using vEConfigure software*
Approved according to vDE-aR-N 4105
5000 w power at non-linear load 4000 w continuous load and 9000 w peak power
for 48 v battery voltage, 50 a transfer switch and 70 a battery charger
output voltage: 230 vaC, frequency: 50 Hz
max. efficiency is 95%, protection class IP22
delivery is configured and adjusted to the supplied components
The adjustment possibilities of the MultiPlus-II are extremely diverse, as are its application possibilities. So that the system, as it is delivered, lives up to the description "Plug and Play", we have already made the most necessary settings for you - the system is therefore immediately ready for use without further configuration.
maximum flexibility thanks to two AC outputs
The main output ensures uninterrupted operation. In the event of a mains failure or an interruption in the shore/generator power, the MultiPlus-II takes over the supply of the connected consumers. Switching is fast enough (less than 20 milliseconds) to ensure uninterrupted operation of computers and other electronic equipment. The second output supplies power only when AC power is available at the input of the MultiPlus-II. loads that must not discharge the battery, such as a water heater, can be connected to this output.
victron Energy Cerbo gx and gx Touch 50 - the communication center of your system
The latest development in system monitoring from vctron Energy makes it easy for you to control and configure your system. rounded off by the gxC Touch 50 - a waterproof 5 inch touch screen - you always have an overview of your system parameters. The Cerbo's features allow you to perfectly control and monitor the system, while maximizing system performance in an unprecedented and easy way.
The corresponding module can be used with both solar charge controllers and grid-tied inverters. The mounting material and the necessary connection cables are of course included in the delivery. With the help of the bluetooth capability of the gx Touch 50, access to your system is ensured even faster and easier. Only optional is a wall mount for the gx Touch 50, which must be ordered separately if required.
The victron Remote Portal (vRM) is a free victron Energy service that allows you to remotely read the data of your system and configure the devices accordingly. So you always have full control and overview of all relevant system parameters even if you are not present. The functionality is available online as a demo version and is ideally suited to give you a first impression - https://vrm.victronenergy.com/landingpage
Dimensions:
1722 x 1134 x 30 mm
Generator output wp:
415 Wp
Included Battery:
Pylontech US3000C
Included charge controller:
Victron MPPT SmartSolar 250/60
Module voltage (VMP):
31,32 V
Open circuit voltage (VOC):
37,92 V
Short circuit current (ISC):
13,99 A
max. current (IMP):
13,25 A