Victron Multi 48/500/6-16 230V Inverter 48V
Product number:
1-67-011420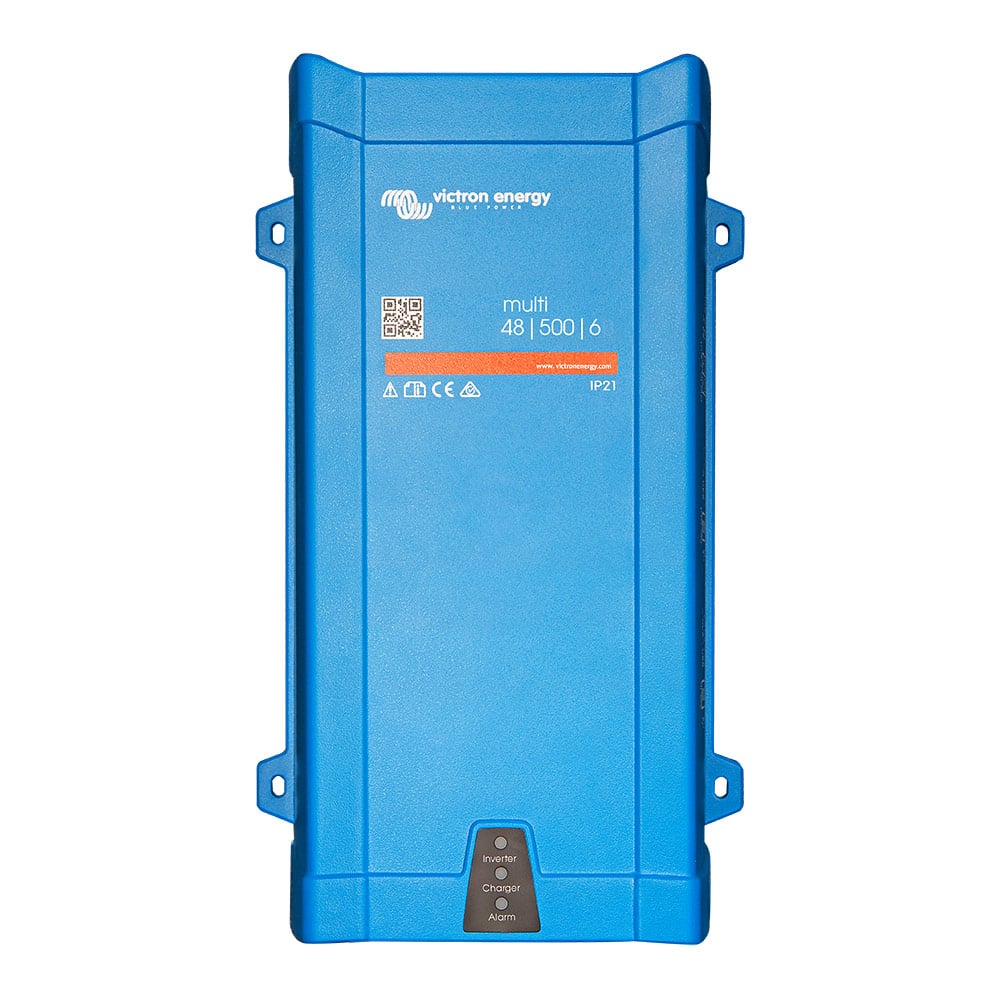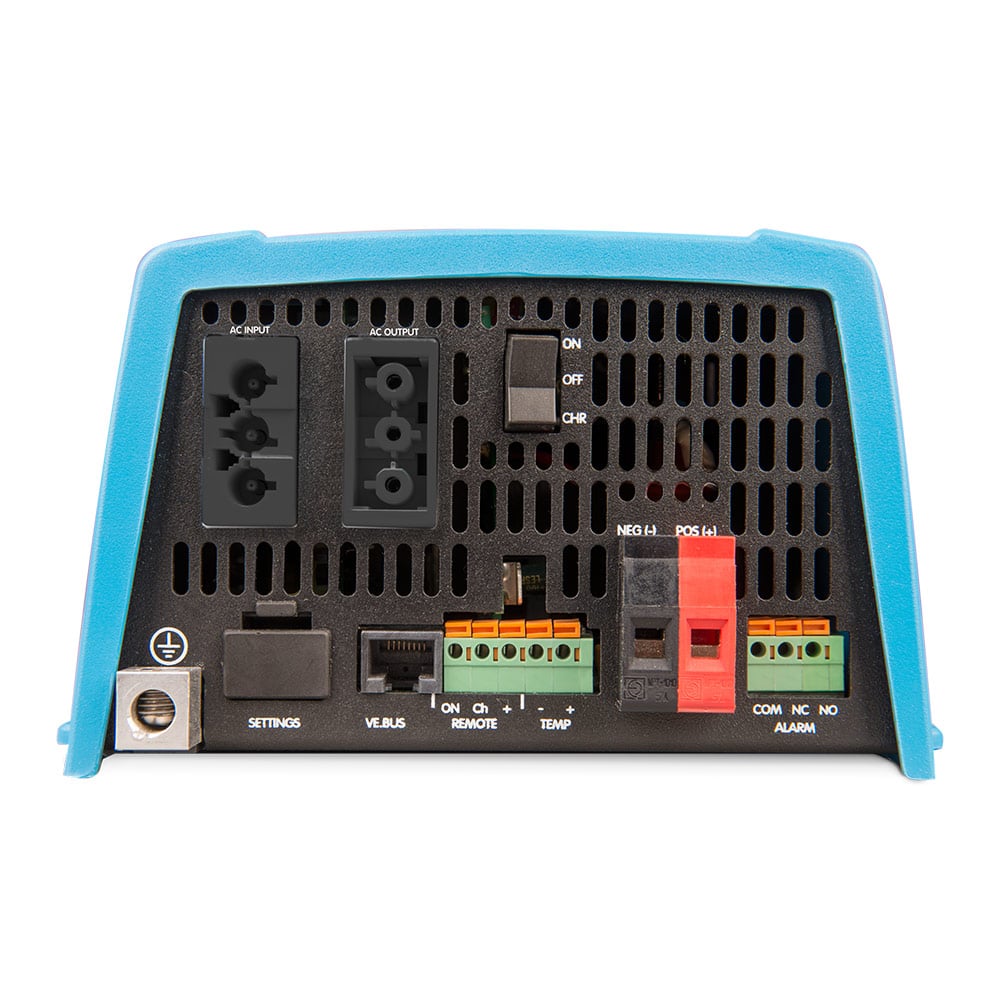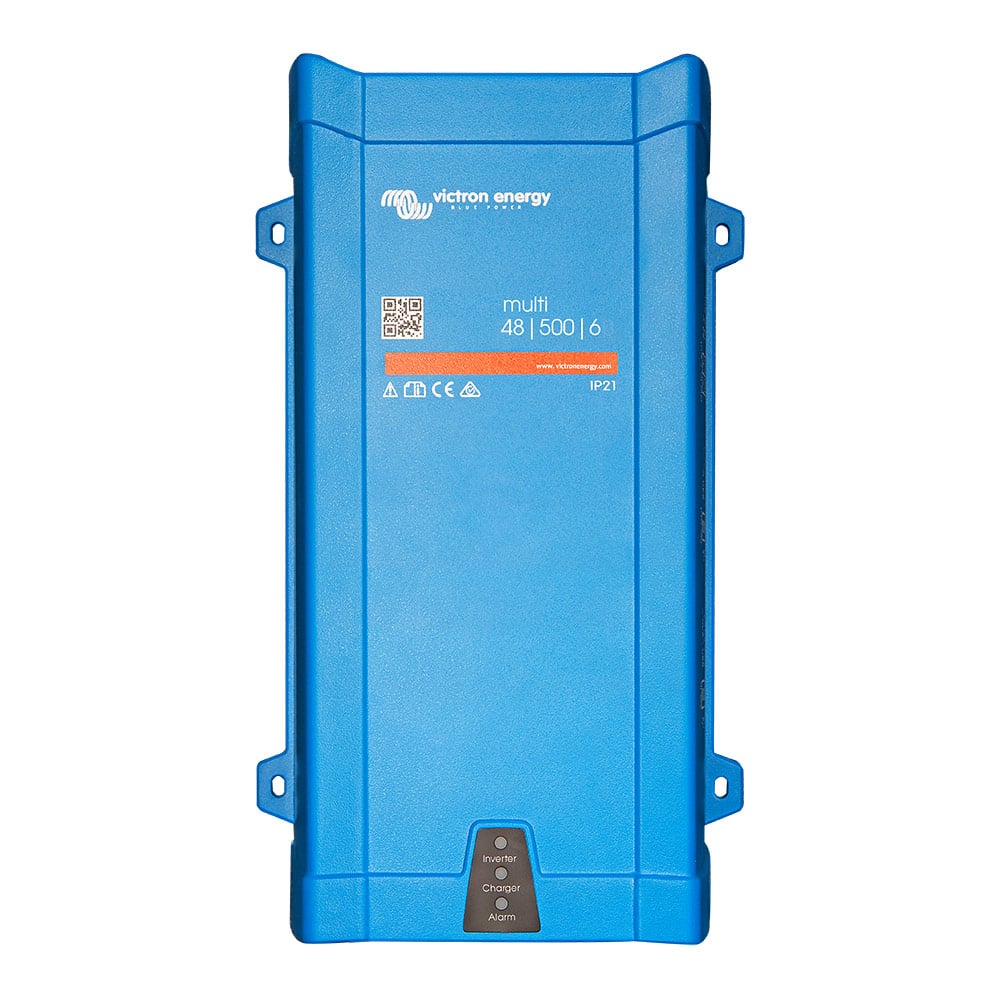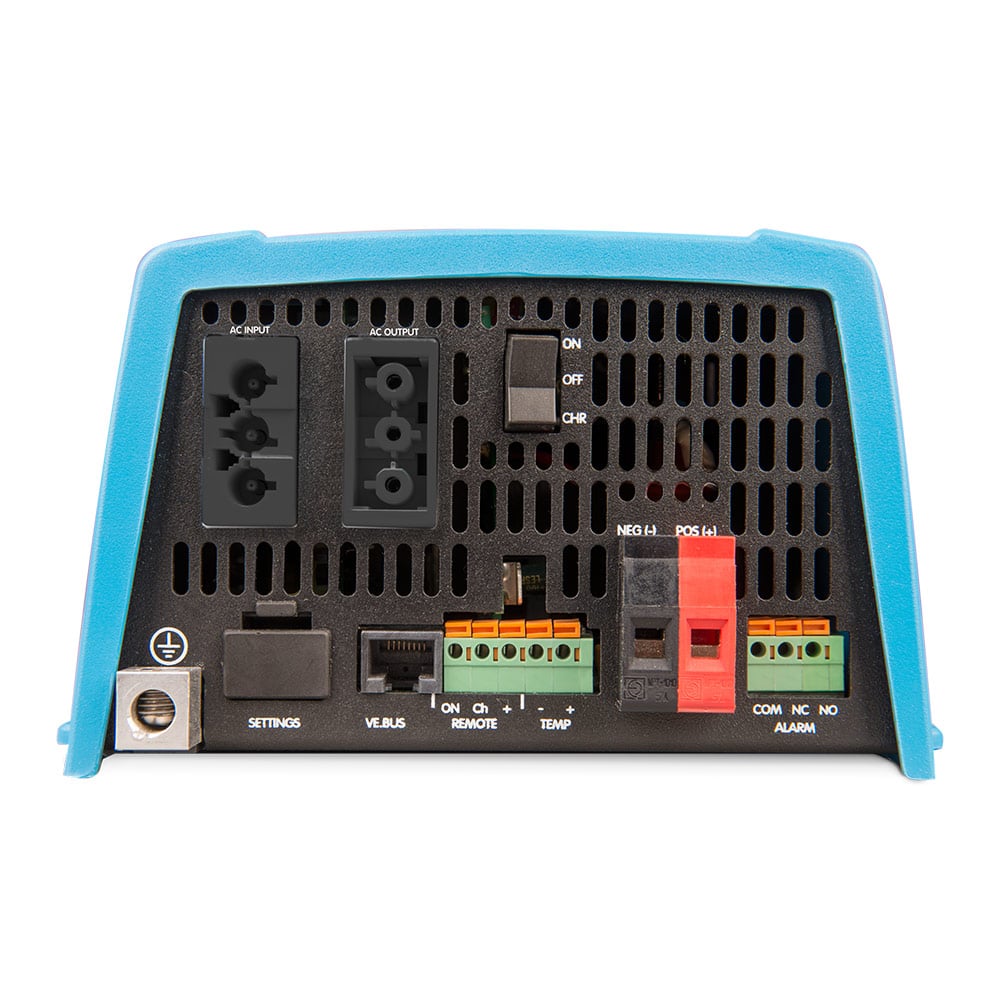 Product number:
1-67-011420
Der Multi 48/500/6 (PMP481500000) von
Victron Energy
ist eine abgespeckte Version der erfolgreichen
Multiplus
Serie und liefert 430W Dauerleistung bei 230V und 50Hz. Neben dem Sinusspannungswandler der die 48V DC Spannung Ihrer Batterie in eine perfekte 230V AC 50Hz Sinus-Spannung umwandelt ist der Multi 500 auch mit einem 6A starken Batterieladegerät und einem 16A Transferschalter bestückt. Das macht ihn für eine Vielzahl von Anwendungen sehr interessant und das bei einem vergleichsweise sehr günstigen Preis.
wesentliche Leistungsmerkmale des Multi 48/500/6
430W Dauerleistung und 900W Spitzenleistung, für 48V Batteriespannung
Gerätekombination Sinusspannungswandler, 16A Transferschalter und 6A Batterieladegerät
liefert reinste 230V Sinusspannung und eine saubere 50Hz Frequenz
dank Transferschalter als USV Lösung zur unterbrechungsfreien Stromversorgung einsetzbar
für netzgekoppelte Eigenverbrauchsanlagen einsetzbar die nur dann Strom vom Netzbetreiber ziehen wenn die Batteriekapazität nicht mehr ausreicht oder andere programmierbare Ereignisse stattgefunden haben
programmierbares Relais
bewährte Qualität und Zuverlässigkeit
bietet soliden Schutz vor Überlastung und Überhitzung
vielseitig einsetzbar in mobilen und stationären Anwendungen
auch für hochempfindliche Elektrogeräte einsetzbar
einsetzbar in USV-Lösungen
programmierbares Relais

Der Multi 48/500/6 hat ein programmierbares Mehrfunktionsrelais, das in der Grundeinstellung als Alarm Relais arbeitet. Dieses Relais kann jedoch für eine Vielzahl von Zusatz-Funktionen programmiert werden, wie z.B. als Startrelais für einen Generator.

Steuerung und Fernbedienbarkeit

Die Konfiguration findet über einen 3-Positionsschalter (DIP-Schalter) direkt am Multi statt. die maximale Ladestromsta¨rke des Wechselstromeingangs eingestellt werden. Auf einen VE.Bus oder andere Kommunikationsanschlüsse wie bei der Multiplus Serie wurde verzichtet.

blitzschneller, automatischer 16A Transferschalter

Bei einer Unterbrechung der Stromversorgung oder beim Abschalten des Generators schaltet Multi sofort in den Wechselrichterbetrieb und versorgt so die angeschlossenen Verbraucher. Das geschieht so schnell (weniger als 20 Millisekunden), dass z.B. der Betrieb von Computern oder anderem elektronischen Gerät störungsfrei weiterläuft (Unterbrechungsfreie Leistungsversorgung – UPS Funktionalität).

leistungsstarkes, 4 stufiges Batterieladegerät

Adaptive 4-stufige Ladecharakteristik: Konstantstrom-("bulk") Phase, Konstantspannungs-("absorption") Phase, Ladeerhaltungsspannungs-("float") Phase, Lagerspannungs-("storage") Phase. Das durch Mikroprozessoren gesteuerte Batterieladungssystem kann den unterschiedlichen Batteriebauarten angepasst werden. Der Ladeprozess wird über eine adaptive Steuerung der Batterienutzung angepasst.

weitere Highlights des verbrauten Ladegeräts sind unter anderem:
variable Konstantspannungszeit
2 Gleichstromausgänge zum Laden von Board- und Starterbatterie
Verlängerung der Batterielebensdauer durch Temperaturkompensation
weniger Batteriealterung durch integrierten Lager-Modus
weniger schädliche Gasbildung durch Batterieschonmodus
Eine detaillierte Beschreibung der Leistungen des Ladegeräts entnehmen Sie bitte der Bedienungsanleitung welche Sie unter "Downloads" weiter oben finden können.
BackUp-System: Wechselstrom auch bei Netzausfall
Der Multi 500 kann so wohl in nicht-netzgekoppelten Anwendungen als auch in netzgekoppelten PV-Anlagen als auch oder alternativen Energiesystemen eingesetzt werden. Es ist eine Software zur Erkennung eines Netzausfalls verfügbar.
Was ist der Unterschied zwischen dem Multi 500 und dem Multi(Plus) 800 und der Multiplus Serie?
Um die Unterschiede zu verdeutlichen hier eine kleine Tabelle, die die Kriterien enthällt in denen sich die Gerätefamilien Multi(Plus) und Multiplus unterscheiden.
Unterscheidungsmerkmale der 3 Multi-Familien

| | | | |
| --- | --- | --- | --- |
| | Multi 500 | Multi(Plus) | Multiplus |
| 2 AC-Ausgänge | - | - | Ja |
| Parallelschalteung mehrerer Geräte | - | Ja | Ja |
| Reihenschaltung mehrerer Geräte | - | - | Ja |
| komplett fernsteuerbar | - | - | Ja |
| VE.Bus Anschluss | - | - | Ja |
| PowerAssist-Funktion | - | Ja | Ja |
| PowerControl Funktion | - | Ja | Ja |
Lieferumfang
1x Victron Multi PMP481500000 48/500/6
1x Bedienungsanleitung
Dimensions:
11 x 18,2 x 31,1cm
Manufacturer:
Victron Energy
Product Type:
Compact unit combination of 48/230V sine wave inverter, battery charger and transfer switch.
Warranty:
5 years manufacturer's warranty 2