Votronic 3308 vcc 1212-45 IUoU-Li 12v 45a b2b charger
Product number:
1-15-010720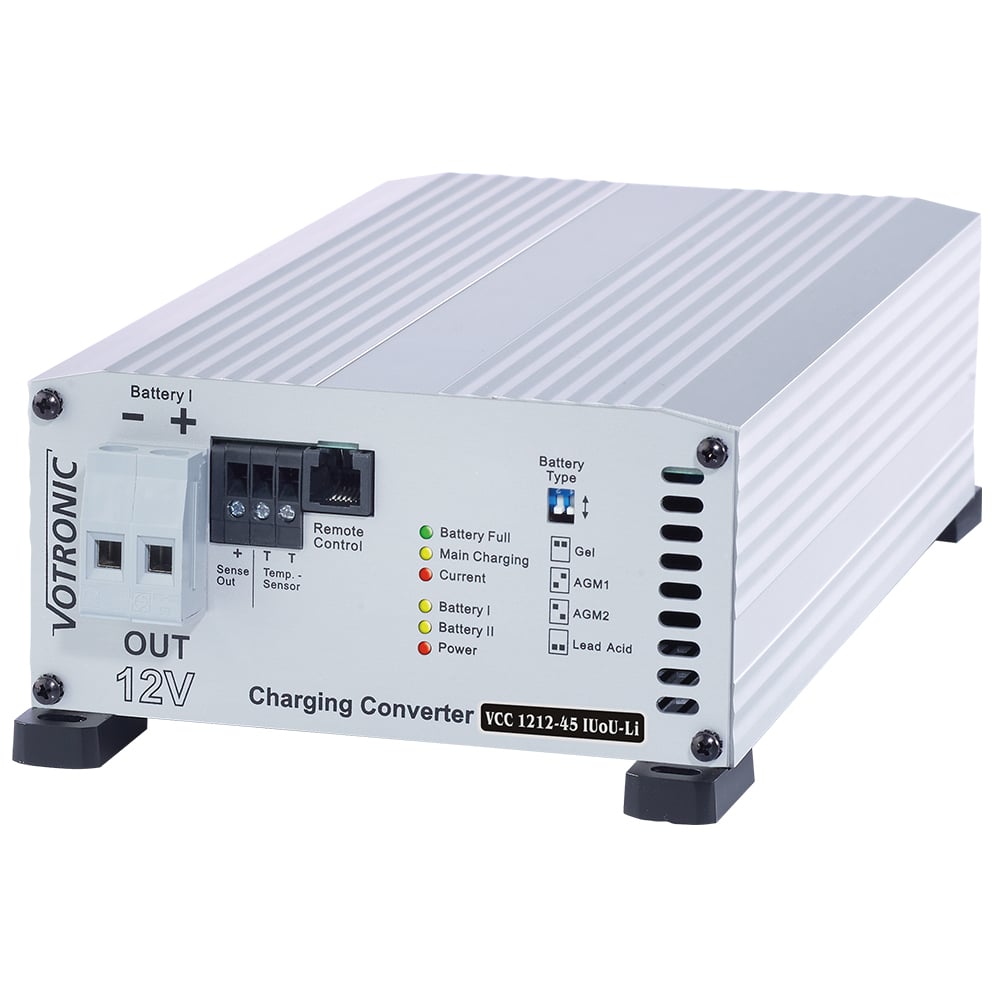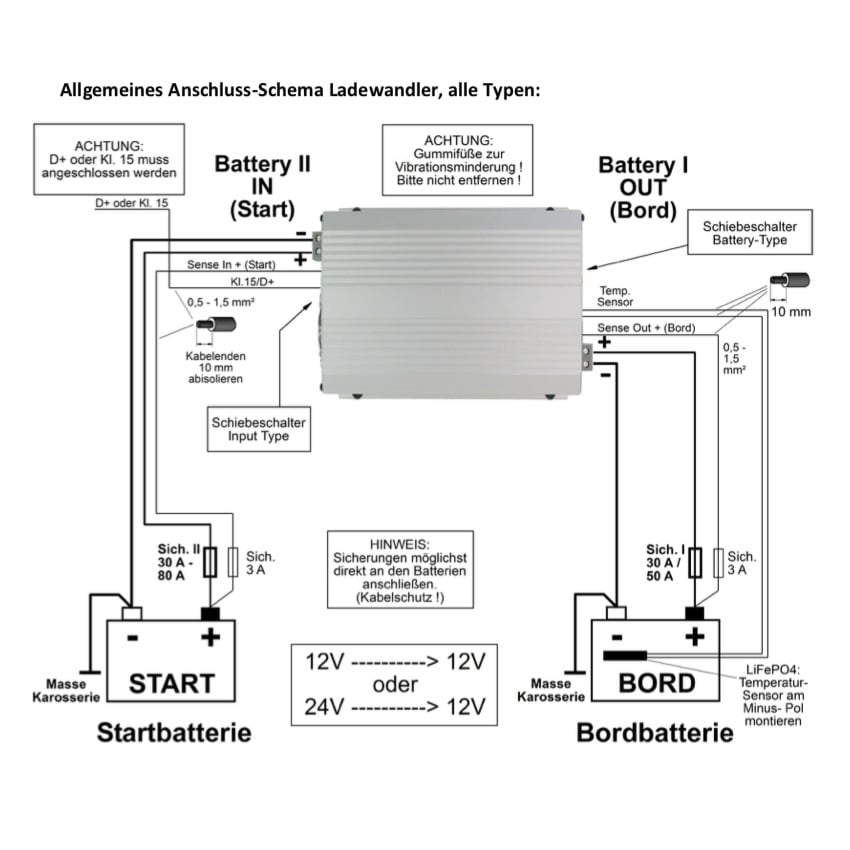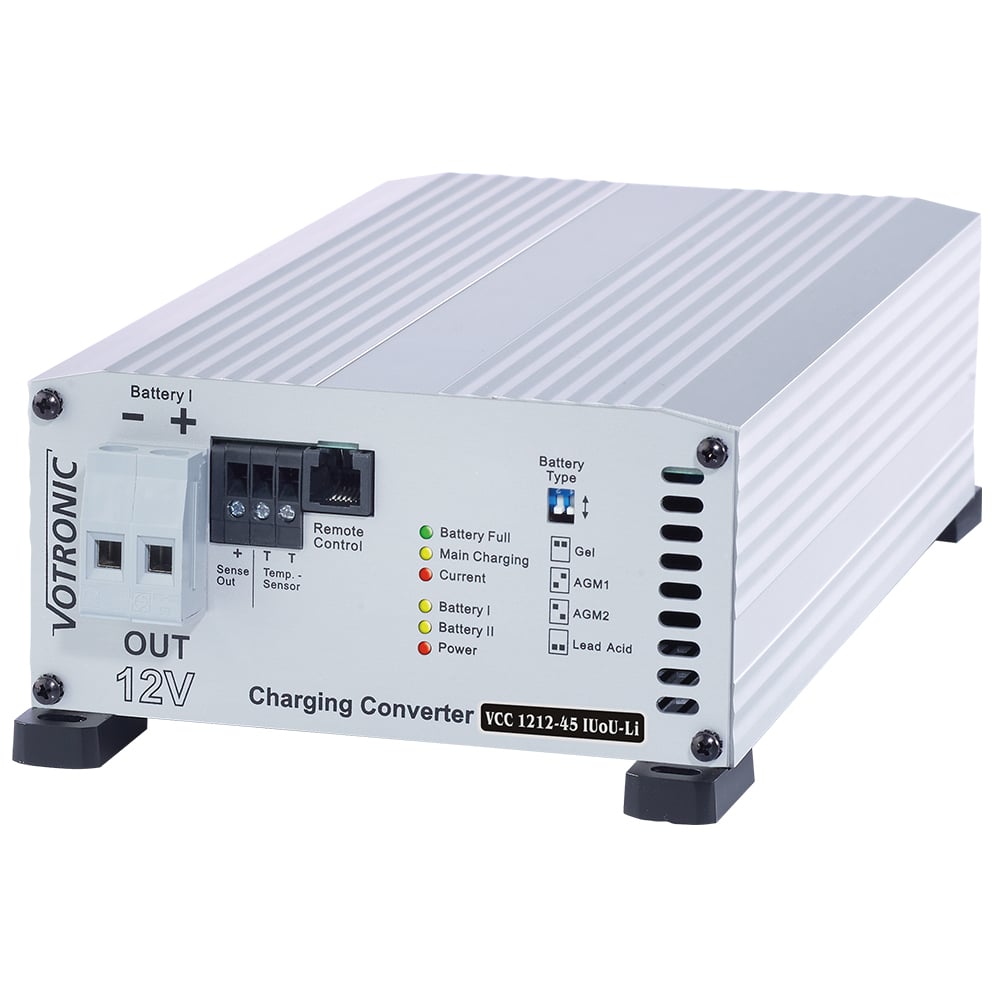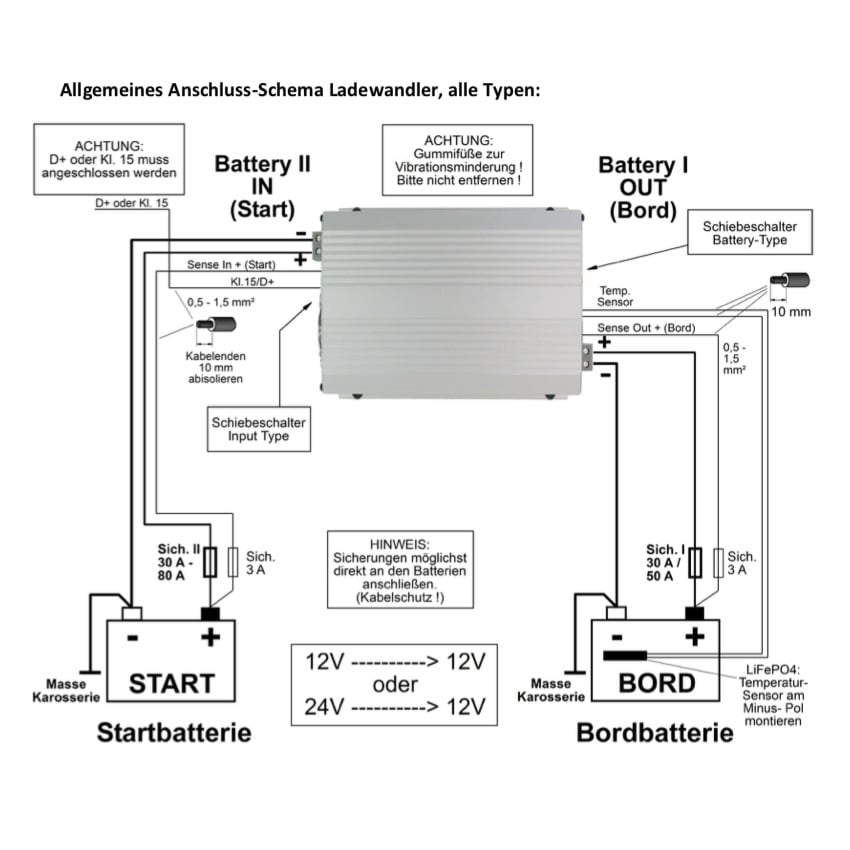 Product number:
1-15-010720
The vcc 1212-45 IUoU-Li from Votronic (3308) is a fully automatic, galvanically isolated battery charging converter for special vehicles, high-end motorhomes, boats with galvanic isolation. The charge converter (booster) of the series "vcc" has been developed according to the latest specifications for mobile charging of supply batteries (living space/onboard batteries), from the alternator (starter battery) while driving. The device provides a complete IU1oU2 charging characteristic even while driving. The max charge current of the vcc 1212-45 is 45a and it can work with lead-acid, gel, agm1, agm2 and LiFePO4 batteries.
Unlike the conventional isolating relay, the charging voltage is lowered or raised according to charging program specification, so it is especially good for EURO standard 6, 6 + plus vehicles.
Universally applicable multi-talent
For on-board batteries in classic lead-acid, lead-gel or lead-AGM as well as modern lithium-LiFePO4 technology, the 8 selectable charging programs ensure a monitoring-free, rapid and gentle full charge from any state of charge with subsequent full maintenance and care of the battery. Even during short journeys, the battery is charged with full charging current. Connected 12 V consumers are automatically supplied as well, even if the on-board network is heavily loaded. The automatic power control ensures the necessary safety and startability of the vehicle
important features of the Votronic 3308 vcc1212-45 IUoU-Li
The vcc 1212-45 is b2b charger with galvanic isolation for charging 12v batteries from a 12v alternator / battery.
max. charging current: 45a, input voltage range 12v, charges 12v batteries, recommended battery capacity: 90 - 400 Ah
Increases or decreases the voltage to the necessary level to accurately charge the on-board battery with the optimal charging characteristic for it
It fully compensates for line losses and alternator voltage fluctuations, such as those that occur constantly to a significant extent in Euro 6 vehicles (intelligent alternators)
Features compact design, light weight (high frequency switch mode technology) and power components with strong dimensions for safe operation
Significantly improved energy balance of the on-board battery. No intervention in the starter circuit; the unit behaves like a powerful consumer on the alternator
The supplied 12 V consumers are protected against overvoltage and voltage fluctuations
The charging voltage is free of peaks and regulated in such a way that overcharging of the batteries is excluded.
Fully automatic operation: the device is constantly connected to the batteries and is automatically activated by the running alternator of the vehicle. When the engine is not running, the batteries are not discharged.
Parallel and buffer operation: in case of simultaneous consumption, the battery continues to be charged or kept full. The device automatically calculates and monitors the adjustment of the charging times.
Monitoring-free charging: Multiple protection against overload, overheating, overvoltage, short circuit, malfunction and battery back discharge by electronic cut-off up to complete disconnection of device and battery.
Built-in on-board power supply filter: Problem-free parallel operation with other charging sources (ebl, chargers, motor and fuel generators, Solaranlagen) on one battery
Charging cable compensation: Voltage losses on the charging cables are automatically compensated
Connection for battery temperature sensor (sensor included in scope of delivery).
For lead batteries (acid, gel, agm), the charging voltage is automatically adjusted to the battery temperature. This causes a better full charge of the weaker battery in cold weather, in summer temperatures unnecessary battery gassing is avoided
LiFePO4 batteries: Battery protection at high and especially adapted charging at low temperatures below 0 °c. Charging aid for deeply discharged lead batteries: Gentle pre-charge of the (lead-acid, -gel, agm) battery up to 8 v, then powerful support of the battery with any consumers still switched on
?
Also ensures the automatic activation of a LiFePO4 battery disconnected by the bms
What added value does the use of a b2b charge converter offer me?
The charge converters ensure optimal and fast charging of the supply battery from the alternator while driving. In contrast to the simple cut-off relay, the charging voltage is raised to the value that is necessary for the respective battery type for a full charge and is required by the battery manufacturers. This means that the full charging current can flow and already charge considerable amounts of current into the battery in a short time. Long charging lines and losses are neatly compensated for, as are voltage fluctuations at the alternator. In the case of charge converters with different input and output voltages (12v/24V or 24V/12v), the simple charging of a second battery is also possible without installing a second alternator
The charge converters thus provide the well-known high quality of battery charging of the votronic chargers even while driving. The intelligent microprocessor charge control with "IU1oU2oU3" charge characteristics and dynamic charge time calculation automatically ensures the fast and gentle full charge as well as subsequent charge retention of the connected batteries from any state of charge and always allows the simultaneous co-supply of consumers in parallel to the supply battery
Scope of delivery:
1X Votronic 3308 vcc 1212-45 IUoU-Li 45s 12v charging converter 1x user manual (German) 1x temperature sensor
Ambient temperature:
max. 95% (non-condensing)