Dekalin 6257812 DEKAvator 30 ml bottle, primer
Product number:
8-01-007635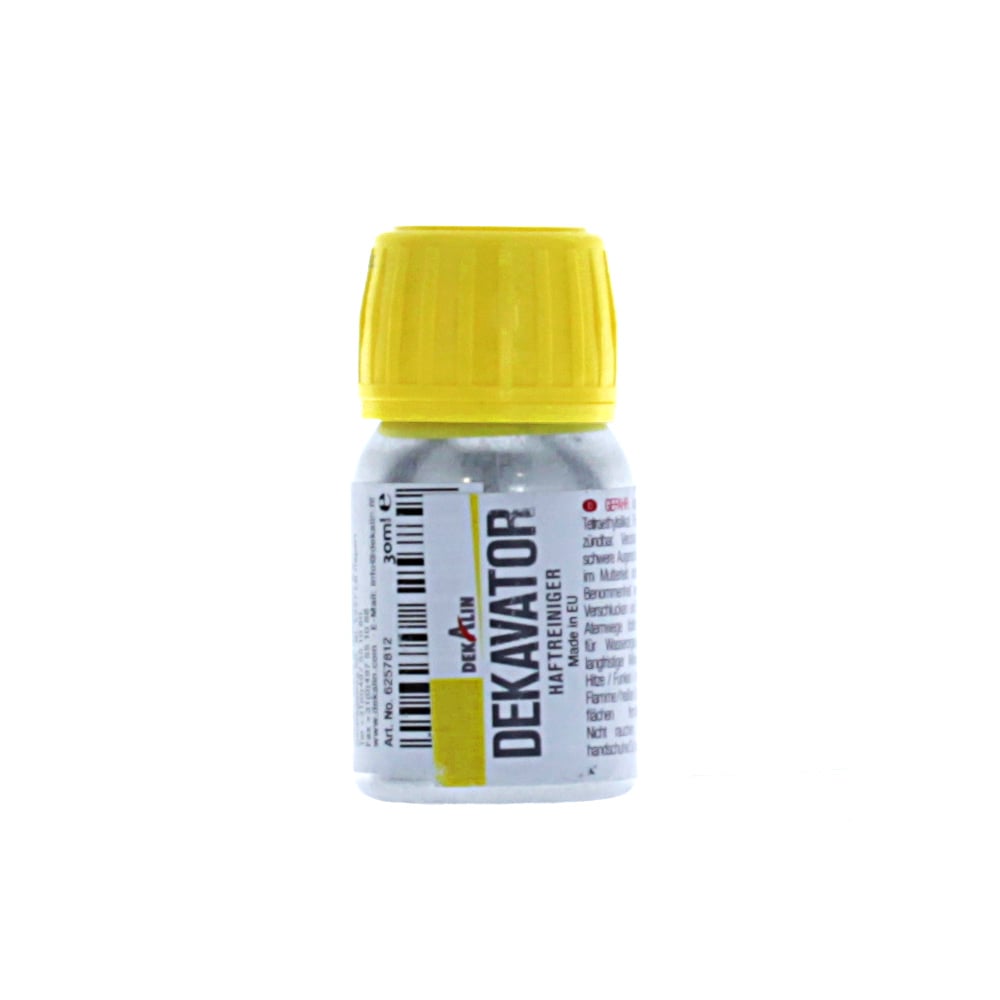 €9.49*
Content:
30 Milliliter
(€316.33* / 1000 Milliliter)
Product number:
8-01-007635
Dekavator from Dekalin (mpn 6257812) is an adhesion promoter that improves the adhesion of the various Dekalin products based on ms polymer, such as Dekasyl, to closed surfaces. In the case of substrates with a low surface tension (mostly plastics) or if the composition of the substrate is not known, it is recommended to use Dekavator adhesion activator. It ensures a durable bond and prevents moisture penetration in outdoor applications. The Dekavator improves bondability because it acts as a chemical bridge between the part to be joined and the adhesive.
Applications
For the pretreatment of:
Aluminum, steel, copper and brass
Powder coated metal
Painted metal (the compatibility of the solvent with the substrate should be checked beforehand)
(Ceramic coated) glass
Polyester (GRP)
ABS and PVC
Properties
Improving adhesion and cleaning
Fast drying, flash-off time approx. 5 minutes
Easy to use
Economical consumption
Processing
Substrates should be clean, dry, free of dust and grease. The packaging should remain tightly closed until use. Dekavator can be used directly from the original packaging, provided that contamination and viscosity increase are prevented. The color should be transparent (if the color is milky transparent, the product should not be used). It is necessary to prevent Dekavator from coming into contact with water until the product has hardened. Therefore, it is recommended to make two openings in the top of the can in the aluminum seal (if possible, depending on the can). Close the can immediately after use. Apply Dekavator in a thin layer. Rub the surface vigorously with a clean, paint-free cloth, moistened with Dekavator. After a drying time of about 5 minutes (the solvent should be completely evaporated; the lower the temperature, the longer the drying time), the adhesive/sealant can be applied. The best adhesion is achieved if the adhesive/sealant is applied within 4 hours after Dekavator has dried. Therefore, only as much should be pre-treated as can be sealed/bonded within 4 hours. Avoid touching the pre-treated surfaces, as the greasy film of the fingers can lead to poor adhesion.
Note 1:Dekavator should not be applied to areas that are to be subsequently painted due to incompatibility with paints. In this case, a stencil or masking tape should be used to apply Dekavator only in the area of bonding/sealing (however, it is possible to easily remove residues of Dekavator with e.g. isopropyl alcohol (ipa) or acetone).
Note 2:If the surface is very dirty, it must be cleaned beforehand with e.g. ipa or acetone. It is recommended to test the compatibility of the surface with this cleaner beforehand.
Technical data:
Solids content: approx. 8%
Specific gravity (20°C): approx. 0.76 kg/liter)
Flash point: approx. 9°C
Drying time (20°C/50% r.h.): approx. 5 minutes
Color: transparent
Packaging size: 30ml aluminum can
Consumption: approx. 20m² / liter
Storage temperature: +5°C - +30°C
Storage: unopened up to 12 months
Scope of delivery:
1x Dekalin Dekavator 30ml
Dimensions:
80 x 40 x 40 mm