Dekalin 6417112 DEKAsyl MS-5 290ml white adhesive
Product number:
8-01-007625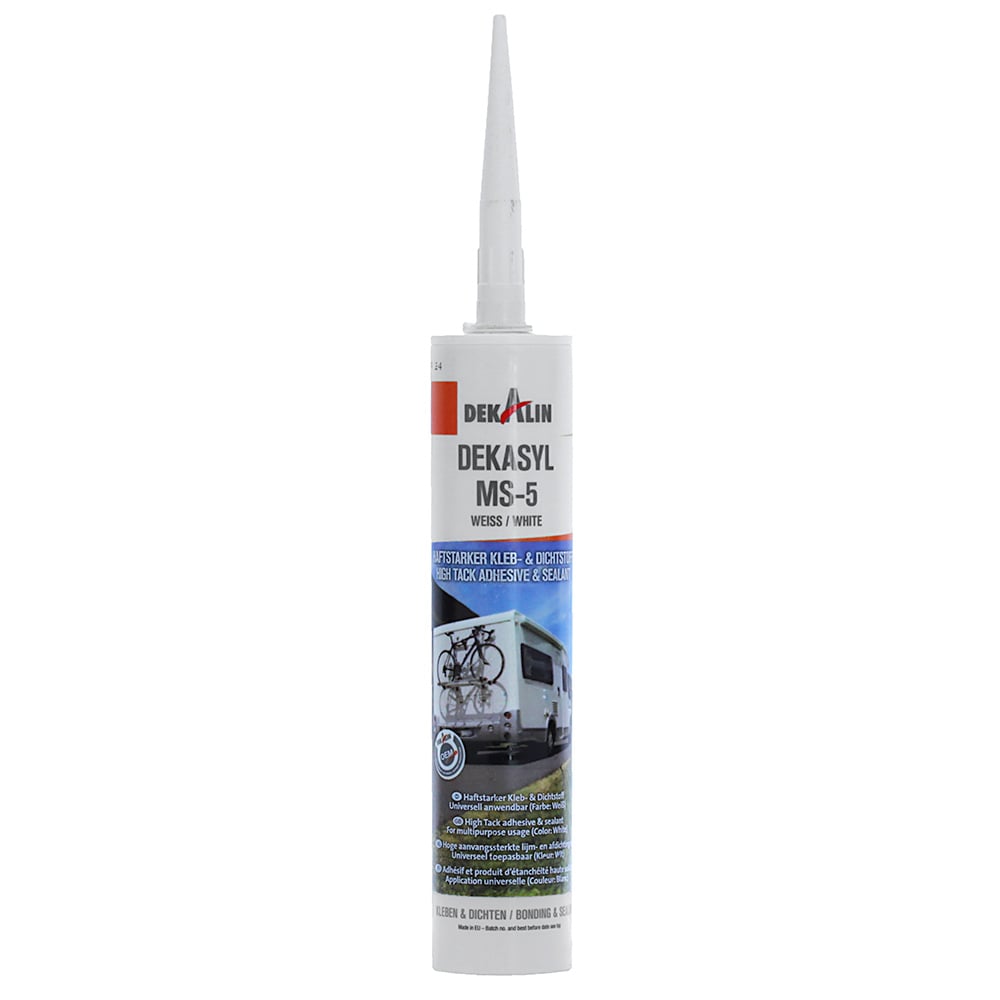 €13.99*
Content:
290 Milliliter
(€48.24* / 1000 Milliliter)
Product number:
8-01-007625
Dekasyl MS-5 is a polymer-based adhesive with a high degree of adhesion and initial strength which is ideal for elastic connections of various components.
Thanks to it's adhesive power the use of clamps is mostly unnecassary. The Dekasyl MS-5 also serves as sealent between similar materials or when mechanical connections are used.
Application:
Elastic connections and sealing for trains, caravans, trucks, cars,...
Glueing windows of buses, trains, caravans,...
Glueing of edge profiles (aluminium or polyester) of trailers
Glueing of polyester components with metal frame
Characteristics:
Free of solvents, isocyanate and PVC
Very UV- and age-resistant
Very high initial strength. Very high adhesion in general even without priming on various surfaces.
Constantly elastic within a temperature range of -40°C to +120°
Neutral, odorless and quick-setting
After skim-development paintable - normally this does not influence the setting-process
Compatible with most industrial painting systems, alkyd resin paint as well as dispersion paint (because of the many different types of industrial paints a material compatibility test is recommended)
We recommend to mount our spoilers and cable entries only with Dekasyl adhesive together with DEKAvator as this connection had the best outcome in a laboratory test.
Why Dekasyl?
Manufacturers of caravans like Fendt, Dethleffs, Burstner, Carthago, Pilote and Hymer use Dekalin-products in many different areas, for example as sealent for roofs, side panels, undercoating, glueing of PMMA-windows, sound-proofing, engine-covering, and many more.
As a global partner of the caravan and camping industry Dekalin provides you with a wide range of latest technology and supports sellers in realizing their demands. They offer special solutions for sealing, glueing, damming and repairing.
Details:
Filling: 290ml
MPN: 6252212
Color: white
Delivery scope: 1 tube 290ml