Offgridtec® AGM 17Ah 20HR 12V - Deep Cycle Solar Battery
Product number:
2-01-001001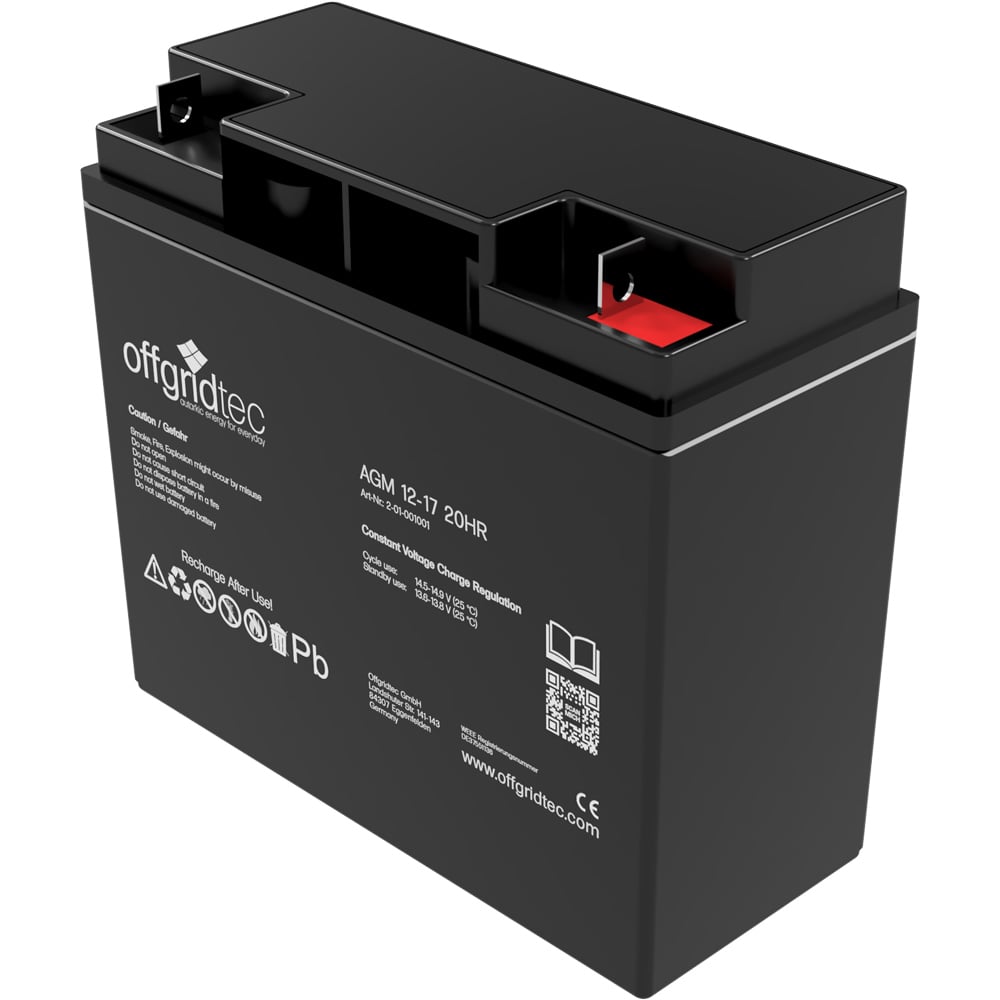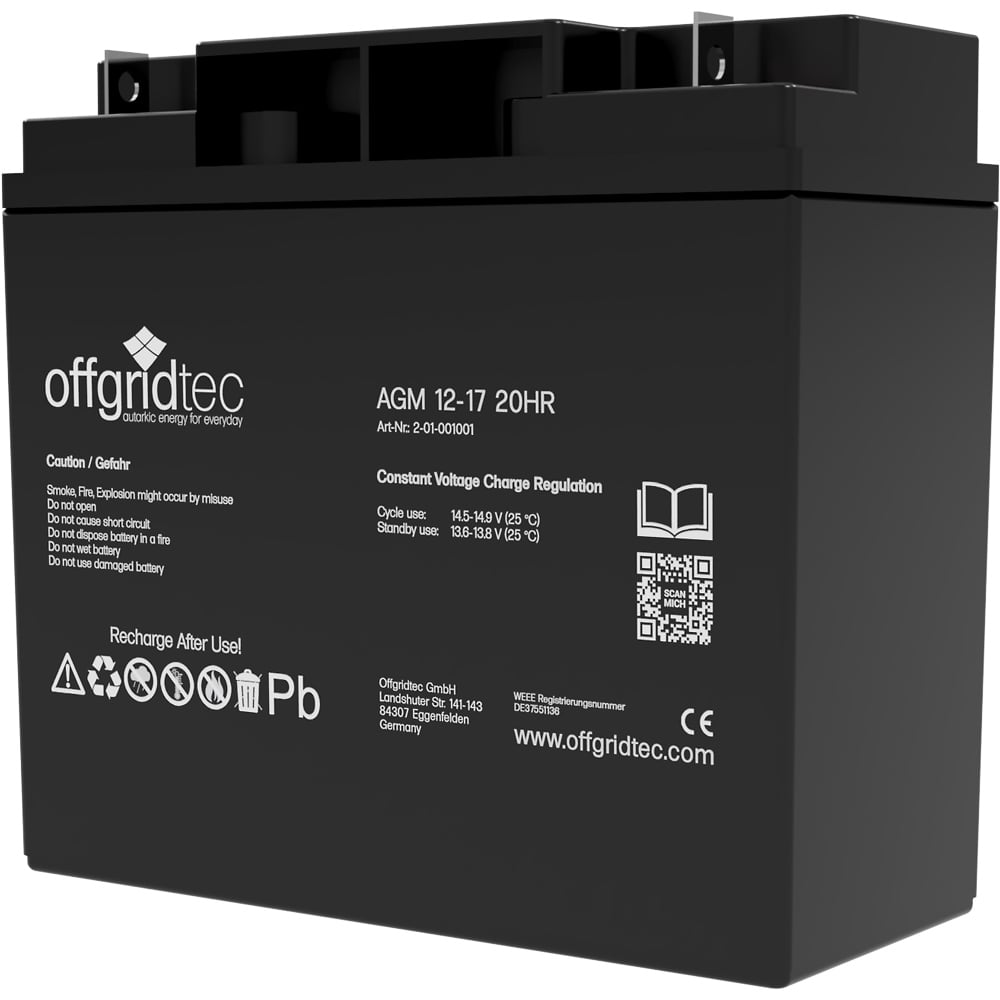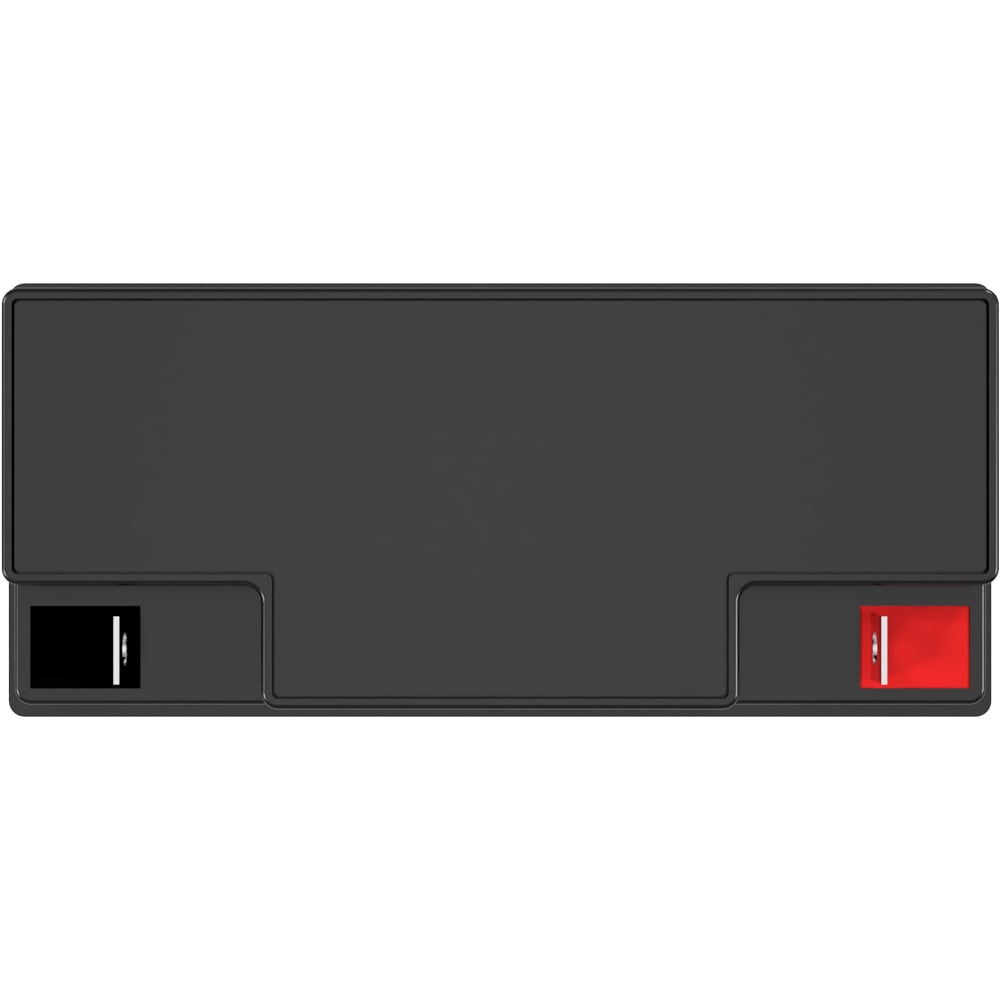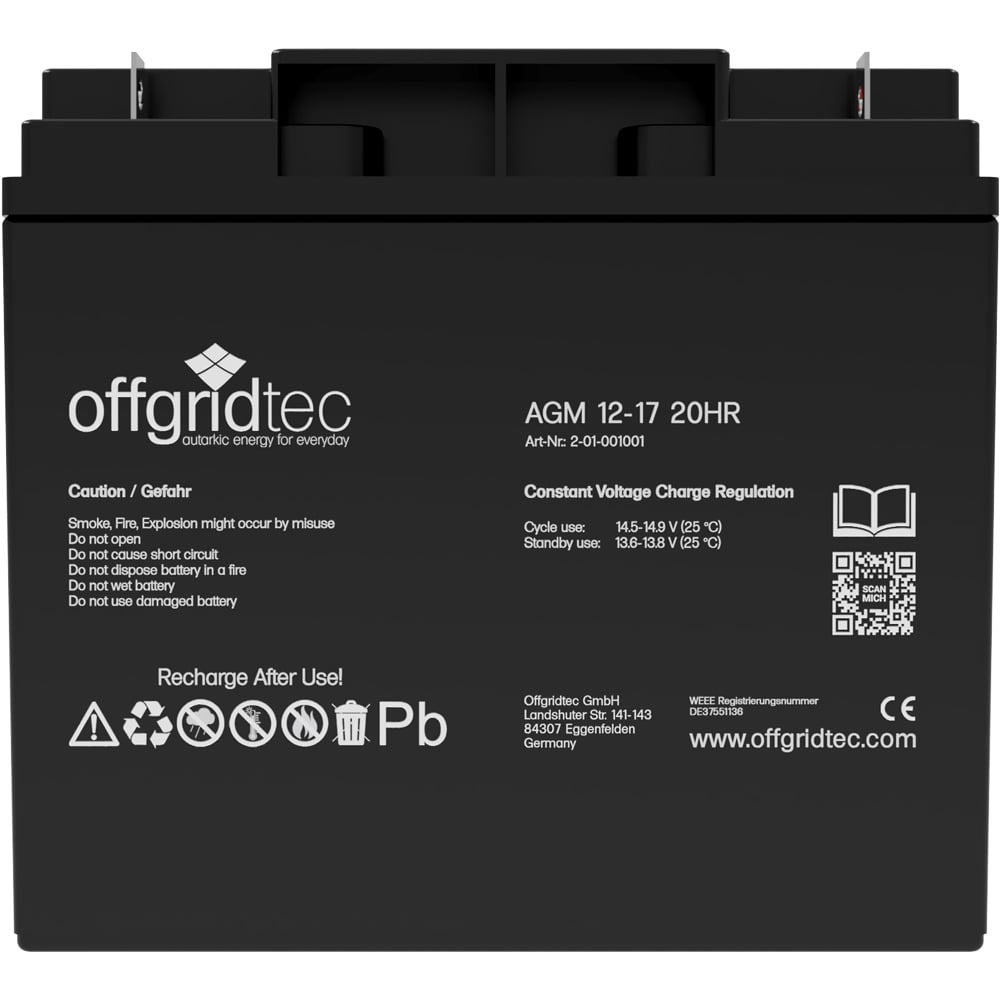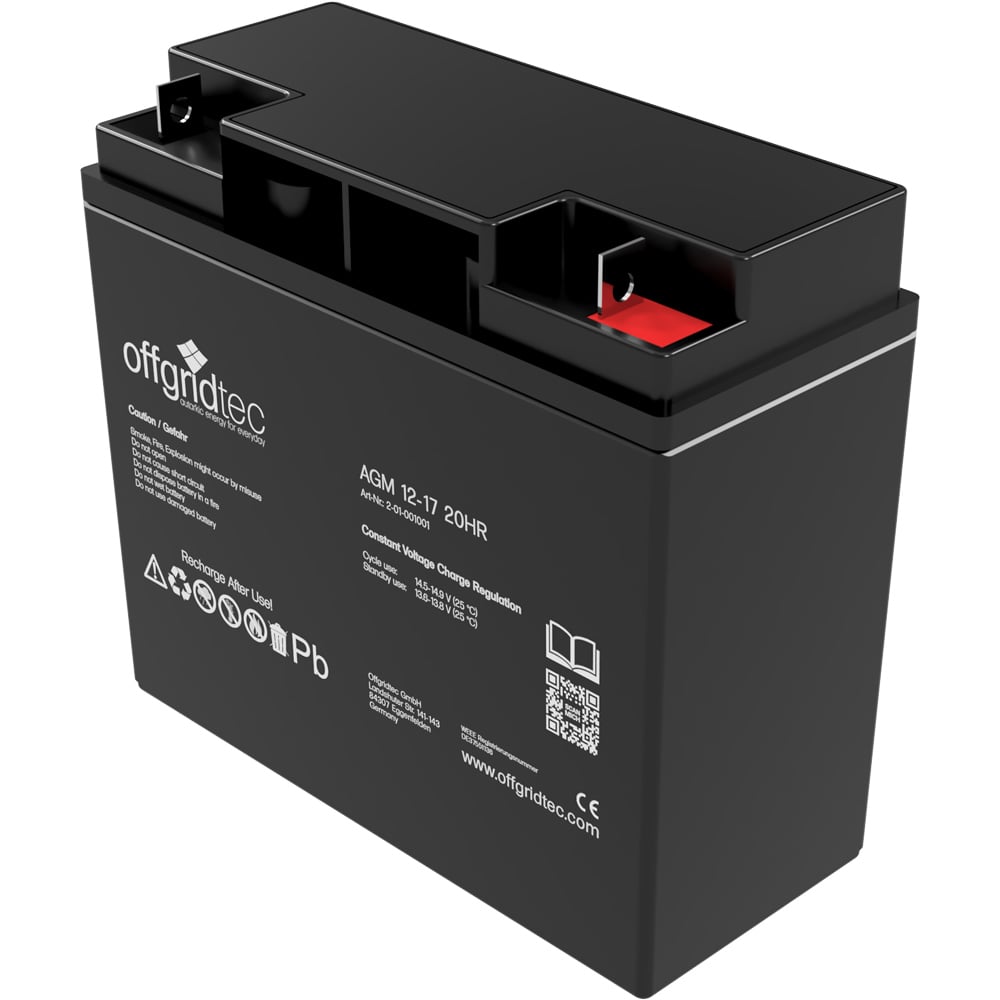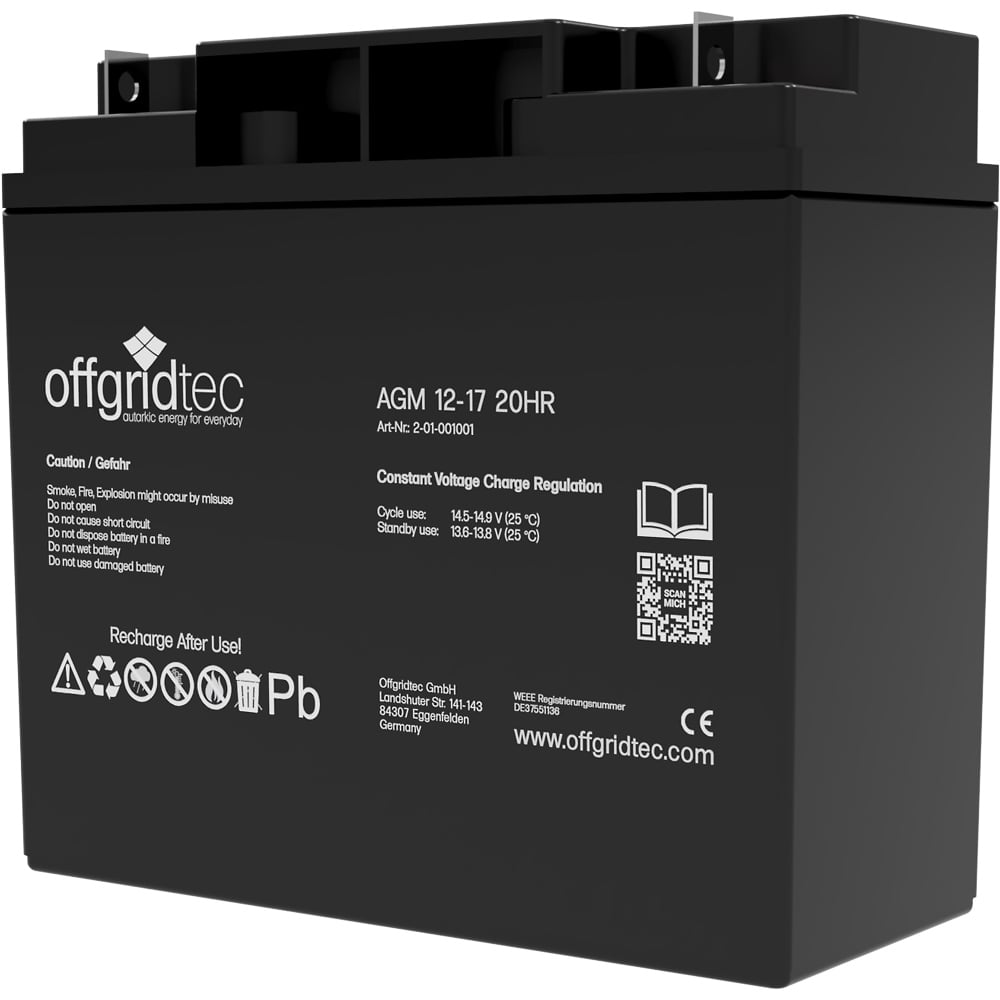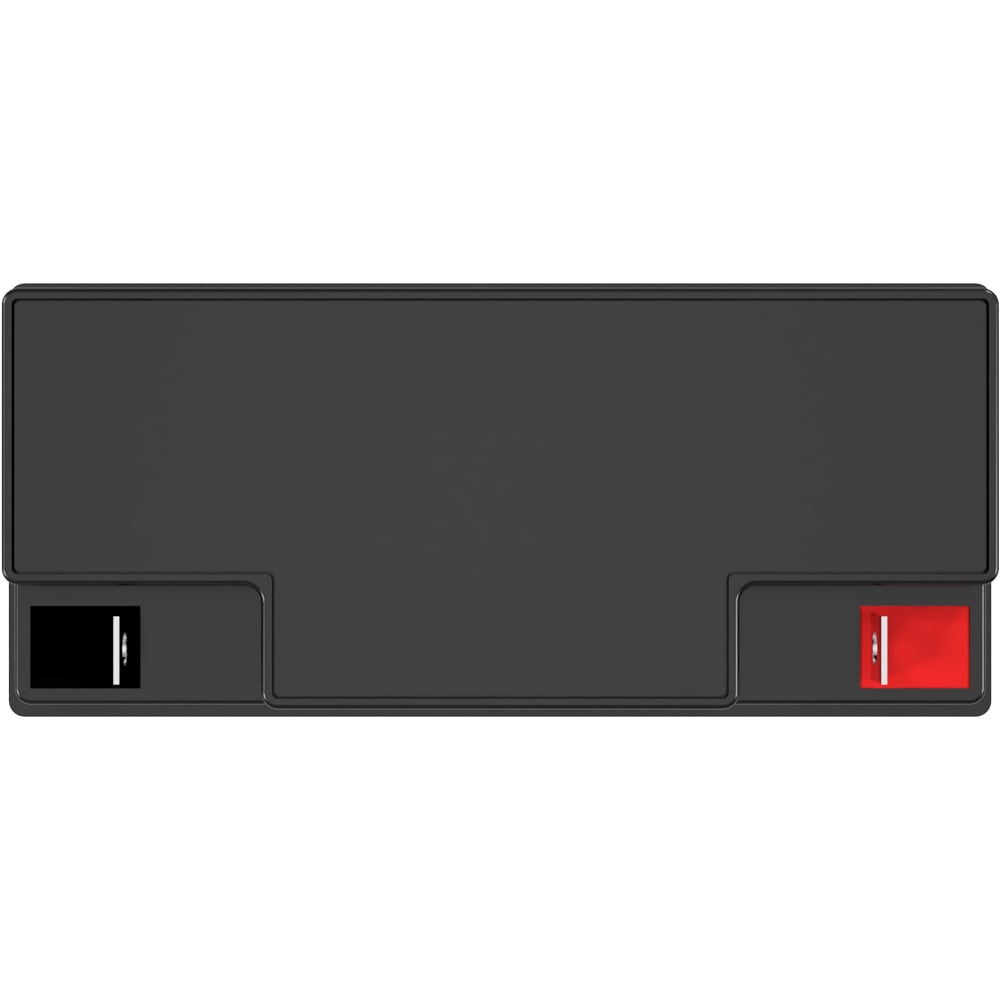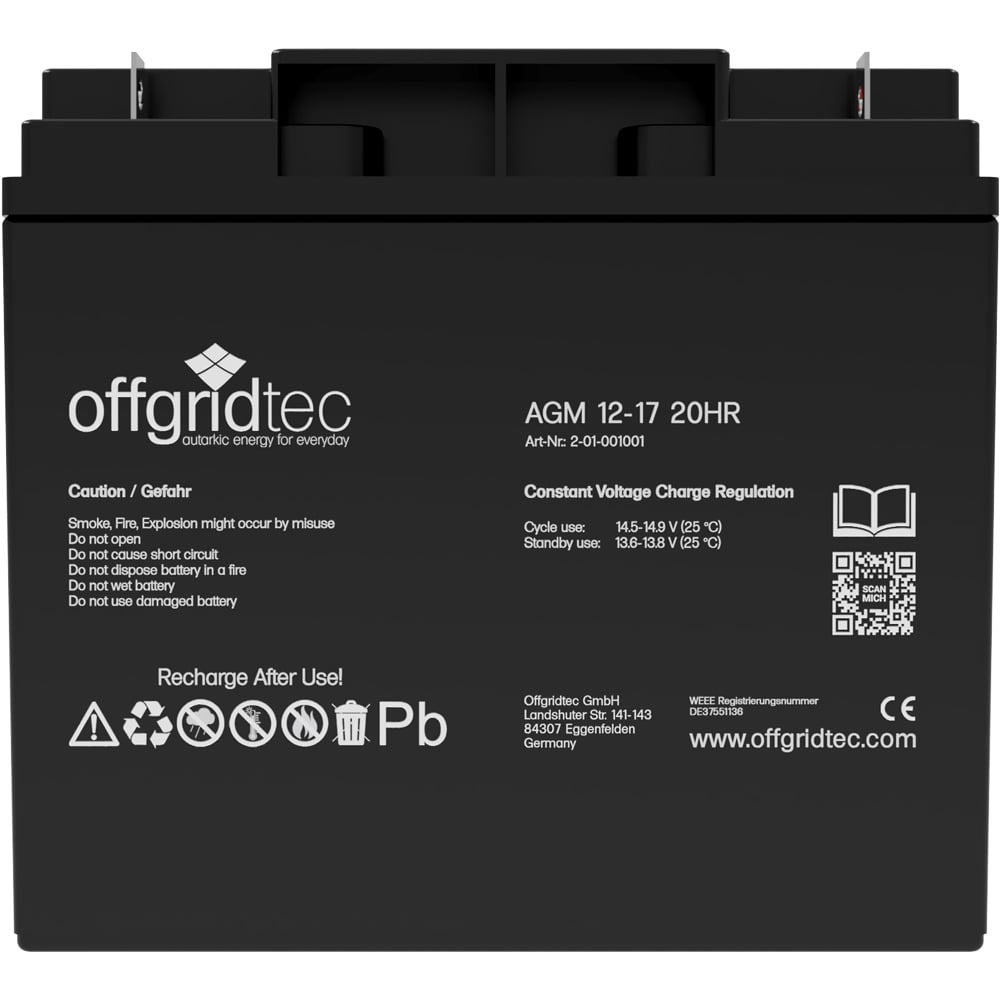 Product number:
2-01-001001
Offgridtec AGM solar batteries are explicitly designed for use in solar and hybrid systems. AGM technology is clearly superior to conventional lead-acid batteries with liquid electrolyte and offers the following advantages:
Advantages of using Offgridtec AGM technology
absolutely safe from leakage, no matter what position the battery is in
screwable M6 terminals instead of battery terminals (100% fixed)
100% maintenance-free over the entire service life
life expectancy up to 10 years (depending on usage pattern)
Highest quality level: Our batteries are all manufactured in A-quality from the best materials. This can best be seen in the weight of the batteries. Compare our products with those of other manufacturers!
can be discharged deeper than lead-acid batteries
mature technology, used in over 1000 Offgridtec solar systems
very cycle-resistant, therefore predestined for use in solar systems

AGM batteries are somewhat more expensive to purchase than lead-acid batteries, but this pays off after just a few years, as lead-acid systems require much more maintenance and have a shorter life than AGM-based storage solutions.
Especially for smaller energy generation systems with a maximum storage capacity of 4-8kWh, AGM is the first choice.
Technical data
Battery type: AGM Cycle type
Storage capacity 20HR(0.85A,1.75V): 17 Ah
Storage capacity 10HR(1.65A,1.75V): 16.5Ah
Storage capacity 5HR(2.9A,1.75V): 14.5Ah
Storage capacity 1HR(11.1A,1.75V): 11,1Ah
System voltage: 12V
Charge voltage cyclic use: 14.4V-14.9V
Charging voltage standby use: 13.6V-13.8V
Max. charging current: 5.1A
Self-discharge: 3% (per month)
Battery terminal type: M6 screw terminal
Weight: 5,4 Kg
Dimensions: 181 x 76 x 167mm
Life expectancy: up to 10 years (depending on usage pattern)
Battery regulation
You are legally obliged to return batteries. You can return them after use to our sales outlet or to a local municipal collection point.
Important information according to Battery Regulation
Ordinance on the return and disposal of used batteries. Batteries and rechargeable batteries do not belong in household waste. Consumers are legally obliged to return used batteries. They can be returned to Offgridtec.com or to public collection points in the community.
Pursuant to § 10 of the Battery Act, a deposit of 7.50 Euro including VAT must be charged by the seller if the end consumer does not have a used starter battery on hand at the time of purchase. If the seller does not charge a deposit because the used battery has been disposed of properly or has been exchanged for new, this amount is not deductible from the purchase Price.
Ambient temperature range discharged:
-20....+40°C
Average service life:
Up to 10 years
Capacity 1hr:
11,1 Ah (11.1A,1.75V)
Capacity 5hr:
14,5 Ah (2.9A,1.75V)
Capacity 10hr:
16,5 Ah (1.65A,1.75V)
Capacity 20hr:
17 Ah (0.85A,1.75V)
Charging voltage cyclic:
14,4V-15V (-30mV/ °C)
Charging voltage empty:
13,6V-13,8V (-20mV/ °C)
Features:
Particularly cycle resistant
Load ambient temperature range:
0....40°C
Scope of application:
indoor area
Self-discharge:
max. 3% (per month / 25°C)
Warranty:
2 years manufacturer's warranty
, 3-year manufacturer's warranty on production defects
max. charging current:
5,1A

Bis zu wie viel % kann die Batterie regelmäßig ohne großen Verlust der Lebenserwartung entladen werden?
Faustregel Blei-Säure Batterien (AGM, GEL): Maximal 50% nutzbare Batteriekapazität.
Beispiel: Eine 100Ah AGM Batterie hat eine nutzbare Kapazität von 50Ah.
Je kleiner davon der genutzte Anteil einer Batterie ausfällt, umso länger die Lebenserwartung.
Optimal ist es, die Batterie max. um 30% zu entleeren, entspricht am Beispiel 20-30Ah optimal nutzbare Kapazität.