Victron blue smart 12/13 IP67 charger 12 / 230 volt
Product number:
1-67-011525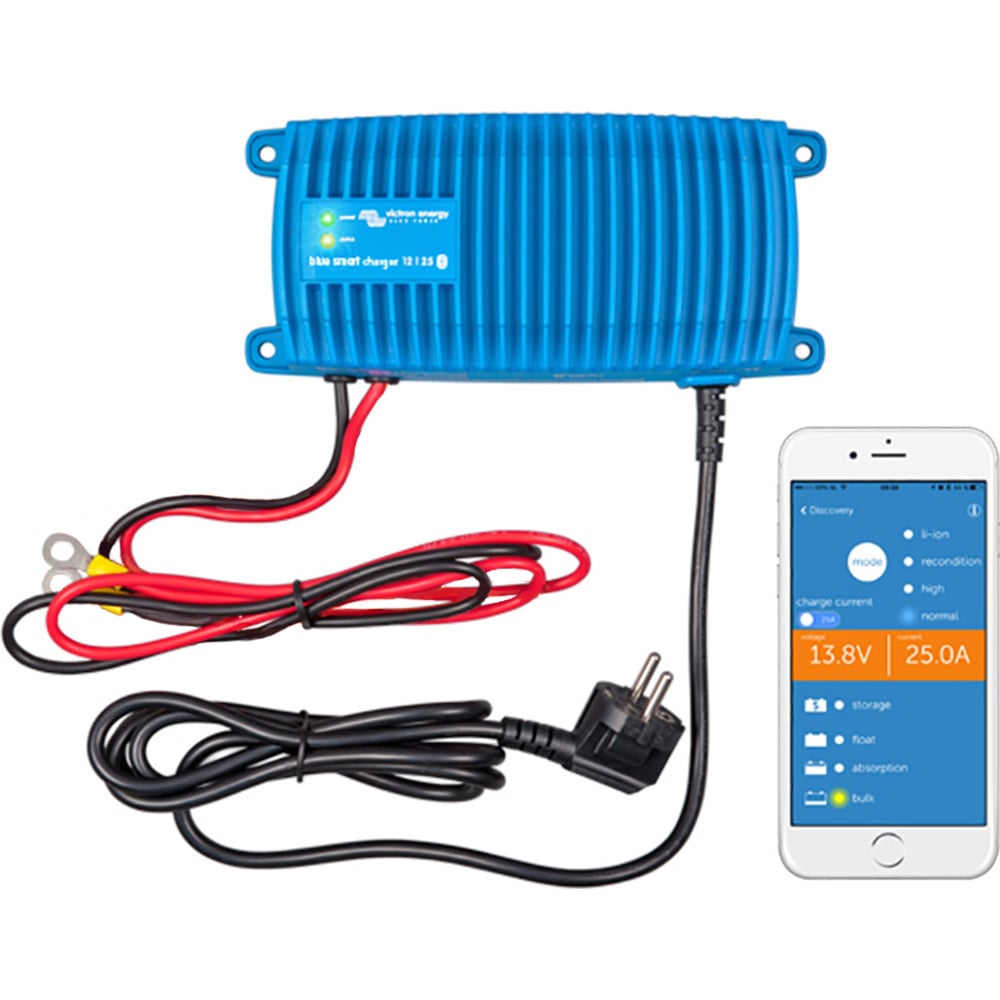 Product number:
1-67-011525
The Blue Smart ip 67 12/7 12v 230v battery charger from
victron Energy
(mpn bpc120713006) is a smart, high performance battery charger of the latest generation with 7a charging current for charging 12v agm, gel and lead acid batteries as well as lithium ion batteries. in terms of functionality, the Blue Smart ip67 series is identical to the chargers of the Blue Smart ip 65 and ip 22 device families except for a few functions. Only the operating environment for which these chargers are designed differs.
The Blue Smart ip 67 battery chargers offer a wireless solution for monitoring voltage and current, adjusting settings and updating the charger when new features become available, thanks to integrated Bluetooth.
important features of the Blue Smart ip67 12/7 battery charger
victron Part number: bpc120713006
Model name: Blue Smart ip 67 12/7
max. charging current: 7a
for battery voltage: 12v dc
for mains voltage: 180-265 vac 45-65 Hz
fully enclosed: waterproof, shockproof and fire retardant
smart configuration and monitoring via integrated bluetooth and free app
adaptive 5-step charging algorithm
prolongs the life of your batteries thanks to integrated storage mode
can be used to power 12v consumers
high quality cast aluminum housing
Protection against application errors: reverse polarity on battery (fuse), protection against overtemperature, protection against output short circuit
fully encased: waterproof, shockproof and fire retardant

Water, oil or dirt cannot damage the Blue Smart ip67 charger. The case is made of cast aluminum and the electronics are coated with resin.

one of the highest charging efficiencies ever!

Setting a new industry standard: With an efficiency of 92% or more, these chargers produce three to four times less heat.

adaptive 5-Stage Charging Algorithm

The Blue Smart charger features microprocessor-controlled "adaptive" battery management. "Adaptive" means that the charging process is automatically adjusted to the type of battery usage.
"Bulk" (constant current phase)
"Absorption" (constant voltage phase)
"Recondition" (regeneration phase)
"Float" (charge maintenance voltage phase)
"Storage" (storage mode)
Storage mode: less maintenance and aging when the battery is at rest

Storage mode is activated whenever there has been no discharge within 24 hours. In storage mode, the charge maintenance voltage is then lowered to 2.2 v/cell (13.2 v for a 24-v battery) to minimize gas generation and corrosion on the positive plates. Once a week, the voltage is increased to the level of the gassing voltage. This provides a type of equalization charge that prevents electrolyte stratification and sulfation, the two main causes of premature battery failure

main differences with the Blue Smart ip 65 family

The two groups of devices differ in the following respects:
the protection class, the ip 67 devices have the best possible protection
Blue Smart ip 65 devices have a 7-stage charging algorithm, the ip67 has a 5-stage algorithm
Scope of delivery:

1x victron bpc120713006 Blue Smart ip67 12/7 7a 12v 230v battery charger
1x instruction manual
1x 1,5m battery connection cable red/black
Manufacturer:
Victron Energy
Product Type:
Adaptive 4-stage 230V-12V battery charger with smartphone connection and support for all common battery types.
Warranty:
5 years manufacturer's warranty 2