Victron Blue Smart ip22 24/8(1) Charger 24v 8a 1 battery
Product number:
1-67-011405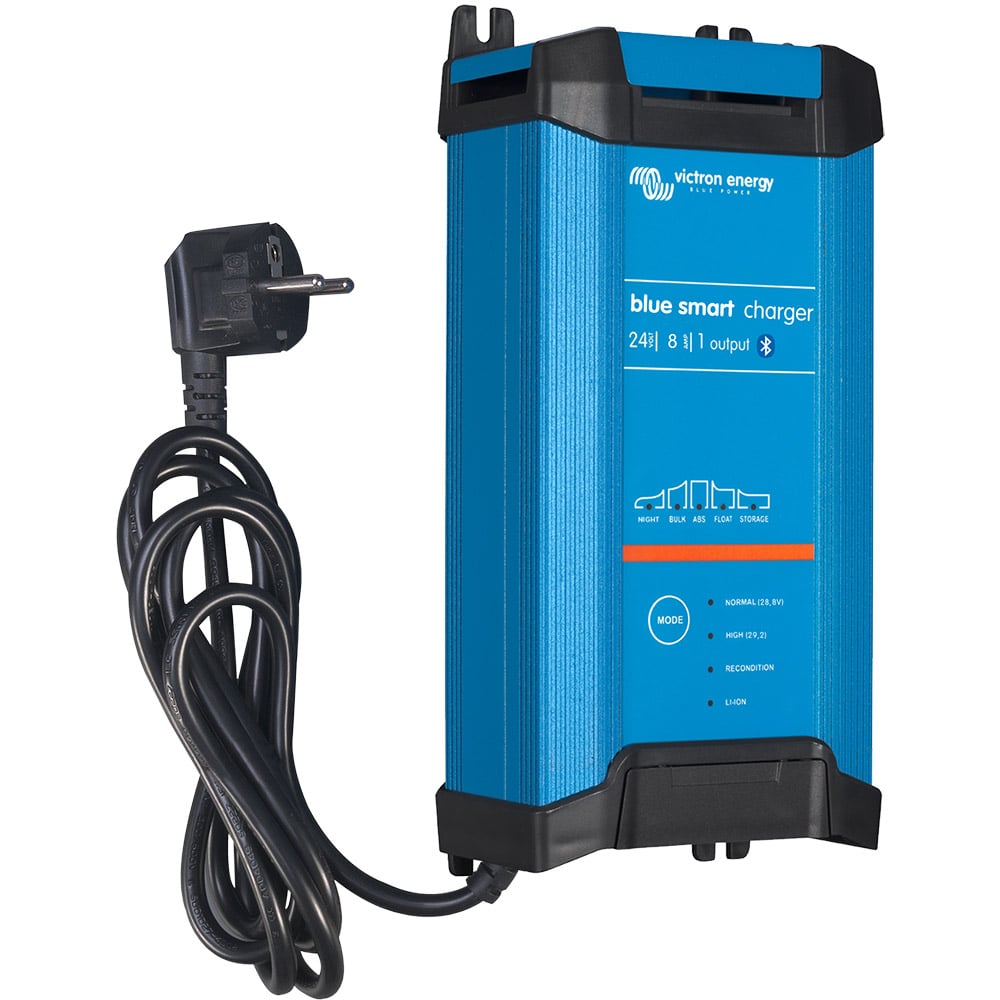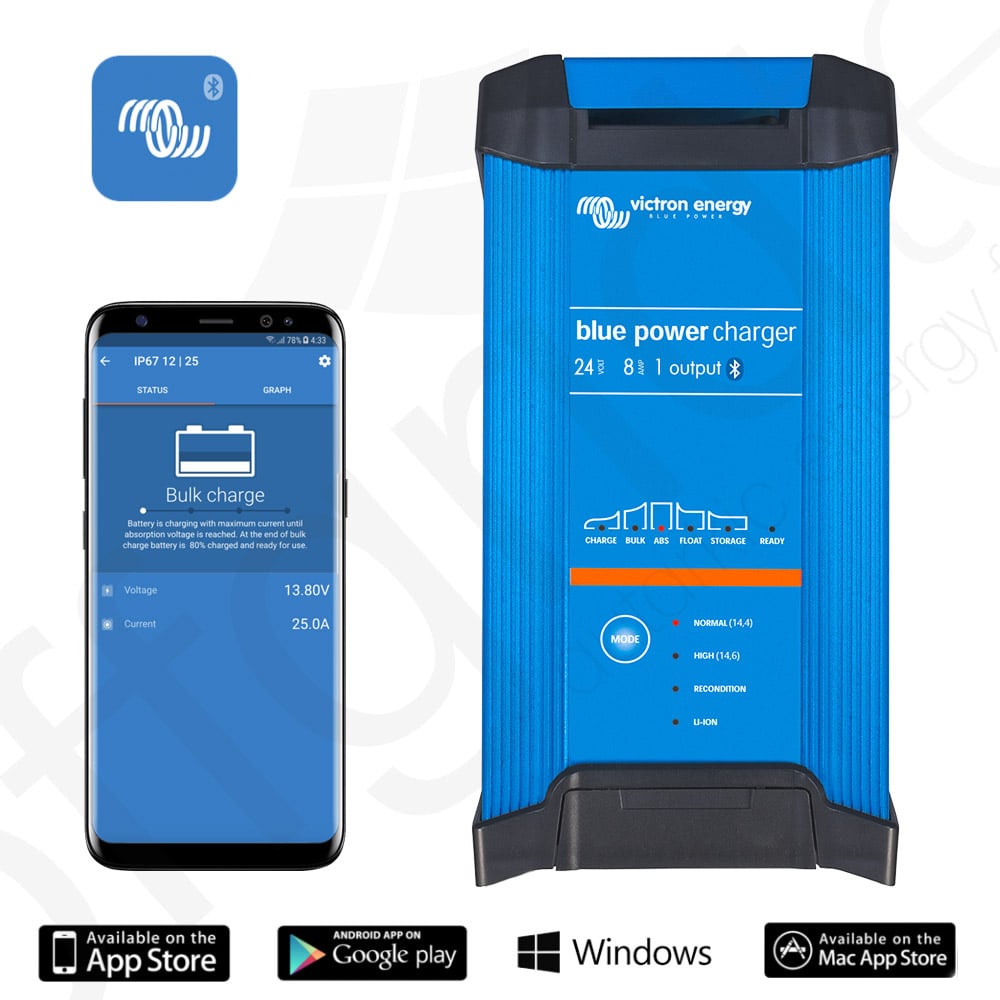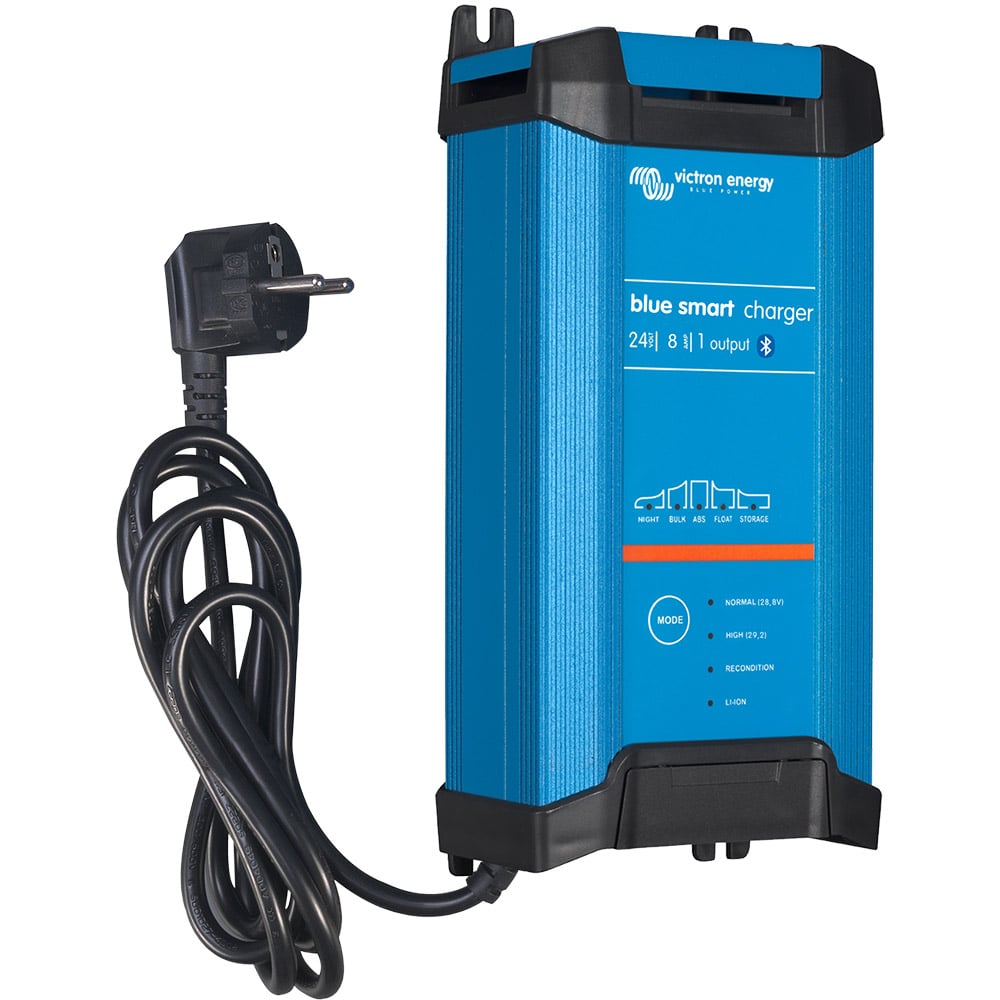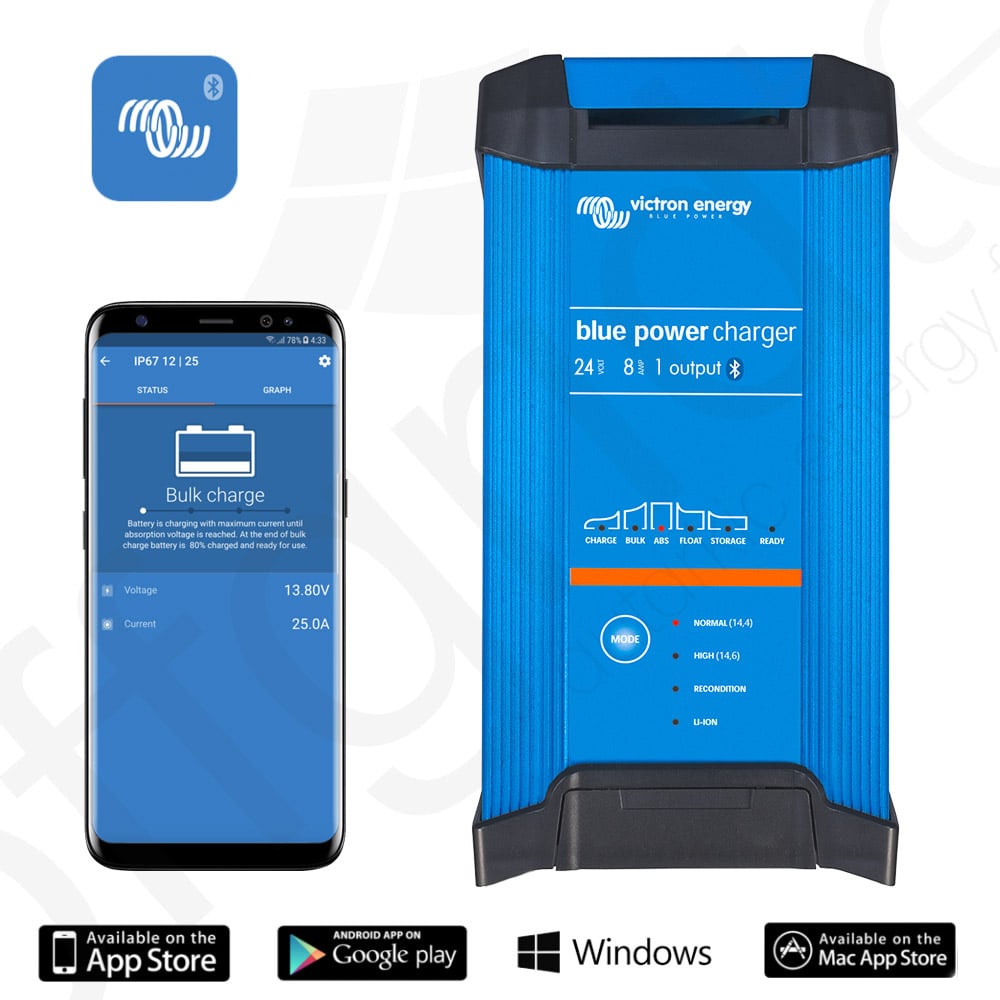 Product number:
1-67-011405
The Blue Smart ip22 24/8(1) charger from Victron Energy (mpn bpc240842002), is a professional, compact 24v 8a battery charger of the latest generation with a charging output and built-in Bluetooth! The Blue Smart ip22 24/8(1) charger can be used with equipment in your workshop or with motor vehicles such as with (classic) cars, motorcycles, boats and motorhomes and charges both classic 24v lead batteries and modern lithium batteries. It offers
Highlights of the 24/8(1) Blue Smart ip22 Charger
intelligent charging, until the perfect battery state...
The seven-stage charging algorithm gets the most out of your battery. The charger provides the battery with the energy it needs, keeps it in a healthy state, ensures better performance... and a longer life
Restoring deep-discharged "dead" batteries
Unlike most other brands and product lines, the Blue Smart ip22 charger will attempt to recharge a deep-discharged battery by imposing a weak charging current on it. Normal charging operation will then resume once sufficient voltage is present between the battery terminals.
Retrieving battery status remotely, with the VictronConnect app
The Blue Smart ip22 24/8(1) charger has built-in Bluetooth. This allows the status of the charger and battery to be checked on a smartphone, tablet or laptop. All settings of the charger can be configured with the VictronConnect App
the main technical features of the 24/8(1) Blue Smart ip22 Charger
Victron Part number: bpc240842002
charges 24v lead acid, gel, agm and lithium batteries
8a maximum charge current
1 battery charge output
very compact dimensions: 235 x 108 x 65mm
highly advanced, seven-stage charging algorithm
with integrated Bluetooth for use with the free VictronConnect app
other features of the 24/8(1) Blue Smart ip22 battery charger
trend-setting efficiency
With up to 94% efficiency, these chargers generate up to four times less heat compared to the industry standard. Also, after the battery is fully charged, power consumption drops to less than 0.5 watts, about five to ten times better than the industry standard.
adaptive 7-stage charging algorithm
The 24/8(1) Blue Smart charger features microprocessor-controlled "adaptive" battery management. "Adaptive" means that the charging process is automatically adjusted to the type of battery usage.
Storage mode: less maintenance and aging when the battery is at rest
Storage mode is activated whenever there has been no discharge within 24 hours. The charge maintenance voltage is then lowered to 2.2V/cell (13.2v for a 24v battery) to minimize gas generation and thus prevent corrosion on the positive plates. Once a week, the voltage is increased to the level of the gassing voltage. This provides a type of equalization charge that prevents electrolyte stratification and sulfation, the two main causes of premature battery failure.
Scope of delivery:
1x Victron Energy bpc240842002 24/8(1) ip22 Blue Smart Charger 1x instruction manual
Ambient temperature:
-20°C - +50°C
Manufacturer:
Victron Energy