Victron Centaur Charger 12/20 (3) 12v 20a battery charger 3 outputs
Product number:
1-67-012015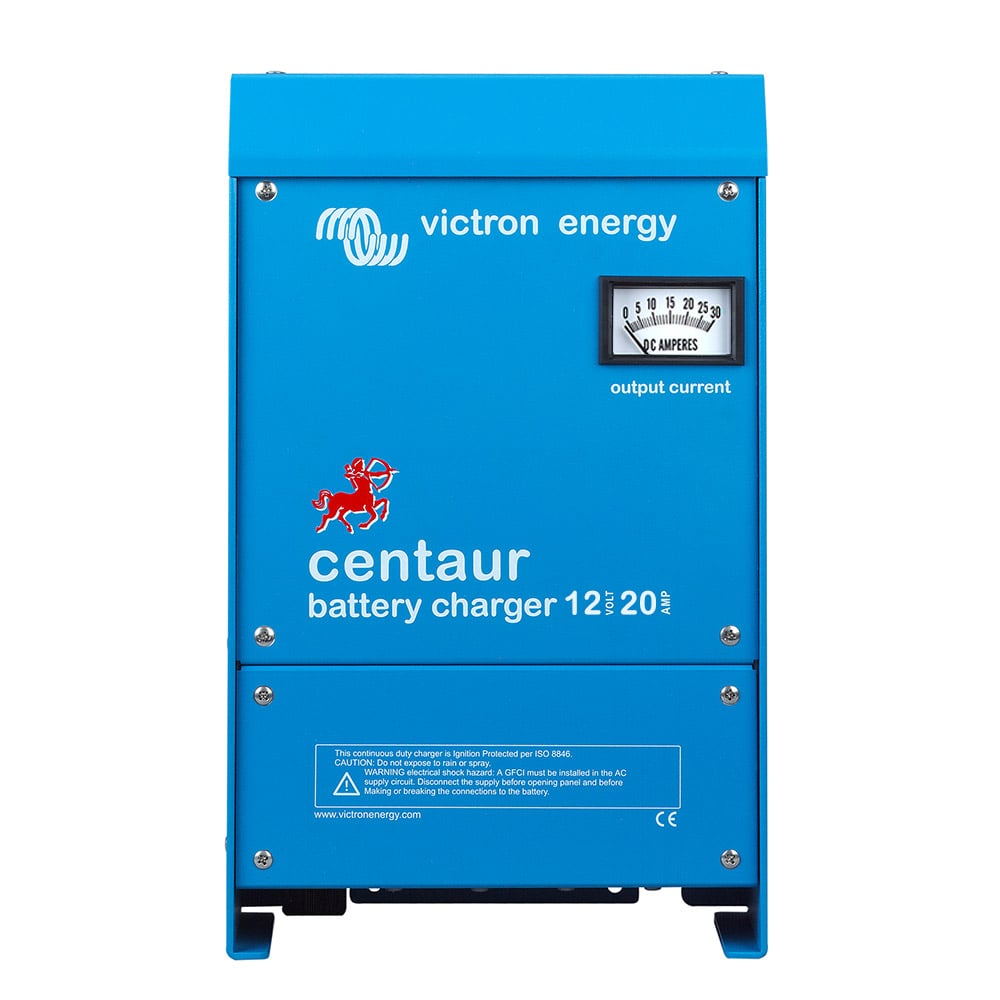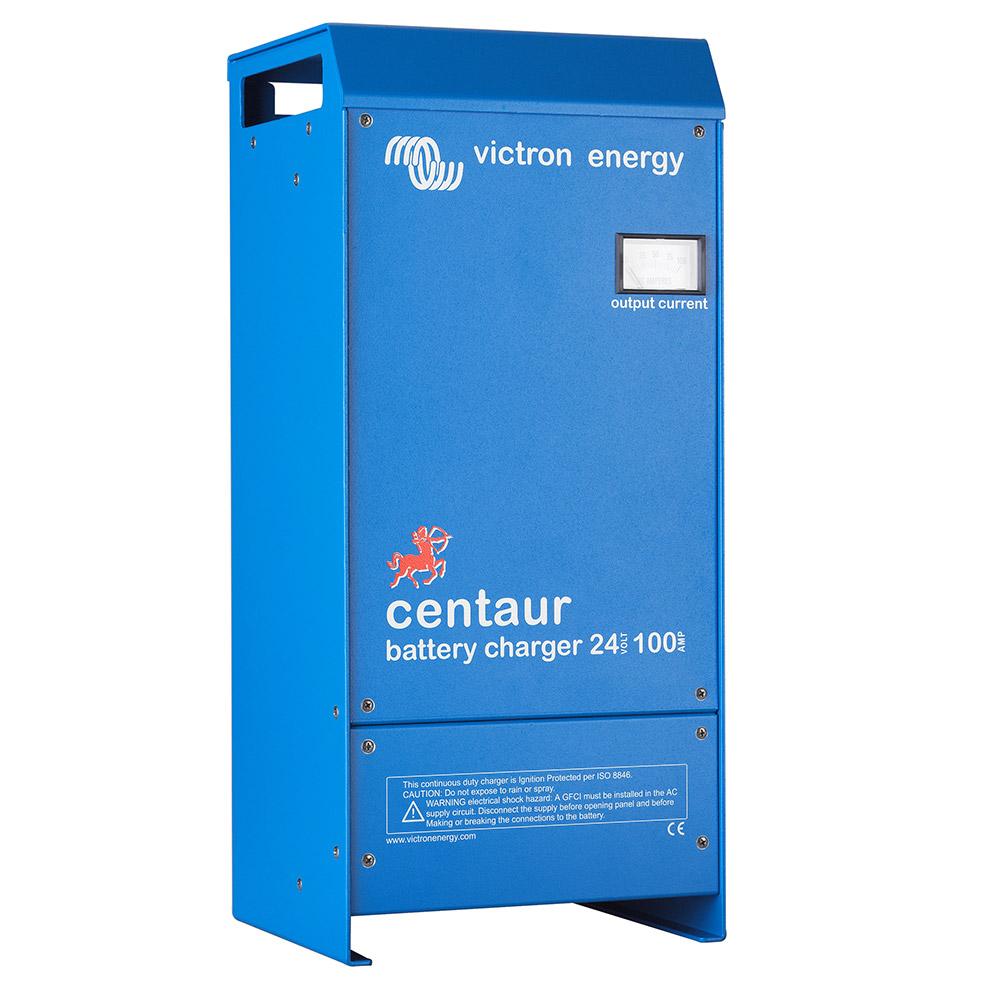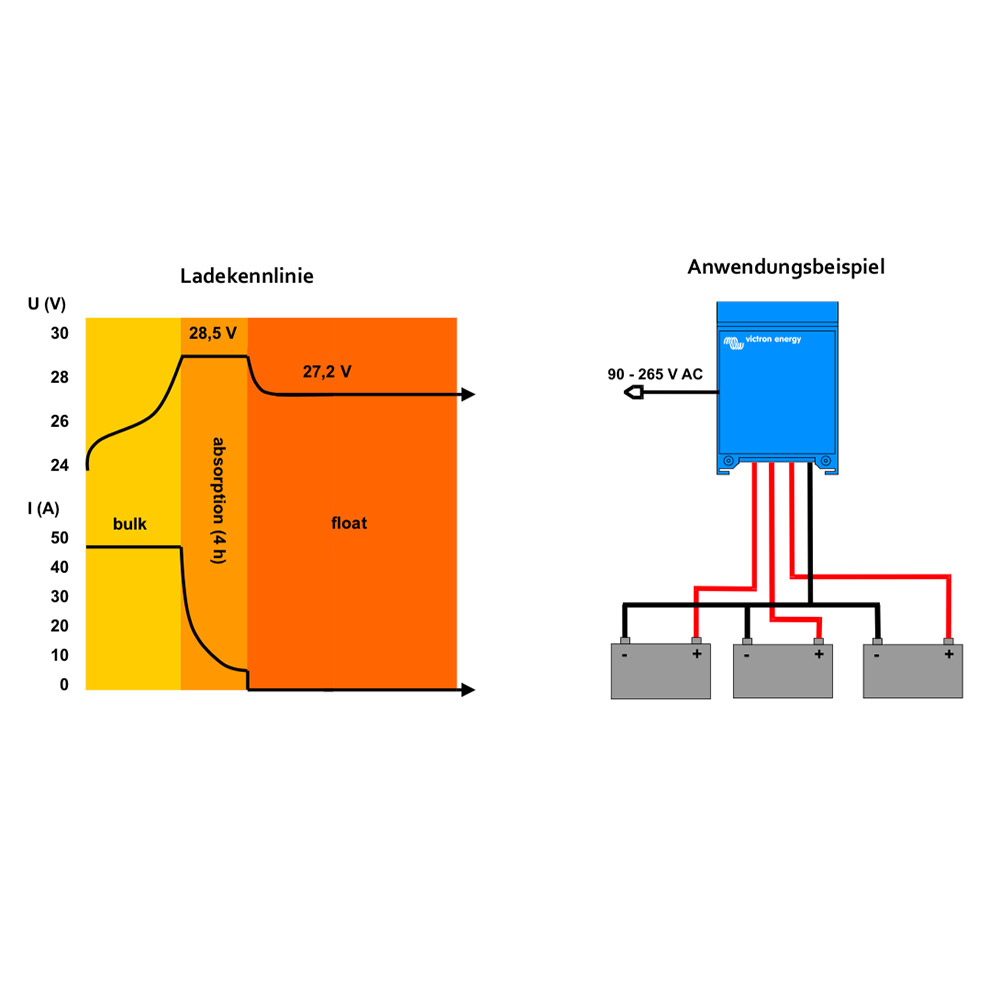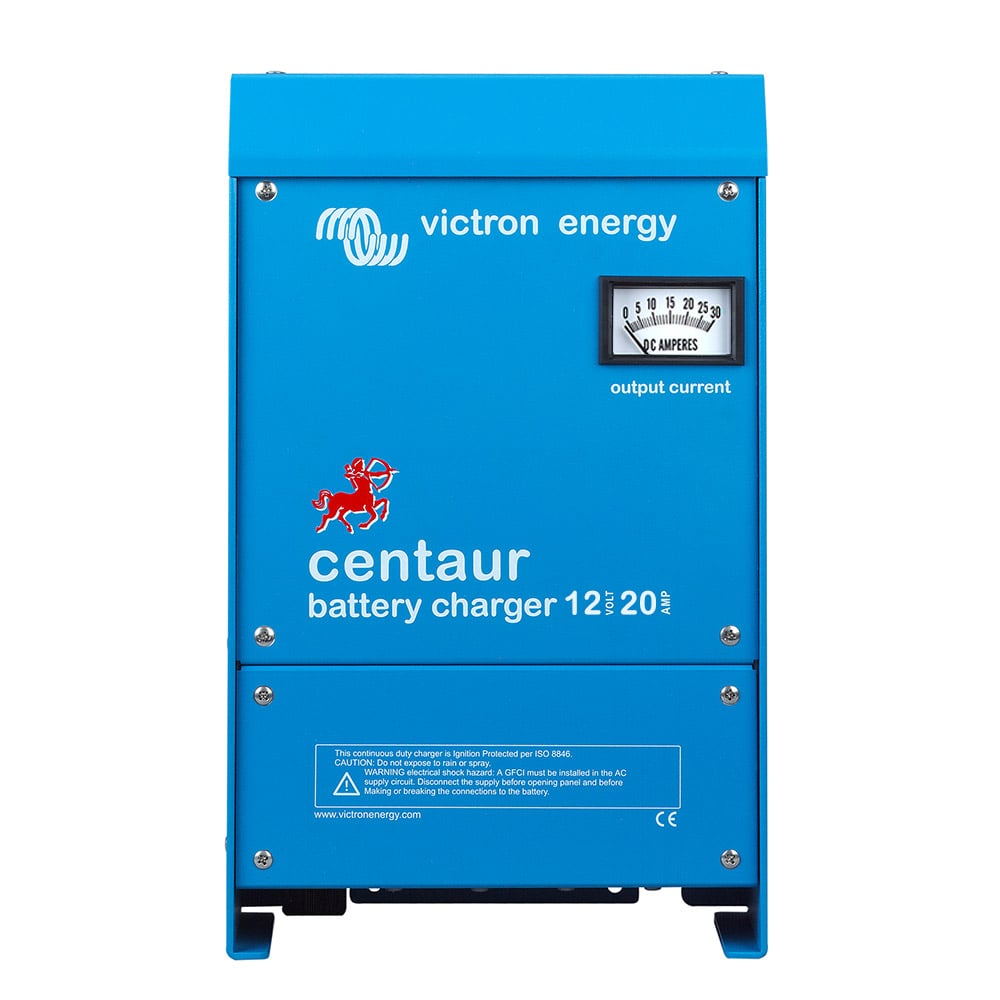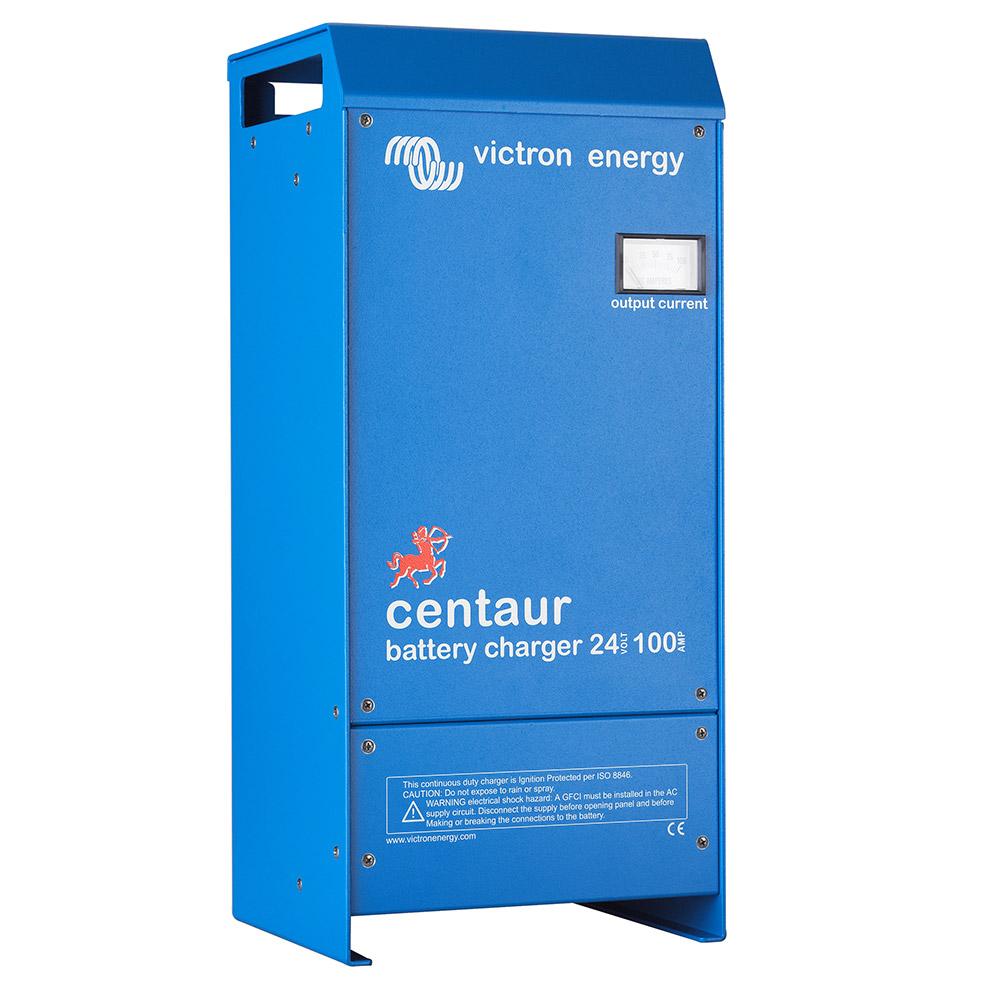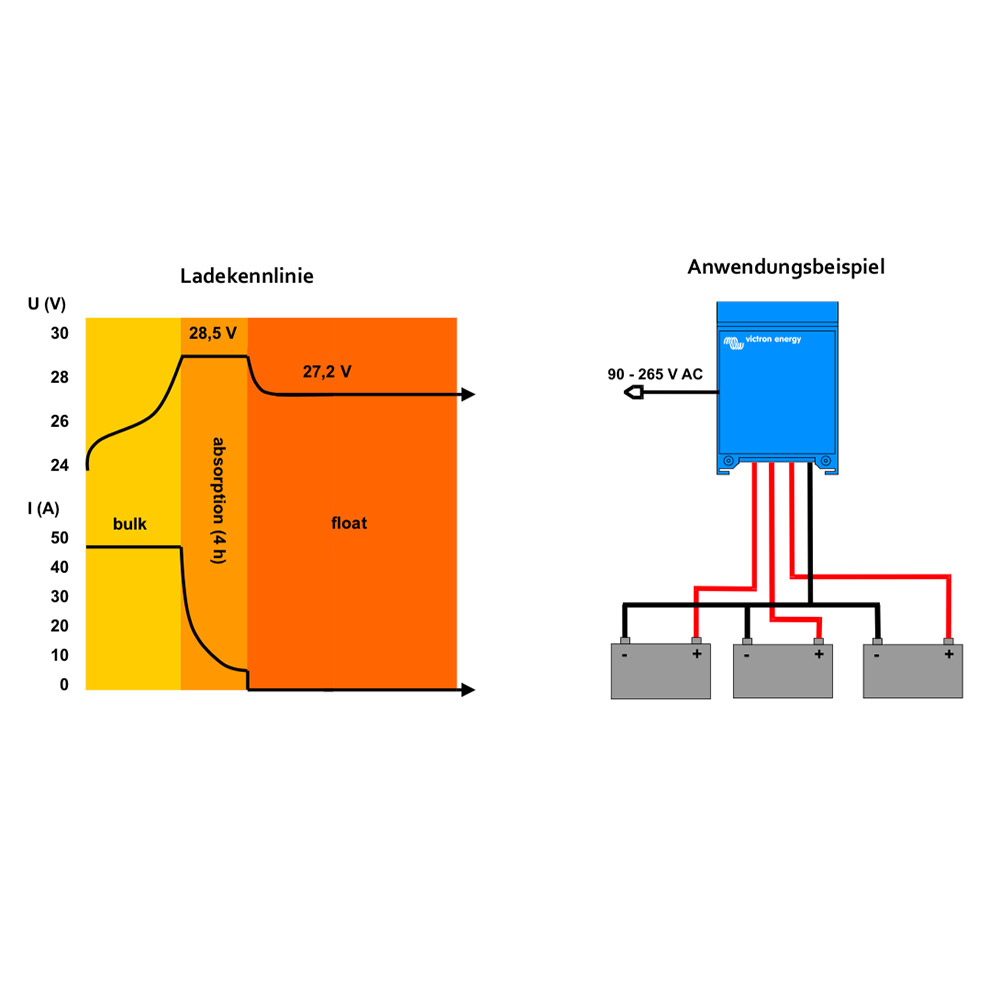 The Centaur 12/20 (3) from victron Energy (mpn cch012020000) is a high quality battery charger for 12v batteries with 3 charging outputs and 20a maximum charging current, which can be distributed as desired among the 3 outputs. Thanks to its wide input voltage range of 90-265 v ac, the Centaur 12/20 (3) can be used almost anywhere in the world without any special settings. The IUoU charging characteristic with three-stage characteristic ensures gentle charging of your battery(ies). The Centaur is suitable for charging gel, agm and lead acid batteries, where the battery type can be quickly selected via a DIP switch on the housing of the device.
The Centaur battery charger is fully high frequency regulated. The power input is electronically controlled by the power factor in the first power stage. The next stage provides galvanic isolation and ensures perfect DC voltage at the outputs. The electronic components are protected against moisture and dirt by a special coating to ensure the longevity of the device. Three high power batteries can be charged simultaneously with this charger
important features of the Centaur 12/20 at a glance
for 12v battery voltage, ip20 protection class
victron Part number: cch012020000
3 battery charging outputs, each can supply full 20a charging current (maximum total charging current = 20a)
suitable for batteries with capacity from 80Ah - 200Ah
three-stage IUoU charging curve
universal 90 - 265v ac input for mains connection, which can work with both at 50 Hz and 60 Hz
suitable for charging gel, agm and lead-acid batteries
Centaur 12/20 (3): quality without compromise
An aluminum housing with epoxy powder coating, drip protection against condensation water and stainless steel mounting parts allow the Centaur 12/20 to withstand the toughest demands such as heat, humidity and salty atmospheres. The circuit boards are safely protected against corrosion by an acrylic coating. Temperature sensors ensure that all power components operate within specified limits and, if necessary, the output current is automatically reduced in extreme conditions.
Three-stage charging characteristic with temperature compensation
Centaur initially charges at constant current (bulk) until the charge current has dropped to 70% of the nominal value. This is followed by a fixed four-hour constant voltage phase, at the end of which a trickle charge phase follows. The charging voltage is controlled by the internal temperature sensor (-2mv/°C per cell). The full charge current is distributed over three outputs, each output delivering full power on its own when only one battery is connected
Different battery types can be used on the Centaur 12/20; the default setting refers to gel batteries. Other batteries (lead acid or agm) can be used after appropriate setting on the jog switch (lower left behind the front front panel)
Scope of delivery:
1x victron Energy cch012020000 Centaur 12/20 (3) 1x installation manual
Ambient temperature:
-20°C - +60°C
Manufacturer:
Victron Energy