Victron Cyrix-Li-Charge 12/24v-120a
Product number:
8-67-011910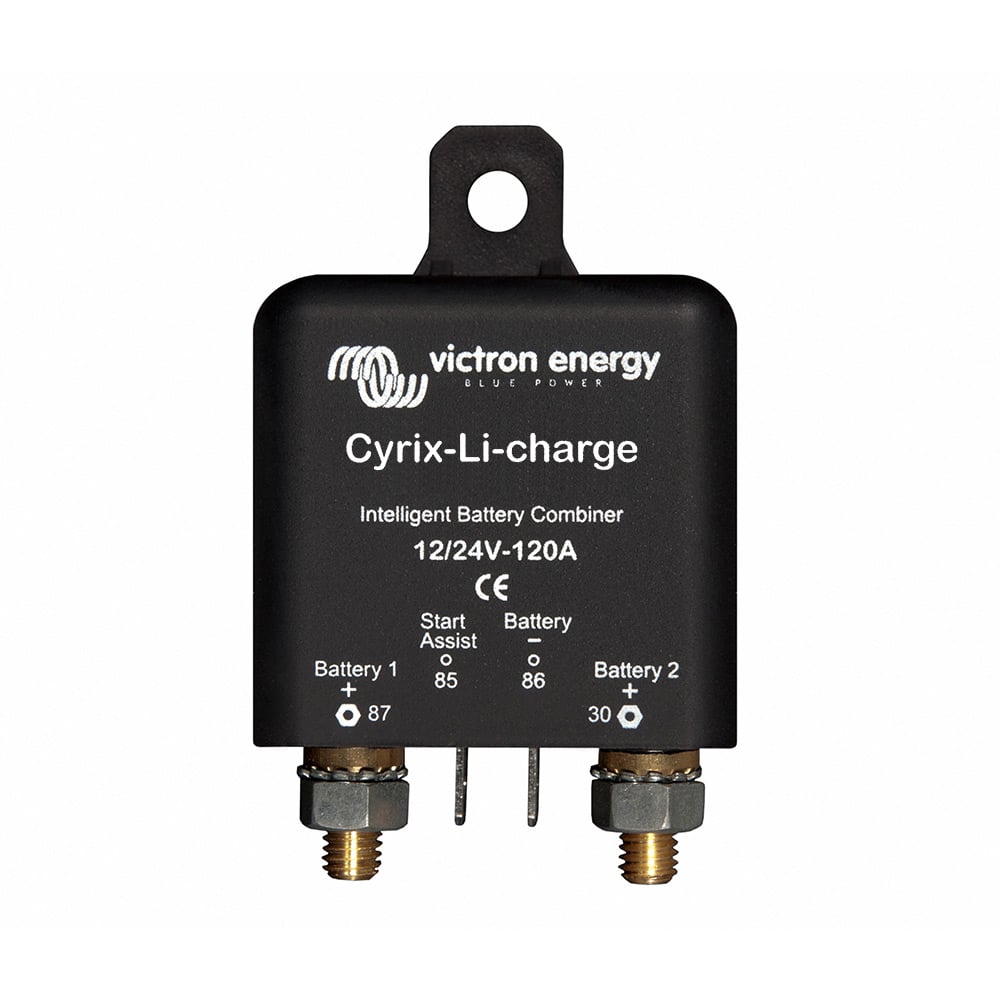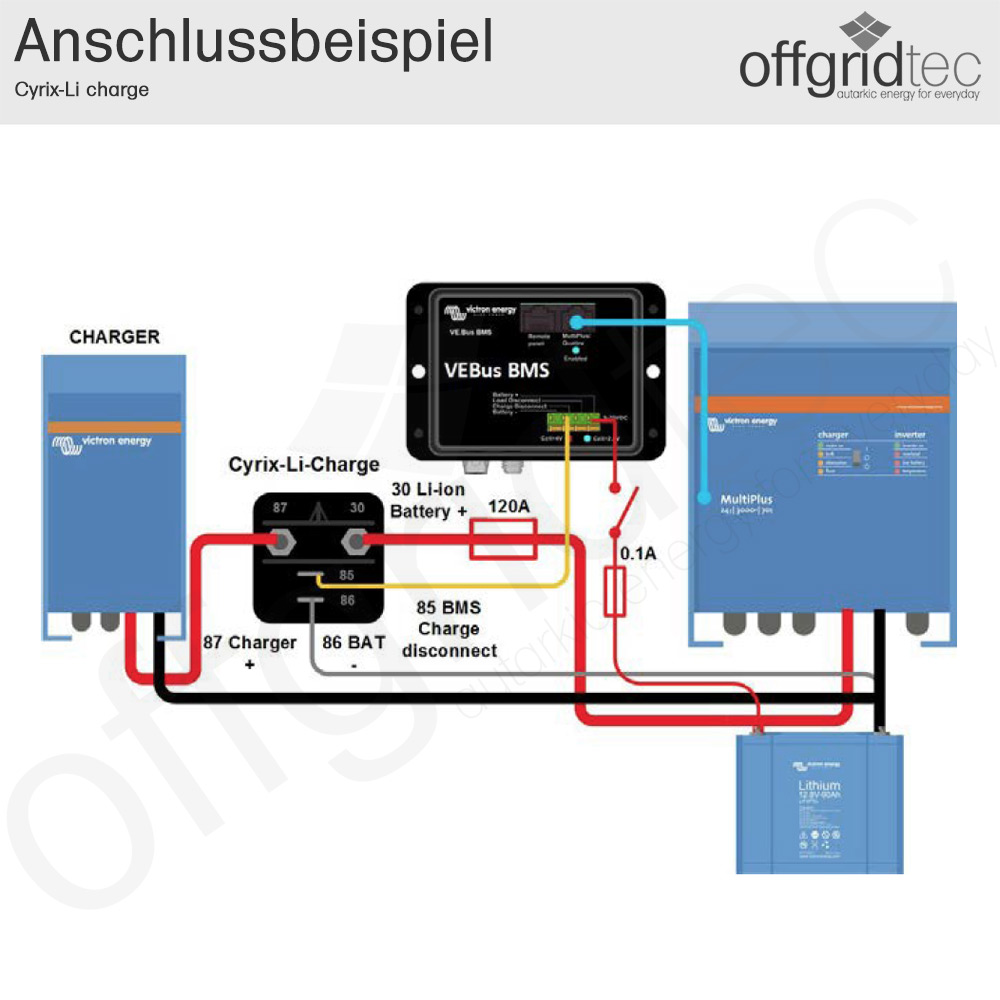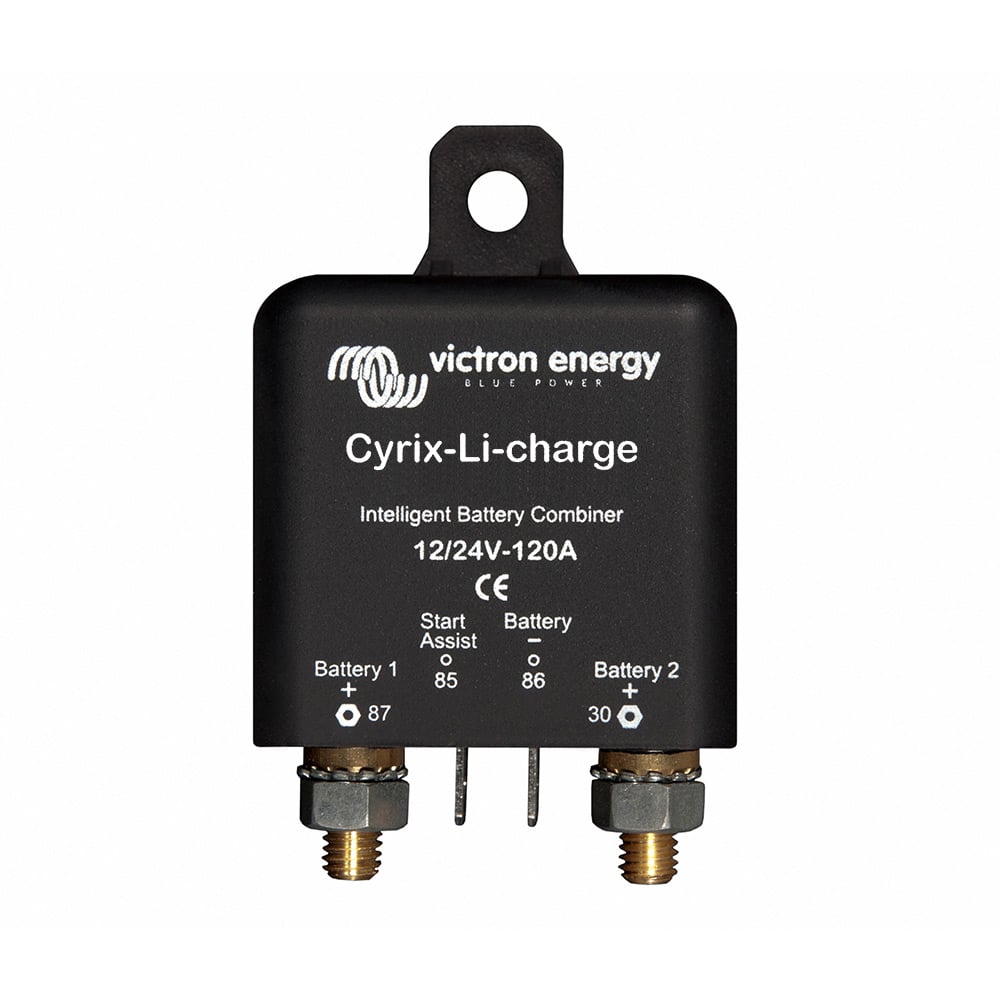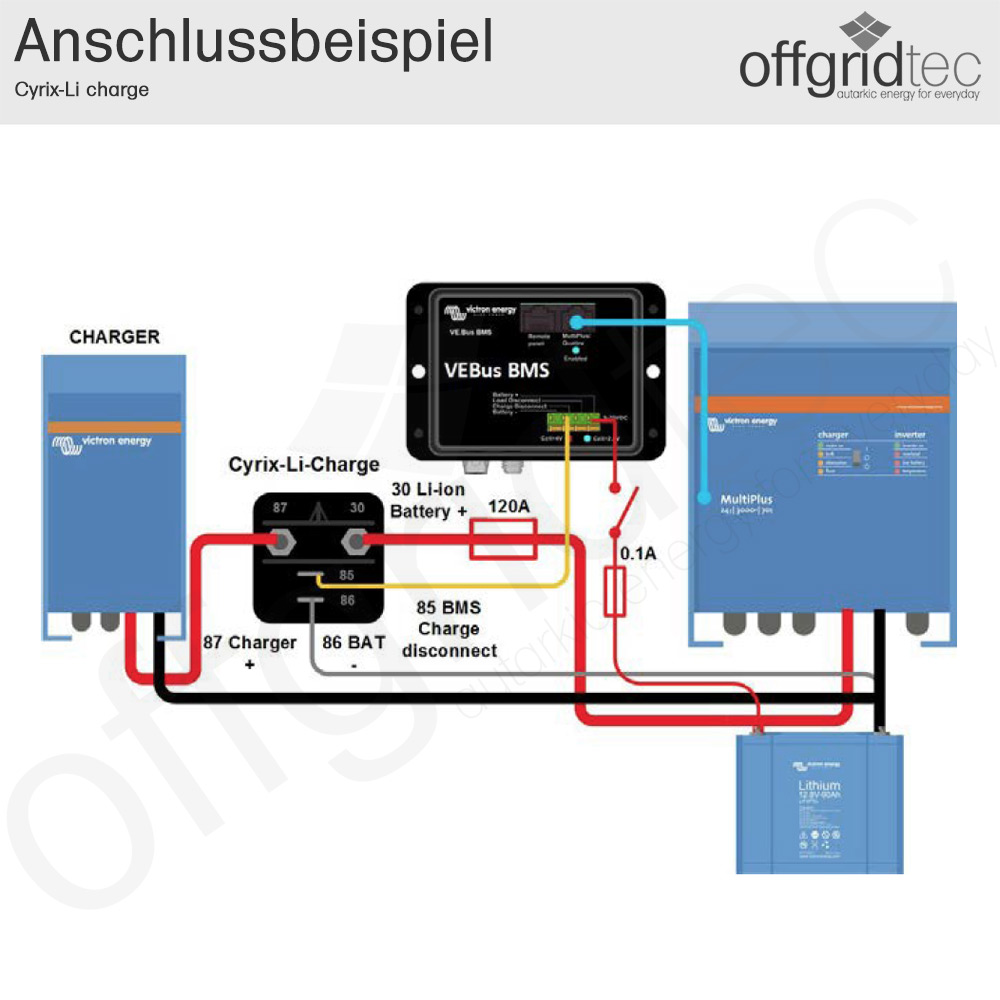 The Cyrix-Li-Charge 12/24v-120a battery coupler from victron Energy (mpn cyr010120430) for 12v and 24v LiFePO4 batteries. It can work with a maximum current of 120a and is, among other things, an ideal complement to the ve.Bus bms as a battery switch for those loads that the ve.Bus bms cannot switch independently.
Function of the Cyrix battery coupler in general
The victron Cyrix-Li-Load 12/24v-120a is a high performance microprocessor controlled relay that automatically connects batteries in parallel when one of them has reached a predetermined voltage value (indicating that the battery is charging) and, disconnects the batteries again when the voltage drops below the float voltage value (indicating that one or both batteries are being discharged). Cyrix battery couplers are excellent for replacing isolation diodes. Their main feature is that there is virtually no voltage loss, so there is no need to increase the output voltage of the alternators or battery chargers.
Mode of operation of the Cyrix-Li-Charge 12/24v 120a
The Cyrix-Li-Charge 12/24v-120a connects a battery charger with a delay time of 3 seconds
when the output "Charge Disconnect" of the ve. Bus bms is high and
when it measures 13.7 v (or 27.4 v or 54.8 v) or more at its battery charger port, and
when it measures 2 v or more at its battery connector (the Cyrix remains open when not connected to the battery)
The Cyrix-Li-Charge will shut down immediately when its control output reaches a "free floating" (open circuit) condition, indicates a cell overvoltage, or indicates a cell overtemperature. Generally, a cell overvoltage alarm will reset shortly after charging stops. The Cyrix then reconnects the charger. After two attempts to reconnect the unit at 3-second intervals, this delay time is extended to 10 minutes. Whenever the battery voltage is below 13.5 v (or 27 v or 54 v), the Cyrix switches off with a delay time of 1 hour.
Note 1: If the discharge current is 0 or if there is very little discharge current, the Cyrix will not shut down shortly after the charger is turned off and/or disconnected because the battery voltage remains above the 13.5 v value. Note 2: If the output of the battery charger, after the Cyrix has switched off, immediately rises again to 13.7 v or more, the Cyrix switches on again with a delay time of 3 seconds.
important technical features
Manufacturer part number: cyr010120430
Continuous current and cut-off current: 120a
for 12v and 24v battery voltage
Cyrix-Li-Charge as a perfect complement to the ve.Bus bms
A central core of protection for victron LiFePO4 batteries is the ve.Bus bms. However, not all loads or chargers can be controlled directly via the ve.Bus bms. To switch off such loads or chargers, several ve.Bus bms controllable Cyrix switches are available.
Scope of delivery:
1x victron Energy cyr010120430 Cyrix-Li-Charge 12/24v-120a Battery Coupler 1x user manual
Ambient temperature:
-20°C - +50°C
Manufacturer:
Victron Energy