Victron Phoenix Inverter 48/3000 VE.Bus 48V 230V Sine 2400W 6000W
Product number:
1-67-008915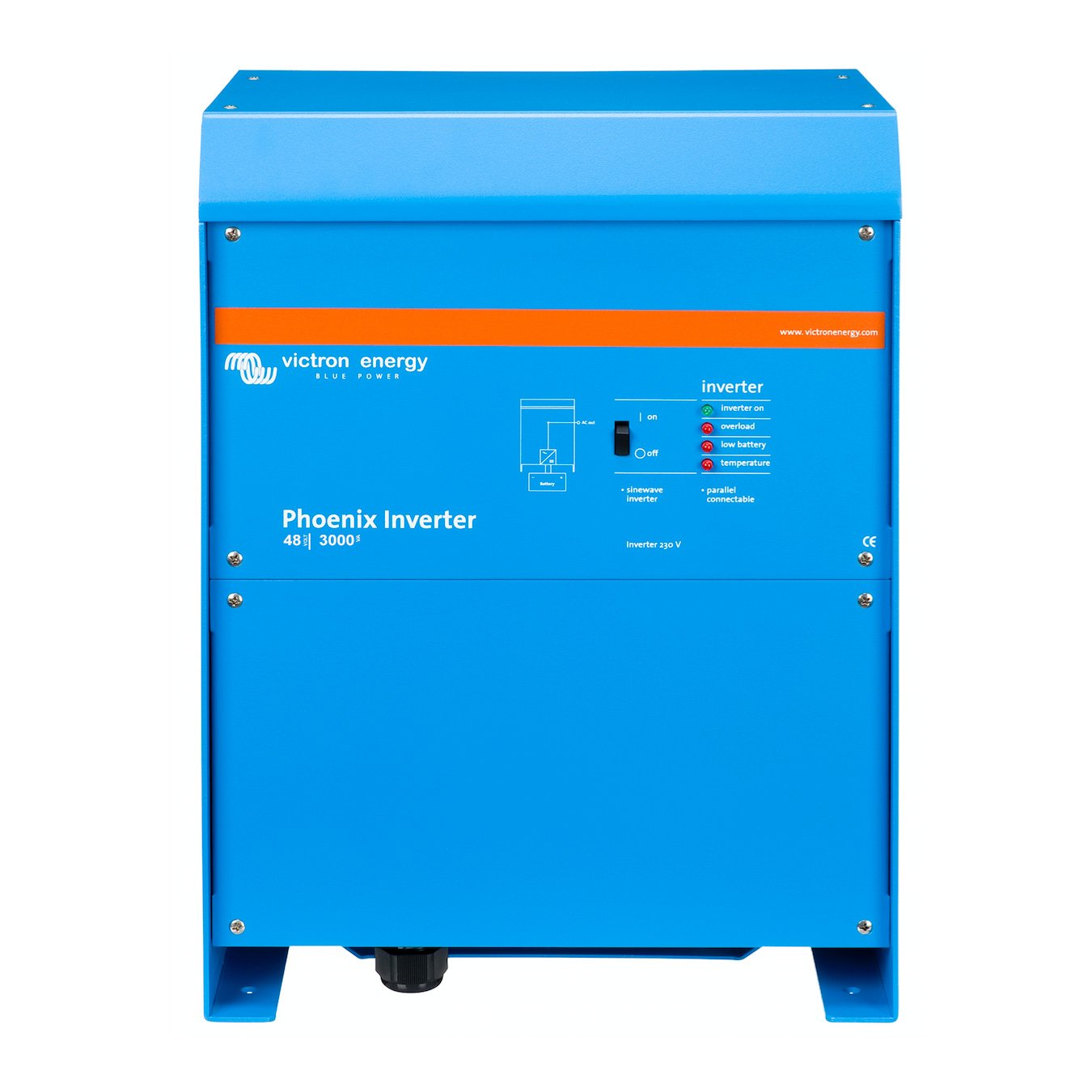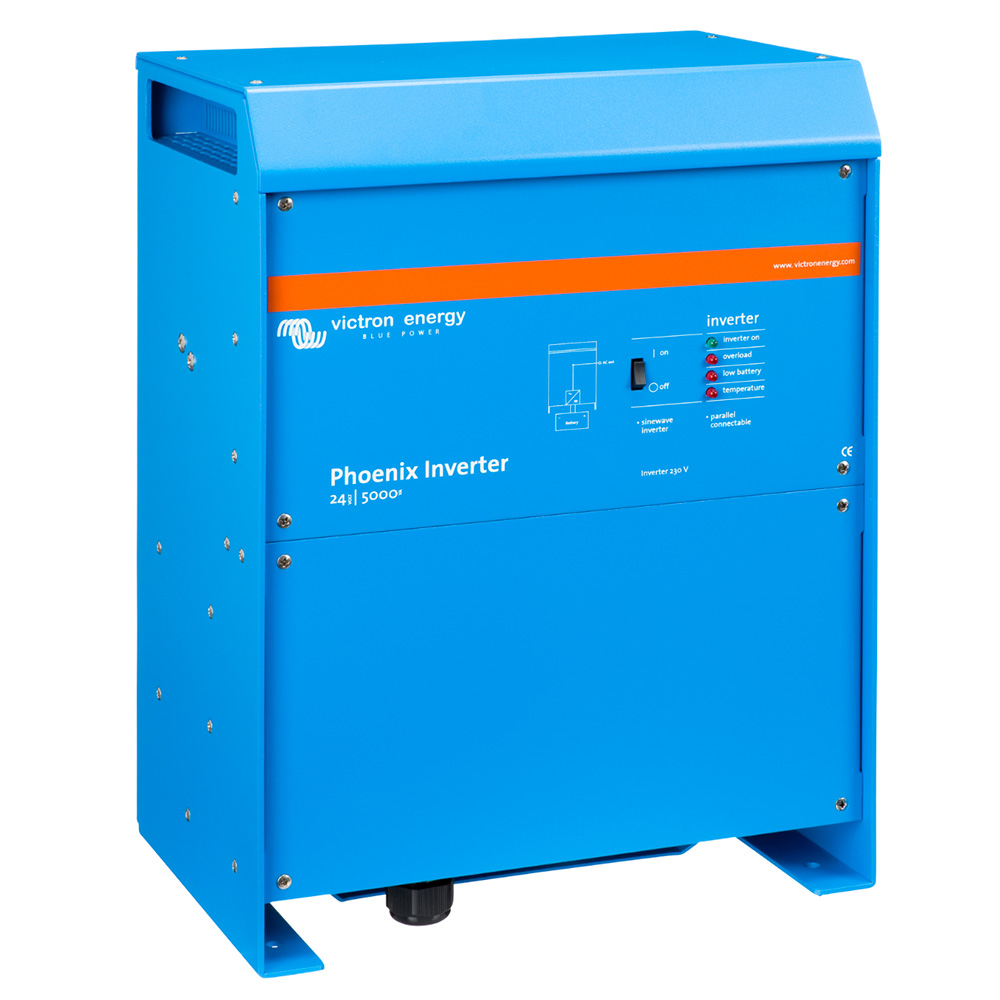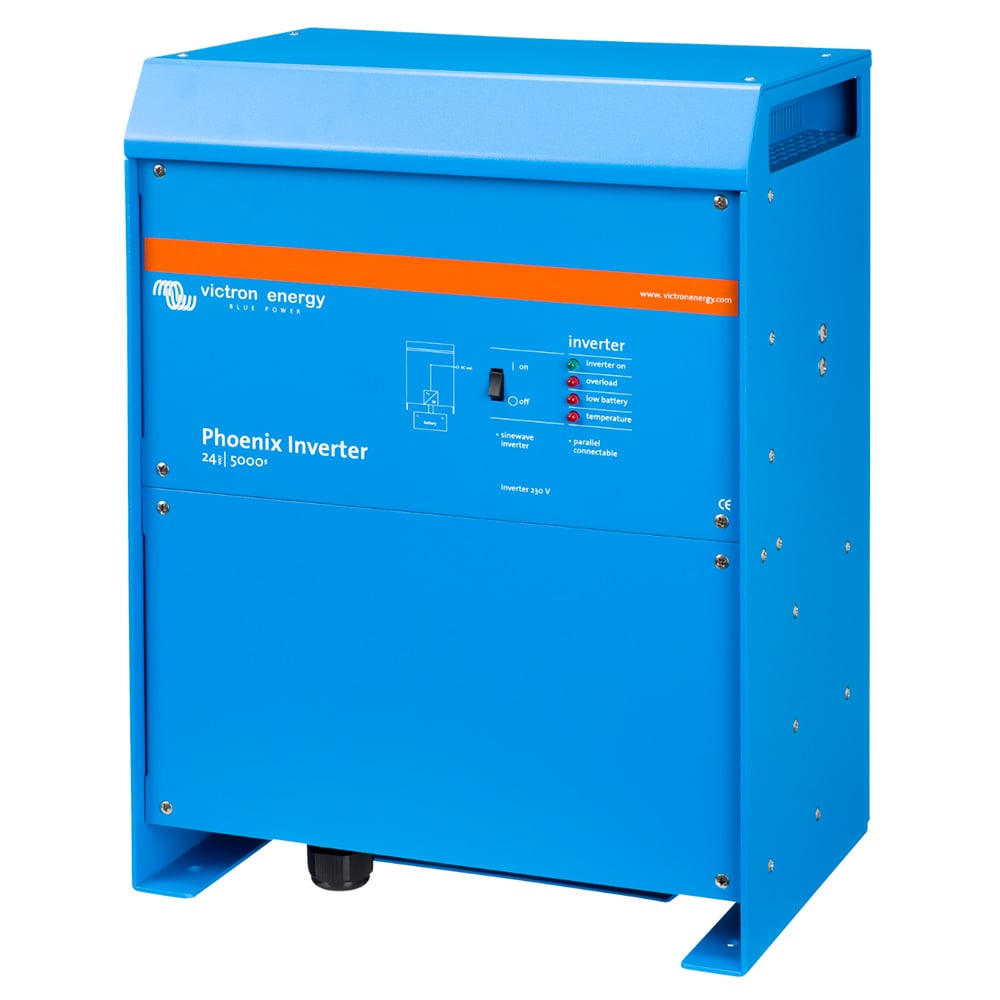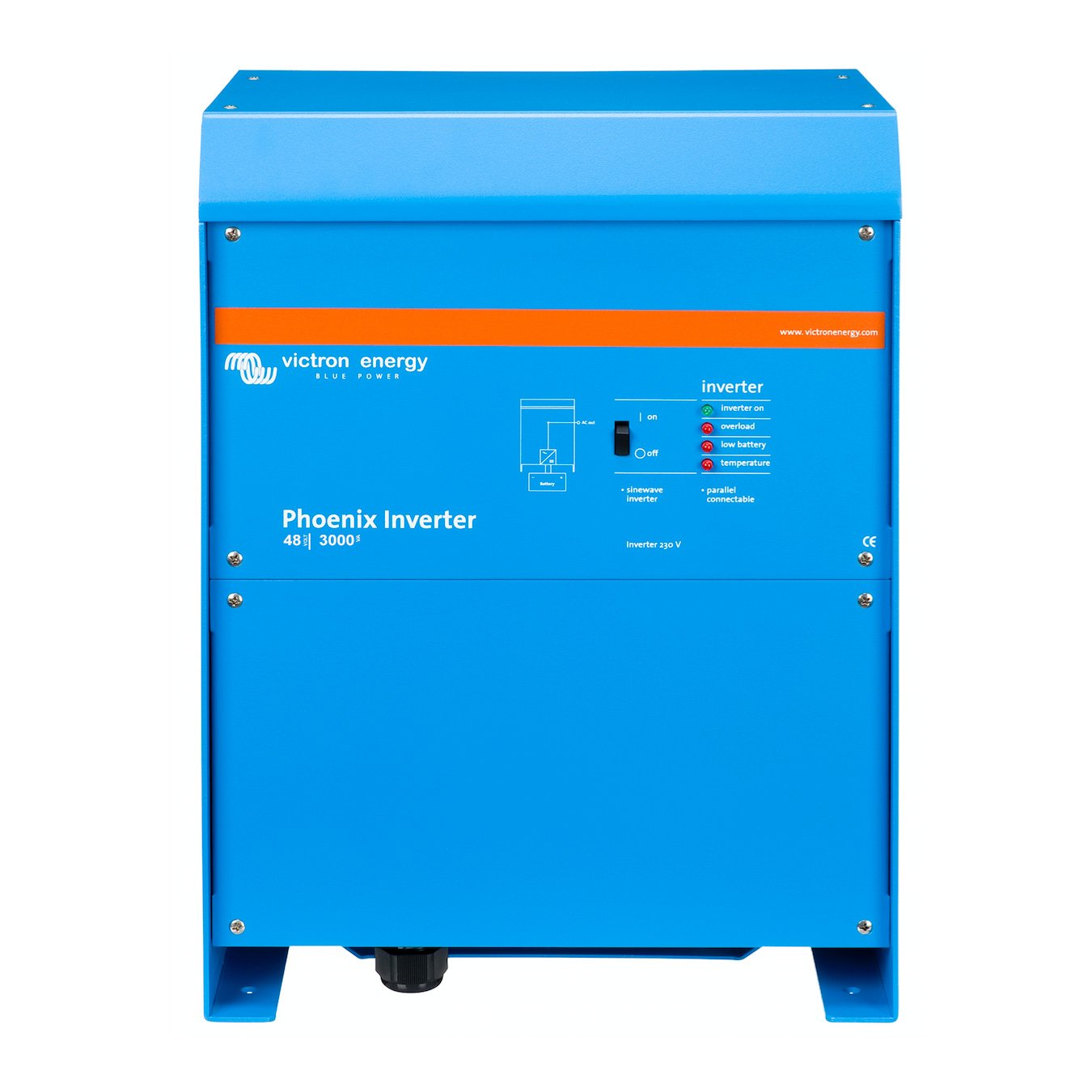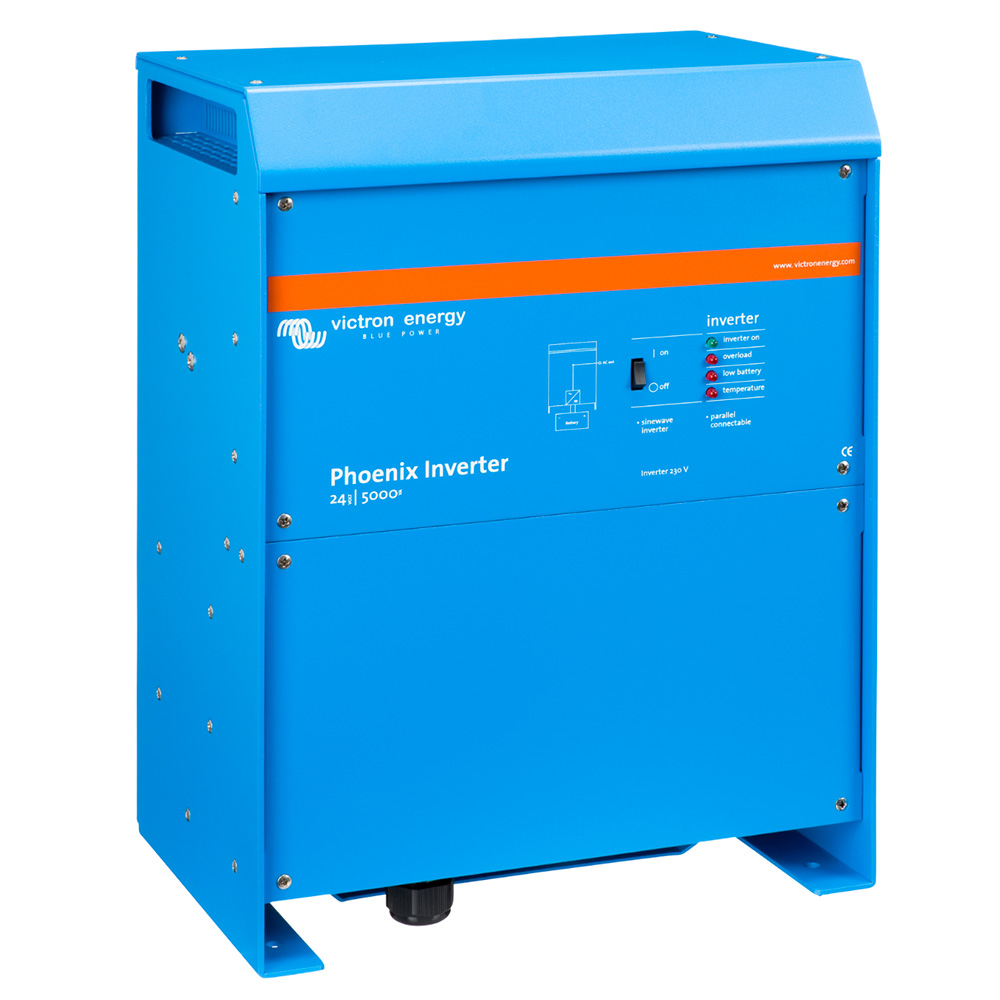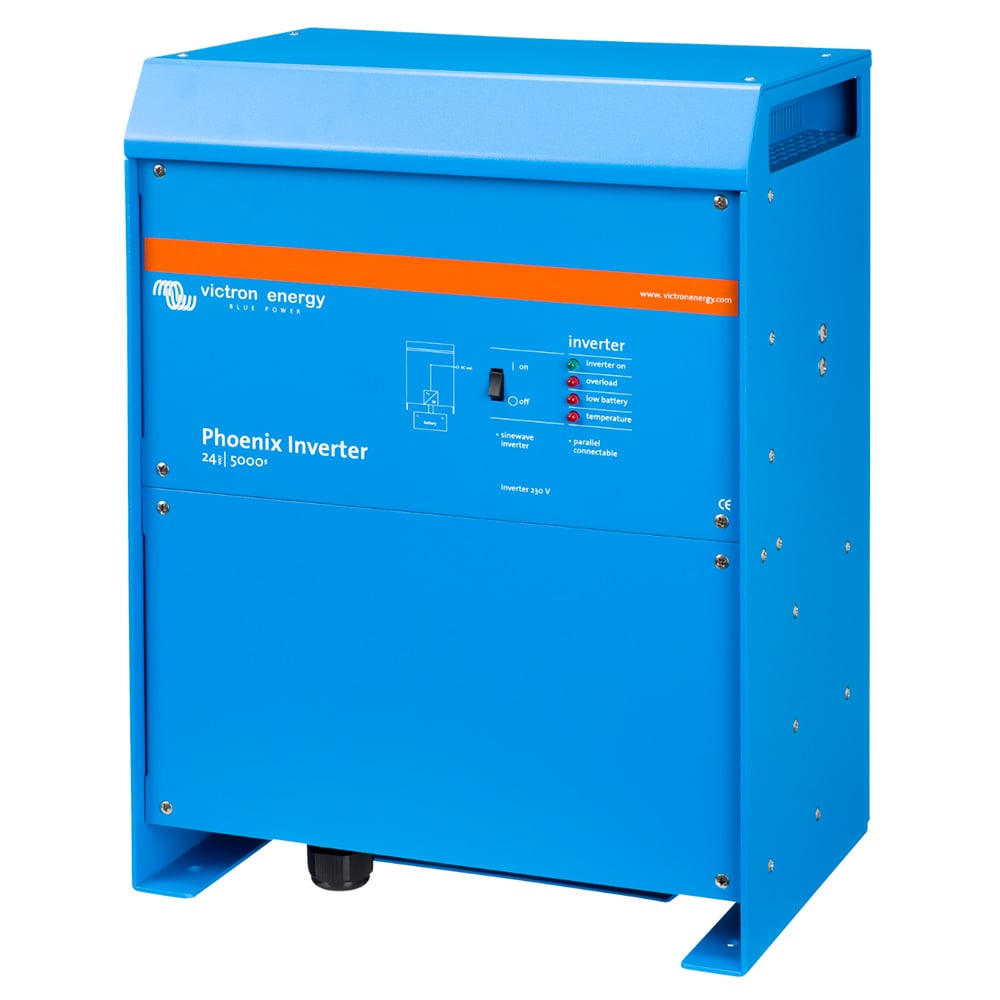 Product number:
1-67-008915
The Victron Phoenix Inverter 48/3000 (PIN483020000) is the second-largest 48V Phoenix inverter.Especially in terms of communication there are several new features which make the 48/3000 a future-proof investment that provides a constant performance of 2400W. This device converts a 48V DC battery current into a 230V AC current with a pure sine wave at 50Hz which also allows the supply of very sensitive electronic components.
This inverter comes with excellent consumption and efficiency characteristics and moreover supports the parallel and three-phase operation with other Phoenix inverters out of this series.
VE.Bus RS-485 communication port - extensive, new possibilities
All Phoenix inverters out of the 12V/24V/48V-3000-5000 series are equipped with a RS-485 data port. Via the optional VE Interface MK2-USB you can connect the inverter to a PC or notebook.
This allows many new possibilities in terms of configuration and monitoring.
Following some of the most important new features:
individual adjustment of parameters such as output voltage, frequency, upper and lower voltage limit and much more...
can be integrated in a computer-aided monitoring and control system
all Phoenix inverters can also be used with VENet - Victron's innovative monitoring network - or any other computer-aided control and monitoring system
easy programing of the integrated relay. The relay can be used to produce signals for special events or to start a generator, for example
parallel or three-phase operation with other Phoenix inverters
The main focus during the development of the new Phonex series was to create an inverter with a clean sine output and high efficiency. Thanks to latest hybrid-HF technology Victron was able to create a high-quality product with small dimensions and low weight which provides any needed performance easily.
Additionally SinusMax technology, new within this series, allows very high peak-currents of 6000W.
Technical data
2400W constant output, suitable for all common 48V batteries
pure sine wave (50Hz)
higher peak-currents thanks to Victron's Sinus-Max technology
converts 48V DC into 230V AC (pure sine wave)
advanced hybrid-HF technology - more performance and less vulnerable to faults compared to common high-frequency technology
very low consumption, high efficiency
integrated energy-saving mode
bipolar alarm contact that can be used as output for an on/off-remote control
SinusMax technology
The most important characteristic about this technology is a very high starting current capacity which is not possible with common HF-technology.
Phoenix inverters can easily handle high starting currents of, for example, refrigerating compressors, tools and others.
Nearly unlimited performance through parallel and three-phase operation:
Up to six inverters can be connected parallely to increase performance. Also three-phase operation is possible.
Load switch to other AC-current sources:
Automatic load switch: For smaller performance demands we recommend the Filax auto-switch. With its help computers and other sensitive electronic devices can be supplied free of interruptions as the switching times are very short (<20ms).
Delivery scope:
1x Victron PIN483020000 Phoenix Sine Inverter 48/3000 - 48V to 230V 2400W 6000W
1x Manual
Frequency range:
50Hz / +-0.1Hz or 50Hz / +-0.1Hz (adjustable)
Manufacturer:
Victron Energy
Own consumption in idle mode:
25W
Own consumption in standby:
12W
Rated output voltage:
230V AC / alternating current
Sine wave:
true sine wave
Temperature range:
-40°C bis 65°C
Voltage regulation:
48V DC / 230V AC
Product Type:
48V DC to 230V AC voltage converter. The inverter has a pure sine wave and is usually connected directly to the battery. This current converter or inverter works with a very high efficiency and low self-consumption.