Victron Skylla-IP65 24/35(1+1) 120-240v 24Skylla-IP65 24/35(1+1) 120-240v 24v 30a battery charger 1 output
Product number:
1-67-012005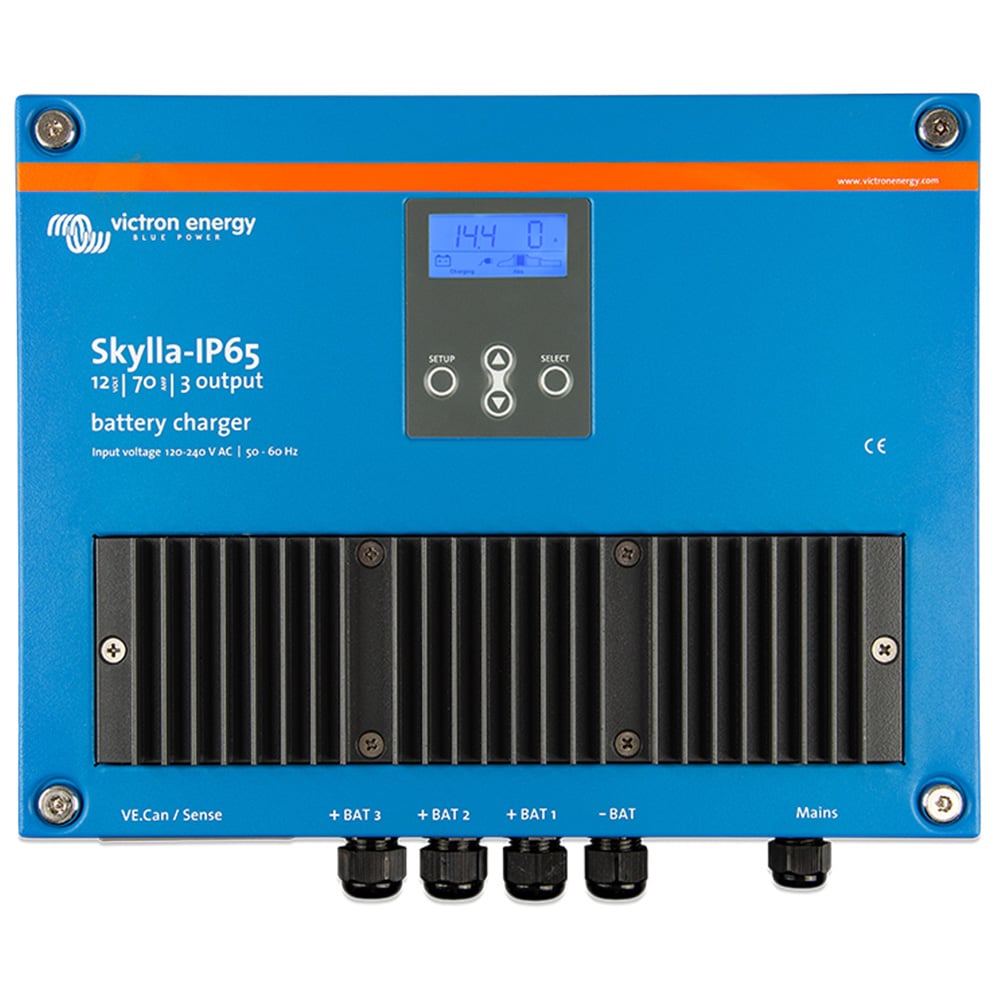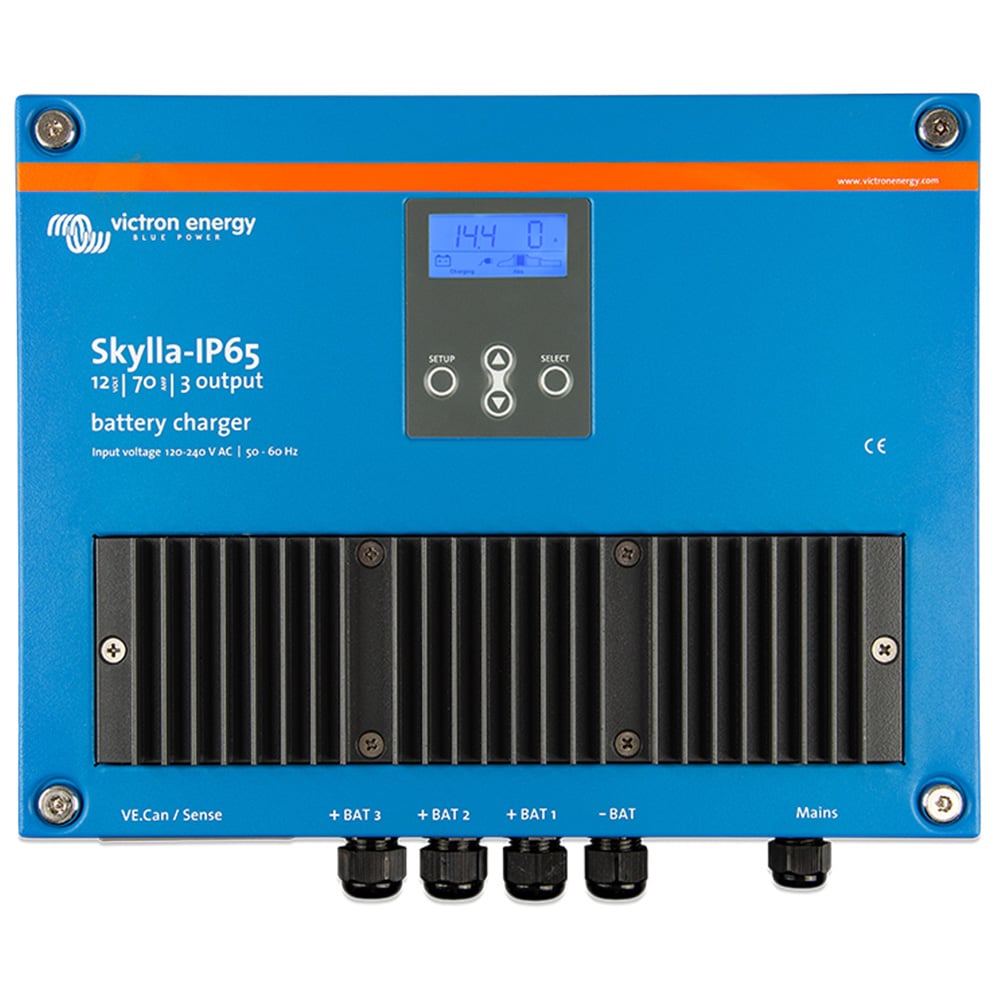 Product number:
1-67-012005
The Skylla-ip65 24/30 (1+1) from victron Energy (mpn sky024030000) is a powerful 24v battery charger for larger battery banks. It features a 30a main charge output and a 3a secondary charge output for a starter battery. With the Skylla-ip44 24/30 (1+1) you can charge all common lead-acid batteries as well as modern lithium-ion batteries
Compared to the Skylla-i series, the Skylla-ip65 family has a housing made of anodized steel, which makes it even more robust against environmental influences. In addition, the ip65 devices are equipped with a convenient LCD display, which can be used to read the device status or make adjustments to the charging algorithms
robust constitution with ip65 protection
Epoxy powder coated steel housing and splash proof. Withstands the challenges of a harsh environment: heat, humidity and salty air. Acrylic coating provides the best possible protection for circuit boards against corrosion. Temperature sensors ensure that the power components are always operated within the specified limits. Under extreme environmental conditions, the output current is automatically reduced if necessary
integrated can-Bus interface (NMEA)
Apart from a can Bus (nmea2000) interface, a rotary knob, DIP switches as well as potentiometers are also available to adapt the charging algorithm to a specific battery and its conditions of use. A complete overview of the different possibilities can be found in the manual
Features of the Skylla-ip65 24/30 (1+1)
The Skylla-i 24/60 is a state of the art, high performance battery charger for 24v batteries that can withstand the challenges of a harsh environment: Heat, humidity and salty air - a real professional device in fact!
for 24v battery voltage, 1x main charge output with max. 30a charge current, 1x auxiliary charge output 3a for starter battery
suitable for batteries with a capacity of 150Ah - 300Ah
always the right charging quantity for a lead-acid battery: adapted constant voltage time
BatterySafe mode: prevents damage due to excessive gas generation)
adaptive, seven-stage charging algorithm for lead-acid batteries
integrated LCD display for status monitoring and adjustment of charging algorithms
three-stage charging algorithm for lithium-ion batteries including on/off control or can bus control
Storage mode: less maintenance and aging when battery is not in use)
Smaller and lighter compared to similar models)
NMEA2000 Canbus connection)
PowerControl: setting of a maximum shore power)
the most important functions of the Skylla-ip65 24/30 (1+1)
Synchronized parallel operation
Multiple chargers can be synchronized with the can Bus interface. This is achieved by simply connecting the chargers together via rj45 utp cables. Please refer to the manual for more details.
The correct charge quantity for a lead-acid battery: adjusted constant voltage time
If only weak discharges occur, the constant voltage time is kept short to avoid overcharging the battery. After a deep discharge, the constant voltage phase is automatically extended to ensure that the battery is fully charged.
preventing damage due to excessive gas generation: Battery-saving mode
To shorten the charging time, the aim is to achieve the highest possible charging current in conjunction with a high constant voltage. However, to prevent excessive gassing towards the end of the constant current phase, the Skylla-i limits the rate of voltage rise once the gassing voltage has been reached.
Less maintenance and aging when the battery is at rest: the storage mode
The storage mode is activated whenever there has been no discharge within 24 hours. In storage mode, the charge retention voltage is then lowered to 2.2 v/cell (26.4 v for a 24 v battery) to minimize gassing and corrosion of the positive plates. Once a week, the voltage is increased back to the constant voltage threshold to 'refresh' the battery. This provides a type of equalization charge that prevents electrolyte stratification and sulfation, the two main causes of premature battery failure.
To extend the life of the battery: temperature compensation
A battery temperature sensor is supplied with each Skylla-ip65 unit. The temperature sensor ensures that the charging voltage decreases as the battery temperature rises. This is especially important for gel batteries or when high temperature fluctuations are expected constantly.
Battery voltage sensor
To compensate for voltage losses due to cable resistance, the Skylla-ip65 has a voltage sensor in the charging circuit so that the battery always receives the correct charging current.
use as a power source
Due to the perfectly stabilized output voltage, the Skylla-ip65 24/30 (1+1) charger can be used as a power source when no batteries or large buffer capacitors are available.
optional remote control panel and can bus connection
The Skylla-ip65 24/30 (1+1) has an optional remote control panel which offers extensive control possibilities of the Skylla-i. The can Bus connection also allows the integration of the battery charger into larger system networks that need to be centrally monitored and controlled.
Scope of delivery:
1x victron Energy sky024030000 Skylla-ip65 24/30 (1+1)
1x installation manual
Ambient temperature:
-20°C - +60°C
Battery type adjustable:
AGM, GEL, lead acid, LiFePo4 and many more...
Charging characteristic:
various
Manufacturer:
Victron Energy
Number of charging outputs:
1 + 1
Protective functions:
Battery polarity reversal (fuse), output short-circuit, overtemp.
Temperature compensation:
Yes