Votronic 3158 MobilPOWER smi 600 nvs sine 12v 230v voltage converter
Product number:
1-15-007265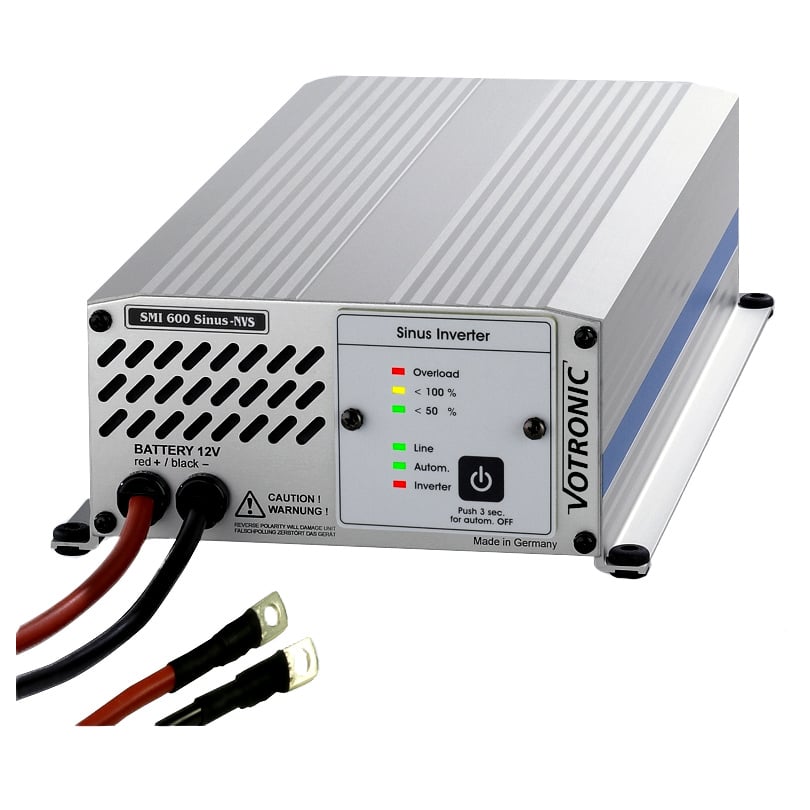 Product number:
1-15-007265
Votronic 3158 MobilPower smi nvs 600 inverters 12v dc / 230v ac are designed for use in special-purpose vehicles, high-end motorhomes and other areas where high quality and reliability are required and which are also equipped with a mains priority circuit.
Even on the road, people do not like to do without the conveniences of daily life. Electrical devices not only increase the comfort in the motorhome but also determine the equipment in the ambulance or fire truck, whether it is sensitive medical equipment, notebook, electric tools or the beloved espresso machine. All these devices require 230 V mains voltage, which is provided by an inverter from the on-board battery
The devices operate according to the latest technology in clocked mode ("switch mode"). Microprocessor control in conjunction with modern SMD technology has made it possible to realize a compact design. Noise- and friction-optimized low-speed fans (speed-controlled) ensure perfect cooling and thus problem-free continuous operation even at full power. Integrated protective circuits also monitor the thermal and electrical load as well as overloads and short circuits of the output circuit. To protect the batteries, an undervoltage protection is integrated, which switches off the inverter when the battery voltage drops

As a special feature, the MobilPOWER inverter sine -nvs are equipped with an integrated mains priority circuit. The advantage of this mains switching is that e.g. all existing sockets on board of a motorhome can still be used when shore power is applied. The inverter switches off and the external power is switched directly to the existing vehicle sockets. If shore power is no longer available, the inverter is simply started and from now on supplies the internal vehicle sockets again.
technical highlights of the MobilPower series from Votronic
Output with mains voltage quality (pure sine wave)
integrated mains priority circuit
Compromise and problem-free, trouble-free operation of all mains-operated devices, e.g. medical devices, radio, charging holders (cell phone, radios, hand lamps, rechargeable batteries etc.), laptop, pc, air conditioning, cooling boxes, power tools (drill, angle grinder etc.).), laptop, pc, air conditioner, coolers, power tools (drill, angle grinder etc), tv, sat, tft, microwave, coffee machine, hair dryer, fan, lights, vacuum cleaner, refrigerator etc
Control unit can be rotated 360° on the device and can also be placed freely in the vehicle as an external remote control (5m connection cable included)
Switch-mode technology, compact, lightweight, robust and reliable, short-term high overload capability
Low power consumption, selectable power saving mode:
- Continuous operation
- Automatic standby with automatic search for switched on consumers
- from
Automatic shutdown in case of battery over/under voltage, overload, overheating etc
Power and temperature controlled comfort cooling fan with infinitely variable speed control
Frequency range:
50Hz quartz stabilised
Sine wave:
true sine wave
Standby power consumption:
5 W
Voltage regulation:
12V DC / 230V AC