Votronic 5330 Info Panel Pro - Control and System-Monitoring
Product number:
8-15-010240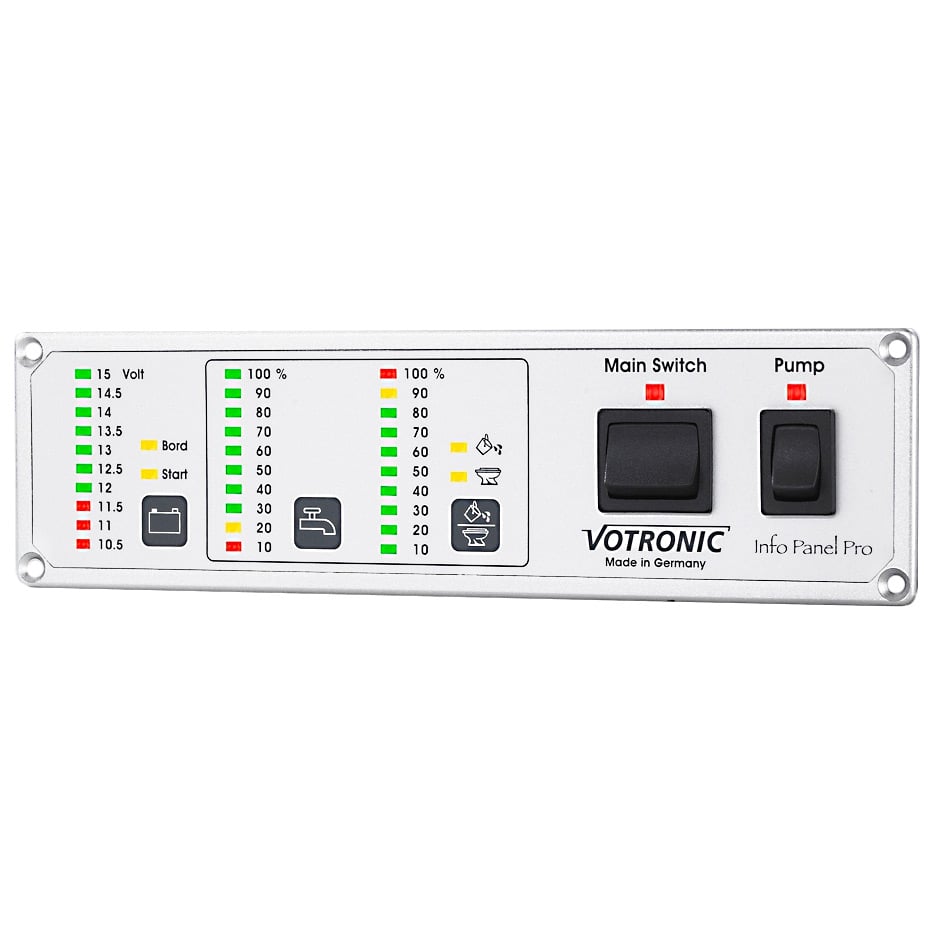 Product number:
8-15-010240
The Votronic Info Panel Pro (MPN 5330) for 12V-systems is a comfortable monitoring and control panel and was designed especially for campers and caravans.
It allows the most important control and switching tasks and provides direct monitoring of fresh and waste water tank as well as on-board and starter battery.
Additionally it is equipped with main switches for battery and fresh water pump. On the left-hand side several LEDs display the current battery voltage within a range of 10.5V to 15.0V. Red LEDs show if battery voltage is too low. The integrated button allows to switch between on-board and starter batter or to deactivate the display. To monitor your tanks the Info Panel Pro comes with two more LED-displays wich show the current tank level steplessly thanks to varying brightness of the single LEDs.
This allows full monitoring during all filling and emptying processes.
By pushing a button the display can be activated or deactivated - the display deactivates automatically after 10 minutes. The right-hand display can be switched to a duo-measuring-input by default. The Info Panel Pro comes with protection from reverse polarity and overload.
On its back you find labelled terminals for 6.3mm flat connectors (power supply connections) and pluggable terminal screws (signal connections).
Detailed installation and operating manual, as well as a drilling jig are included in the standard delivery scope.
Thanks to its small installation depth of 15mm this panel can be installed nearly everywhere.