Votronic Duo Battery Tester, wallmounted
Product number:
8-13-005460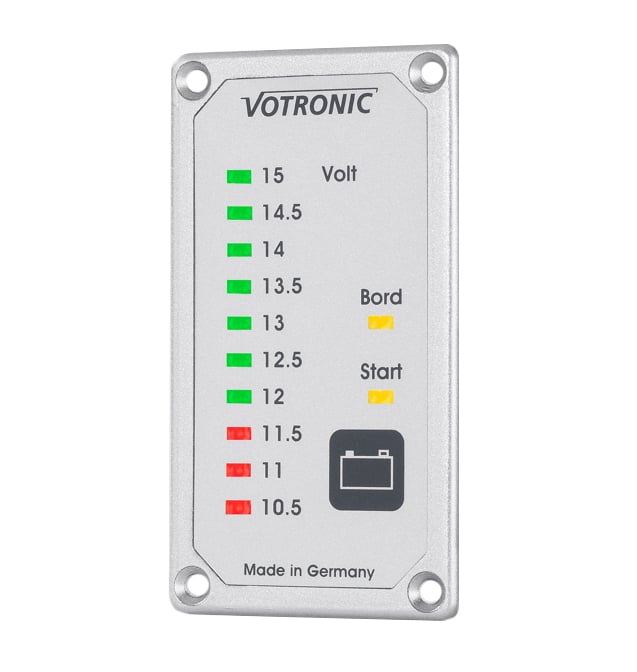 Product number:
8-13-005460
This compact and robust unit displays two voltage rates of the board and starter battery at choice. It represents clearly the most interesting range of the battery voltage, from total discharge up to maximum charging voltage. The luminous spot display supplies a quite precise display of the battery voltage rates, since also the intermediate values are well legible due to the different brightness of the adjacent luminous spots.
At the push of a button, the voltage of board or starter battery can be selected, or the display can be switched-off. In case of low battery voltage rates, red pilot lamps indicate that battery recharging is required. Connection is effected by means of terminal screws on the unit rear.
The Duo Storage Battery Tester S is executed as panel version matching to the VOTRONIC modular system. The appearance (identical height 85 mm) is adapted to the other VOTRONIC display units. Of course, it is possible to retrofit a single display in the vehicle. The small dimensions of the front panel and the particularly small mounting depth of only 15 mm allow an installation at almost any location. Storage space, which is located behind, can be used further.
Delivery scope:
fastening screws, manual, drilling jig
Dimensions:
47 x 85 x 17 mm
Measuring range:
10,5 - 15,0 V
Power consumption:
1 - 15 mA
View:
Battery voltage board and starter battery