Offgridtec etfe spr-f 165w 27v marine solar cell flexible
Product number:
3-01-010905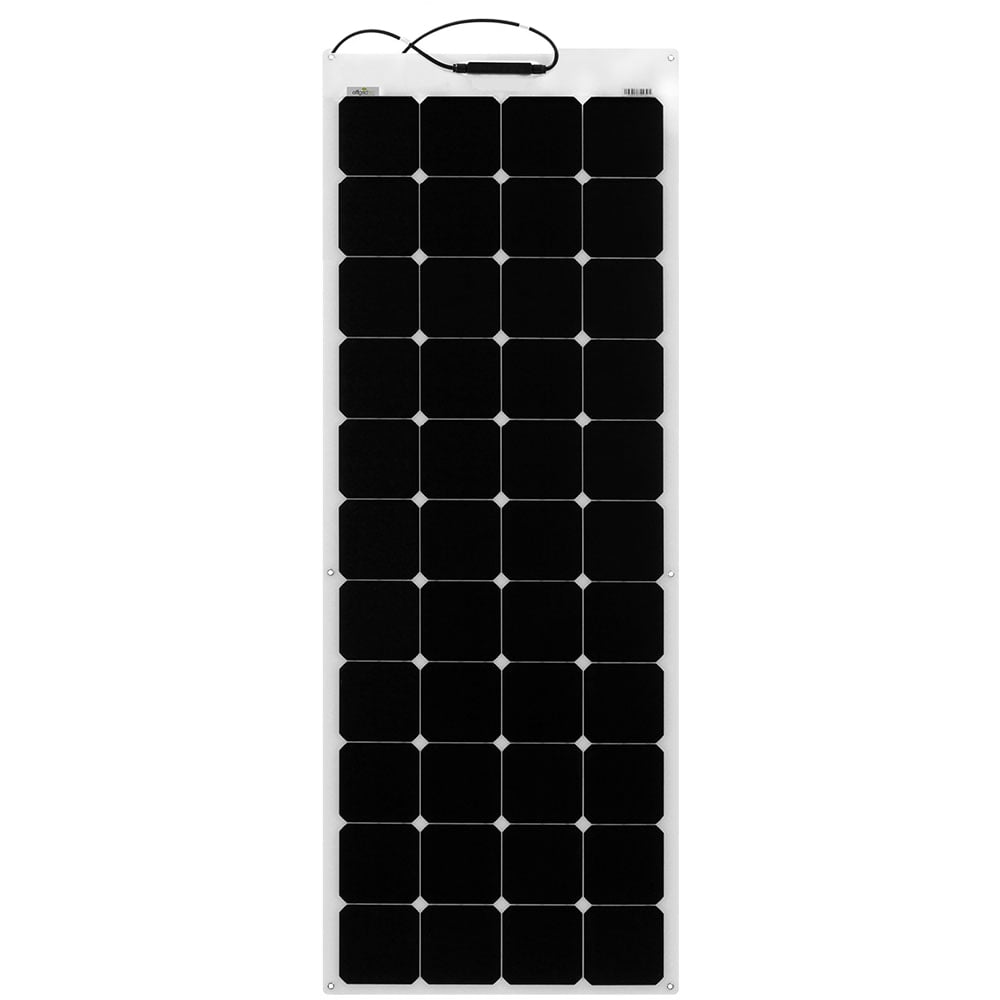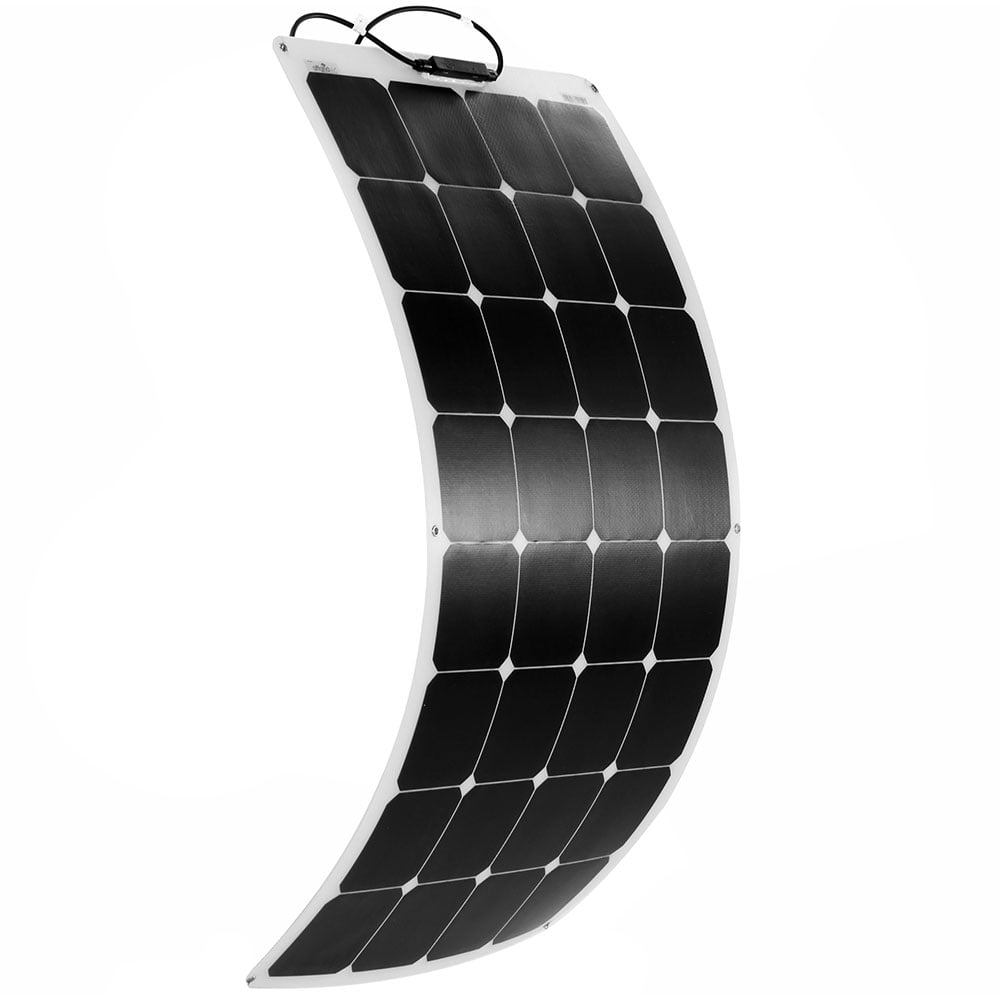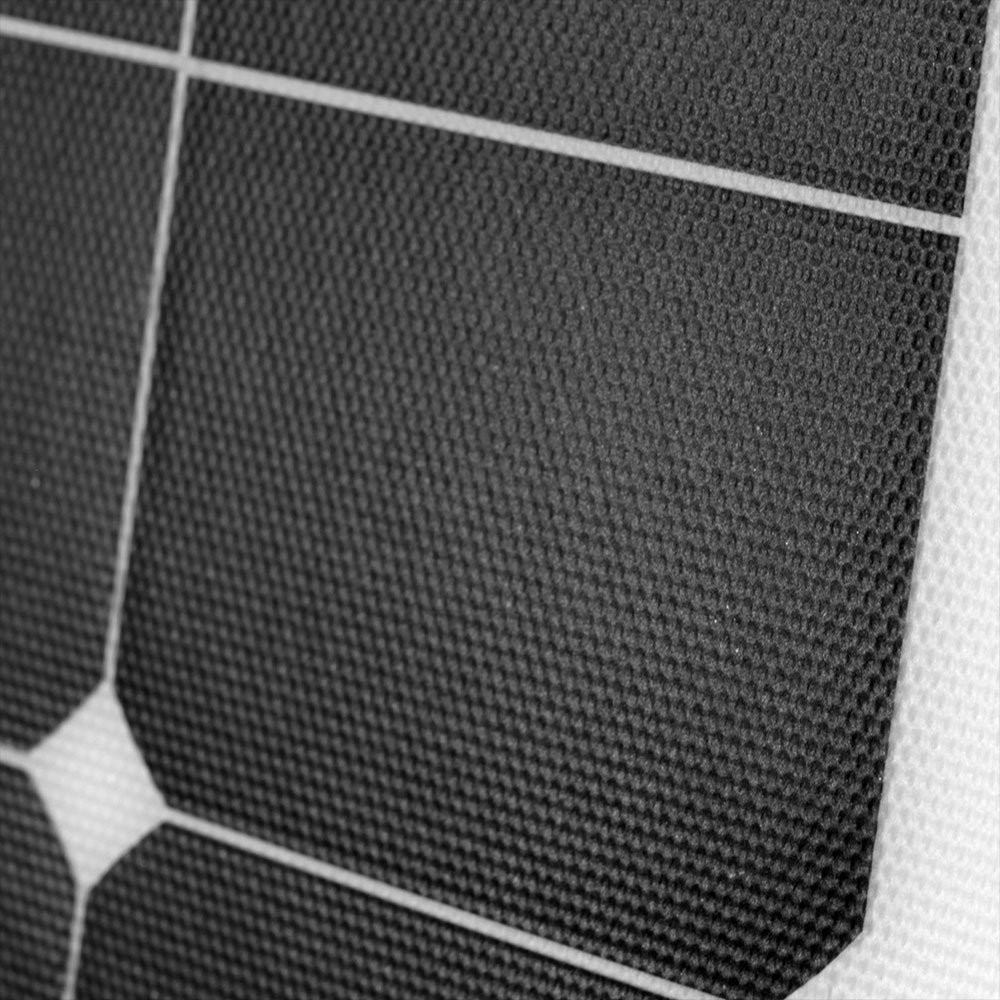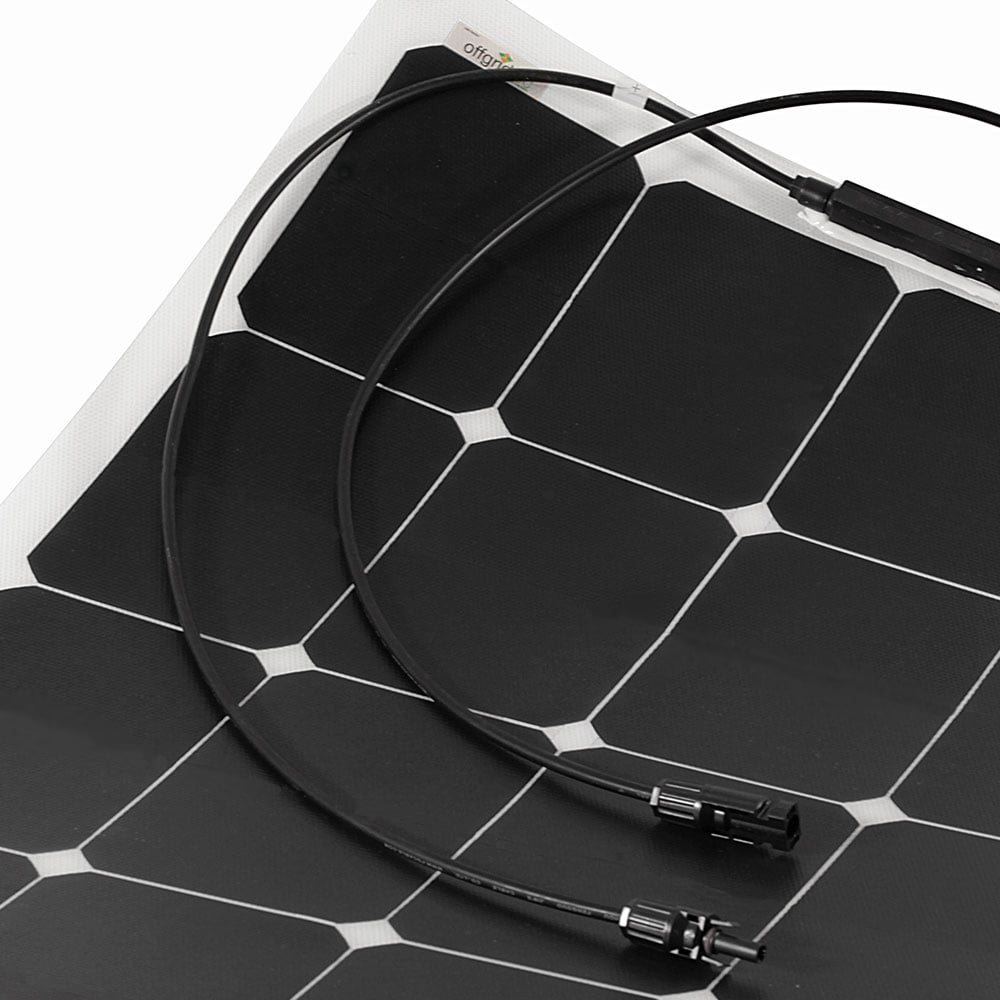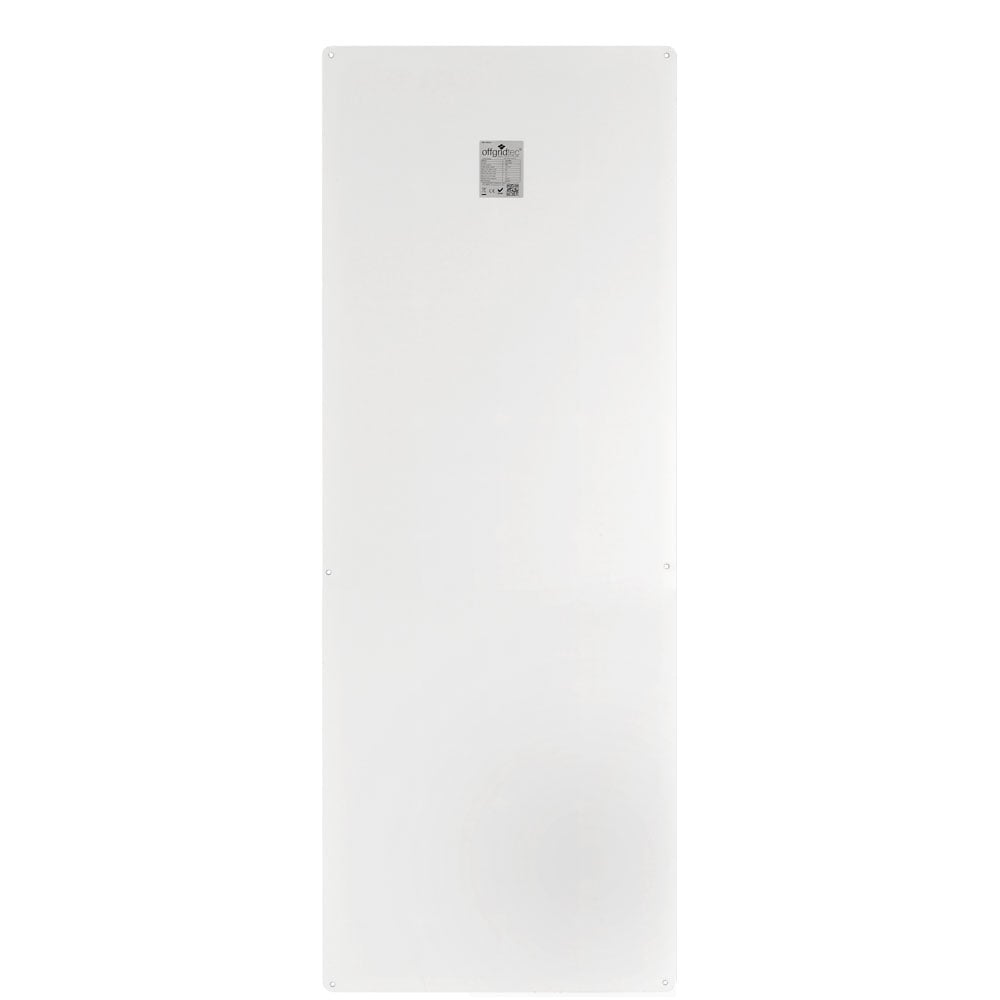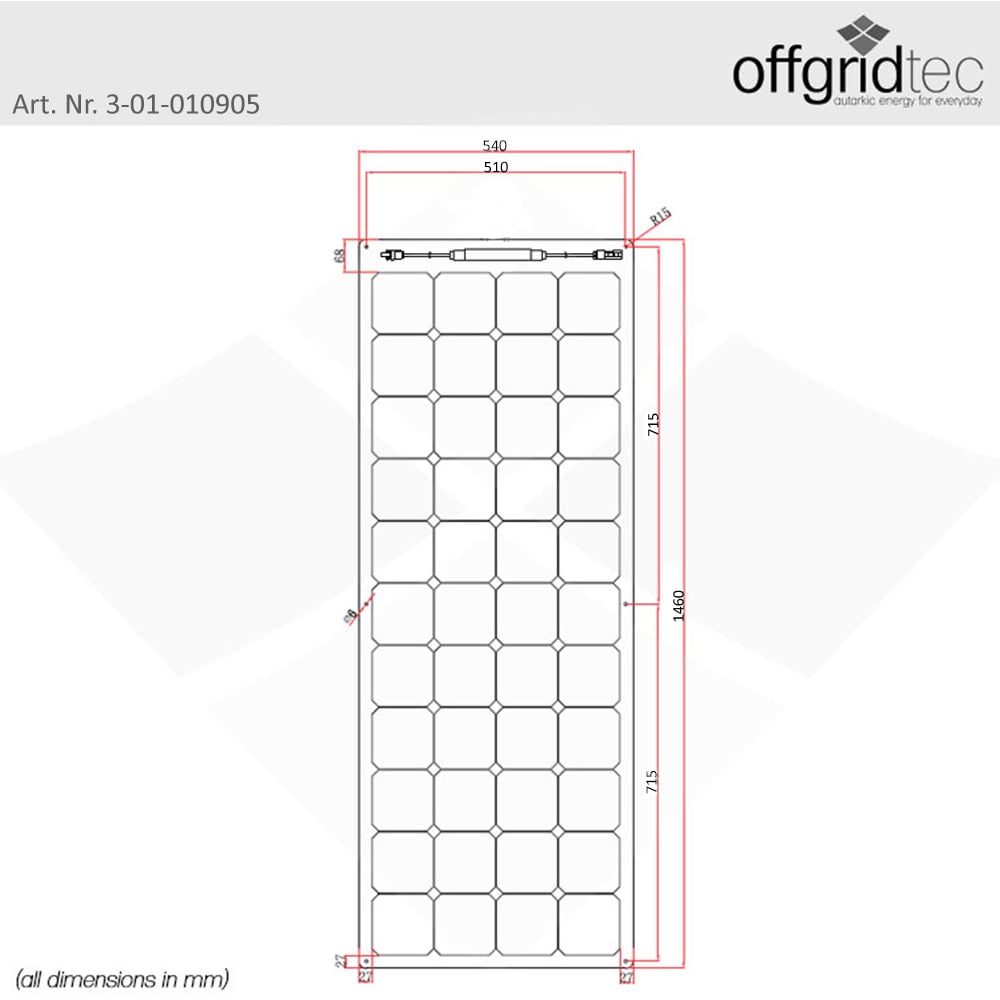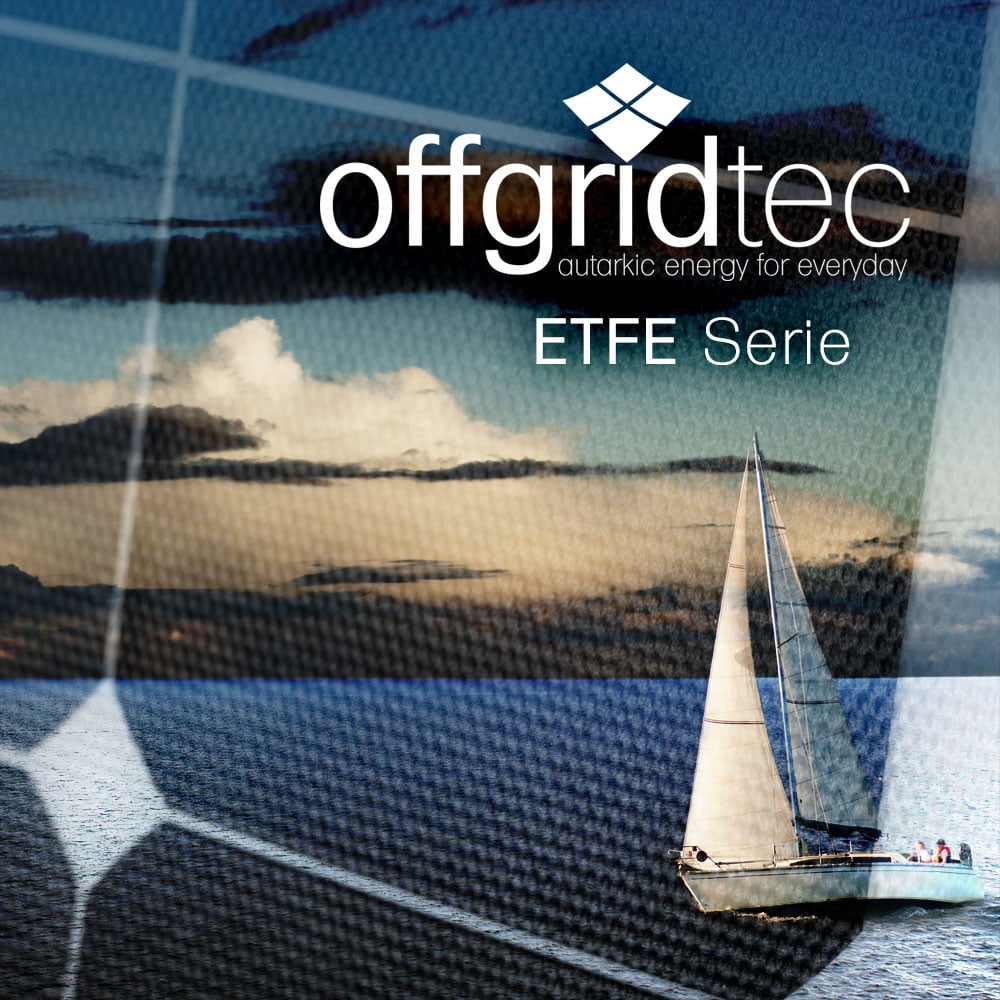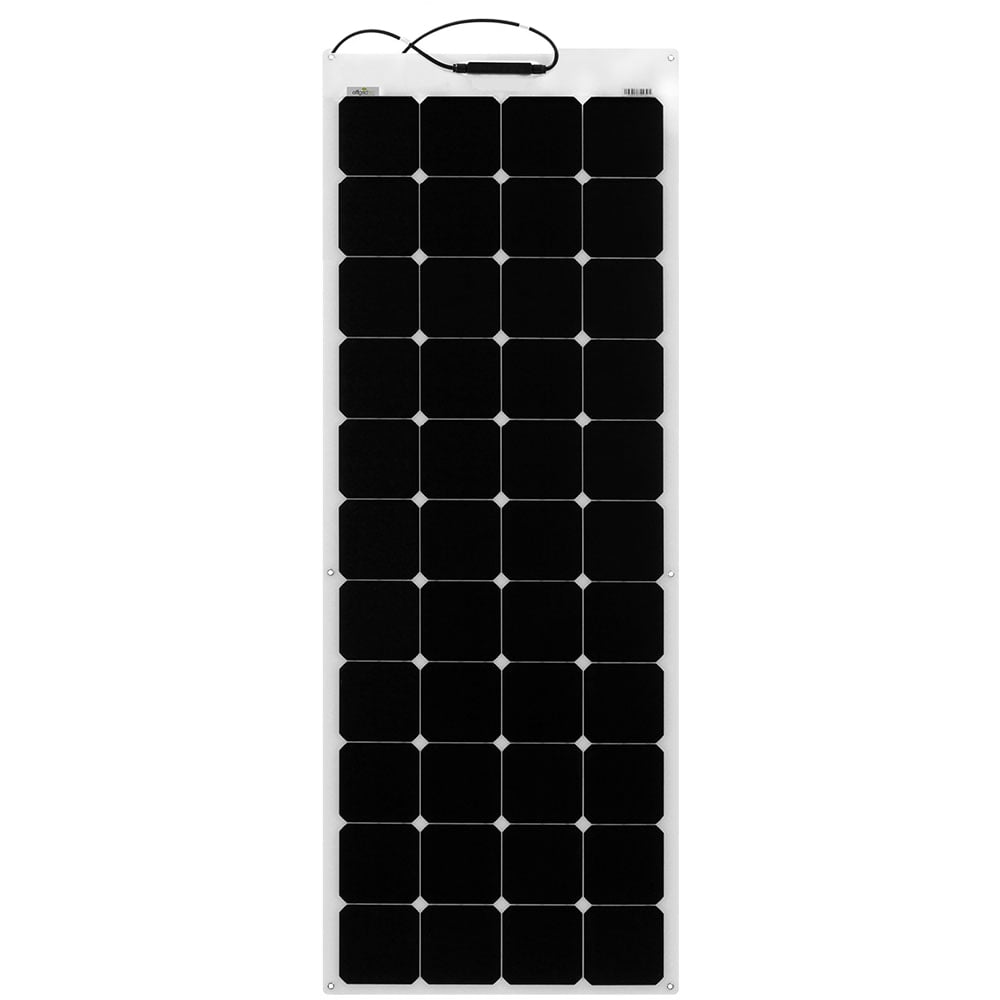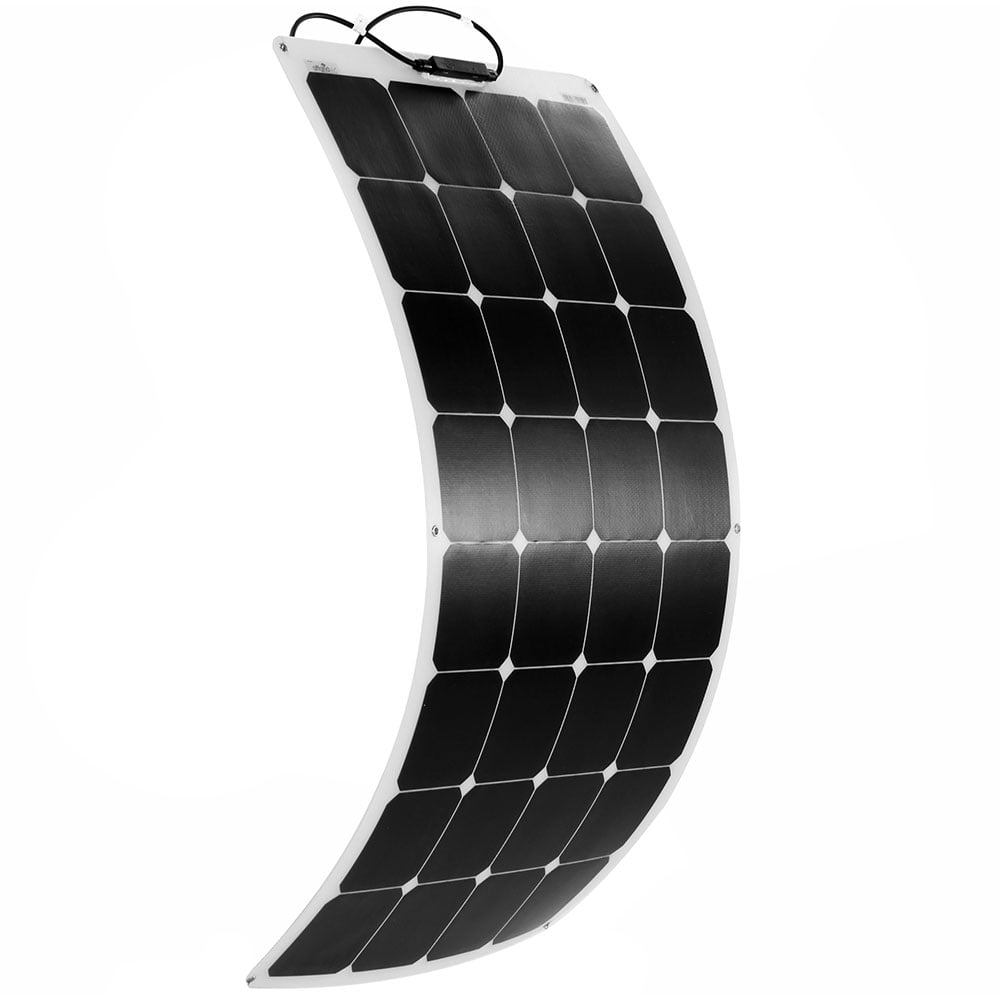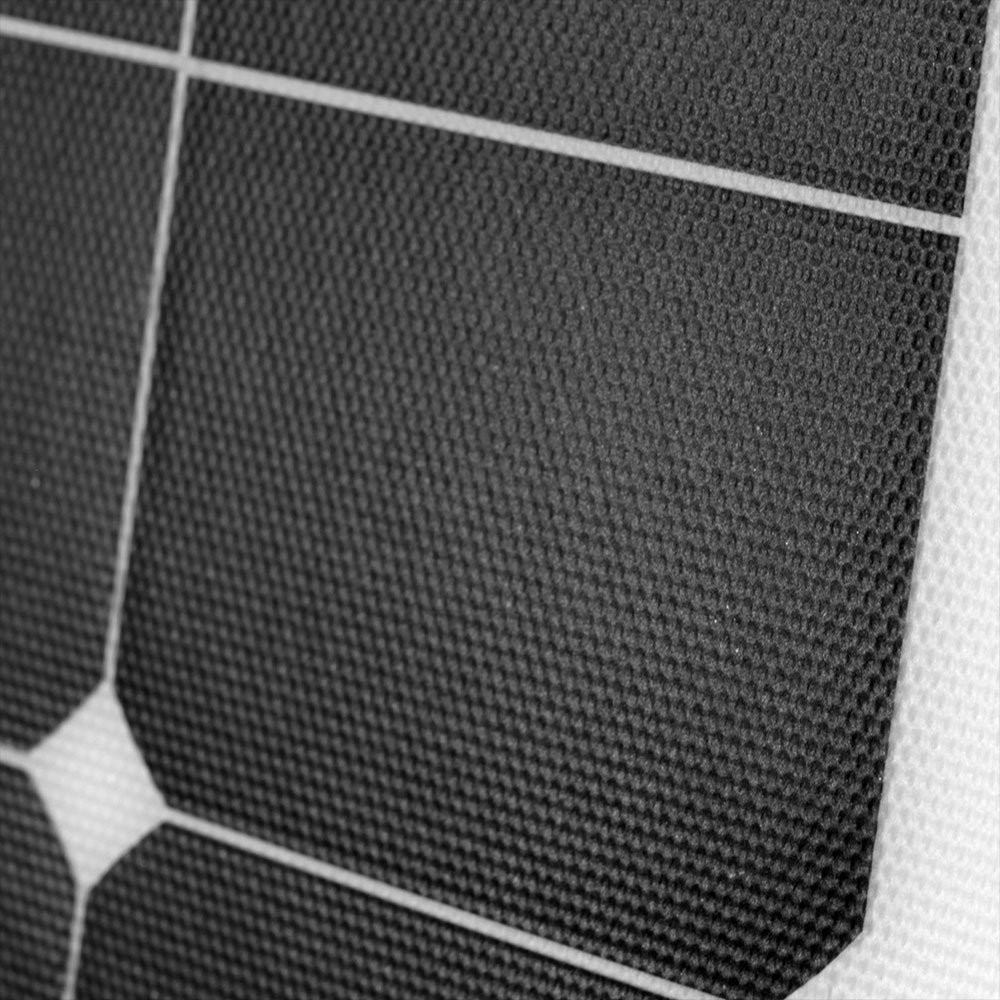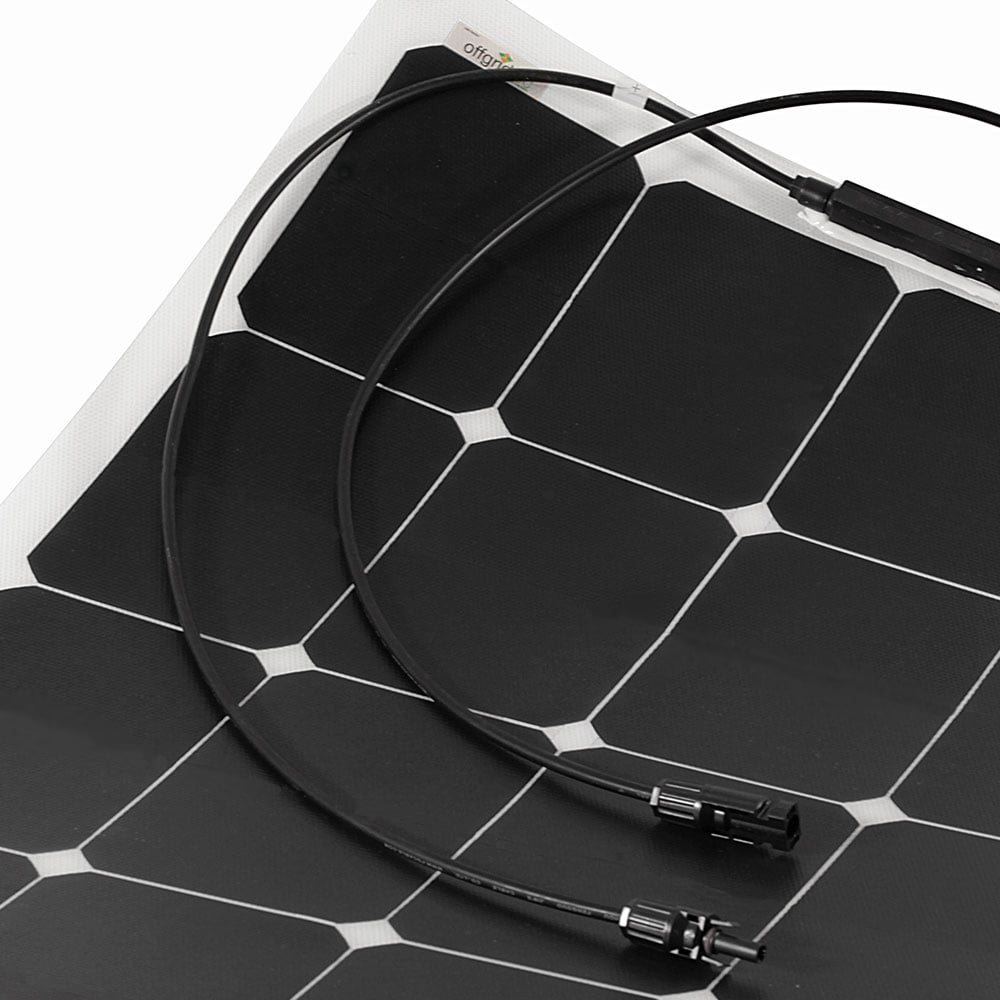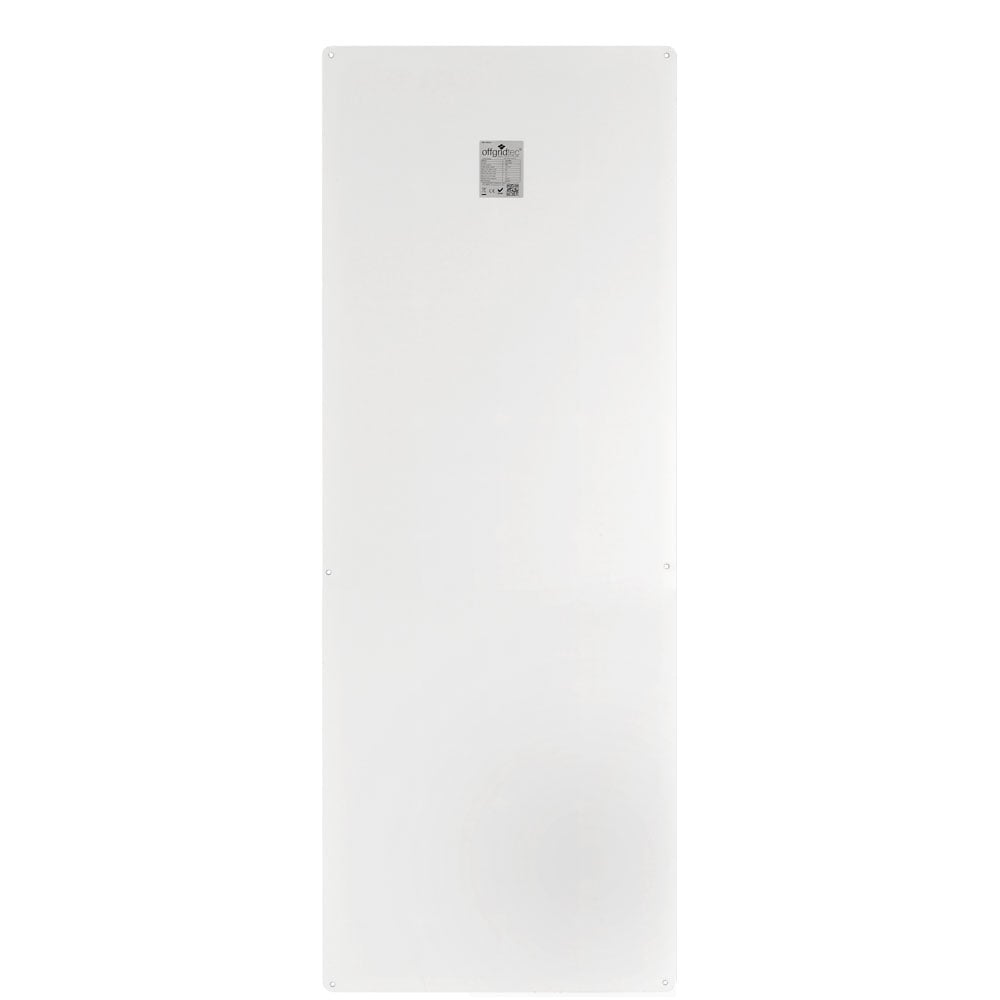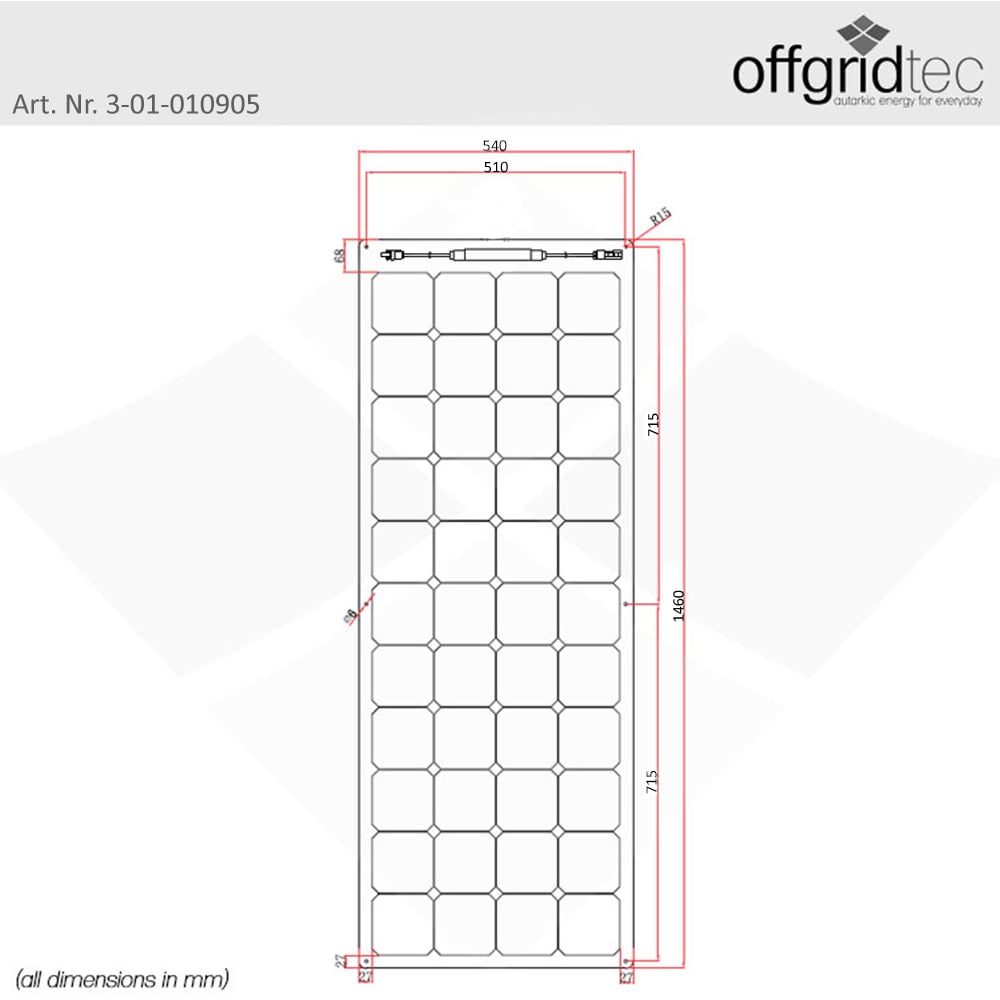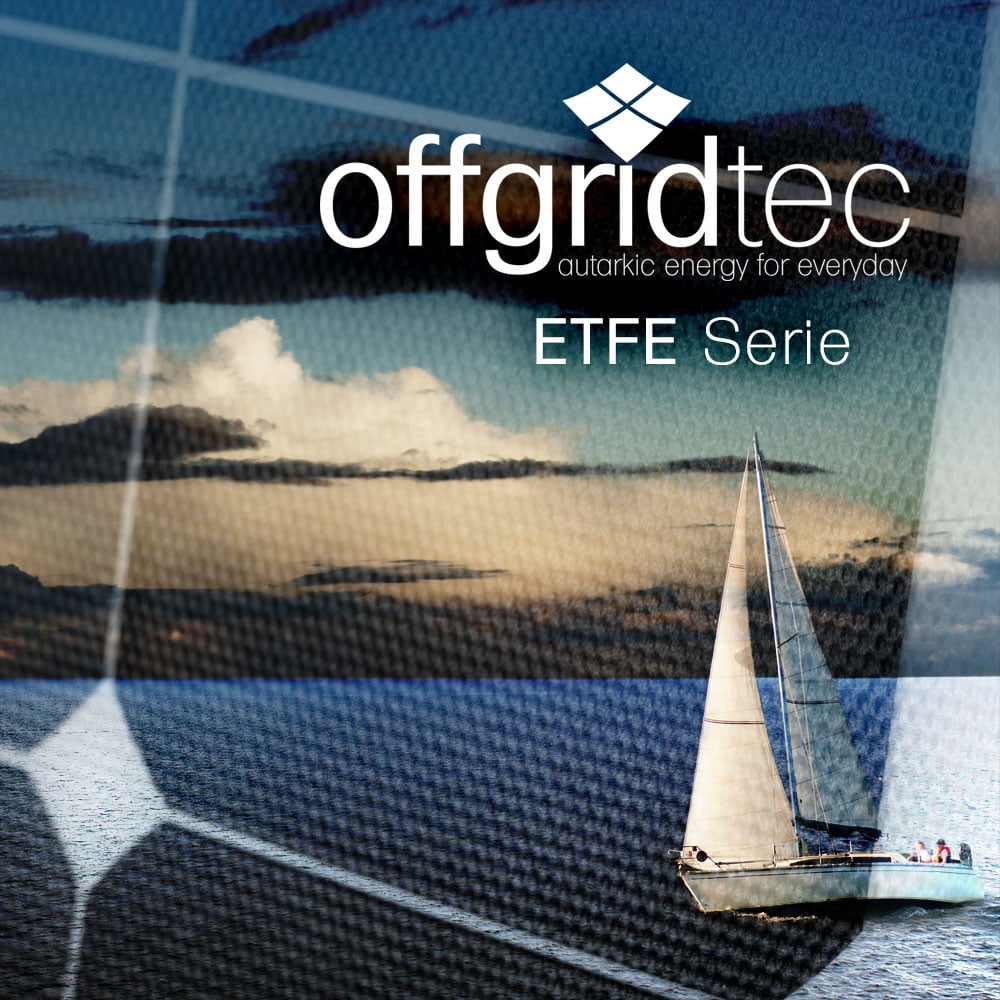 The Offgridtec 010905 etfe spr-f 165w is a semi-flexible high power solar cell that is ideally suited as a solar panel for the motorhome, as well as specifically for marine use on sailing yachts, motor yachts and other types of boats.
The module is best suited for 12v system voltage, in conjunction with an MPPT charge controller. The etfe 165w 12v solar cell is flexible and can also be walked on without hesitation when fully bonded. The surface of the plastic solar glass made of etfe is slightly corrugated which makes it walkable even when wet.
etfe, high-tech plastic solar glass combined with spr high-performance cells
The front side of the solar panel is covered with a high-tech plastic layer based on ethylene-tetrafluoroethylene copolymer etfe - a Teflon derivative (ptfe) - and offers excellent protection against harmful environmental influences and is also suitable for use in salt water environments. etfe is lighter and at the same time more translucent than other plastic solutions on the market.
Technical characteristics of etfe spr-f 165w solar module
165w rated power at an operating voltage of 27.3v and a current of 6.05A
walkable and even in wet condition more slip resistant than comparable solar modules on the market
semi-flexible - bendable up to a maximum of 30 degrees
easy mounting of the solar panel by gluing or using the ring eyelets
specially designed for long-term marine use
etfe High-Tec plastic ensures weight saving and at the same time high light transmission of max. 96%
Junction box with IP65 protection
easy installation thanks to pre-assembled solar cable with mc4 plug and socket
small dimensions (LxWxH): 1460 x 540 x 2mm
Mounting of the solar panel by gluing or using the ring eyelets
Manufacturer part number (mpn): 010905
light weight: only 3 Kg
proven Offgridtec quality: made exclusively from premium raw materials of the highest quality grade
Scope of delivery:
Offgridtec 3-01-010905 etfe spr-f 165w 27v solar panel flexible
Ambient temperature:
-40°C - +85°C
Cell type:
monocrystalline SPR high performance cells
Dimensions:
1460 x 540 x 2 mm
Generator output wp:
165 Wp
Max. System voltage:
200 V/DC
Module voltage (VMP):
27,3 V
Open circuit voltage (VOC):
32,1 V
Product Type:
Marine solar panel
Short circuit current (ISC):
6,41 A
Solarmodul - eyelets:
6 ring eyes
Solar module - Walkability:
walkable*
Solar module - bendability:
max. 30 degrees
Solar module - cable cross-section:
4 mm
Solar module - cable length:
0,8 m
Solar module - diodes installed:
2x IOSQO50 Bypass Diode
Solar module - junction box (IP):
IP67
Solar module - performance guarantee:
10 years*
Solar module - plug type:
MC4
Solar module - size connection cable:
4 mm - 6 mm
Solar panel - size eyelets:
6,75 mm
max. current (IMP):
6,05 A

Ist es möglich zwei dieser Module in Reihe zu schalten, wenn der Wechselrichter eine maximale Spannung von 60V DC verträgt (Bosswerk Mikrowechselrichter MI600)
Es ist möglich 2 Module in Reihe zu schalten. Hierbei steigt die Leerlaufspannung allerdings auf 64,4V DC.
Damit ist ein Betrieb an Ihrem Wechselrichter nicht möglich.
Eine eventuelle Parallelschaltung würde im Spannungs und Stromstärkenbereich funktionieren (32,2V bei dann 11,72A)
Ist die ETFE-SPR-F V2 Serie auch für die Montage auf weichen, flexiblen Oberflächen wie z.B. dem Spayhood-Dach einer Segelyacht geeignet?
Hierzu sollten Sie definitiv eine separate Grundplatte z.B. aus Alu-Dibond verwenden.
Ohne zusätzliche Maßnahmen könnten Sie z.B. unsere PCB-ETFE oder ETFE-AL Serie verwenden.