Victron BlueSolar MPPT 150/45-Tr 12V 24V 48V 45A
Product number:
1-67-008545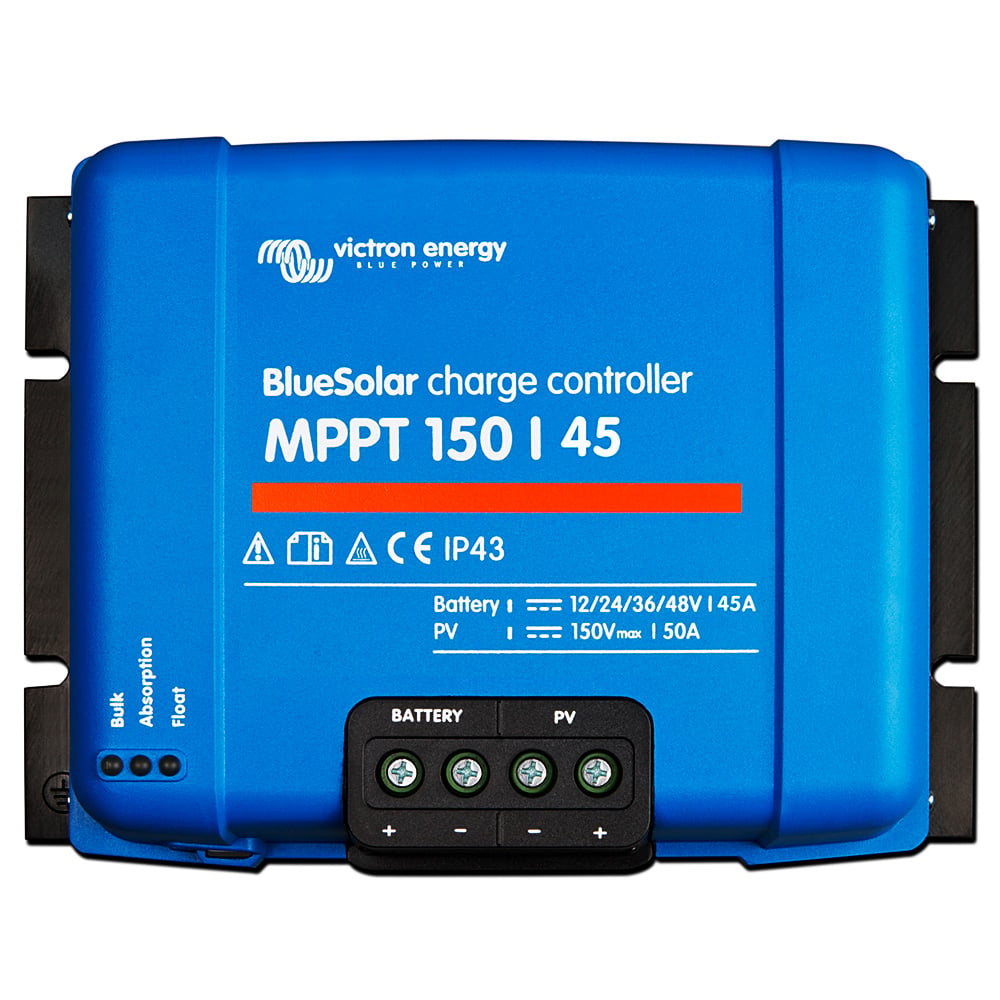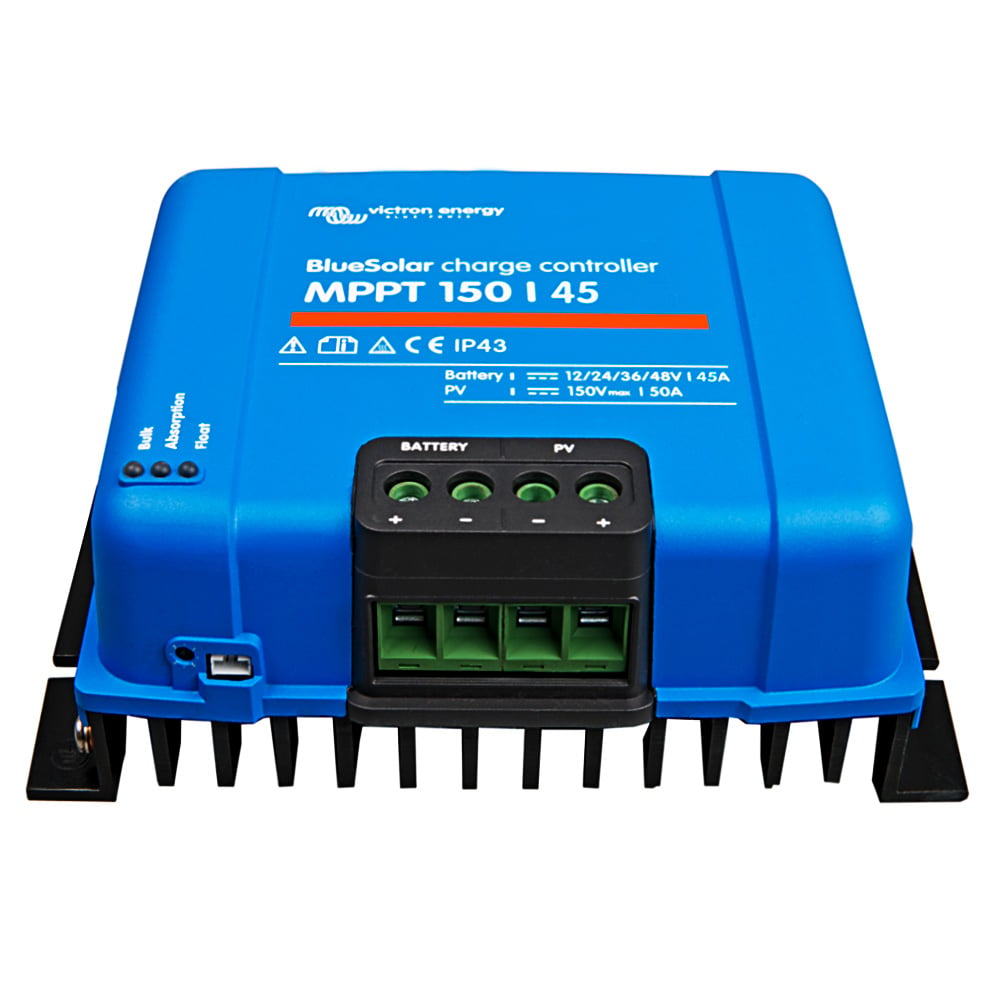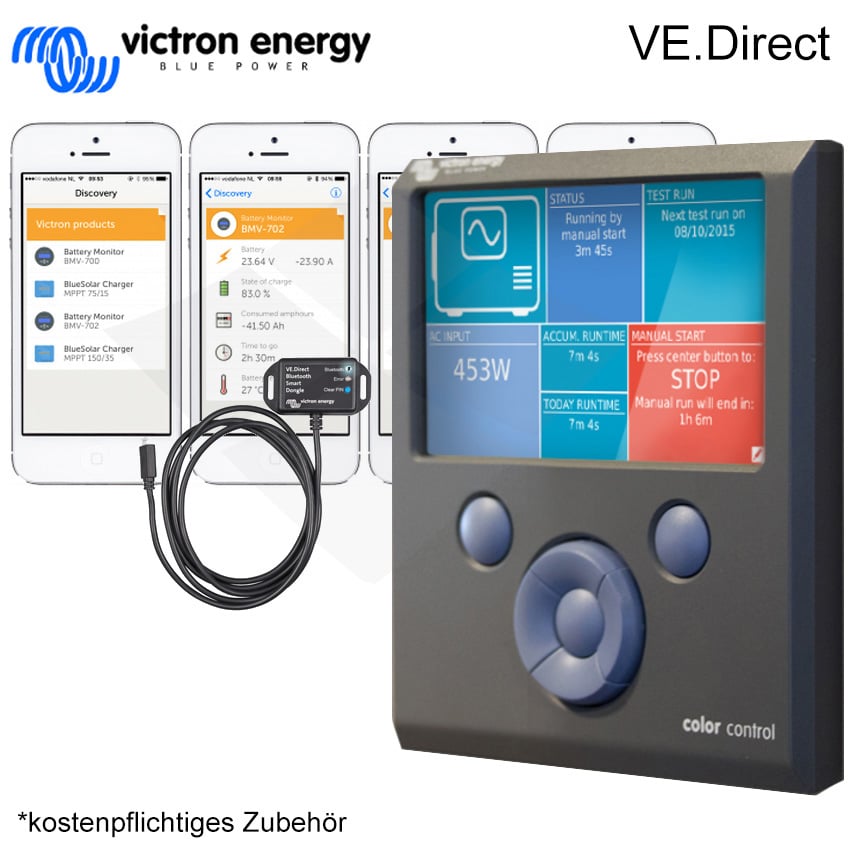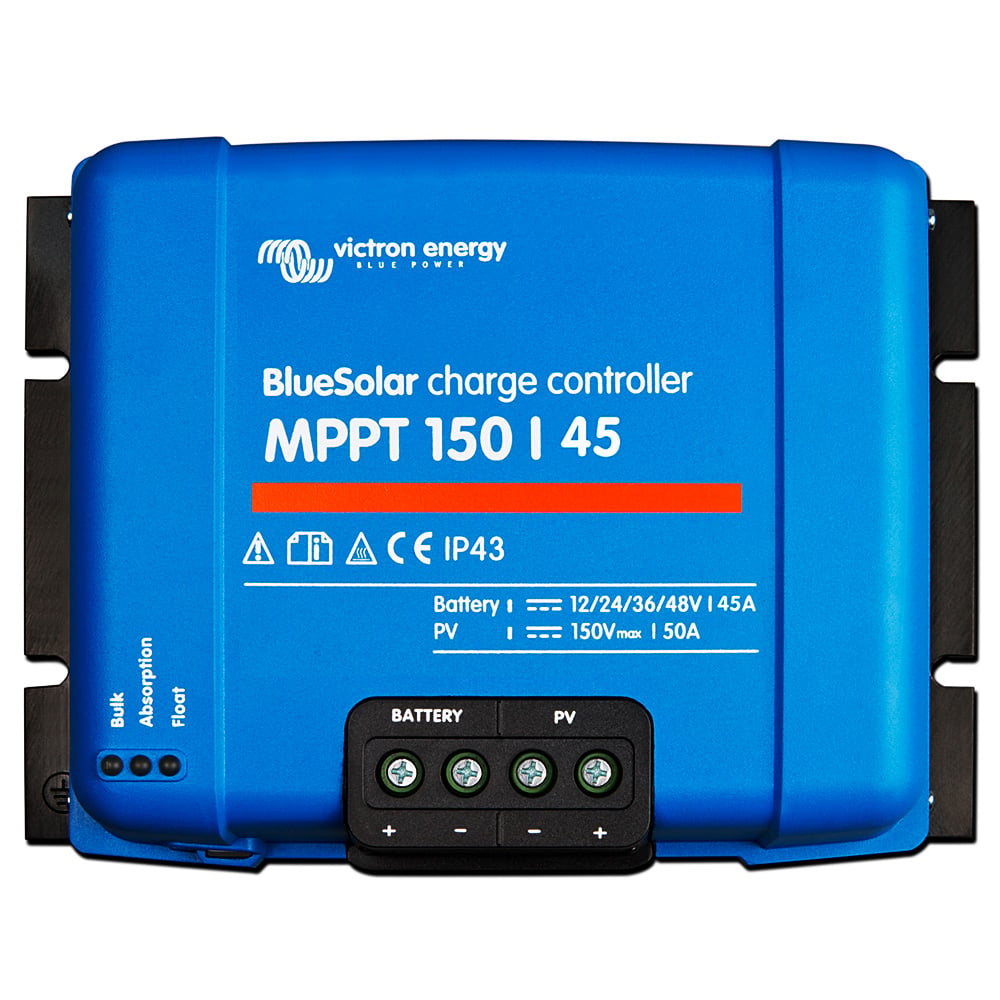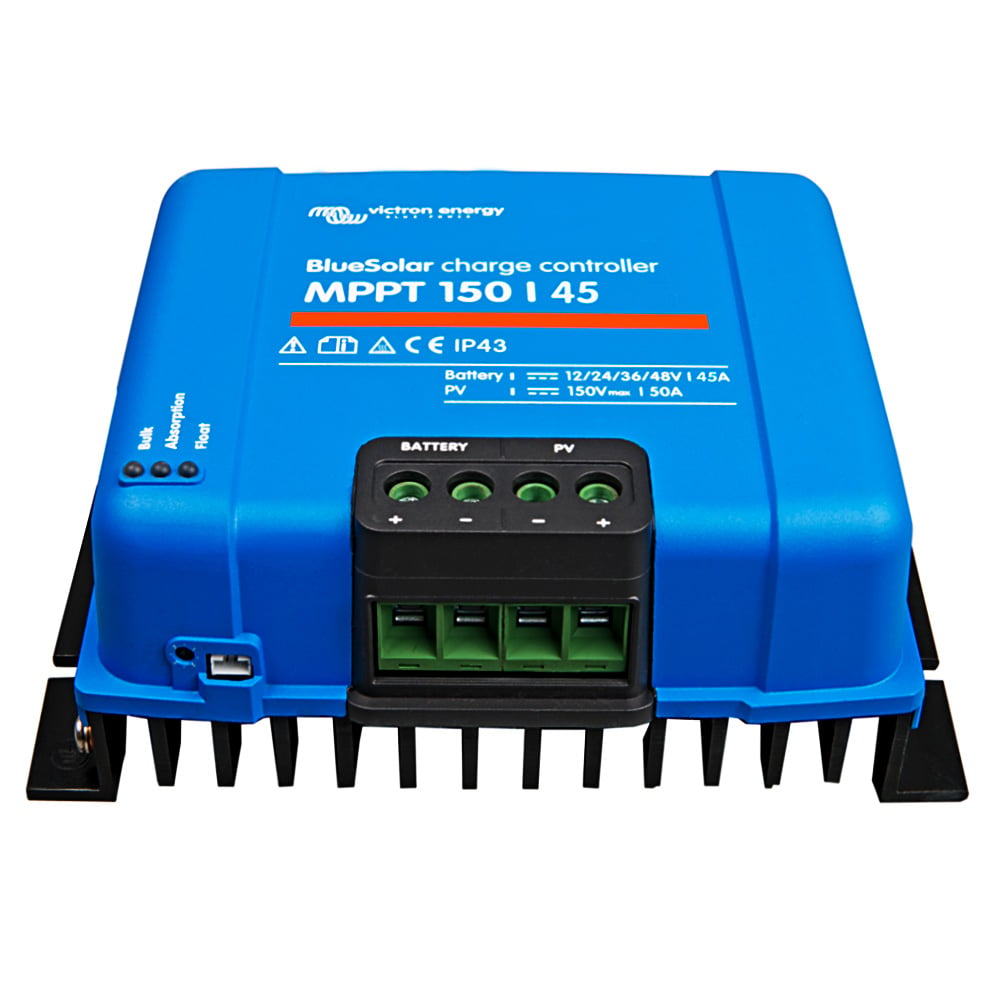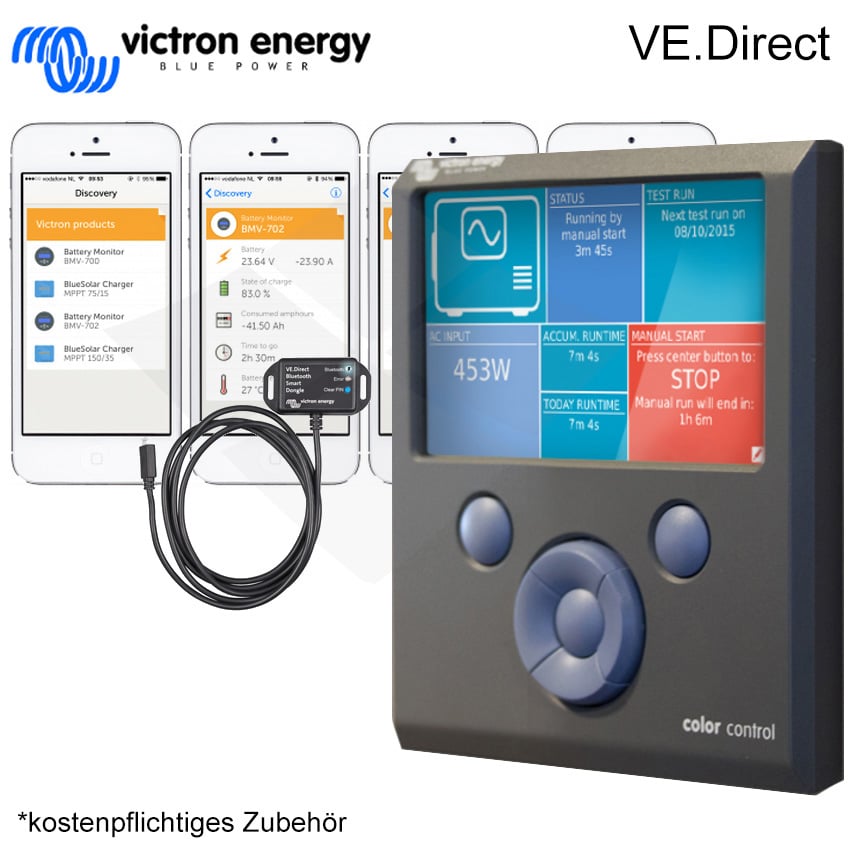 Product number:
1-67-008545
The
MPPT
150/45tr (MPN SCC010045200) is part of the BlueSolar
MPPT
charge controller familiy. Ultra-fast powertracking and automatic
MPP
-voltage adjustment extend your solar system's output. Models from 150/45tr to 150/100tr are also available with MC4-connections instead of screw clamps (solar input). Additionally this model supports concurrent operation with other controllers of the same type.
Programming, real-time data and logging

Latest Apple and Android devices (smartphones, tablets,...) can be connected via VE.Direct over Bluetooth Smart Dongles and the
MPPT
App or via the GX Color control.
Please note that the Bluetooth Smart dongle and the GX Color Control are not included in the delivery scope but available separately.
Next generation MPP-tracker
In case of partial module shading there can be more than one point of maximum performance on the voltage curve. Common MPPTs tend to switch to a local
MPP
even if it not the ideal one. The innovative algorithm used in BlueSolar devices maximizes the energery outcome by always adjusting to the optimal
MPP
. 
Important features:
Ultra-fast MPP-tracker ensures highest possible outcome even when it is cloudy
Auto-detection of partly shading and adjustment to the ideal MPP - more outcome compared to "simple" MPPT charge controllers
Integrated VE.Direct data port for connecting devices like the Bluetooth Smart Dongle or the GX Color Control panel
High effectivity of 98%
Concurrent operation with other 150/45 controllers possible
Constant charging voltage adjustable
Trickle charge voltage adjustable
Supported battery types: AGM, gel, lead-acid, calcium-calcium and lithium batteries
tr-Version: solar modules connectable via screw clamps (max. 35mm²
Fully programmable charging algorithms that can be changed via a switch on the device
Rated charging amperage: 45A, 150V max. PV no-load voltage
12V: 650W / 24V: 1300W / 48V: 2600W
Integrated protection from reverse battery polarity
Multistep adaptive charging algorithm
Integrated temperature sensor adjusts Charging processes according to battery temperature
Day/night-time control and dimming options
Extensive protection functions from:
reverse battery polarity
PV current reflow
overheating
short-cicuits
reverse PV-connection polarity
VE.Direct data port integrated

VE.Direct transfers important parameters to all devices connected to the charge controller and allows communication to equipment such as the Bluetooth Smart Dongle or the GX Color Control. The VE.Direct data port is meant for products where a full canbus integration would produce extreme costs. Please check our Victron brand section for more information about VE.Direct.
Delivery Scope:
1x Victron SCC010045200 BlueSolar MPPT 150/45tr 12V 24V 36V 48V 45A charge controller
1x Manual
Ambient temperature:
-30°C - +60°C
Battery type adjustable:
GEL, AGM, liquid lead acid, LifePo4, OPzS batteries
Charge controller type:
MPPT
Connection options:
MPPT Control Solar Computer , Color Control System Control Panel, Bluethooth Smart Dongle, VE.Direct to USB cable for computer control etc....
Manufacturer:
Victron Energy
Number of charging outputs:
1
Own consumption in standby:
10mA
Protection type:
IP43 (electronic components) IP22 (connection area)
Protective functions:
from battery & module polarity reversal, output short-circuit, overtemp.
Solar module current (max.):
45A
Solar module voltage (max.):
145V
System voltage:
54660,55954,54662
max. charging current:
45A
Product Type:
Charge controller