Victron EasySolar 12/1600/70-16 MPPT 12V 230V All-In-One Solution
Product number:
1-67-008925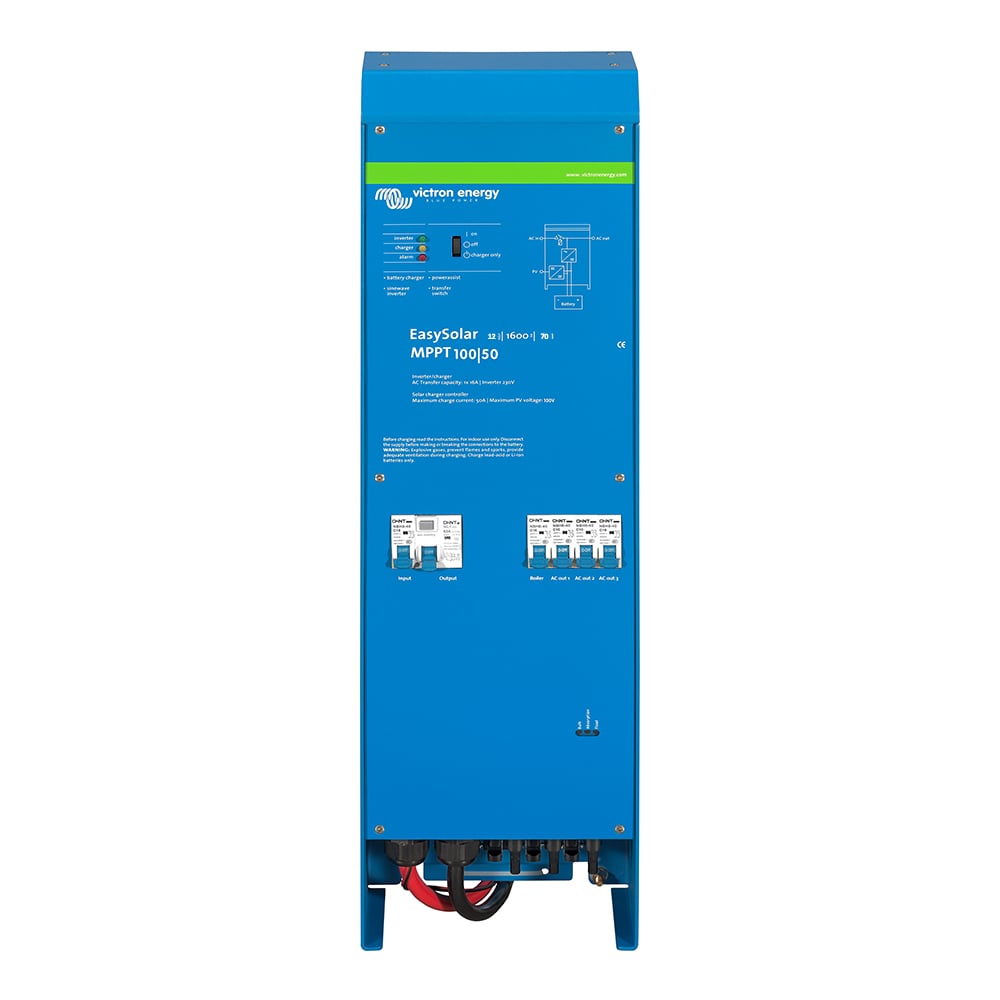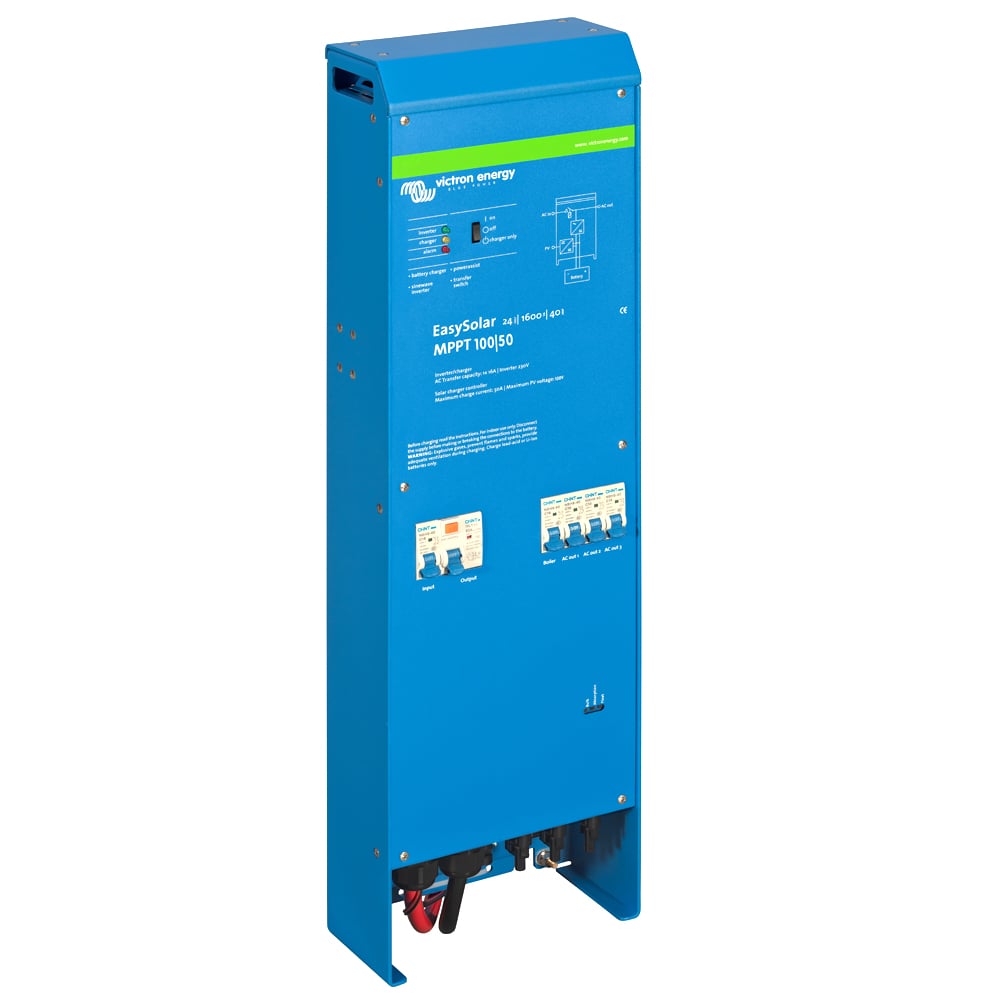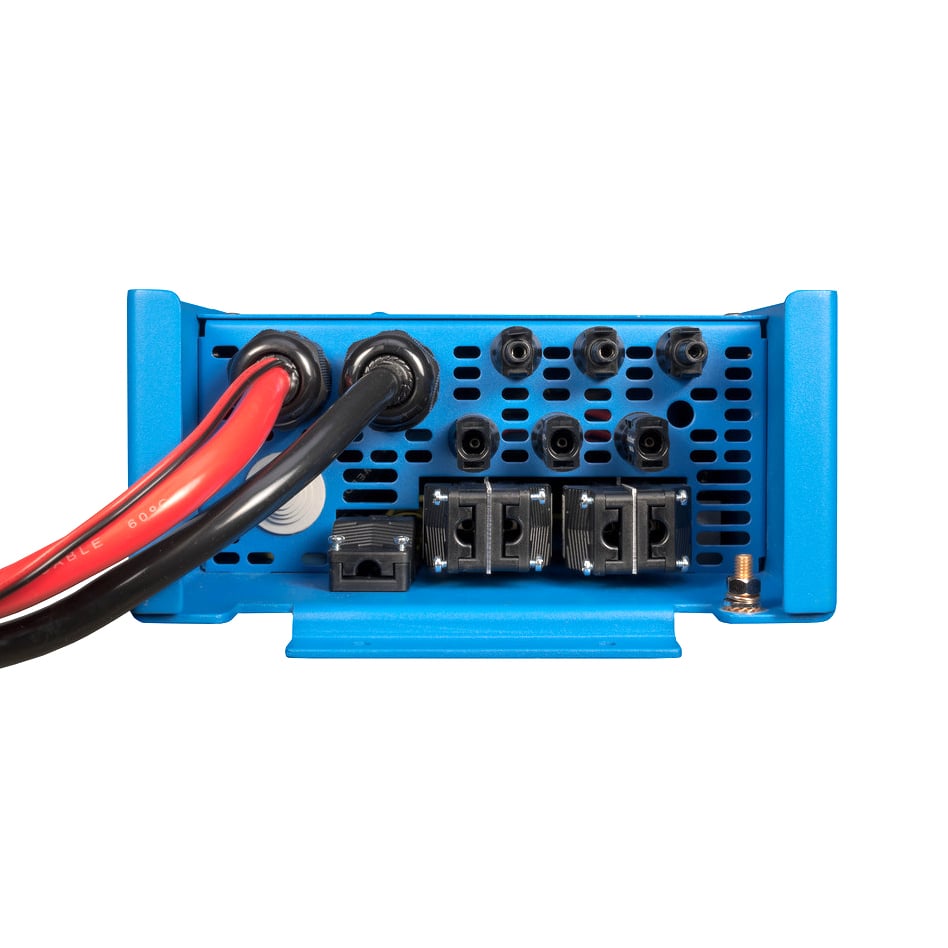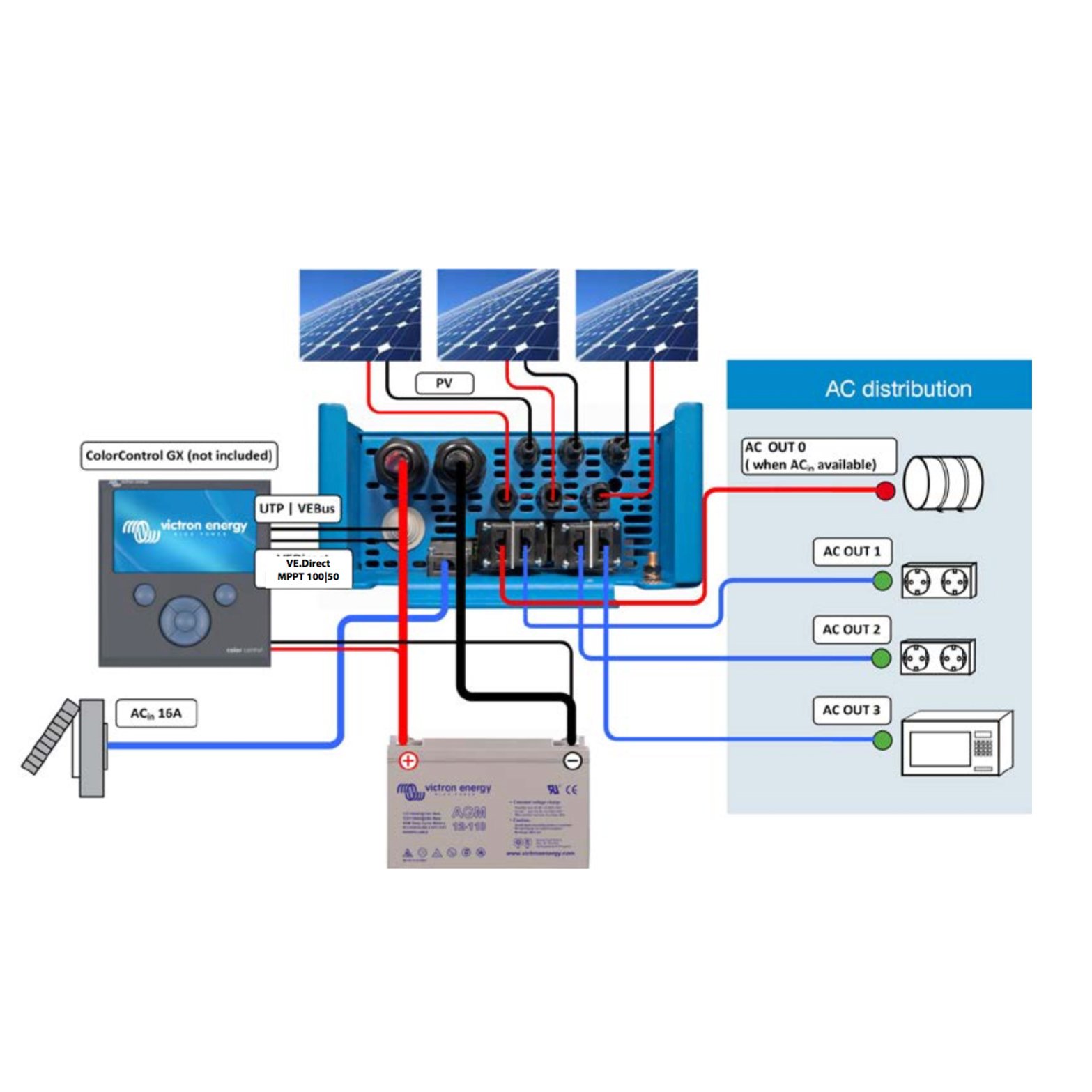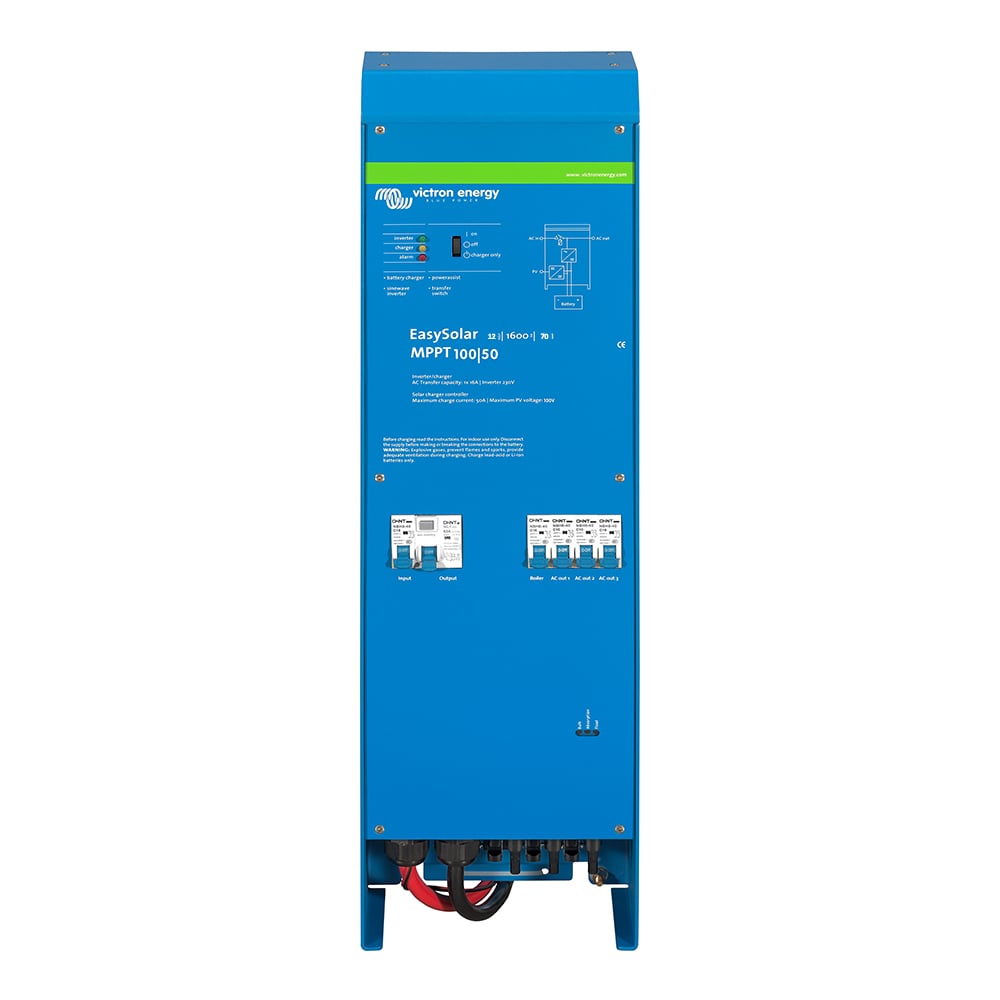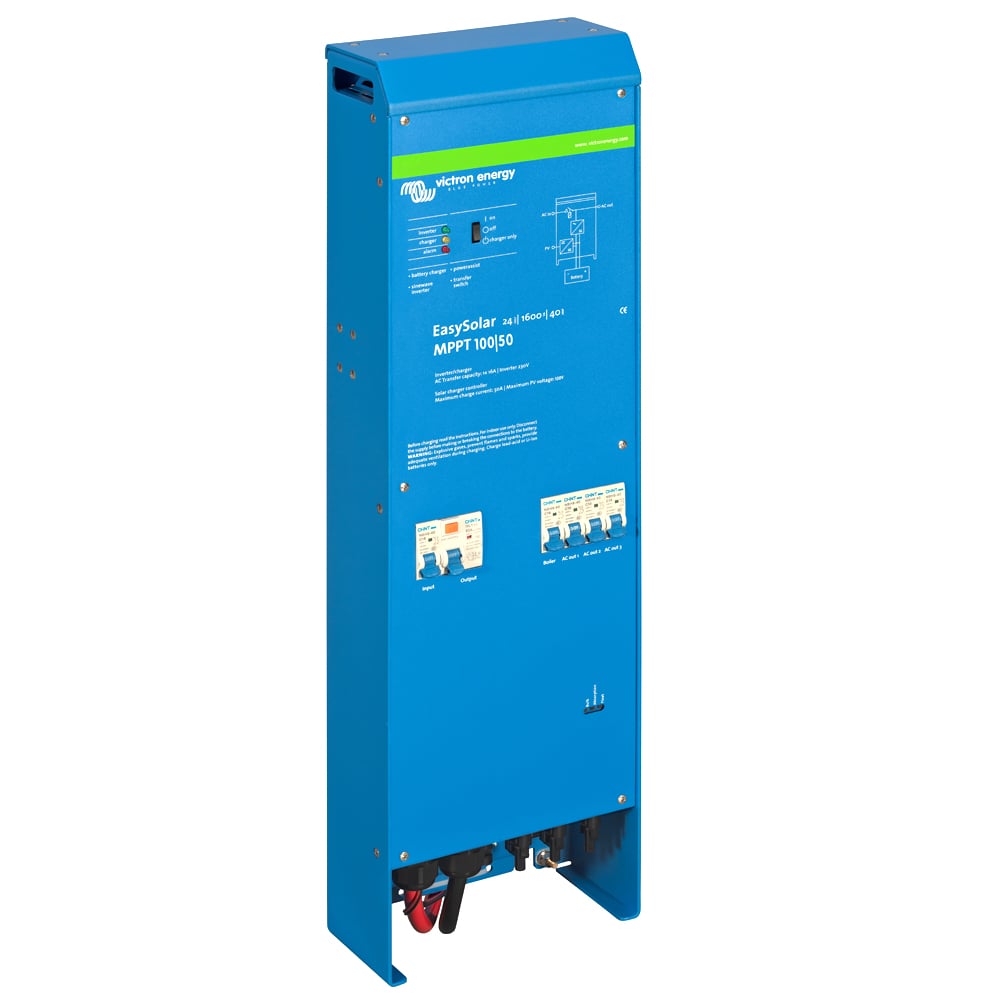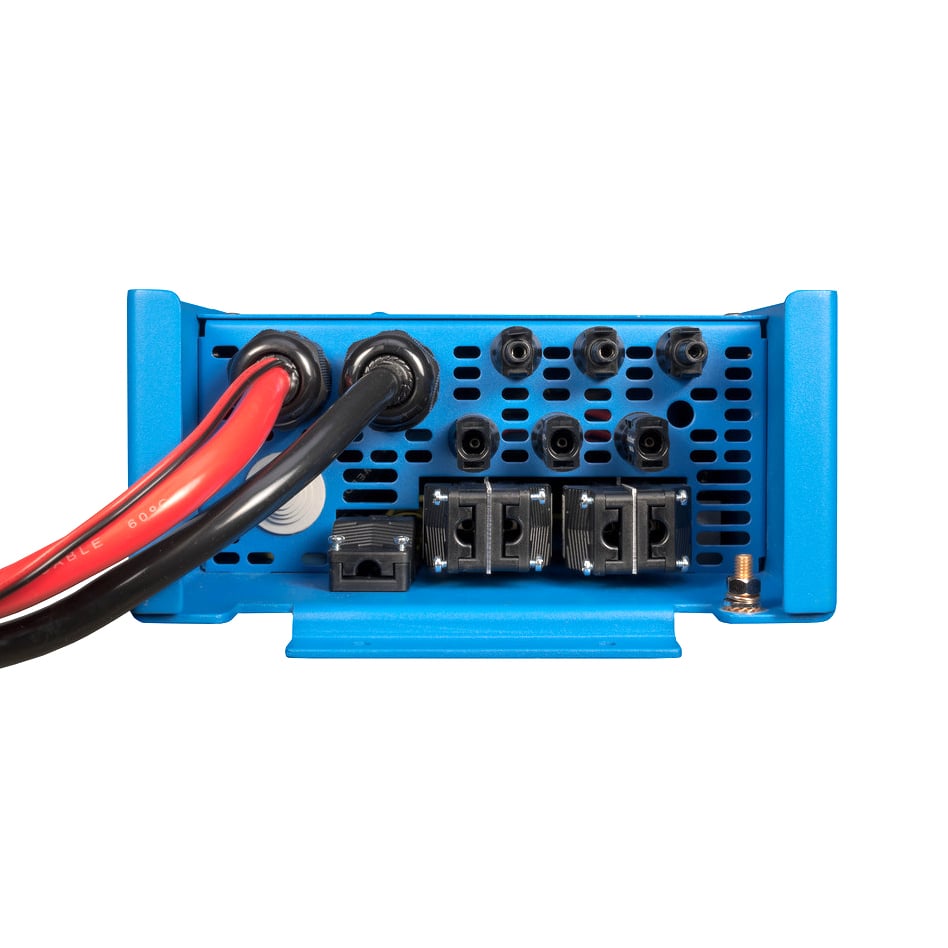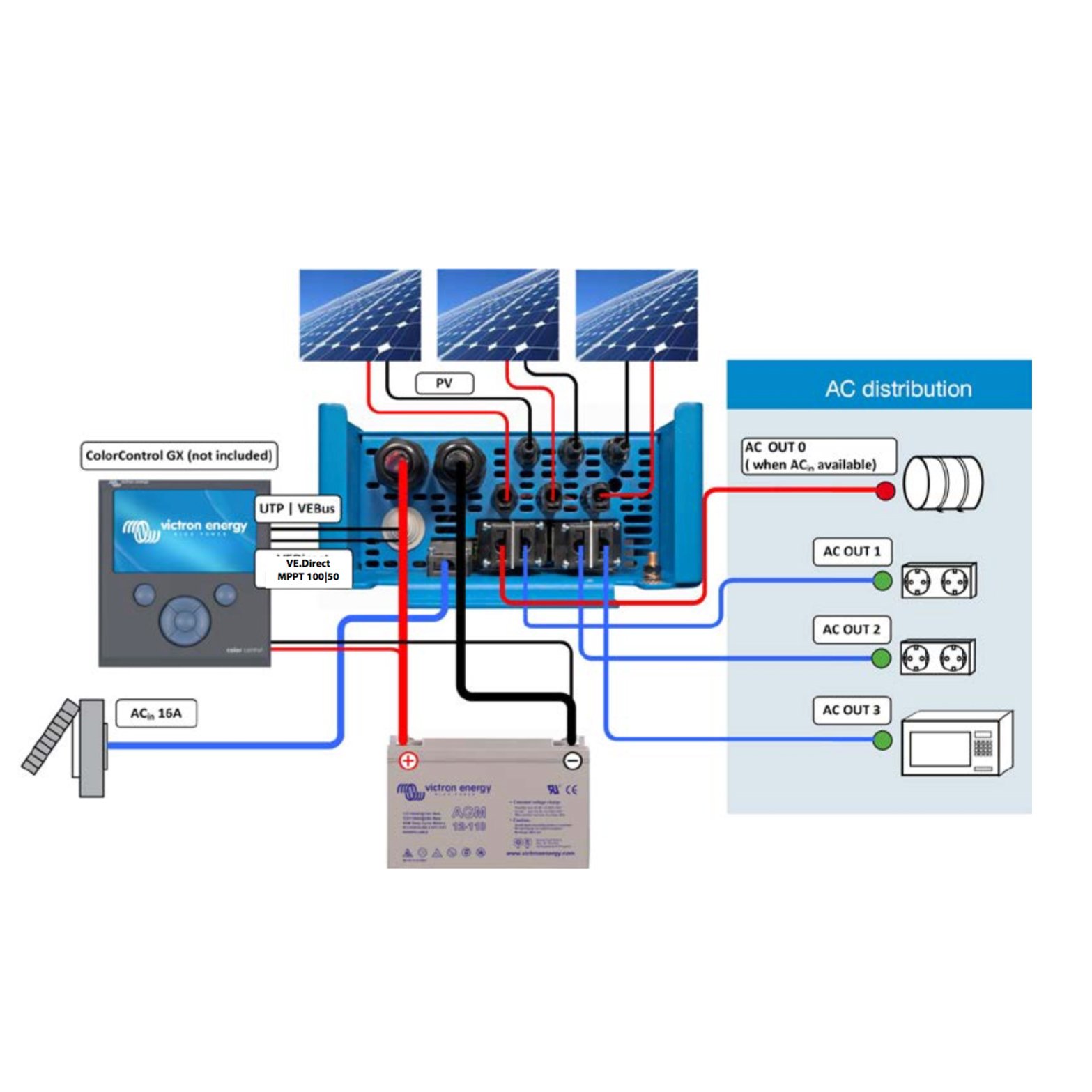 Product number:
1-67-008925
The Victron EasySolar (MPN CEP121621000) 12/1600/70-16 MPPT 100/50 is a high-end all-in-one solution which contains 4 important components for a good solar-system - the MPPT SmartSolar 100/50, the inverter/charger-combination Multiplus 12/1600/40 and an AC-distributor with RCD and two 16A fuses (+10A fuses for 4 separate circuits).
It needs only a minimum of cabling which reduces installation costs. For all these high-quality components Victron grants a guarantee of 5 years.
1. Components of the EasySolar 12/1600/70-16
1.1 SmartSolar 100/50 50A 12V 24V MPPT charge controller
The Victron MPPT 100/50 (MPN SCC020050200) belongs to SmartSolar MPPT series and - as well as all other models out of this series - provides ultra-fast power-tracking to increase your system's output.
Especially on cloudy days with changing lighting conditions an extremely fast MPP-tracker increases your output up to 30% compared to PWM controllers and 10% compared to slower MPPT controllers.
Moreover it comes with other innovative technologies such as the VE.Direct-port.
1.2 Multiplus 12/1600/70 sine inverter + battery charger
The victron MultiPlus C 12/1600/70 (MPN CMP121620000) is a combination of 12V 1300W inverter and battery charger. The integrated battery charger provides 70A which allows quick charging even for bigger batteries as long as there is a grid connection.
The 12V sine inverter converts your DC battery current into a 230V AC current and provides a constant ouput of 1300W. Thanks to a pure sine wave this inverter is also suitable for sensitive electronic devices.
1.3 16A grid-transfer-switch
The 16A transfer switch integrated in the Multiplus ensures a maximum of flexibility. The EasySolar is ideal for various grid-tied or offgrid applications as well as for owners of caravans, campers, boats or yachts who want a high-quality power supply. It is also usable for uninterrupted power supply in case of grid fluctuations or blackouts.
Moreover it is a handy tool for any grid-tied system which only drains power from the supplier when the battery current is not sufficient.
1.4 AC-distributor
This AC-distributor consists of a 30mA/16A RCD (residual current operated device) and four AC-outputs protected by two 10A and two 16A fuses. One of the 16A-outputs is controlled by the AC-input which means that it switches only if AC-power is available.
2. VE.Bus communication port

The VE.Bus high-performance communication port connects the EasySolar with many other Victron devices such as the Global Remote GSM for worldwide remote control or the system monitor Color Control GX with color display.
Besides that there are many free software tools available for controlling and monitoring of VE.Bus-devices.
3. Technical data
1300W constant performance, 3000W peak-performance, for 12V battery voltage
combination of inverter with transfer-switch and 70A battery charger
pure 230V sine voltage (50Hz)
VE.Bus communication port provides extensive possibilities in terms of networking, system integration, communication and controlling
PowerControl function allows operation with limited generator performance as well as limited shore- or grid-power
PowerAssist function allows 'performance increase' of generators and shore-power support if needed
usable as UPS-solution (uninterrupted power supply)
usable for grid-tied systems which only drain power from the supplier when the battery current is not sufficient or other programmable events have happened
compatible with many Victron control- and display-panels
programmable relays (inverter)
intergrated temperature sensor (inverter) for temperature compensation of the charger
PV-connection via three-phase operation with identical MultiPlus inverters possible
ultra-fast next-generation MPP-tracking ensures highest-possible output even on cloudy days
auto-detection of MPP-voltage at partly shading provides even more output compared to common MPPT charge controllers
high total-efficiency of 92%
fully programmable charging algorithms that can later be switched and activated via built-in buttons
nominal current of 50A, 100V max. PV-no-load-voltage
700W max. PV-performance at 12V
intergrated reverse-battery-polarity protection
adaptive multistep charging-algorithm
integrated temperature sensor adjusts trickle and constant charging voltage according to temperature
full AC-distributor with 2x 16A fuses, 2x 10A fuses and RCD ensure safe operation
product guarantee of 5 years
suitable for all common battery types and lithium batteries
day/night-timer and dimming function
Delivery scope:
1x Victron Energy EasySolar (CEP121621000) 12/1600/70-16 MPPT 100/50
1x Manual (German, Englisch, Spanish, French, Dutch)
Communication ports:
VE.Bus
Dimensions:
74,5 x 21,4 x 11
Frequency range:
50Hz / +-0,1Hz
Manufacturer:
Victron Energy
Own consumption in idle mode:
8W
Own consumption in standby:
2W
Product Type:
Device combination or all-in-one solution consisting of sine wave inverter, solar charge controller and battery charger as well as a 16A transfer switch.
Rated output voltage:
230V AC / alternating current
Sine wave:
true sine wave
Temperature range:
-20°C bis 50°C
Transfer switch integrated:
Yes
Transfer switch power:
16A
Voltage regulation:
12V DC / 230V AC