Victron MultiPlus-II 24/3000/70-32 230v
Product number:
1-67-012590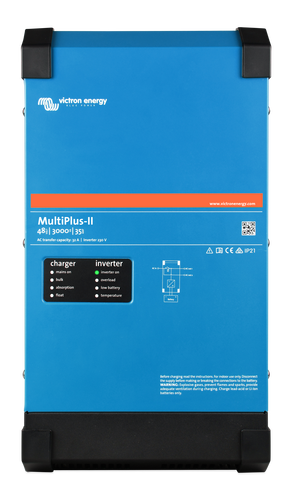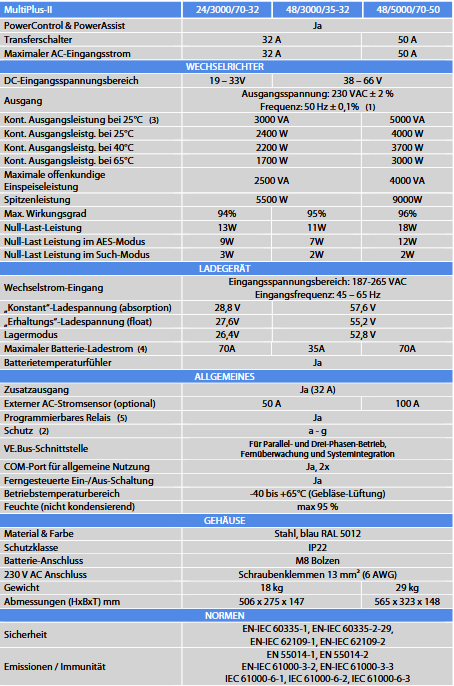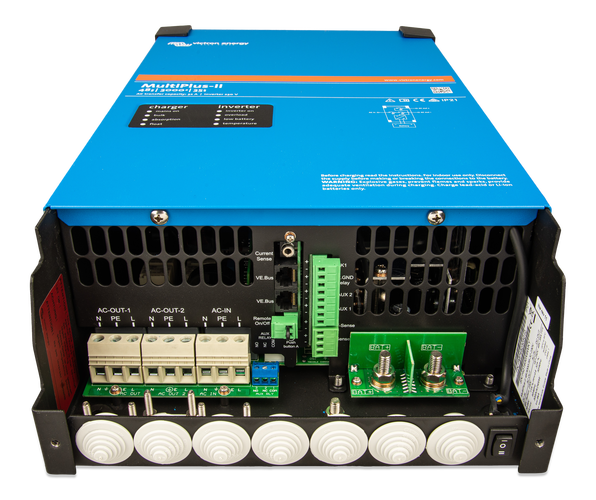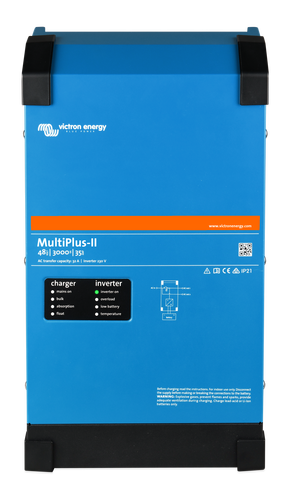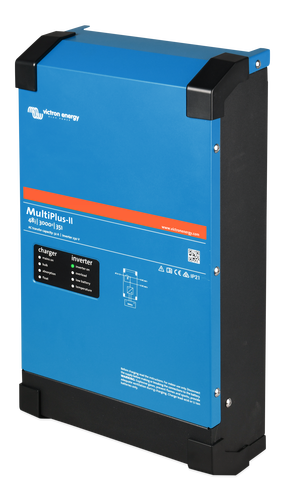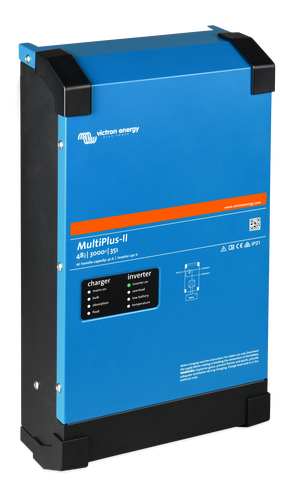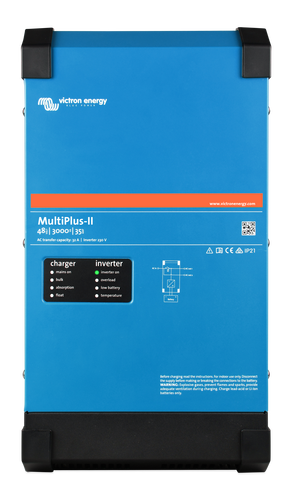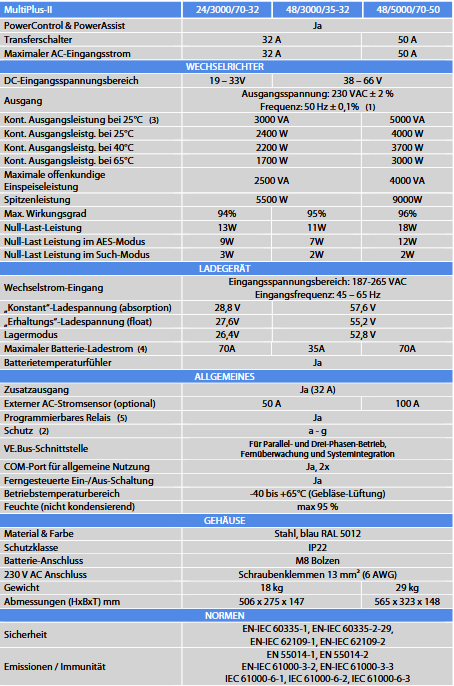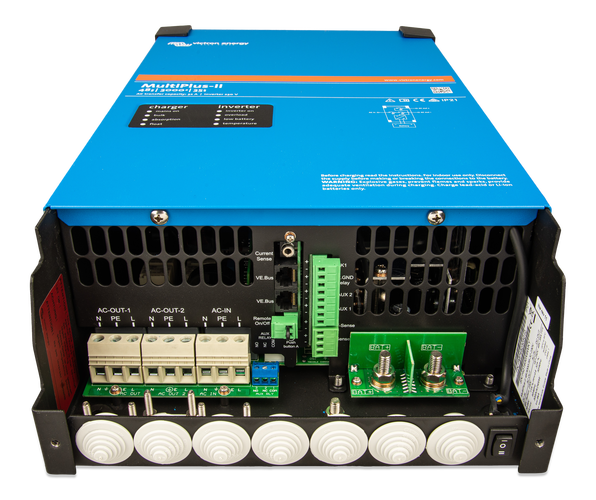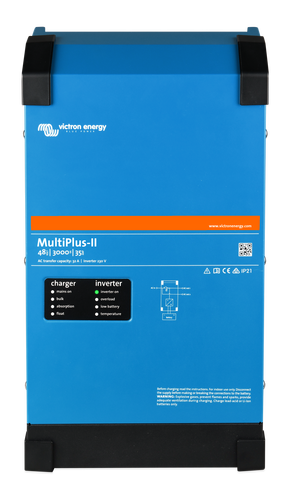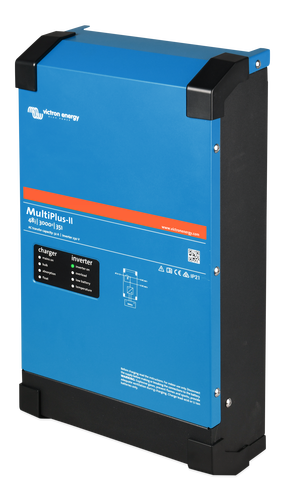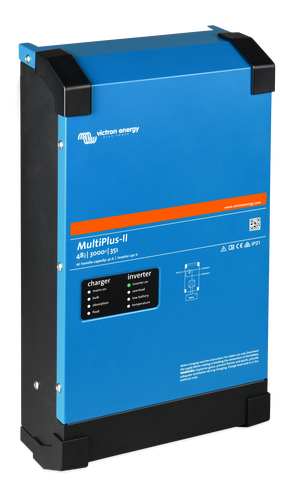 Product number:
1-67-012590
The Multiplus-II 24/3000/70-32 is a high-end device combination from victron Energy (mpn pmp242305010) that combines classic Multiplus components with an external current sensor and integrated anti-islanding function. This extends the PowerControl and Powerassist functions to 50 a and the potential range of use to ess applications. The inverter module delivers a whopping 3000 w at non-linear load, or 2400 w at linear continuous load. the 24 v battery charger is also very well proportioned, with 70 a charging power, and is complemented by a 32 a transfer switch that allows lightning-fast switching between aC connections
important features of the Multiplus-II 24/3000/70-32
PowerControl and Powerassist -increase in mains or generator output
built-in anti-islanding function and connection possibility for external current sensor (optional)
can be used as a backup device in grid-connected systems for power supply in case of grid failures
can be used in various ess (Energy Storage System) applications
best suited for professional seafaring, yachts, vehicles and land-based, off-grid applications
vE.Bus interface for parallel and three-phase operation, remote monitoring and system integration
virtually unlimited power through parallel and three-phase operation
can be configured on-site or remotely using vEConfigure software*
technical features
3000 w power at non-linear load 2400 w continuous load and 6000 w peak power
for 24 v battery voltage, 32 a transfer switch and 70 a battery charger
output voltage: 230 vaC, frequency: 50 Hz
max. efficiency is 95%, protection class IP22
always enough power thanks to PowerControl and Powerassist
a maximum mains or generator current can be set on the Multiplus-II 24/3000/70-32. The MultiPlus-II then takes into account other connected AC consumers and only uses the current that is "left over" to charge the battery. This prevents the generator or mains connection from being overloaded (PowerControl function). The Powerassist function adds a new dimension to the PowerControl principle. Load peaks often only occur for a limited period of time. In such a case, the MultiPlus-II immediately compensates for insufficient generator, shore power or mains power with energy from the battery. if the load is reduced, i.e. if consumers are switched off, the energy that is then available again in sufficient quantities can be used to charge the batteries
Solar power: alternating current even in the event of a power failure
The device can be used with both non-grid-connected and grid-connected pv systems, as well as with other alternative energy systems. It can be used with both solar charge controllers and grid-connected inverters.
maximum flexibility thanks to two AC outputs
The main output ensures uninterrupted operation. In the event of a grid failure or interruption of the shore/generator power, the MultiPlus-II takes over the supply of the connected consumers. Switching occurs so quickly (in less than 20 milliseconds) that uninterrupted operation of computers and other electronic equipment is guaranteed. The second output supplies power only when AC power is available at the input of the MultiPlus-II. consumers that must not discharge the battery, such as a water heater, can be connected to this output.
many possibilities for system expansion
Settings can be changed in minutes using the vEConfigure software (which requires a computer or laptop and an MK3 USB interface).several monitoring and control options are available: Color Control gx, venus gx, Octo gx, CaNvu gx, laptop, computer, Bluetooth (with the optional vE.Bus Smart Dongle), battery monitor, Digital Multi control panel
Remote configuration and monitoring
Install a Color Control gx or other gx products to connect to the Internet. Operating data can be stored and viewed free of charge on our vRM (victron Remote Management) website. If systems are connected to the Internet, they can be accessed remotely and settings can be changed.
Scope of delivery:
1x victron pmp242305010 Multiplus-II 24/3000/70-32a 1x user manual
Ambient temperature:
-40°C - +65°C
Manufacturer:
Victron Energy