Victron SmartSolar mppt 150/35 35a 12v/24v solar charge controller
Product number:
1-67-011775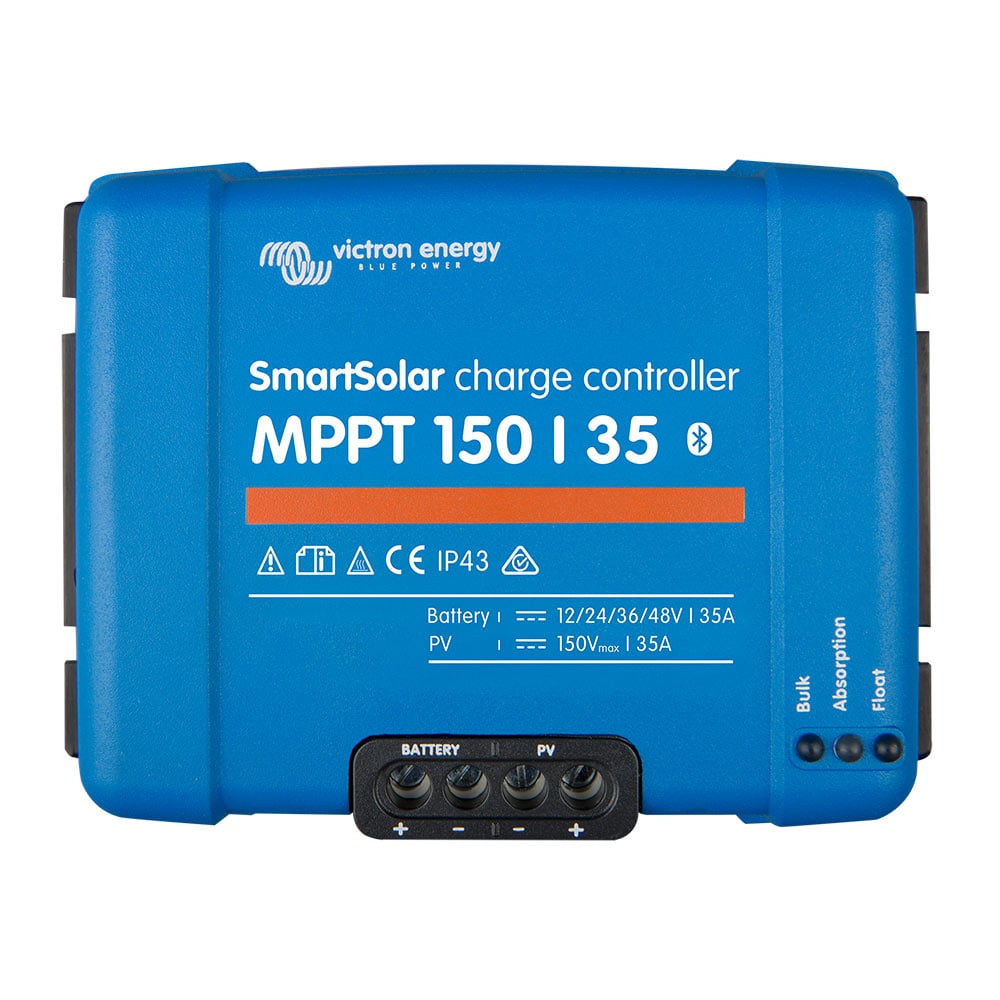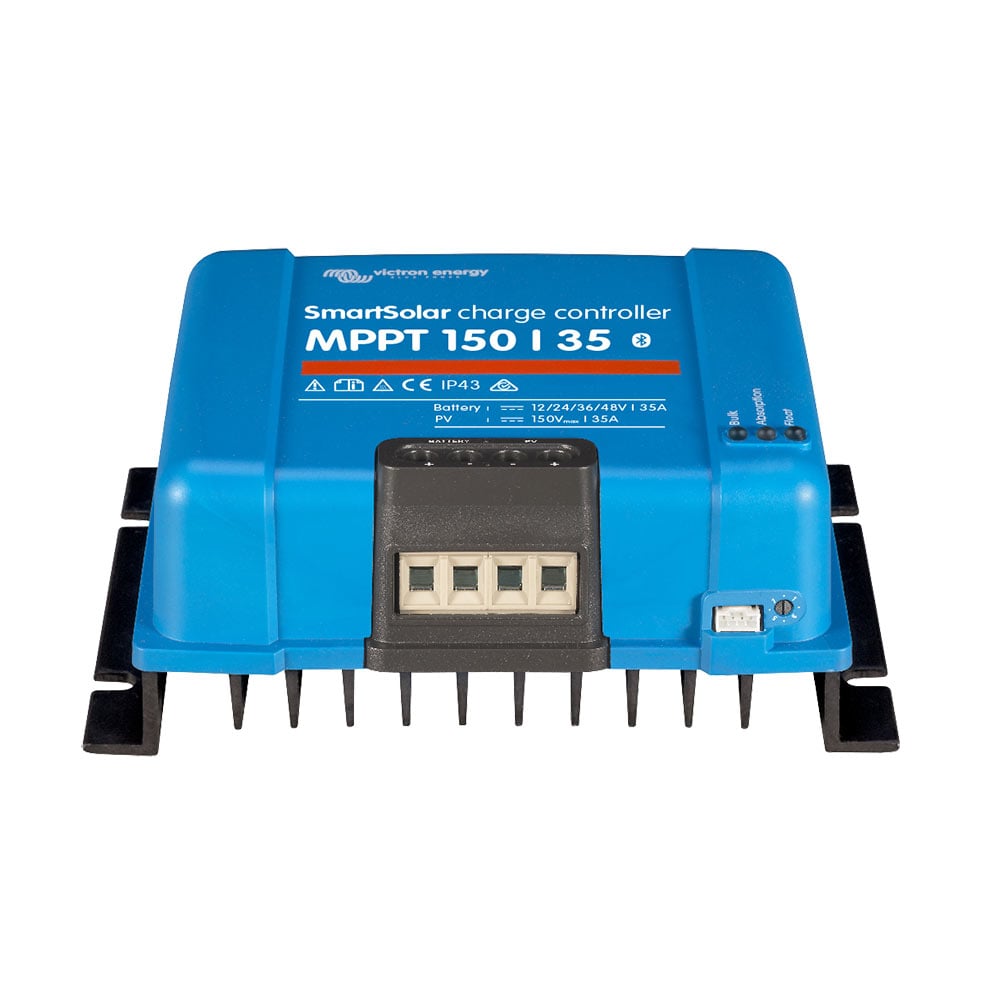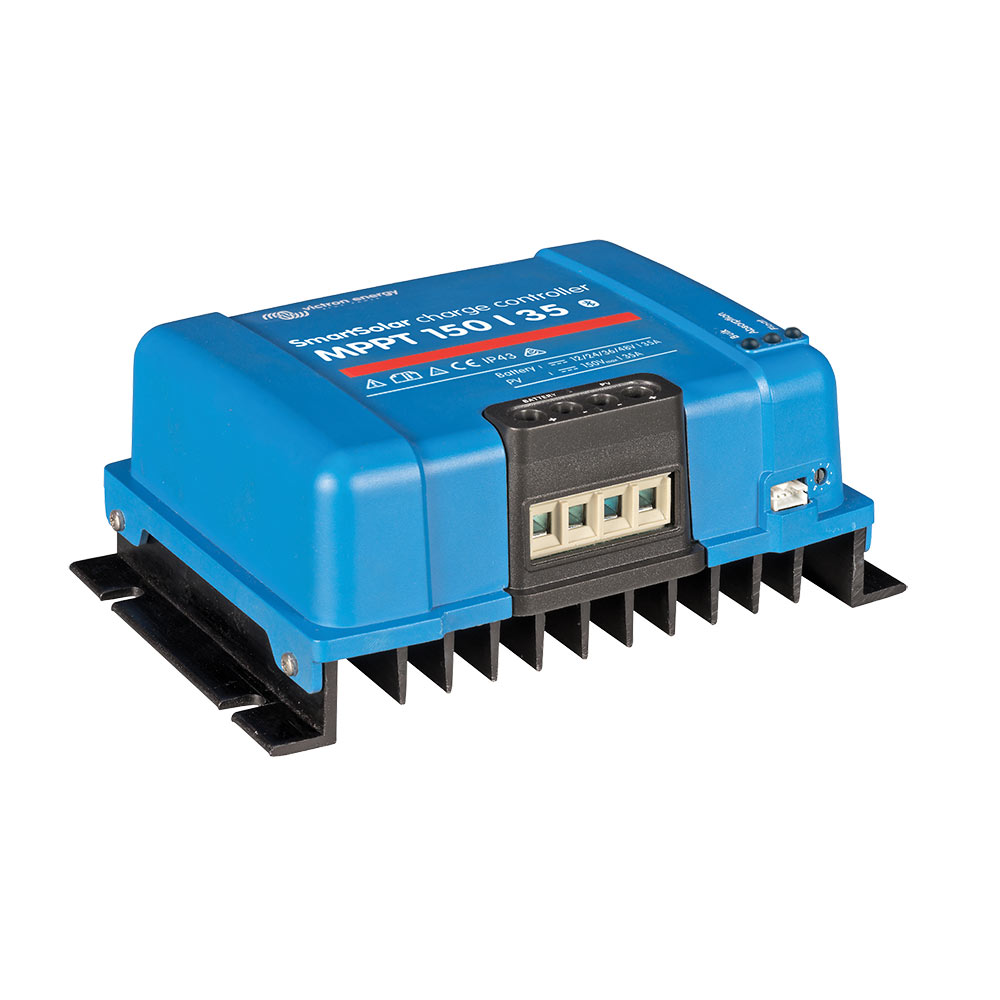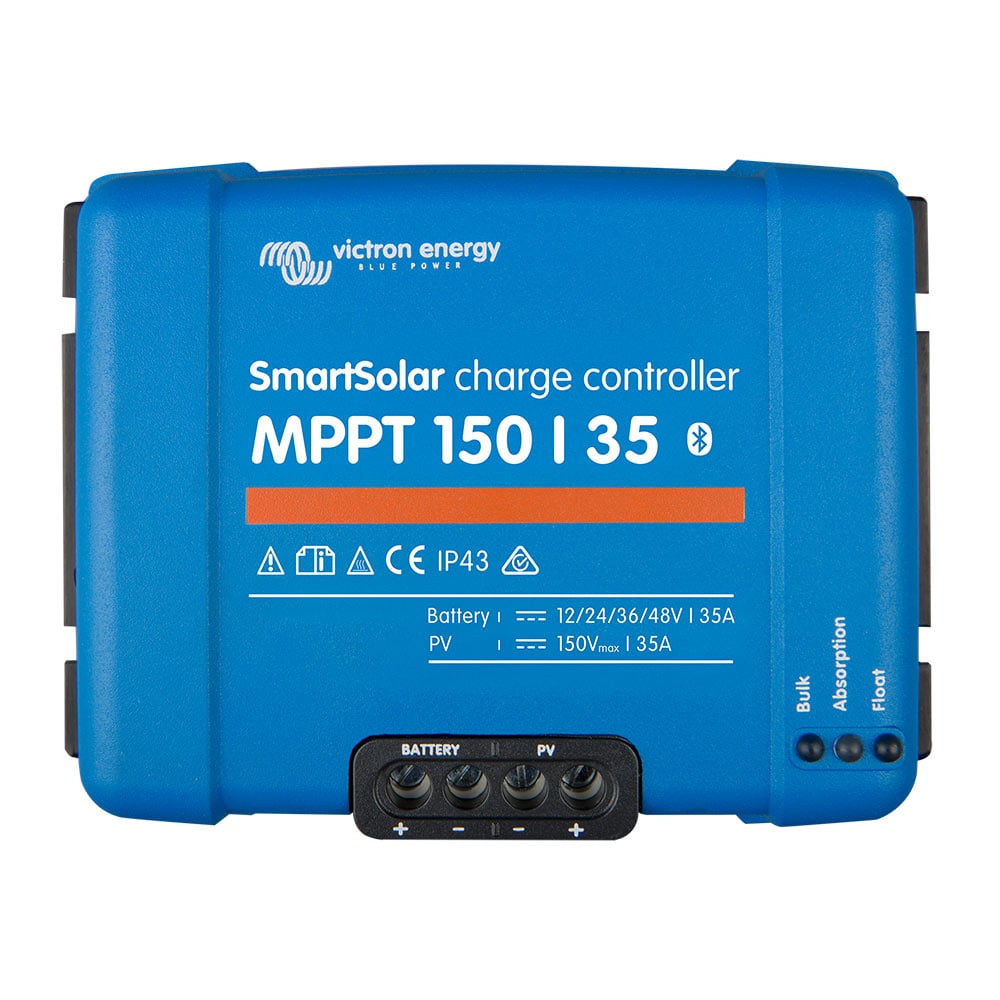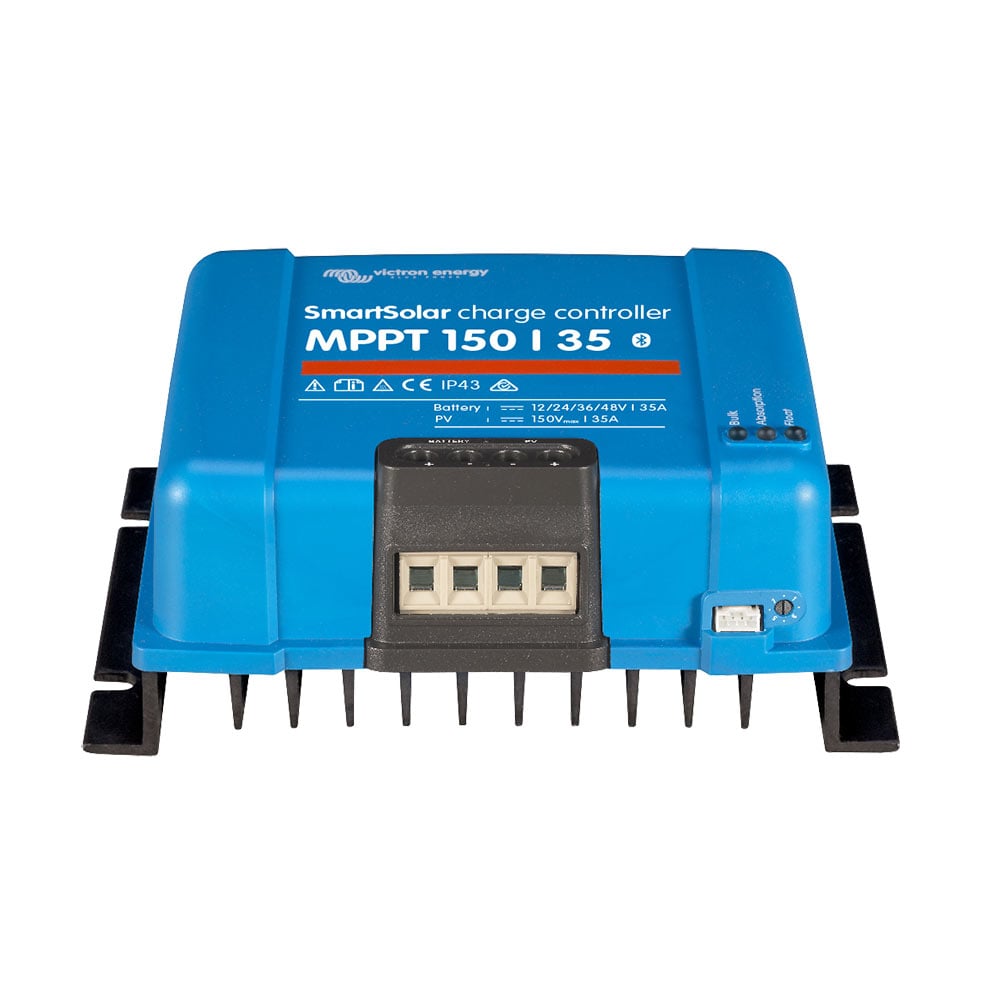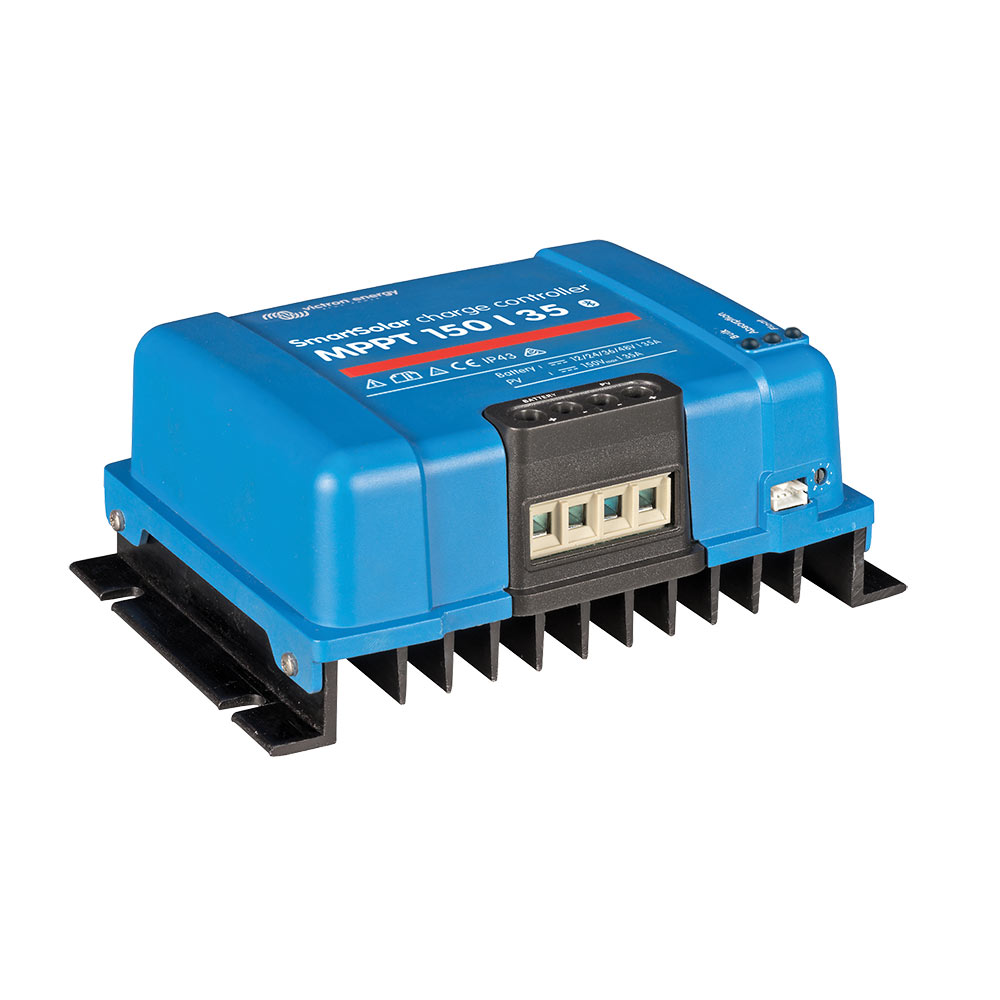 Product number:
1-67-011775
The SmartSolar 150/35 mppt from Victron Energy (scc115035210) belongs to the latest generation of smart solar charge controllers, with integrated Bluetooth for data transfer and configuration via app on smartphone or tablet. It supports batteries with a voltage of 12v 24v 36v or even 48v and is therefore very versatile. The maximum charging current is 35a and uses the latest charging methods. Depending on the system voltage, the regulator can thus efficiently use 500w (12v) to 2000w (48v) to charge your batteries. In addition, this device also allows for partial shading compensation and one of the most reliable mppt trackers on the market.
VE-Direct data port for programming, real time data analysis and display of history
Modern Apple and Android smartphones, and tablets can be connected via VE.Direct to the system monitors gx Color Control, the Venus gx, or the mppt Control Panel, for example.
High-speed mpp tracker of the latest generation
Especially in overcast conditions, when light intensity is constantly changing, an extremely fast mppt controller improves energy output by up to 30% compared to PWM charge controllers and by up to 10% compared to slower mppt controllers. In addition, the 150/35 features several other innovative technologies such as the VE.Direct communication port.
extensive electronic protection
Reverse battery connection protection
PV reverse current lock
Protection against overheating of the device
Protection against short circuits
Protection against reverse polarity PV connection
key product features of SmartSolar 150/35 35a 12v 24v 36v 48v mppt
latest generation ultra-fast mpp tracker ensures best possible yield even in overcast conditions
automatic detection of mpp voltage in case of partial shading provides further yield improvement compared to "simple" mppt charge controller
integrated VE.Direct data communication port for connection to additional devices like Bluetooth Smart Dongle or the gx Color Control Panel
high maximum efficiency of 98
fully programmable charging algorithms which are later manually activated and toggled via a switch on the housing
Rated charge current 35a, 100v maximum PV open circuit voltage
12v:500w / 24v:1000W / 36v:1500w / 48v:2000w
integrated protection against battery polarity reversal
multi-stage and adaptive charging algorithm
integrated temperature sensor balances maintenance and constant charge voltage according to temperature
Day/night time control and light dimming option
Scope of delivery

1x Victron Energy scc115035210 SmartSolar mppt 150/35 12v 24v 36v 48v 35a charge controller
Instruction manual
Ambient temperature:
-30¡C - +60¡C
Charge controller type:
MPPT
Manufacturer:
Victron Energy
Number of charging outputs:
1
Own consumption in standby:
10 mA
Product Type:
MPPT solar charge controller
Protection type:
IP43 (Electronic components) IP22 (connection area)
Protective functions:
Battery polarity reversal, PV polarity reversal, short circuit, overheating
Solar module current (max.):
35A
Temperature compensation:
12V -16 mV / ¡C , 24V -32mV / ¡C , 68V -32mV / ¡C
Warranty:
5 years manufacturer's warranty

Ist es möglich 3 dieser MPP Tracker mit je 2 Modulen über dieselbe Batterie parallel zu schalten?
Ja, es ist möglich mehrere SmartSolar MPPTs an einer Batterie anzuschließen. In diesem Fall empfehlen wir die Erstellung eines VE.Smart Netzwerk, damit sich die MPPTs untereinander synchronisieren.
Gibt es für den SmartSolar MPPT-Regler auch ein externes Anzeigedisplay?
Als Kabelgebundes Anzeigedisplay können Sie z.B. das Victron Energy MPPT Control verwenden.