Dekalin Dekaseal 8936 sealant light gray cartridge 310ml
Product number:
8-01-012540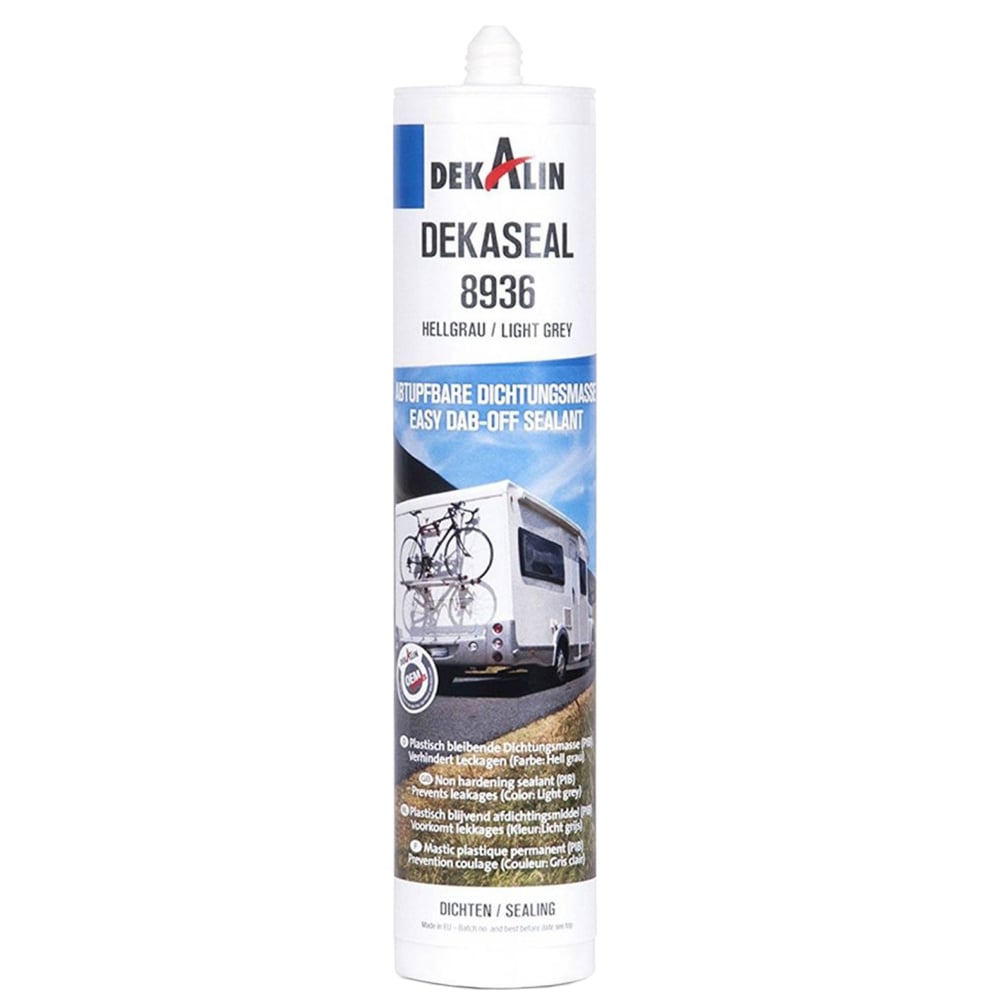 €13.49*
Content:
310 Milliliter
(€43.52* / 1000 Milliliter)
Product number:
8-01-012540
Dekaseal 8936 from Dekalin is the classic sealant. The dab-on sealant impresses with high tightness, uv-resistance, as well as elasticity, since it does not harden and remains somewhat permanently tacky. Optimal for use in applications without visible joint edges (flaps, hatches, side windows, keder strips, exterior sockets, etc.).
The simple processing convinces professionals and laymen alike. There is no need for additional cleaning work, as protruding rust can be easily removed by dabbing without leaving any residue. The sealant can be used without pretreatment on clean, dry, dust- and grease-free surfaces used in vehicle construction/caravaning.
Dekaseal 8936 can be applied by hand or with the aid of a compressed air gun. Its strengths, apart from its high impermeability, are that it is easy to dismantle, i.e. it is well suited for connections that need to be undone at a later date.
Applications
Sealing of overlaps and joints in e.g. bus, caravan, motor home, train and truck construction
Sealing of screw connections
Sealing of sun roof systems
Application under facing strips for installation of windows and skylights in caravans and motor homes, trailers and in container construction
Suitable for application between metal plates, glass, gfk, wood and other materials
Sealing rubber-glass joints in buses, cars, trains and trucks
Properties
Very low water vapor permeability (0.1 - 0.2 g/day/m²)
excess Dekaseal 8936 can be easily removed after a few minutes
Very good uv aging resistance, proven quality
Resistant to water, road salt, weathering influences
Sealant must be fixed between a mechanical joint
Generally good adhesion to most substrates without pretreatment
Long shelf life, unopened min. two years
Cannot be overpainted
Adhesion
In general, Dekaseal 8936 adheres well without pretreatment to clean, dry, dust and grease free substrates of aluminum, stainless steel, zinc, copper, brass, powder coated metal, most painted metal surfaces, glass, pvc, polyester (grp), painted wood and other surfaces. No adhesion without pretreatment on polyethylene, polypropylene and Teflon®. For properties on substrates not mentioned and further information, please contact Dekalin.
Processing
Dekaseal 8936 can be applied by hand or with a compressed air gun. When using compressed air, 2 - 3 bar are required. The areas to be sealed must be solid, clean, dry and free of grease. Paint and smooth into joints, crevices, etc. excess material can be dabbed off with itself after a short flash-off time. The material can be removed with turpentine substitute. The sealant remains slightly tacky after drying, but is odorless and compatible with paint.
Technical data
Base material: polyisobutene, synthetic resins, fillers and solvents
Specific gravity (20°C), din 51757: approx. 1.4 kg/liter
Temperature resistance: -30°C - +100°C
Application temperature: +5°C - +35°C
Color: light gray
Packaging size: 310ml cartridge
Scope of delivery:
1x Dekalin Dekaseal 8936 cartridge 310ml light gray