Victron SmartSolar MPPT 100/50 50A 12V/24V charge controller
Product number:
1-67-011770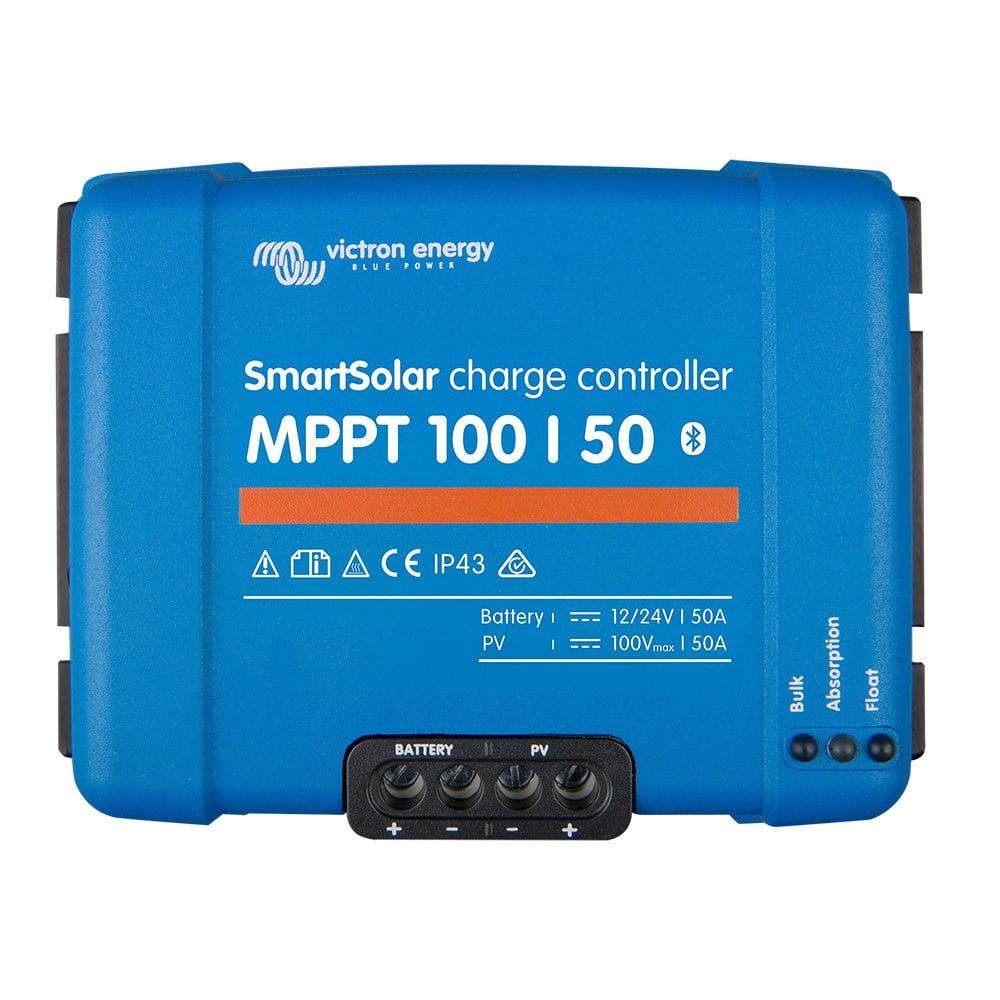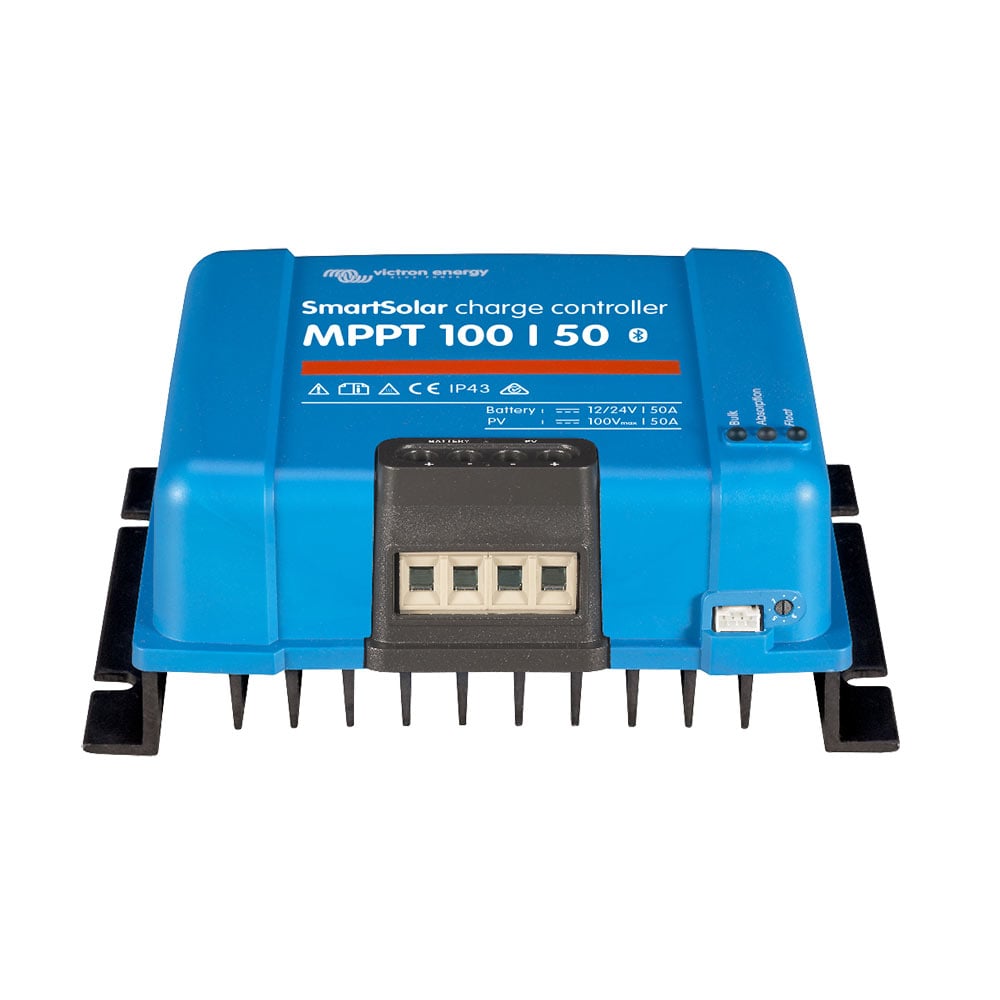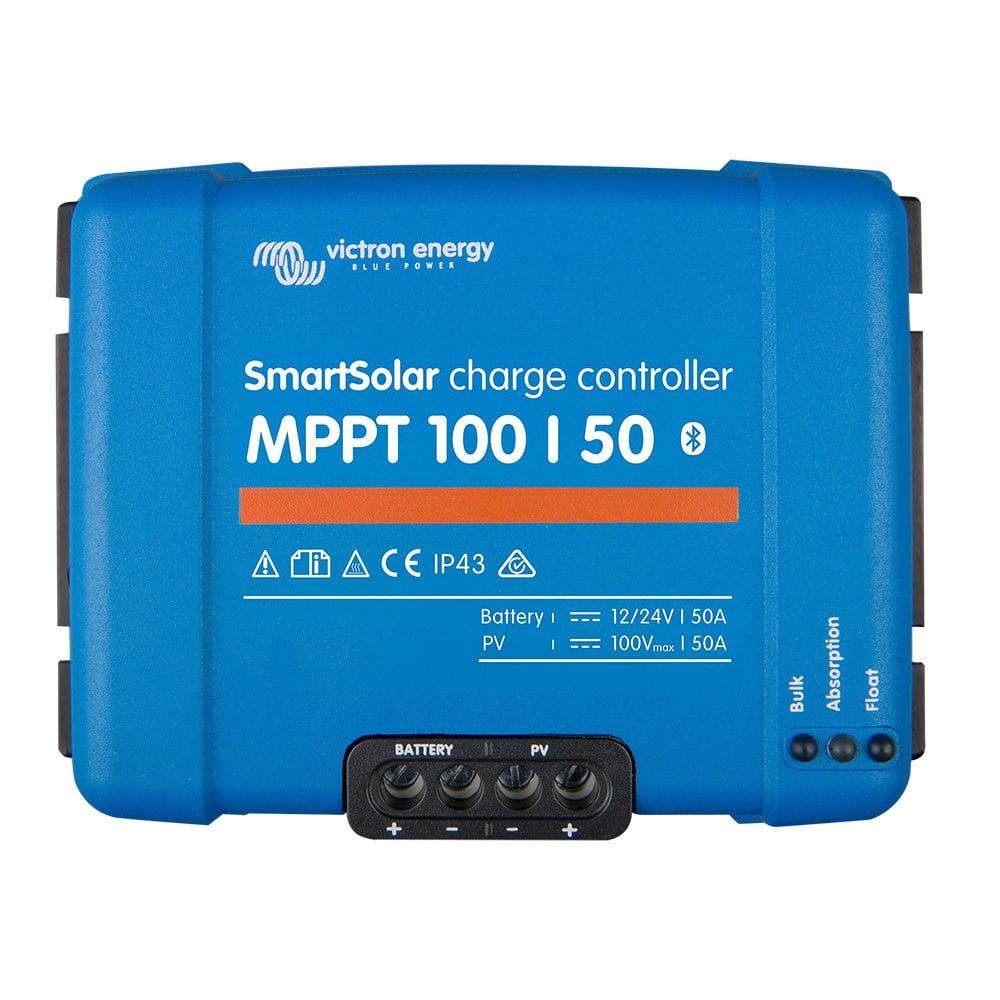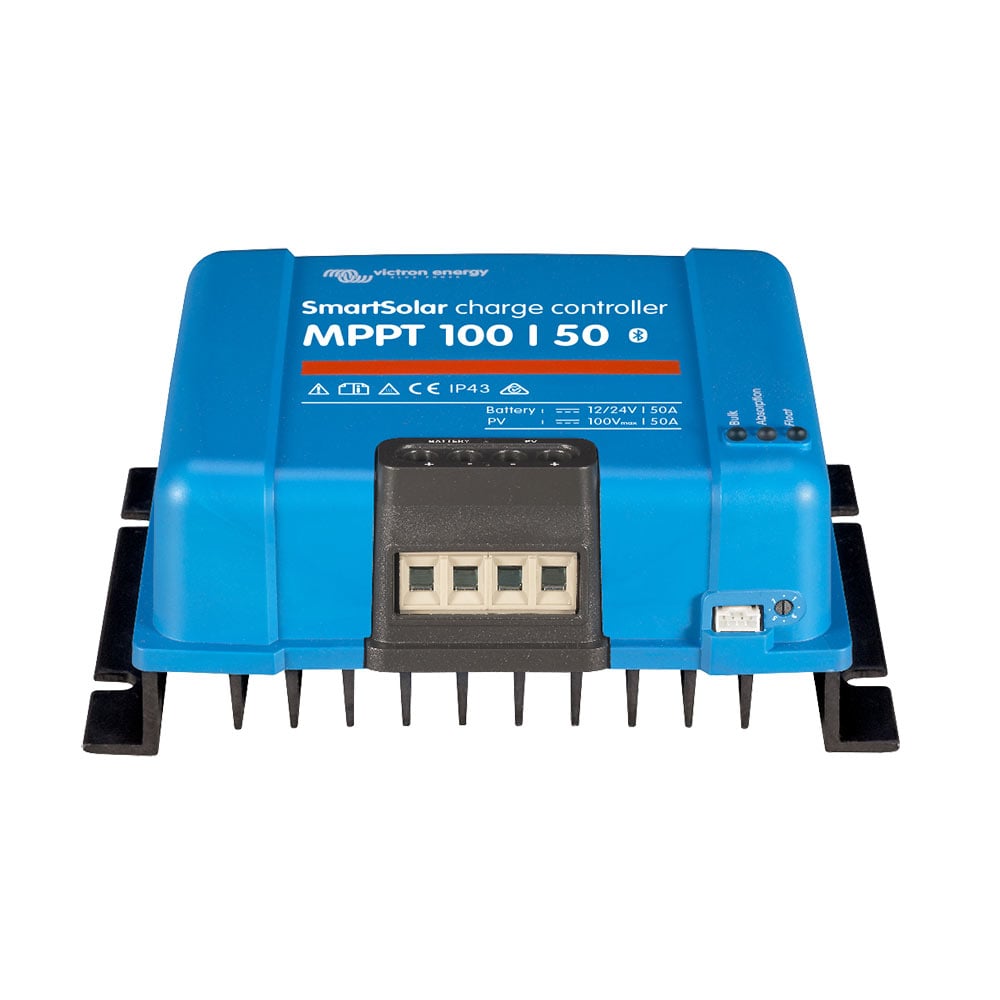 Product number:
1-67-011770
The Victron Energy SmartSolar mppt 100/50 50a 12v/24v solar charge controller (mpn scc110050210), is new version of the BlueSolar 100/50. The Smart version differs only in the from the Blue version mainly by the permanently integrated Bluetooth communication module. This allows the SmartSolar charge controller to be fully monitored and analyzed on any app-enabled device. The required Victron Connect app can be installed free of charge. Optional, the MPPT-WireBox-M from Victron Energy is the ideal complement for your SmartSolar charge controller. It securely covers the cable inputs or connection terminals of the controller, protecting them from external influences and contact.
key product features of the SmartSolar 100/50 50a 12v 24v mppt
latest generation ultra-fast MPP tracker ensures best possible yield even in overcast conditions
integrated VE.Direct data communication port
high maximum efficiency of 98
for 12v, 24v systems
integrated Bluetooth module
50a maximum charge current
fully programmable charging algorithms that can later be manually activated and used via a switch on the case
100v maximum pv open circuit voltage
700W maximum pv power for 12v, 1400w for 24v systems
integrated protection against battery polarity reversal
multi-stage and adaptive charging algorithm
Day/night time control and light dimming option
more protection compared to the smaller models in the SmartSolar mppt series

Compared to the 75/10, 75/15 and 100/15 model, the SmartSolar 100/30 mppt has overheating protection with shutdown function and automatic restart after reaching normal operating temperature

VE.Direct data communication port
VE.Direct in text mode transmits all important parameters to other devices linked to the charge controller every second, providing the possibility of communication with additional devices gx Color Control Panel from Victron. The VE.Direct connection is intended for products where a full Canbus integration (VE-Direct) would cause too high costs
High-speed MPP tracker of the latest generation
Especially in overcast conditions when light intensity is constantly changing, an extremely fast mppt controller improves energy output by up to 30% compared to PWM charge controllers and by up to 10% compared to slower mppt controllers. In addition, the 100/50 features several other innovative technologies such as the VE.Direct communication port.
Options for programming, real-time data and viewing history

Modern Apple and Android smartphones, tablets, Macbooks and other devices can be connected, for example, via the integrated Bluetooth Smart Dongles and the mppt app or the gx Color Control. Please note that Bluetooth Smart Dongles and gx Color Control are separate items which are not included in the delivery of the charge controller but can be purchased optionally.

Flexible charging algorithms

Fully programmable charging algorithm (please refer to the software page on our website) as well as eight pre-programmed algorithms that can be selected via a rotary knob (please refer to our manual for more details)
Scope of delivery:
1x Victron Energy scc110050210 SmartSolar mppt 100/50 50a 12v/24v solar charge controller
1x user manual
Ambient temperature:
-30¡C - +60¡C
Charge controller type:
MPPT
Idle clamping modules:
max. 100V/DC
Manufacturer:
Victron Energy
Number of charging outputs:
1
Own consumption in standby:
10 mA
Product Type:
MPPT solar charge controller
Protection type:
IP43 (Electronic components) IP22 (connection area)
Protective functions:
Battery polarity reversal, PV polarity reversal, short circuit, overheating
Solar module current (max.):
50A
Temperature compensation:
12V -16 mV / ¡C , 24V -32mV / ¡C
Warranty:
5 years manufacturer's warranty

Ist es möglich 3 dieser MPP Tracker mit je 2 Modulen über dieselbe Batterie parallel zu schalten?
Ja, es ist möglich mehrere SmartSolar MPPTs an einer Batterie anzuschließen. In diesem Fall empfehlen wir die Erstellung eines VE.Smart Netzwerk, damit sich die MPPTs untereinander synchronisieren.
Gibt es für den SmartSolar MPPT-Regler auch ein externes Anzeigedisplay?
Als Kabelgebundes Anzeigedisplay können Sie z.B. das Victron Energy MPPT Control verwenden.