Offgridtec® MPPT Pro Duo charge controller 30A 12V 24V for two battery circuits
Product number:
1-01-011200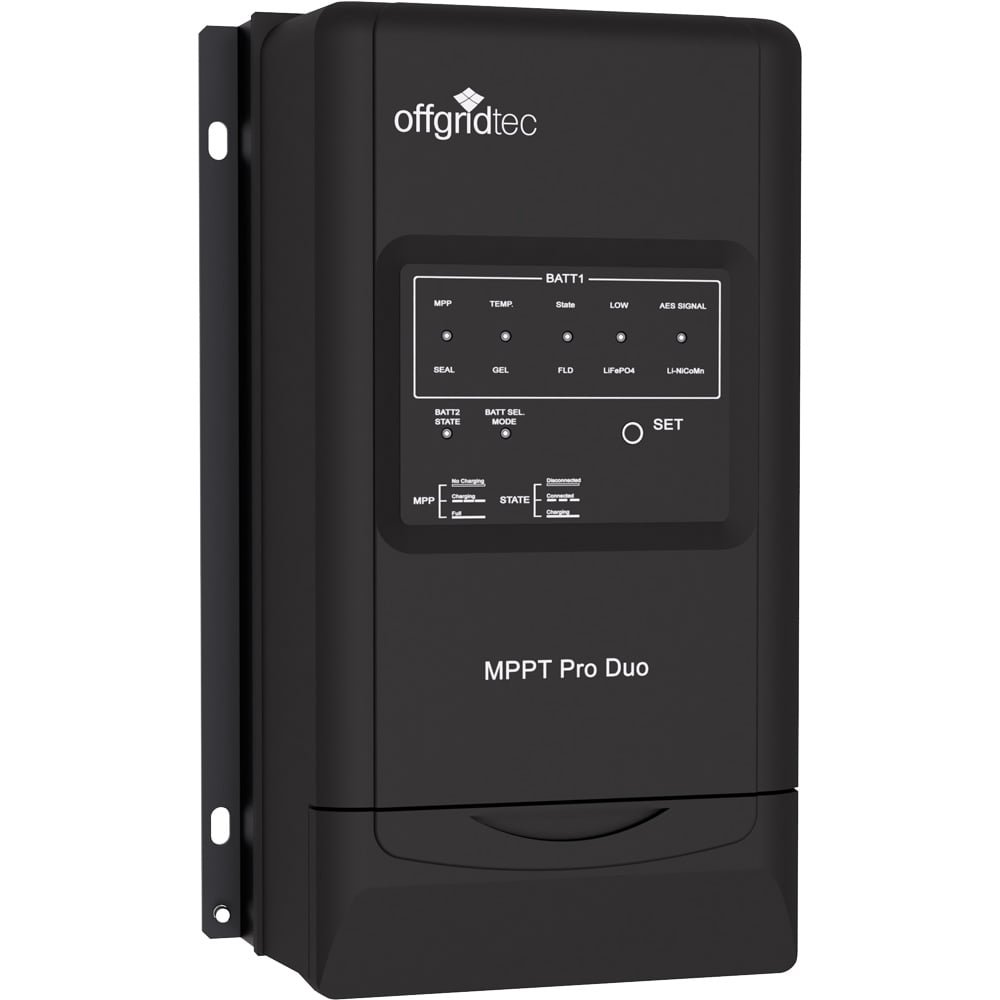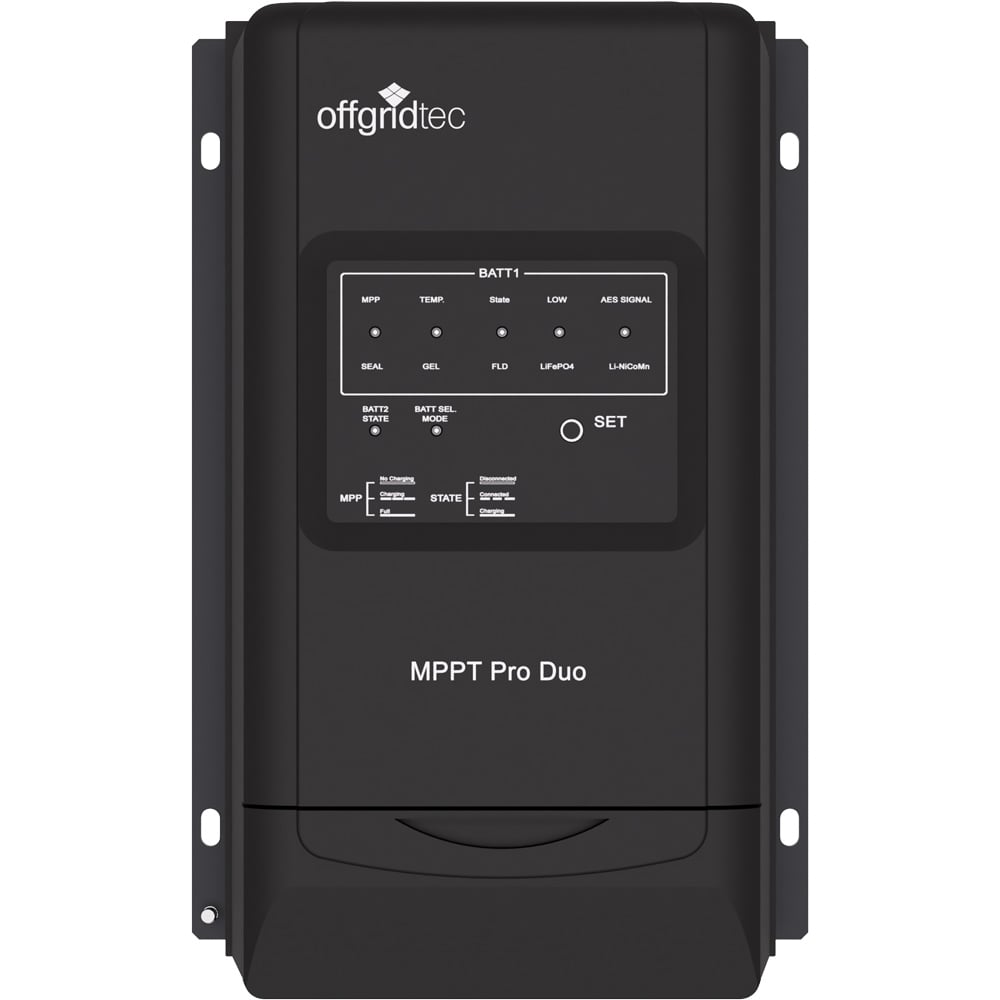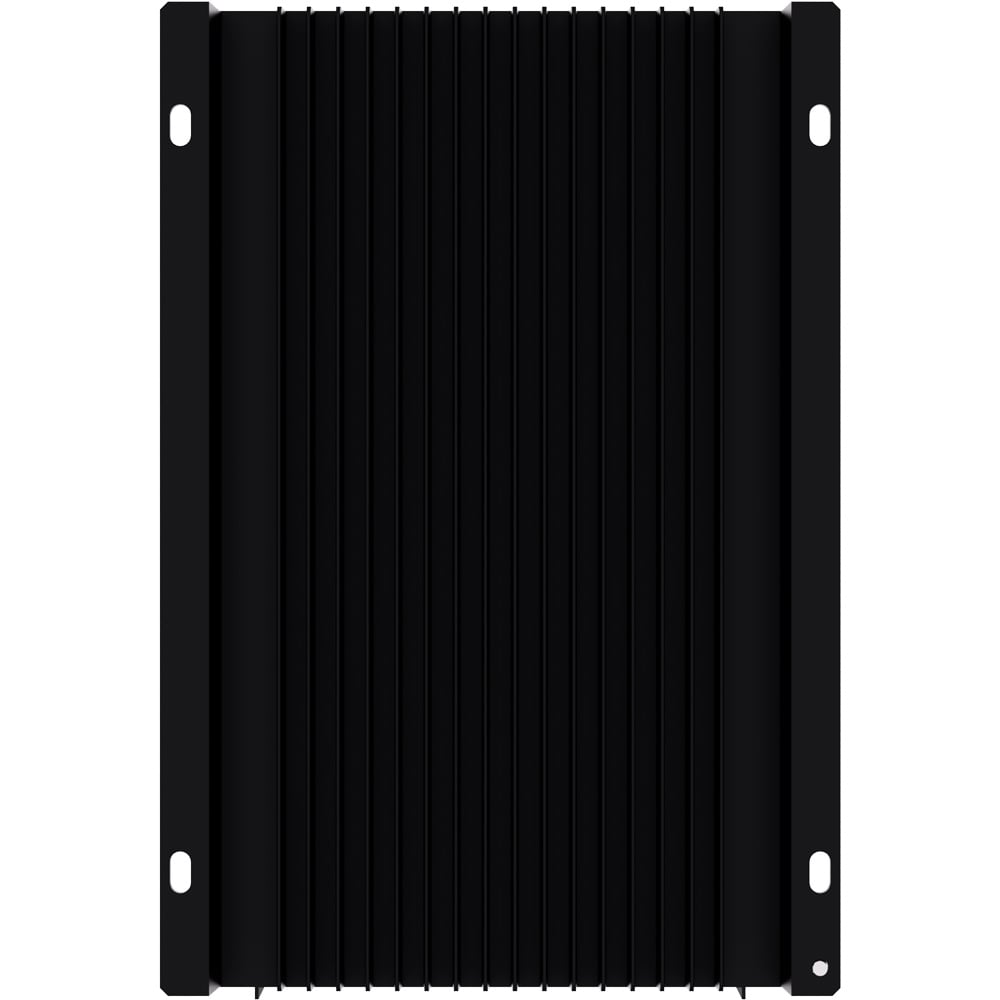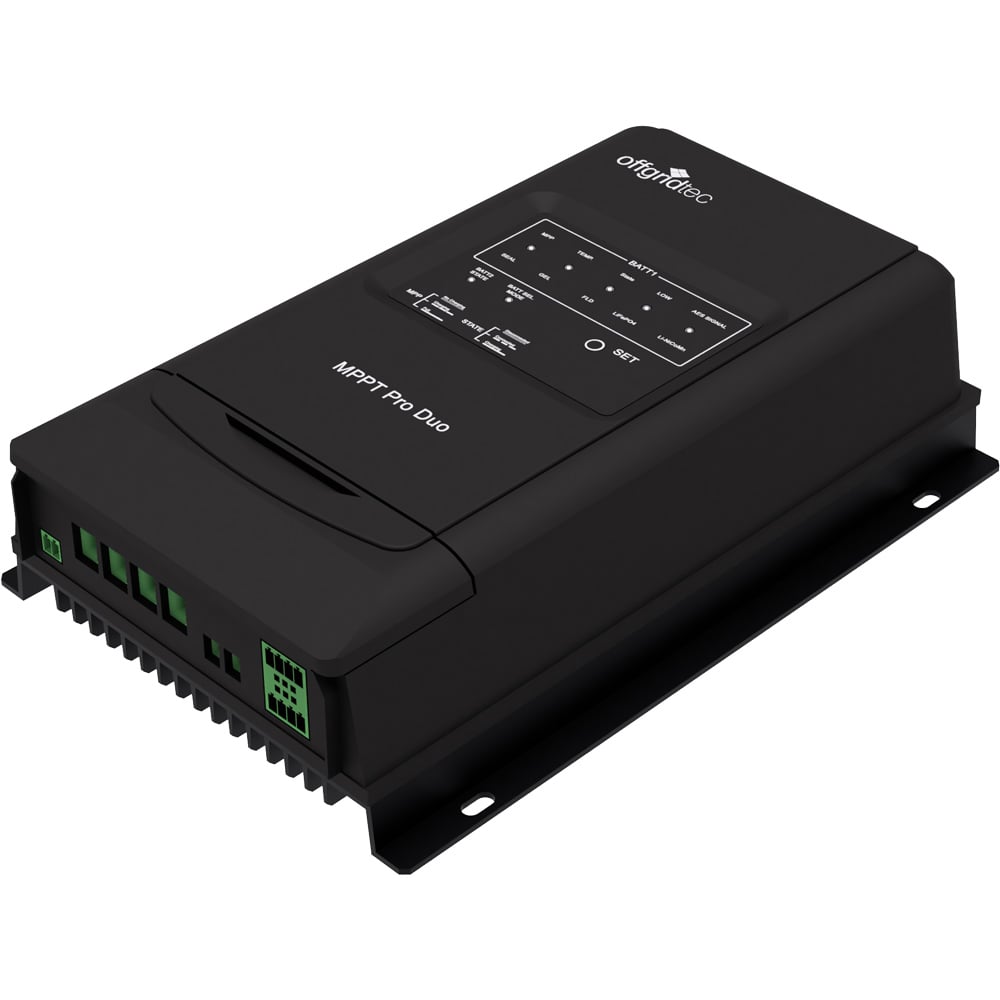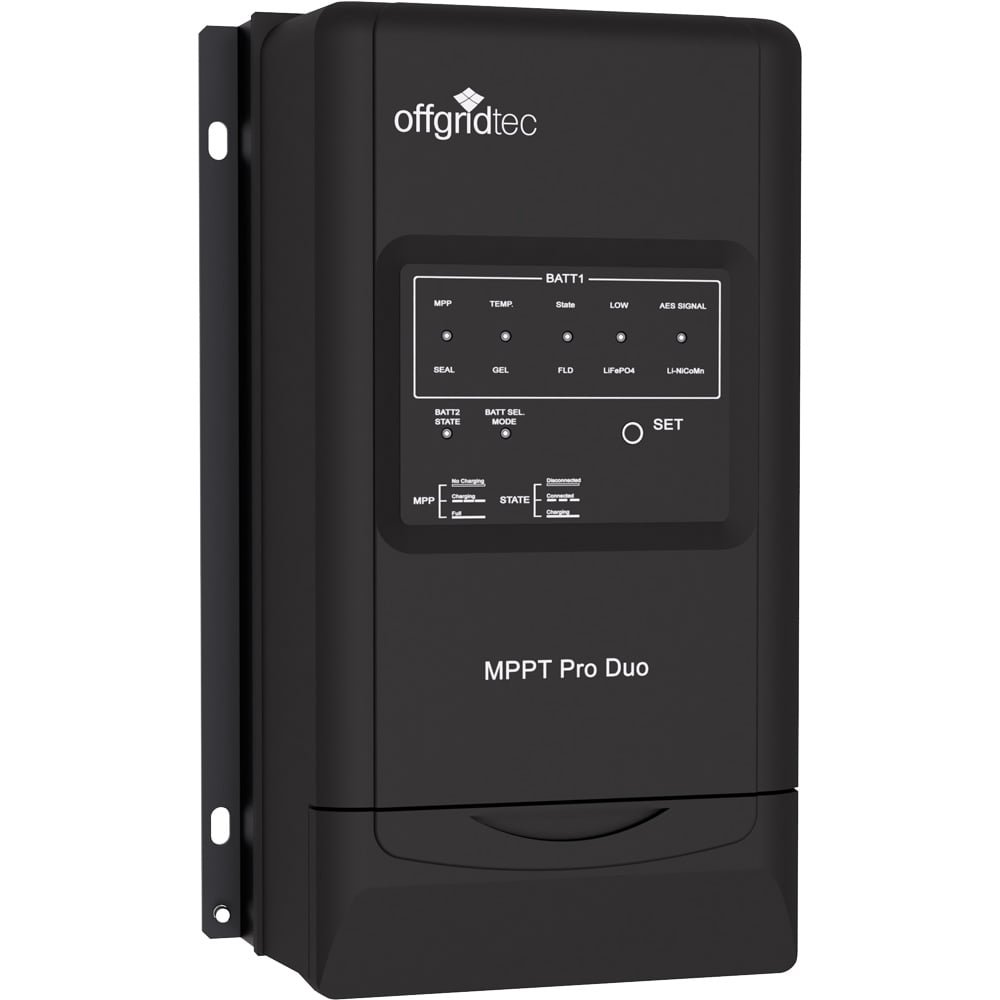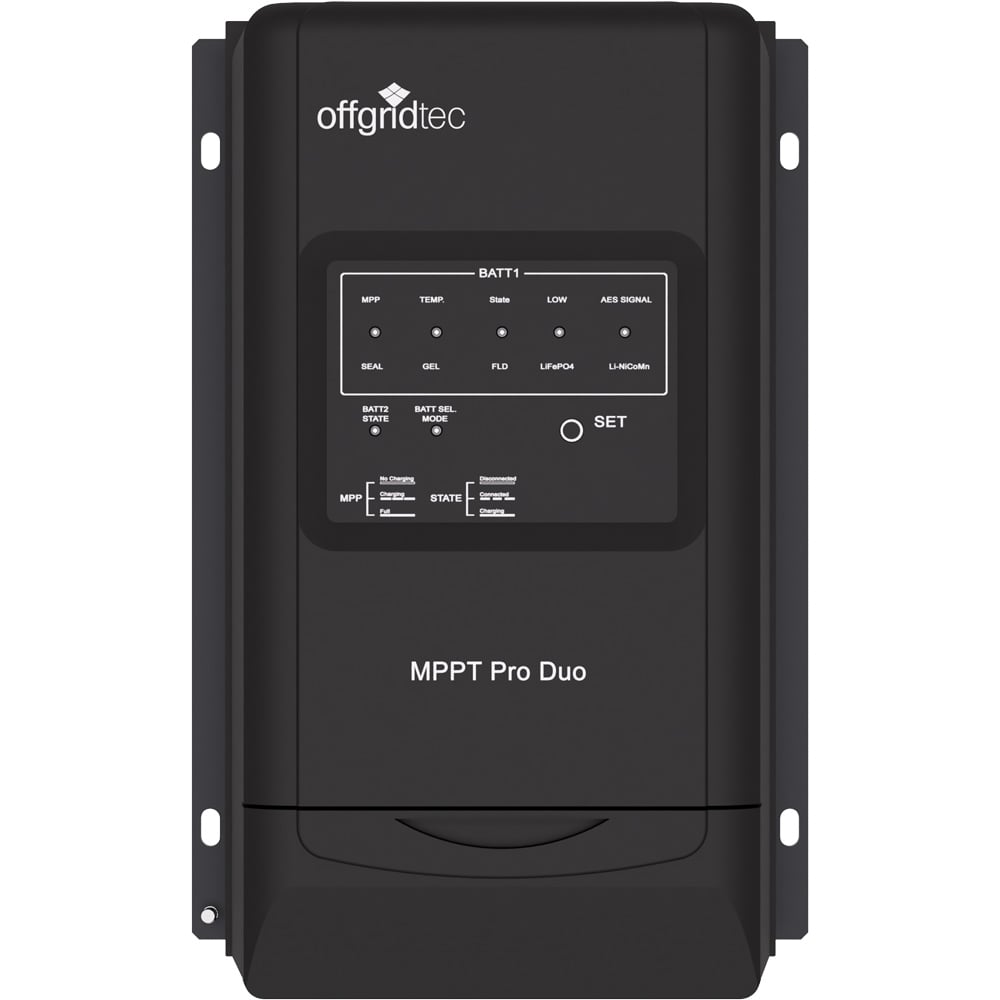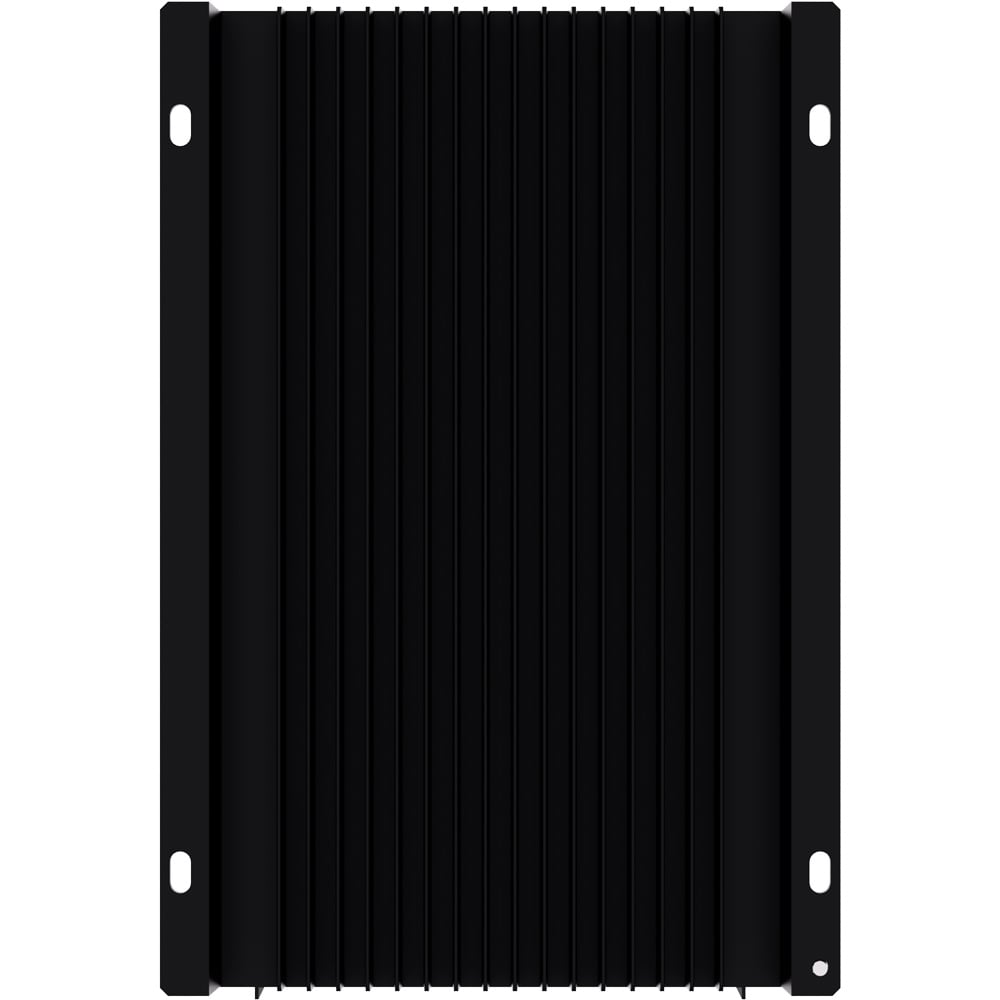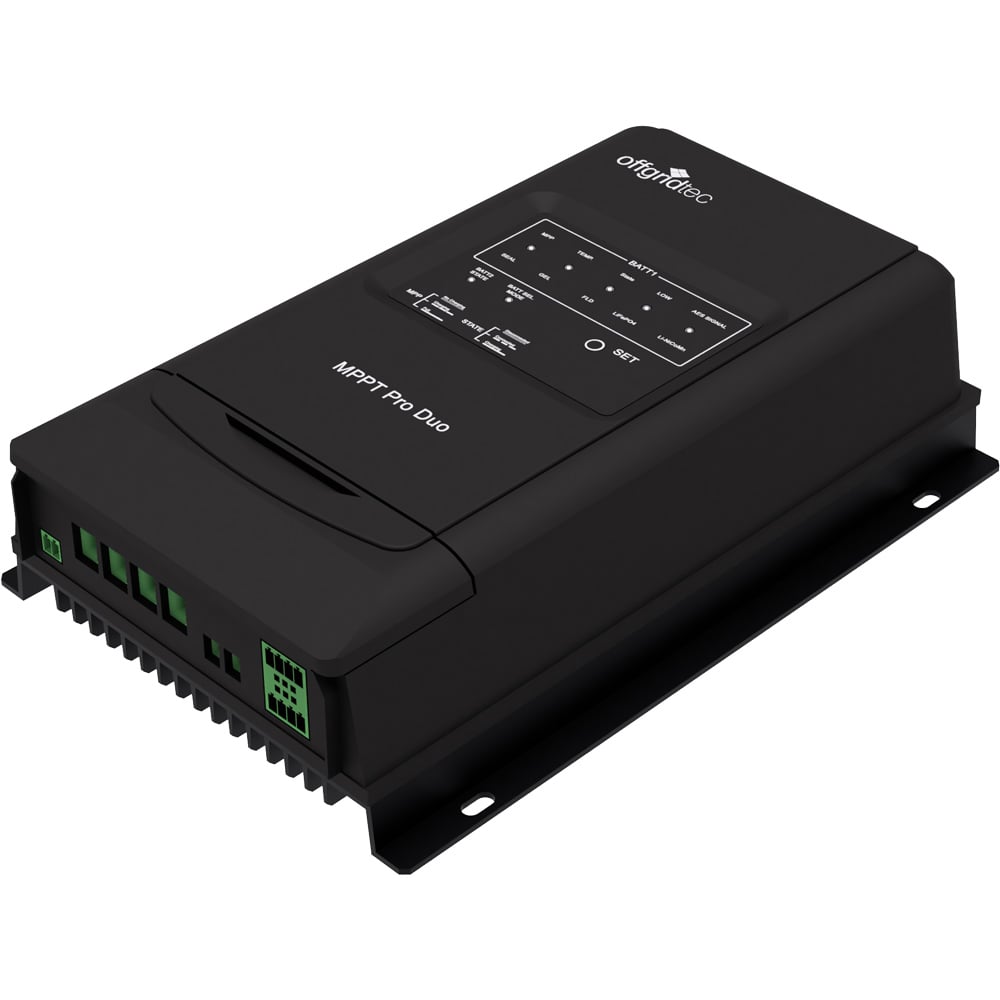 Product number:
1-01-011200
The Offgridtec MPPT Pro-Duo (MPN 1-01-011200) is an innovative high-end solar controller that was essentially designed for mobile applications. A variety of different board battery types can be charged via the primary charging output (BATT-1). The battery spectrum ranges from AGM, GEL and liquid lead acid to state-of-the-art LiFePO4 and Li-NiCoMn battery systems. The secondary battery charge output (BATT-2) is designed for a starter battery that is at the same voltage level as BATT-1. The unit automatically detects the system voltage of the starter battery (BATT-2) and charging of the BATT-2 begins as soon as the preset conditions are met.

The controller uses the advanced MPPT control algorithm that minimises the maximum power point loss rate and loss time, quickly tracks the maximum power point (MPP) of the PV generator, and processes the maximum energy from the PV generator under all conditions. Energy utilisation in a PV system with MPPT controller is increased by 20 to 30% compared to the PWM charging method.
Features Highlights of the MPPT Pro DUO 30 A
Max Power-Point Tracking technology with ultra-fast tracking speed and a guaranteed tracking efficiency of at least 99.5%.
Advanced MPPT control algorithm to minimise MPP loss rate and minimise time loss.
Higher range of MPP operating voltage to improve PV module utilisation.
Possibility of limiting the charging power by user or automatic charging current (BATT-1).
Digital circuit control of adaptive three-stage charging mode to improve BATT-1 lifetime.
The product will enter power saving mode if no manual input has been made for a long time and charging conditions are not met (PV<5v).>
100% charge and discharge in the operating temperature range.
AES control signal for auto-refrigerator to avoid energy waste.
Standard Modbus protocol and RS485 communication port (5V/200mA).
Overview of the most important technical features
Maximum charging current: 30A at a battery voltage of 12V or 24V.
Optional remote display with mounting frame available.
Supports all major battery types.
Active temperature equalisation for optimal charging and ensuring long battery life.
Max. Solar power 390W at 12V system voltage and 780W at 24V system voltage.
100V max. PV input voltage
Grounding: Negative
Dimensions: 24.7cm x 16.5cm x 6.9cm (LxWxH)
Connection terminals Battery 1: 16mm² (AWG6) / Battery 2: 4mm² (AWG12)
Weight: 1,4KG
Diameter of mounting holes: 5mm
Energy consumption: 26mA at 12V / 15mA at 24V
Max. Efficiency: 98
Intelligent energy saver
If there is no manual operation for an extended period of time and charging conditions are not present, the MPPT-Pro Duo will switch to energy saving mode, reducing the unit's energy consumption to a minimum. This behaviour also reduces wear and tear on the unit, which is reflected in a significantly longer service life. The system parameters are displayed and set directly via the intuitive control panel on the controller or via the MT11 remote control (accessory).
System communication and protection functions
The refrigerator's AES control signal is built into the controller, which delivers excess solar power to the refrigerator to prevent energy waste. The protection class of the MPPT Duo is IP33. It resists splashing water and is dust-tight. Our MPPT Pro DUO has multiple protection functions, including battery overcharge protection, discharge protection and reverse polarity protection of PV and battery, which effectively ensure the safety, stability and service life of the solar system.
Scope of delivery:
1x Offgridtec 1-01-011200 MPPT DUO charge controller.
1x instruction manual

Welche Einstellung für AGM Batterie: FLD, GEL oder SEAL?
Für eine AGM Batterie verwenden Sie am besten die SEAL-Einstellung.
Muss die Starterbatterie angeschlossen werden, damit das System funktioniert oder kann ich den Solarladeregler auch ausschließlich mit der Boardbatterie verbinden?
Bei der Starterbatterie Ladung handelt es sich um eine Optionale Zusatzfunktion.