Victron Smartsolar MPPT 100/15 15A 12V 24V charger
Product number:
1-67-011805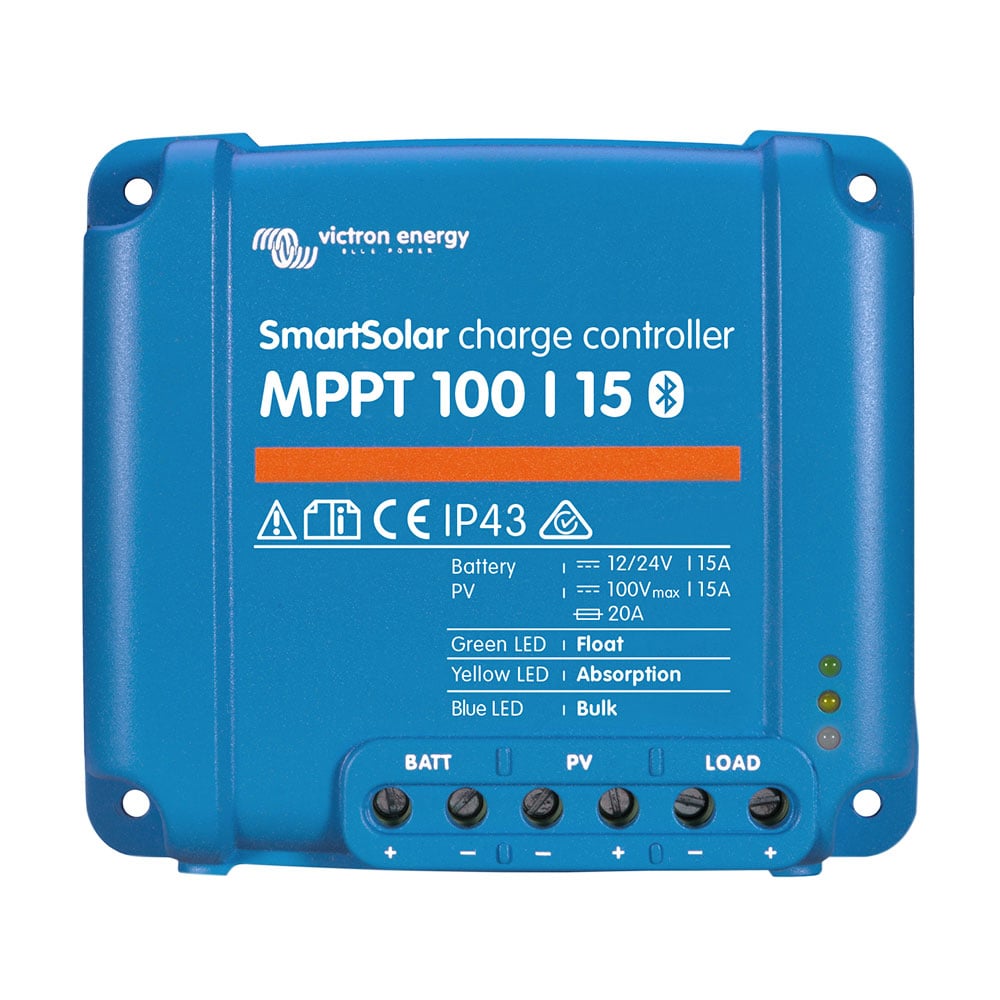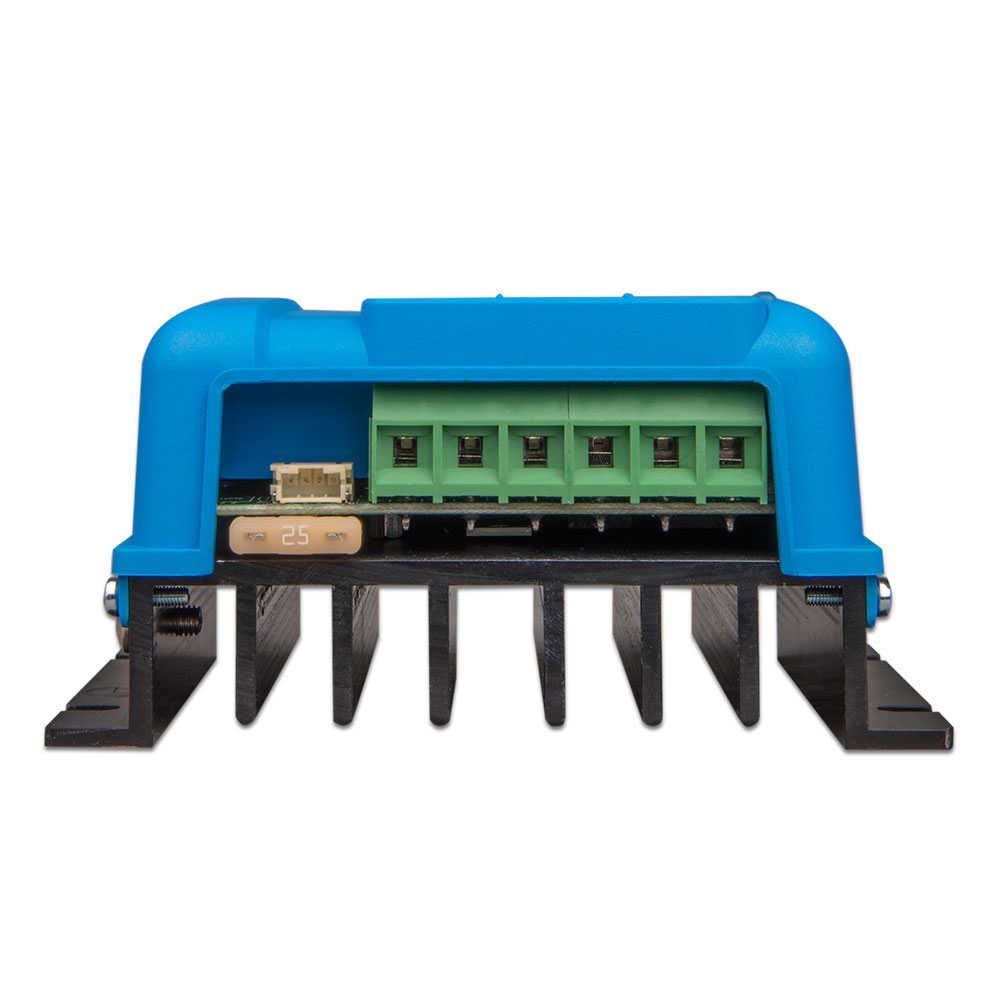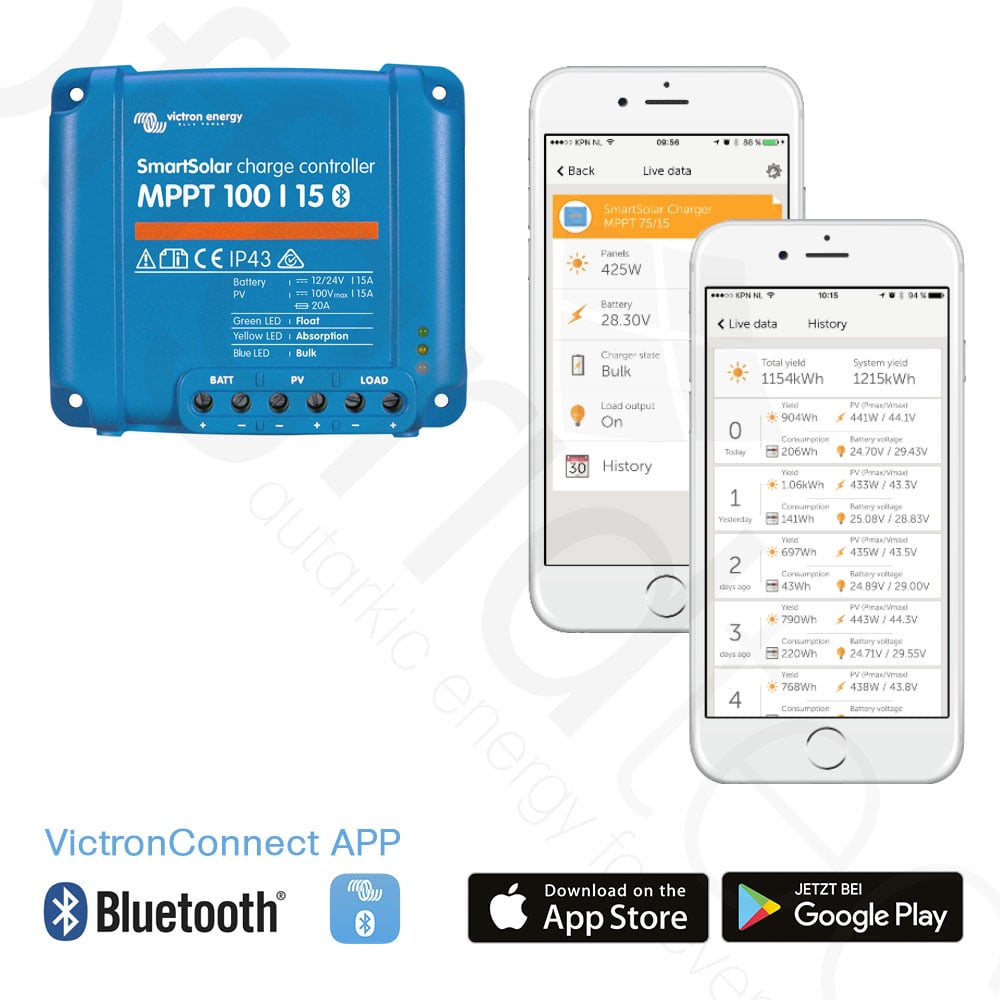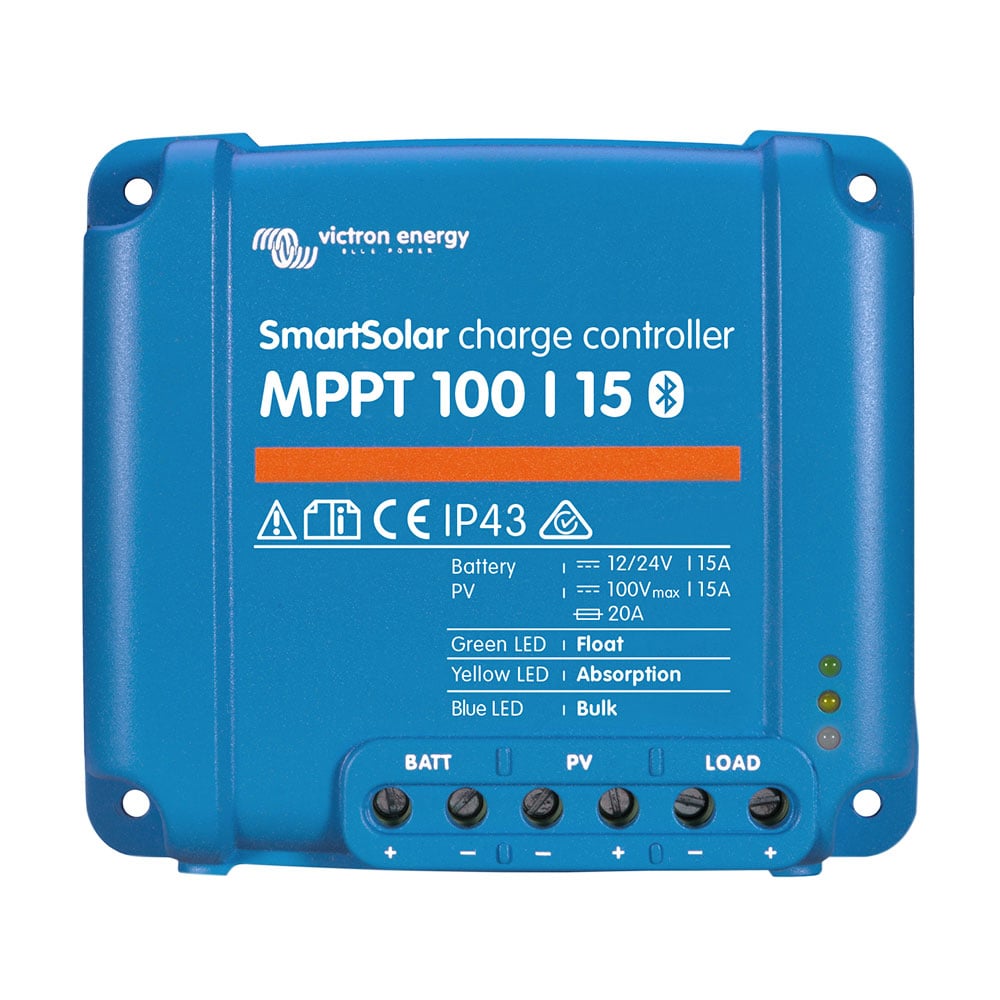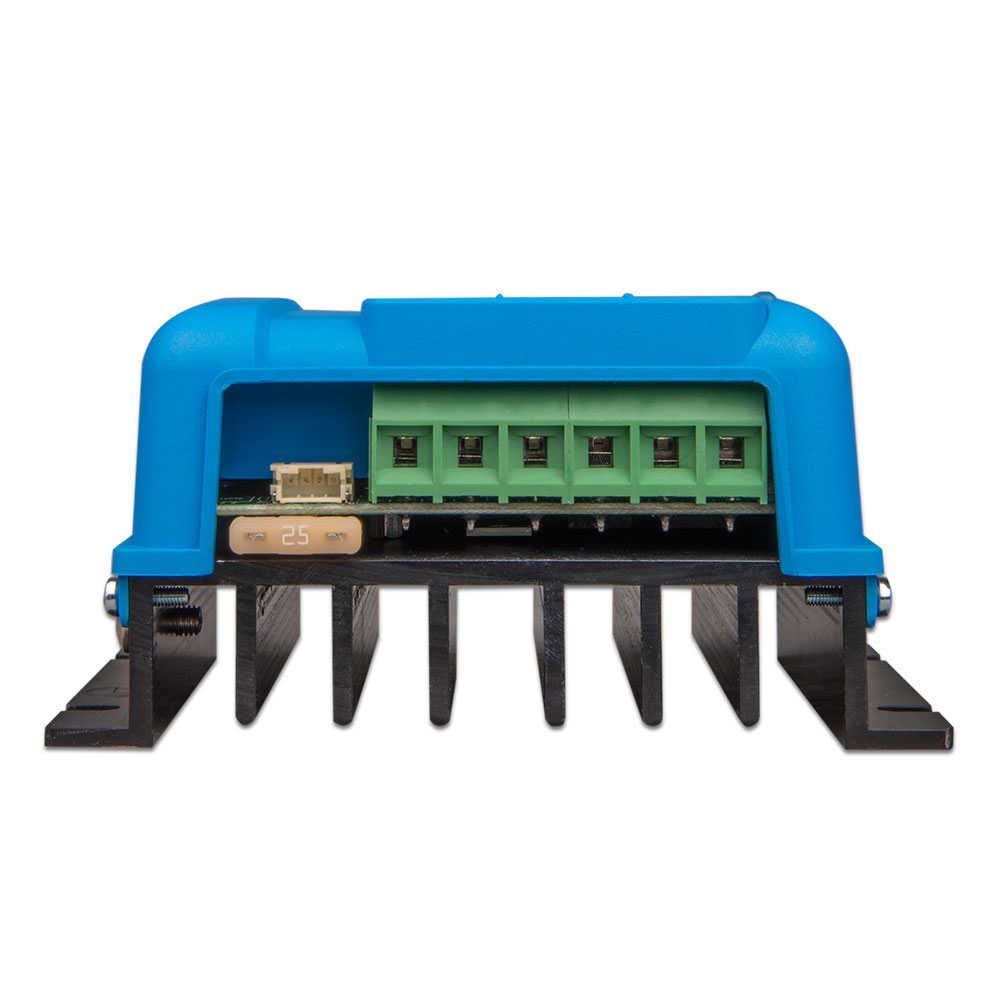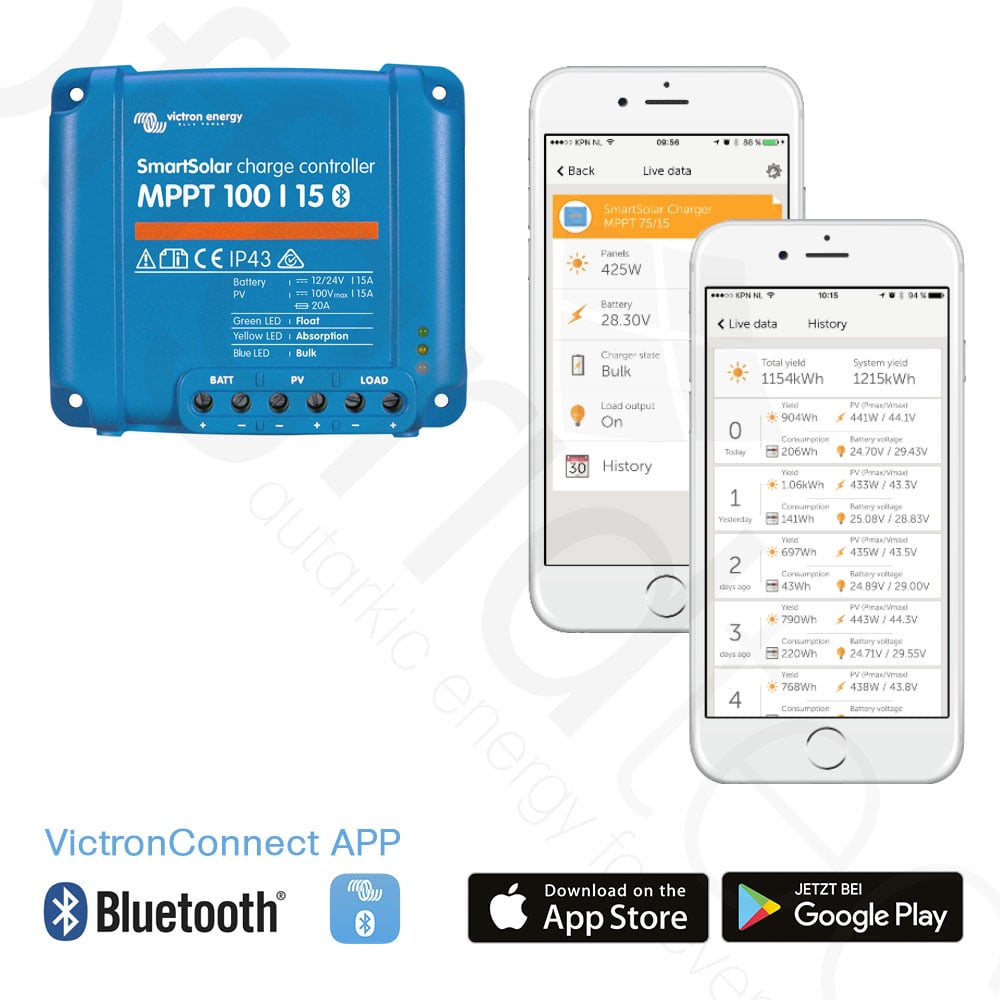 Product number:
1-67-011805
The Smartsolar 100/15 from Victron Energy (mpn scc110015060r) is a mppt solar charge controller with 15a max charge current for charging 12v and 24v batteries. Unlike the Bluesolar 100/15, the Smart version has integrated Bluetooth, which eliminates the need to purchase a Bluetooth dongel. In addition, a VE.Direct connection is still available for communication with other Victron devices such as the Color Control gx or the mppt Control.

The integrated Bluetooth in the SmartSolar series is the wireless solution to setup, monitor and update the controller using Apple and Android smartphones, tablets or other devices. Optional, the MPPT-WireBox-S 100/15 from Victron Energy is the ideal complement for your SmartSolar charge controller. It securely covers the cable inputs or connection terminals of the controller, protecting them from external influences and contact.

The most important technical features at a glance
15a max charge current, suitable for 12v and 24v batteries
nominal PV power for 12v systems: 220w
nominal PV power for 24v systems: 440w
15a load output
high peak efficiency of 98
freely programmable battery charging algorithm (via free Victron Connect app)
Light dimming functions programmable (via free Victron Connect app)
Ultra fast maximum power point tracking
max. PV open circuit voltage: 100v
Charging algorithm: multi-level, adaptive
integrated Bluetooth modu
Ultrafast Maximum Power Point Tracking

Especially in overcast conditions when light intensity is constantly changing, an ultra-fast mppt controller improves energy yield by up to 30% compared to PWM charge controllers and by up to 10% compared to slower mppt controllers

intelligent load output

Deep discharge of the battery can be prevented by connecting all loads to the load output. The load output disconnects the loads when the battery has been discharged to a preset voltage value. Alternatively, an algorithm for intelligent battery management can be selected: see BatteryLife.
The load output is short circuit protected

Battery Life: intelligent battery management

If the solar charge controller is not able to charge the battery to its full capacity within one day, the battery status will constantly alternate between "partially charged" and "end of discharge". This mode of operation (no regular full charge) will damage a lead-acid battery within a few weeks or months

The Battery-Life algorithm monitors the battery's state of charge and, if necessary, raises the load disconnect threshold day by day (i.e., disconnects the load earlier) until the energy gained is sufficient to charge the battery to near 100%. From this point, the load disconnection threshold is modulated so that charging to near 100% is achieved approximately once a week

Scope of delivery:

1x Victron Energy SCC110015060R Smartsolar mppt 100/15 15a 12v 24v solar charge controller
1x instruction manual
Ambient temperature:
-30°C - +60°C
Battery type adjustable:
Support for all common battery types
Charge controller type:
MPPT
Manufacturer:
Victron Energy
Number of charging outputs:
1
Own consumption in standby:
10mA
Protection type:
IP43 (electronic components) IP22 (connection area)
Protective functions:
Battery polarity reversal Fuse external, output short circuit, overtemp.
Solar module current (max.):
15A
Product Type:
MPPT charge controller 15A for 12V and 24V batteries with integrated Bluetooth and extensive setting options as well as an intelligent load output.

Ist es möglich 3 dieser MPP Tracker mit je 2 Modulen über dieselbe Batterie parallel zu schalten?
Ja, es ist möglich mehrere SmartSolar MPPTs an einer Batterie anzuschließen. In diesem Fall empfehlen wir die Erstellung eines VE.Smart Netzwerk, damit sich die MPPTs untereinander synchronisieren.
Gibt es für den SmartSolar MPPT-Regler auch ein externes Anzeigedisplay?
Als Kabelgebundes Anzeigedisplay können Sie z.B. das Victron Energy MPPT Control verwenden.