Victron SmartSolar mppt 250/70-Tr
Product number:
1-67-012110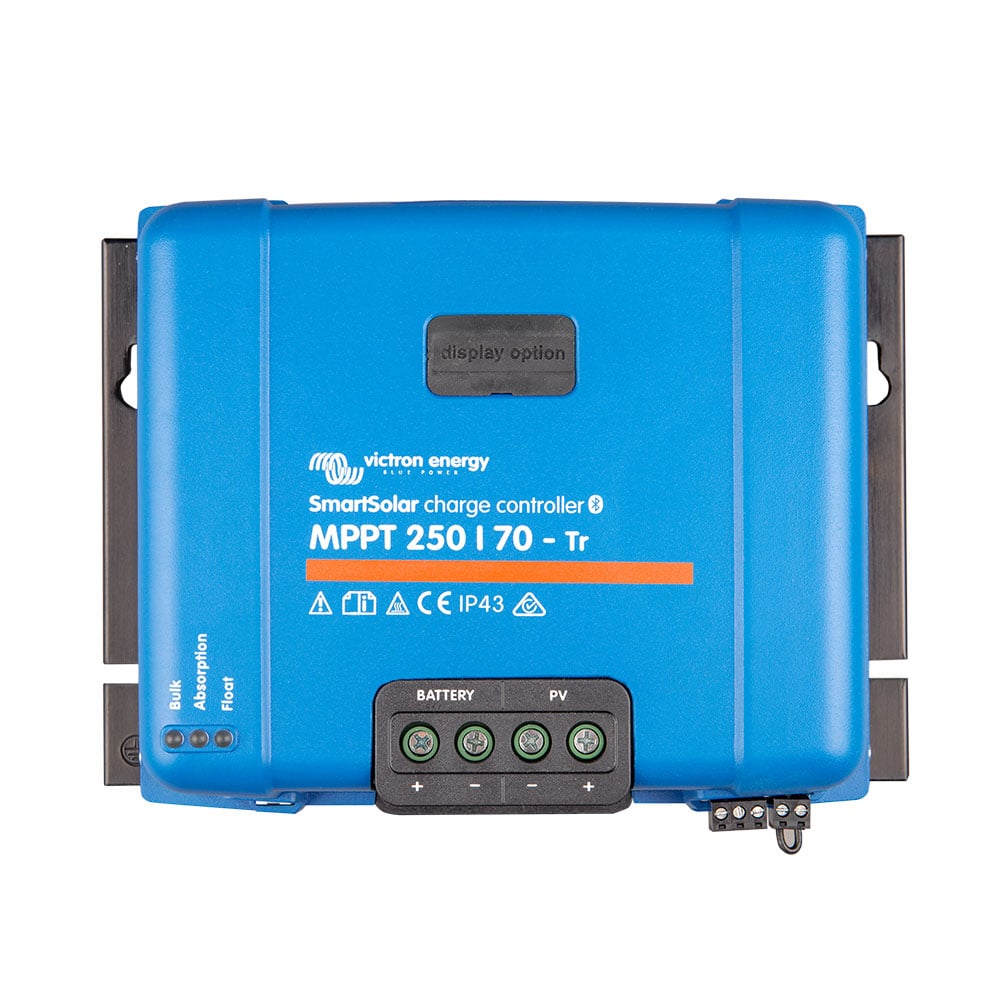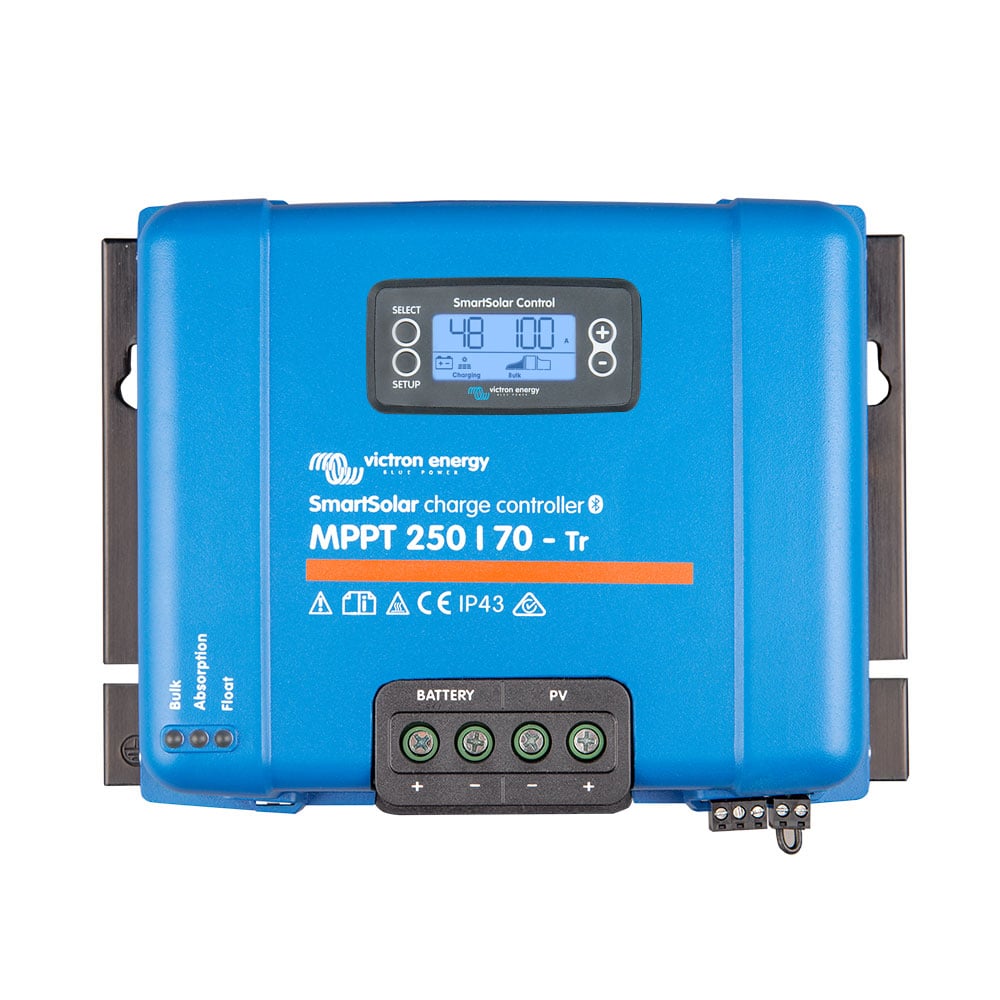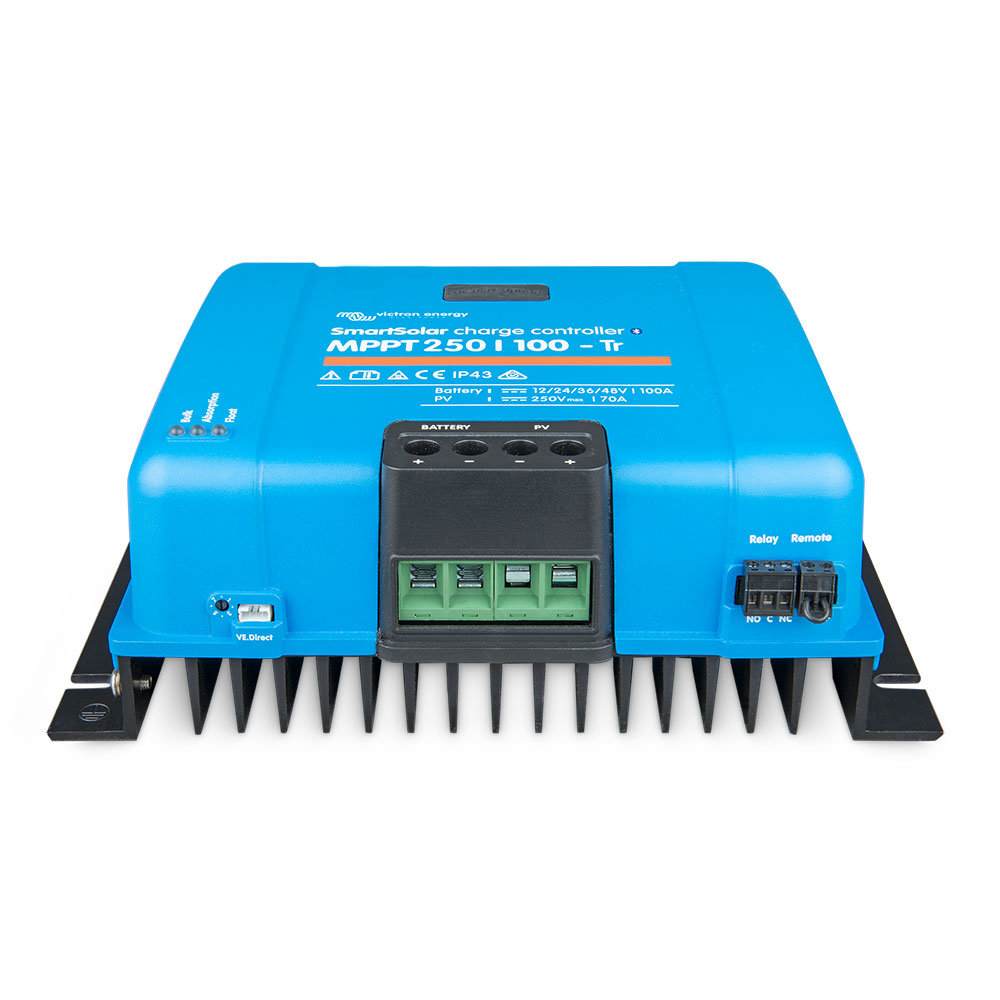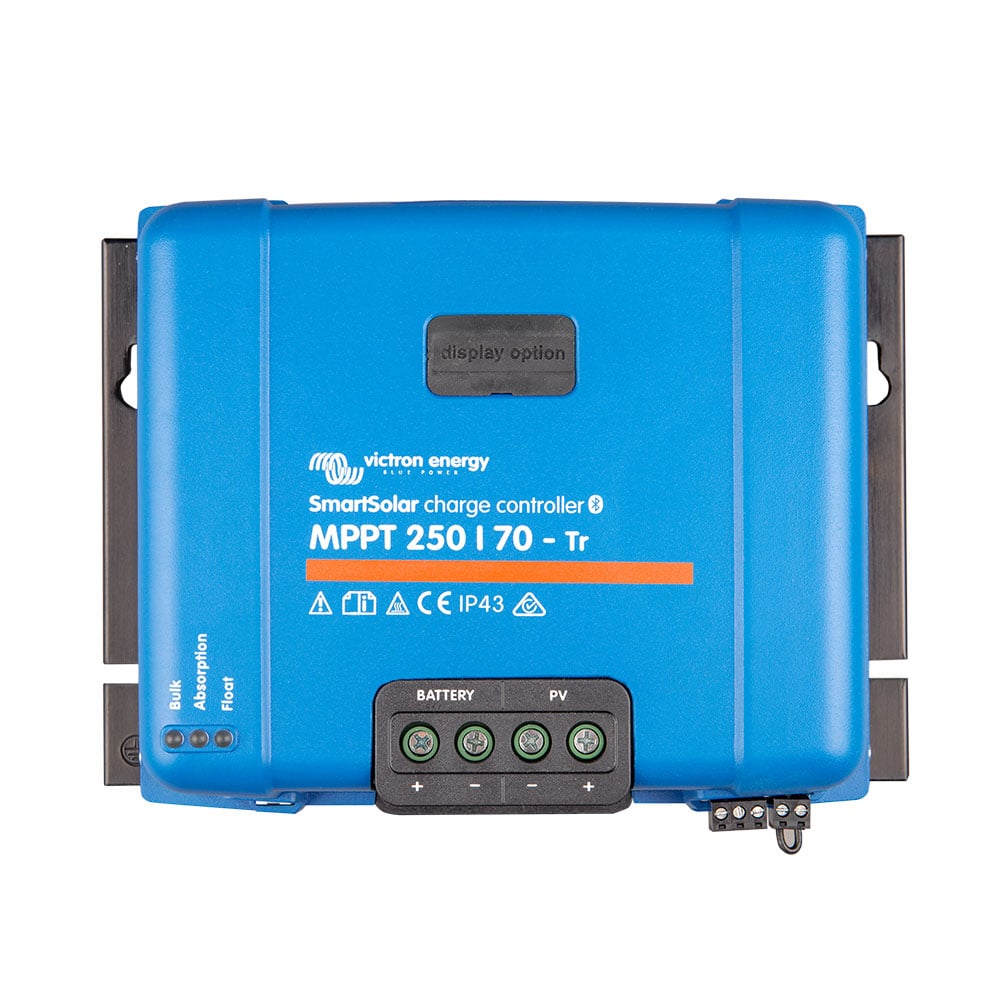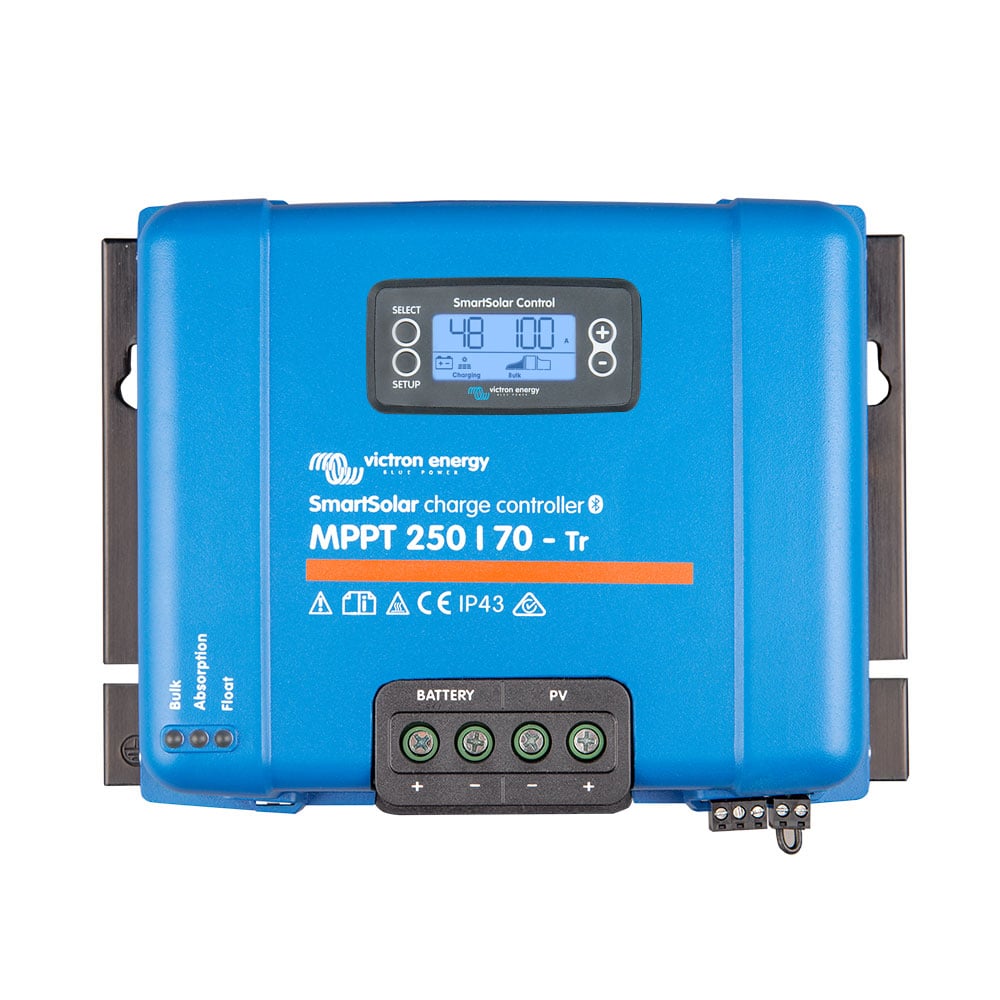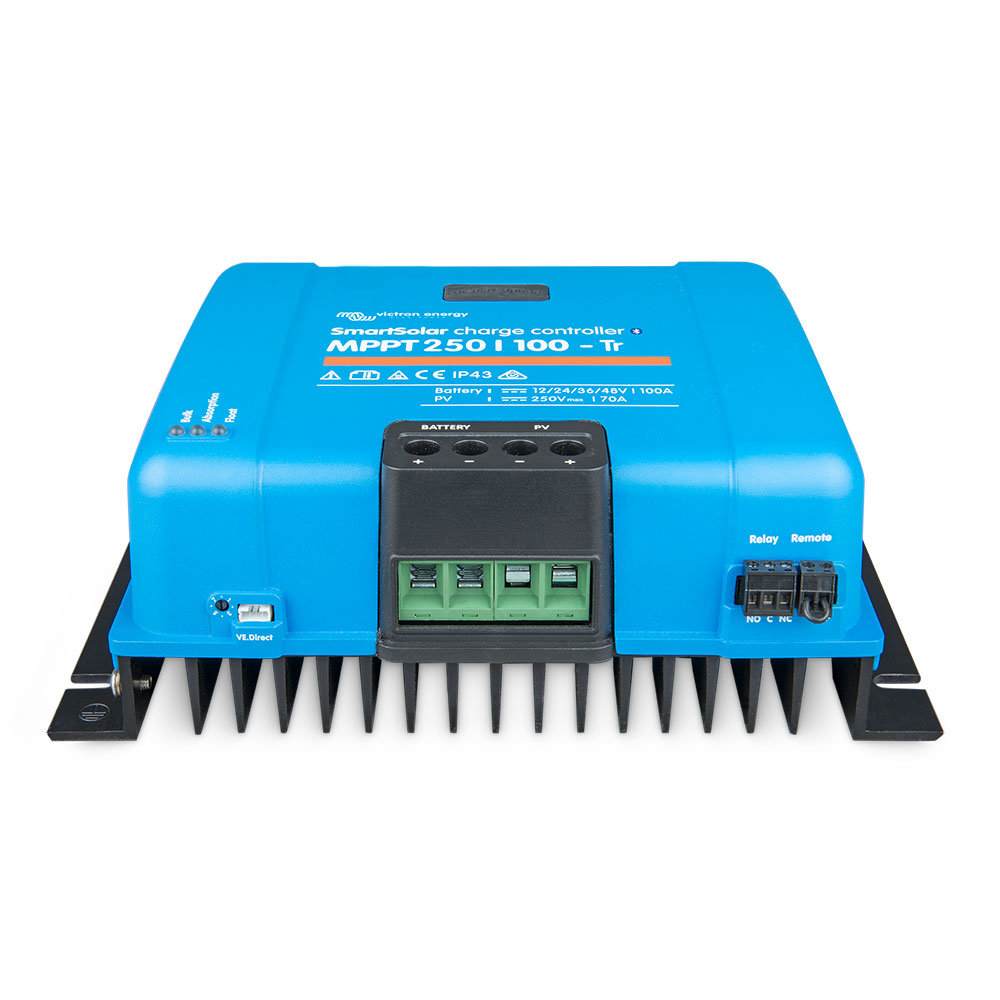 Product number:
1-67-012110
The Smartsolar mppt 250/70-tr from victron Energy (mpn scc125070210), is part of the latest generation of smart solar controllers from the premium Dutch manufacturer. The controller handles a whopping 70a of solar power and can flexibly work with 12/24/36/48 v batteries, with a maximum Pv input voltage of 250v dc. Ultra fast power tracking and automatic power point detection in case of partial shading are only 2 of the many highlights of this new class of devices. In addition, this model is capable of parallel operation with other controllers of the same type.
Compared to the Smartsolar 150/..... Series, the 250/.... Series can handle a maximum Pv input voltage of 250v. This is also one of the reasons why the 250 solar controller family has been able to increase the efficiency by another 1 percent to a total of 99%, defining new standards in the industry. Among all solar charge controllers we know, this value is currently the best. In comparison to the BlueSolar family, the Bluetooth module is already integrated in the controller of the 250 Smartsolar series, which makes the smart dongle superfluous for this device, if you want to analyze and configure the controller via smartphone or tablet.
Also new is the optionally available lcd display, which can be simply plugged onto the SmartSolar 250/70-tr as required. The display then provides all the important information about the controller
smart configuration and analysis via victron Connect App
Modern Apple and Android smartphones, tablets, Macbooks and other devices can be connected thanks to the permanently integrated Bluetooth module and the free victron Connect app. The app can then be used to configure many important functions of the SmartSolar controller. Of course, it also provides all important parameters such as the current solar yield in real time
automatic detection of the maximum power point in case of partial shading
In case of partial shading, there may be two or more maximum power points (mppts) on the current-voltage curve. Conventional mppts tend to settle on a local mpp. However, this may not be the optimal mpp. The SmartSolar controller's innovative algorithm will always maximize energy output by adjusting to the optimal mpp
key product features of the SmartSolar 250/70-tr 70a 12v 24v 48v mppt
victron Energy part number: scc125070210
max pv power: 12 v 1000 w / 24 v 2000 w / 48 v 4000 w
max rated charge current 70a, 250v max pv open circuit voltage
latest generation ultra-fast mpp tracker ensures best possible yield even in overcast conditions
automatic detection of mpp voltage in case of partial shading provides further yield improvement compared to "simple" mppt charge controller
with optional lcd display
permanently integrated Bluetooth module for app-supported analysis and configuration of the controller (via free victron app on compatible devices)
optional lcd display available
integrated vE.Direct data communication port to connect for communication with additional devices the gx Color Control Panel or a Smart BMv battery monitor
groundbreaking 99% efficiency
Parallel operation with other 250/85 controllers possible
adjustable constant charging voltage
adjustable float charge voltage
suitable for all agm, gel, lead-acid calcium-calcium and lithium batteries
fully programmable charging algorithms which are later activated and switched manually via a switch on the case
integrated protection against battery polarity reversal
multi-stage and adaptive charging algorithm
remote switching on and off possible via 2-pin plug
Protection class ip 43 for the electronic components and protection class ip 22 for the connection area of the controller
integrated temperature sensor balances maintenance and constant charging voltage according to temperature
Day/night time control and light dimming options
Latest generation high-speed mpp tracker
Especially in overcast conditions, when light intensity is constantly changing, an extremely fast mppt controller improves energy yield by up to 30% compared to PwM charge controllers and by up to 10% compared to slower mppt controllers
optional lcd display available for retrofitting
for those who prefer to operate and configure the Smartsolar mppt 250/70-tr directly, the Smartsolar Control scc900600010 display is available for retrofitting. The display allows easy configuration of the controller via key input, and also provides all important performance data at a glance
extensive electronic protection
Protection against reverse battery connection
Pv reverse current lock
Protection against overheating of the device
Protection against short circuits
Protection against reverse polarity Pv connection
the vE.Direct data communication port
vE.Direct in text- mode transmits all important parameters to other devices coupled to the charge controller every second, offering the possibility of communication with additional devices such as the gx Color Control system panel. The vE.Direct connection is intended for products where full Canbus integration (vE-Direct) would be too costly. More information about vE.Direct can be found in our victron Energy brand store
optionally also available as version with MC4 connectors
The 250/70-tr is also available as a version with MC4 connectors on the solar side of the charge controller instead of screw terminals
Scope of delivery
1x victron scc125070210 SmartSolar mppt 250/70-tr 12v 24v 48v 70a charge controller
1x instruction manual
Ambient temperature:
-30°C - +60°C
Battery type adjustable:
AGM, GEL, lead acid, LiFePo4 and many more...
Battery voltage:
12 V - 48 V
Charge controller type:
MPPT
Communication ports:
Bluetooth, Ve.Direct
Dimensions:
25 x 18,5 x 9,5 cm
Input voltage:
max. 245 V
Manufacturer:
Victron Energy
Max. PV power 12V:
1000 W
Max. PV power 24V:
2000 W
Max. PV power 48V:
4000 W
Number of charging outputs:
1
Own consumption in standby:
> 35mA 12 V, >20mA 48 V
Protection type:
IP43 (elektronische Bauteile), IP22 (Anschlussbereich)
Protective functions:
Battery & PV polarity reversal, output short circuit, overtemperature