Votronic 3124 Pb 1240 smt 3b 12v 40a battery charger
Product number:
1-15-010790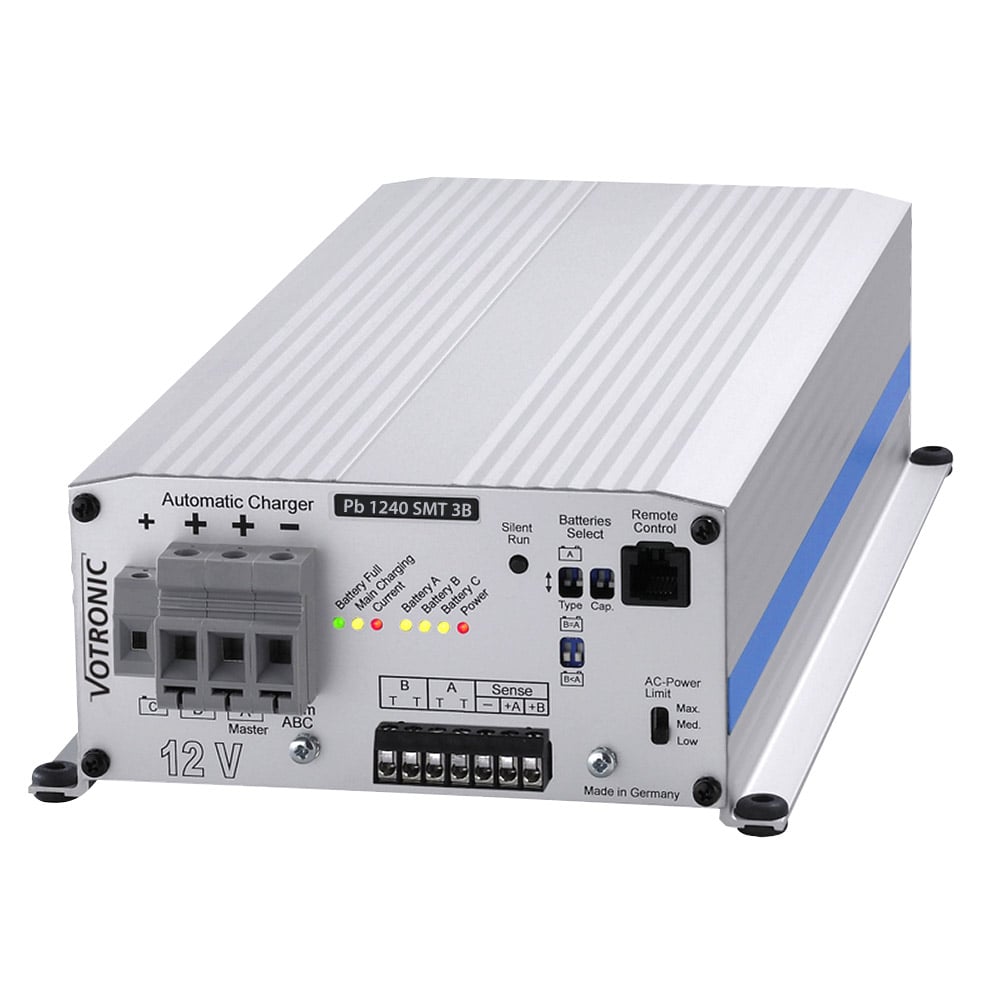 Product number:
1-15-010790
The automatic charger Pb 1240 smt 3b from Votronic (mpn 3124) is a modern battery charger for mobile use. It has charging programs for gel, agm, acid and modern lithium batteries and is designed for 12v battery voltage. The charging current at the main output is 40a. In addition, there is a secondary charging output for the starter battery, which can provide an additional 4a charging current. The device is suitable for batteries with a capacity of 75 Ah - 480 Ah.
important features of the Pb 1240 smt 3b battery charger
reliably charges gel, agm, acid and LiFePO4 batteries
40A charge current, 4a charge current at secondary charge output
official Votronic part number: 3124
Battery capacity (recommended): 75 Ah - 480 Ah
Charging options: The Pb 1240 smt 3b charges: 1 to 2 supply batteries or 1 to 2 starter batteries or 1 supply and 1 starter battery.
The charging voltage is free of peaks and regulated to prevent overcharging of the batteries
Fully automatic continuous operation: the charger can be constantly connected to the battery and keeps it at full charge. In case of mains failure, the batteries are not discharged (disconnected by safety switch)
Lithium LiFePO4- Maintenance, Auto Wake Up, Maintenance Phase: Regular automatic activation of the battery cell balancing every 10 days to continuously ensure the full charge of the battery
Lead-acid battery regeneration twice a week during long periods of inactivity to prevent harmful acid stratification
Parallel and buffer operation: in case of simultaneous consumption, the battery continues to be charged or maintained full. The charger automatically calculates and monitors the adjustment of the charging times
Monitoring-free charging: Multiple protection against overload, overheating, overvoltage, short-circuit, reverse polarity, malfunction and battery back-discharge by electronic cut-off up to complete disconnection of charger and battery by built-in safety switches
Connection for battery temperature sensor (accessory temperature sensor 825, art. no. 2001): For lead batteries (acid, gel, agm), the charging voltage is automatically adapted to the battery temperature, causes a better full charge of the weaker battery in cold weather, in summer temperatures unnecessary battery gassing and thus battery load is avoided
For LiFePO4 batteries, the battery temperature sensor is required for the function: it serves the battery protection at high and especially at low temperatures below 0°c
Silent Run function: Noise-optimized operation at the push of a button (night operation)
Power supply function: Enables the supply of the consumers without battery (e.g. battery change)
Charging cable compensation: Voltage losses on the charging cables are automatically compensated
Built-in on-board power supply filter: Problem-free parallel operation with Solarasystems, wind and gasoline generators, alternators, etc. on one battery.
Charging aid for deeply discharged lead batteries: Gentle pre-charging of the (lead-acid, -gel, -agm) battery up to 8 v, then powerful support of the battery with any consumers still switched on
Disconnection of the batteries in case of mains failure, overheating, malfunction (safety switch per charge output)
Separate secondary charging output "s" for support and maintenance charging of the vehicle starter battery
Charging current distributor optionally switchable to separate charging program for starter battery
Starter battery is also charged with full charging current if required (short vehicle service life)
Battery capacity can be set 4 times (total of 12 charging programs)
Inputs for voltage sensor (sense) leads, optionally usable with overlong charging leads and/or external, lossy diode charging current distributors
Mains/charging power can be reduced in case of low-power or limited mains supply, e.g. weakly fused shore power supply, generator operation, etc. (power limit function)
Overview of the charging programs of the Pb 1240 smt 3b
"Gel": Charging program for gel batteries, characteristic IU1oU2oU3?Adapted to sealed, gas-tight gel/dryfit batteries with fixed electrolyte, which generally require a higher charging voltage level and longer U1 holding times in order to achieve short charging times with particularly high capacity storage and to avoid long-term battery "starvation".
"agm": charging program for agm/non-woven batteries, characteristic IU1oU2oU3?designed for charging sealed, gas-tight agm (Absorbent-Glass-Mat) batteries in lead-non-woven technology, which require a particularly high U1 level with coordinated holding times for full charging and then a moderate U2 level for charge retention (plate and round cell technology). .
"UNIVERSAL": charging program for lead-acid/wet/agm batteries, characteristic IU1oU2oU3?universal program for charging and charge retention of acid batteries in vehicles (mixed mobile/stationary). With medium U1 level, still provides short charge times, good charge factor and good acid mixing for open and closed, low maintenance, maintenance free standard, traction, lighting, solar and heavy duty batteries, as well as agm batteries with normal U1 level. .
"LiFePO4": charging program for lithium batteries, characteristic IU1oU2oU3?charging program adapted to lithium LiFePO4 batteries with own bms and prescribed or built-in protection circuit. A special resting maintenance automatically keeps the LiFePO4 battery at a charge level of 50-80% when the vehicle is parked (seasonal operation), which is beneficial for its service life, and also buffers 12 V consumers and the vehicle starter battery. In addition, a regular Auto Wake UP function activates the battery cell balancing.
Scope of delivery:
1X Votronic 3124 Pb 1240 smt 3b battery charger 1x Instruction Manual (German)
Ambient temperature:
max. 95% (non-condensing)