VAT-exempt delivery possible*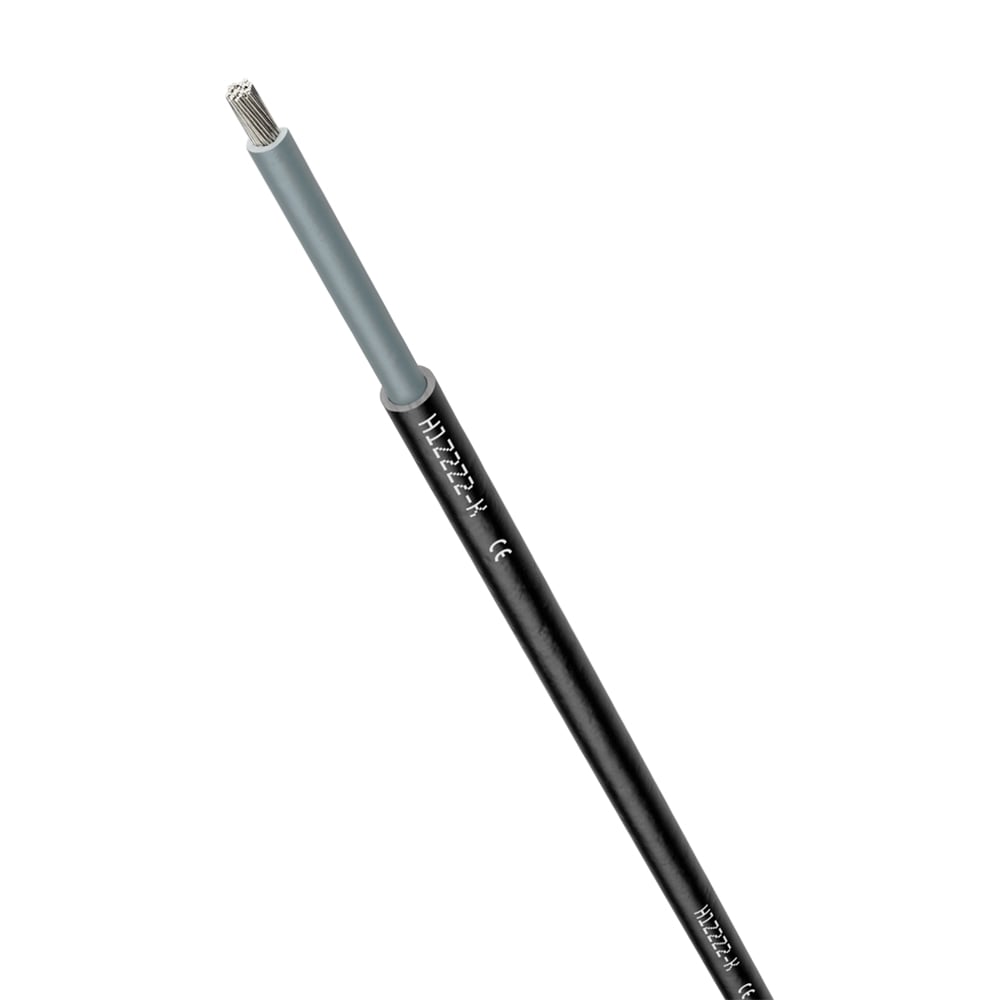 Lapp SOLAR XLR-R 1X6 WH/BK
Lapp SOLAR H1Z2Z2-K cables are weather, abrasion and UV-resistant photovoltaic cables. These halogen-free, double-insulated and cross-linked solar cables are suitable for permanent outdoor use to connect earthed and unearthed photovoltaic systems. They are used both for wiring solar modules to each other and for connecting the individual module rows and the inverter. The cable has been tested by TÜV Rheinland according to 2 PfG 1169/08.2007 (PV1-F) design. This article is sold by the metre. Each item corresponds to one metre. If you buy e.g. 10x this article, you will receive a coherent piece with 10m length. Important product features: Cable cross-section: 6mm²Manufacturer: Lapp KabelColour outer insulation: Black H1Z2Z2 Solar cables from Lapp can generally be laid in protective pipes suitable for buried installation in the ground if it is ensured that there is no permanent contact with water and that waterlogging is safely drained away. The laying of the cables in the ground as well as the correct design of the cable trench must comply with VDE 0100 Part 520 or comparable standards in order to prevent damage to the protective conduit and permanent exposure of the cables and conduits to penetrating water. Long-term, permanent storage as well as permanent operation of the cables in or under water is not permitted. Conductor structure 1. conductor: fine stranded tinned copper wire, according to IEC 60228, class 52. core insulation: electron beam cross-linked polyolefin co-polymer3. outer sheath electron beam cross-linked polyolefin co-polymer Electrical properties Rated voltage: U0 /U according to IEC AC 1000/1000 V - DC 1500/1500 VMax. permissible system voltage: 1.8 kV DC (conductor/conductor, not earthed system) according to TÜV 2 PfG 1169/08.2007 Test voltage AC 6.5 kV - DC 15 kV Thermal properties Temperature range fixed: -40° C to +120° C max. conductor temperature (according to EN 60216-2)Temperature range fixed installation: -40 °C to +90 °C ambient temperature (according to TÜV 2 PfG 1169/08.2007)Installation temperature flexible: max. -25 °CThermal pressure resistance according to EN 60811-3-1Humidity-heat test according to EN 60068-2-78 at 85% air humidity Mechanical properties Minimum bending radius when occasionally moved: 4x outer diameterMinimum bending radius if permanently installed: 5 x cable diameterDynamic penetration according to DKE requirements profile PV1-F AK 411.2.3 Annex FTear resistance according to DKE requirements profile PV1-F AK 411.2.3 Annex GTest of tear resistance and elongation according to EN 60811 Chemical properties Weathering / UV resistance according to EN 50618Ozone resistance according to EN 50396, method BHalogen-free according to EN 50267, EN 50525-1Flame retardant according to IEC 60332-1-2Acid and alkali resistance according to EN 60811-404 (oxalic acid and caustic soda) Scope of delivery 1x 1m Lapp solar cable H1Z2Z2-K 1X6 WH/BK
Lapp SOLAR H1Z2Z2-K cables are weather, abrasion and UV-resistant photovoltaic cables. These halogen-free, double-insulated and cross-linked solar cab...
You want to charge more than one battery at the same time with only one power source? Then a battery isolation relay is just the thing for you. Thanks to its advanced technology, it efficiently distributes the charging current to up to three batteries at the same time without losing voltage. At Offgridtec you will find the perfectly suitable 12V or 24V battery cut-off relay for your needs. Browse through our online shop now and see for yourself!
Types of battery cut-off relay
A relay is an electrical switch with two positions. It is used, for example, in motorhomes to separate the on-board battery from the starter battery when stationary and to connect them for charging. Depending on the design and mode of operation, you will find two different types of isolating relay in our online shop, in addition to a range of useful battery accessories:
The simple disconnect relays require a switching signal from the alternator (or other power source), while a fully automatic battery disconnect relay connects the batteries as soon as a battery reaches 13.7V and disconnects them as soon as a battery drops below 12.8V.
Buy best quality battery disconnect relay online at Offgridtec
At Offgridtec you will find both simple and electrical cut-off relays in top quality and at the best prices. Our experts only select high-quality products from renowned manufacturers for our online shop and will be happy to answer any questions you may have about our products.
We will be happy to advise and support you in finding your suitable battery cut-off relay. You can reach us on +49 8721 91994-00 to take advantage of our expert advice for private customers and specialist dealers. We are also happy to receive an e-mail at [email protected]!
FAQ
What does a battery disconnect relay do? With a battery cut-off relay, several batteries can be charged simultaneously from one power source without the batteries being connected to each other. As soon as one of them reaches 13.7V, the cut-off relay switches on so that both batteries are charged at the same time.
Which pole must be connected first when installing a cut-off relay? The red cables are connected to the positive terminal first, the black cables then to the negative terminal of the battery.
How do I charge the starter battery in the motorhome? An isolating relay or a charge booster can be used to charge the starter battery while driving. This switches both batteries in parallel and ensures that both batteries are charged via the alternator.