Victron Phoenix Smart ip43 Charger 12/30(3)
Product number:
1-67-012455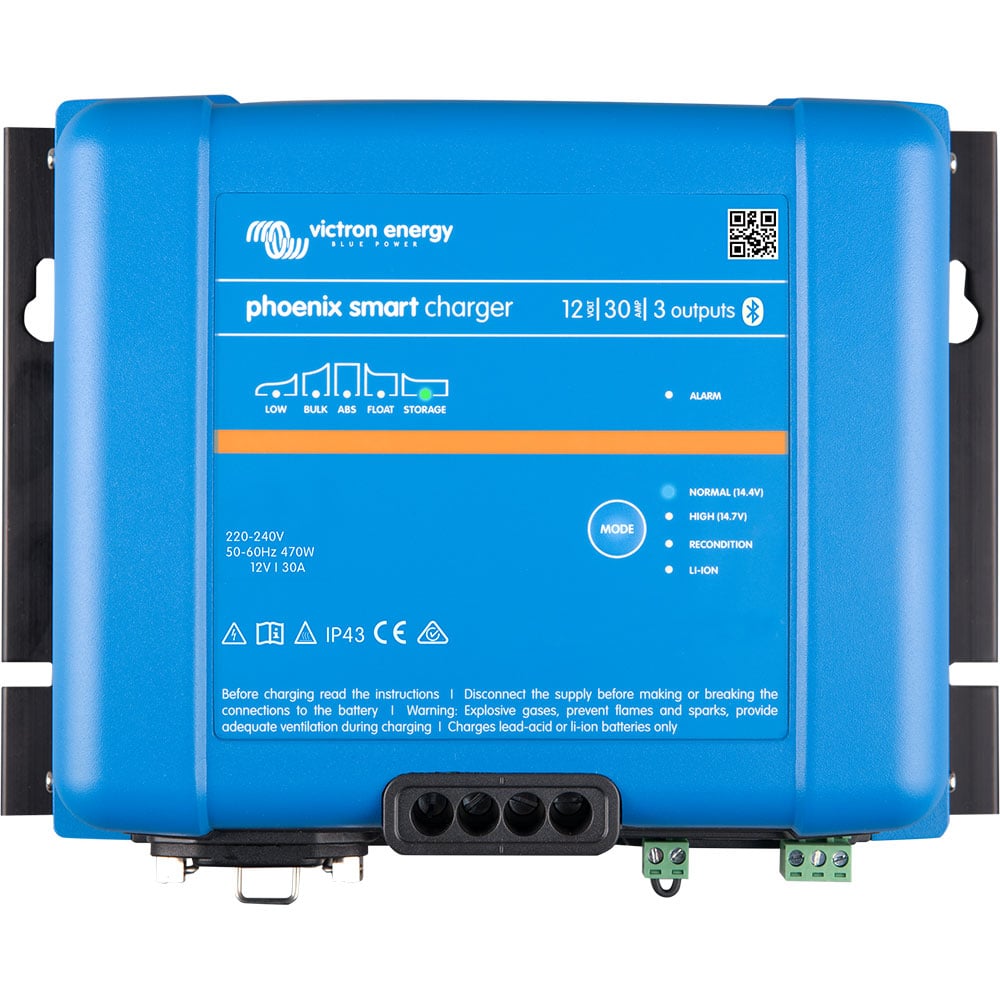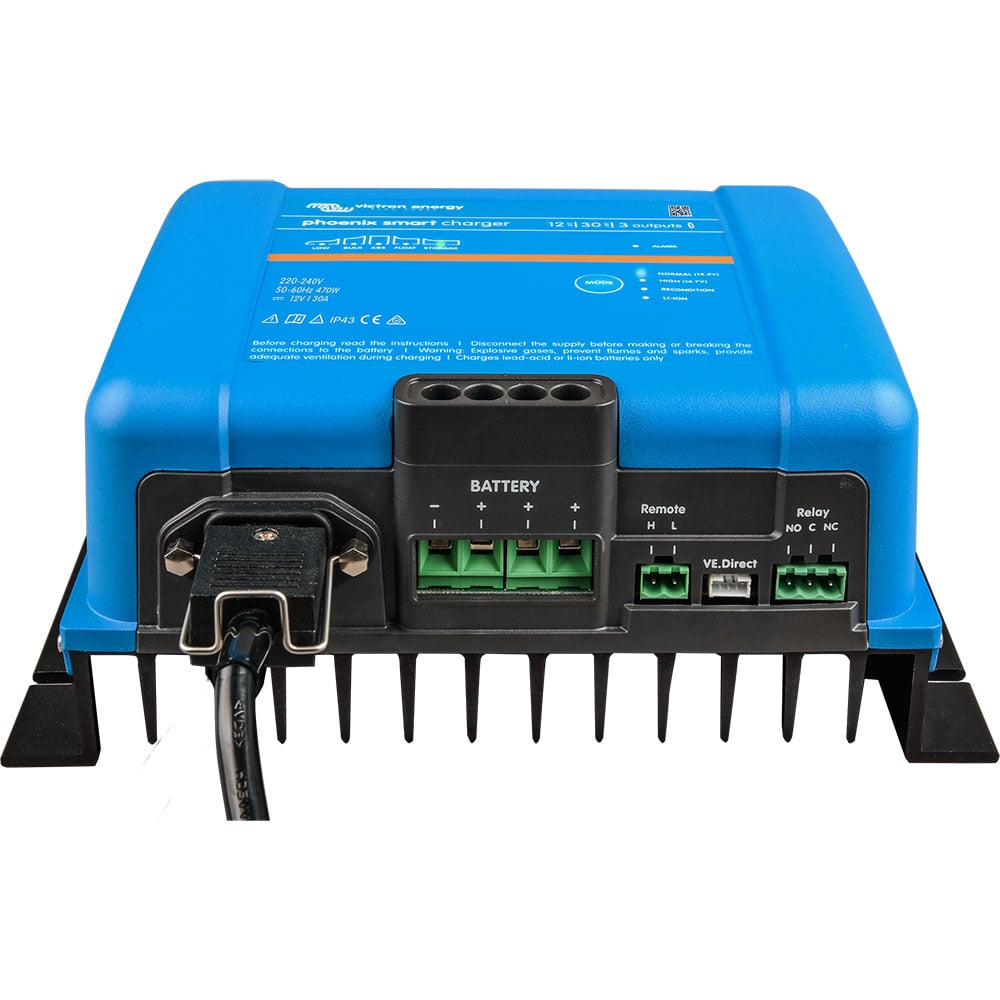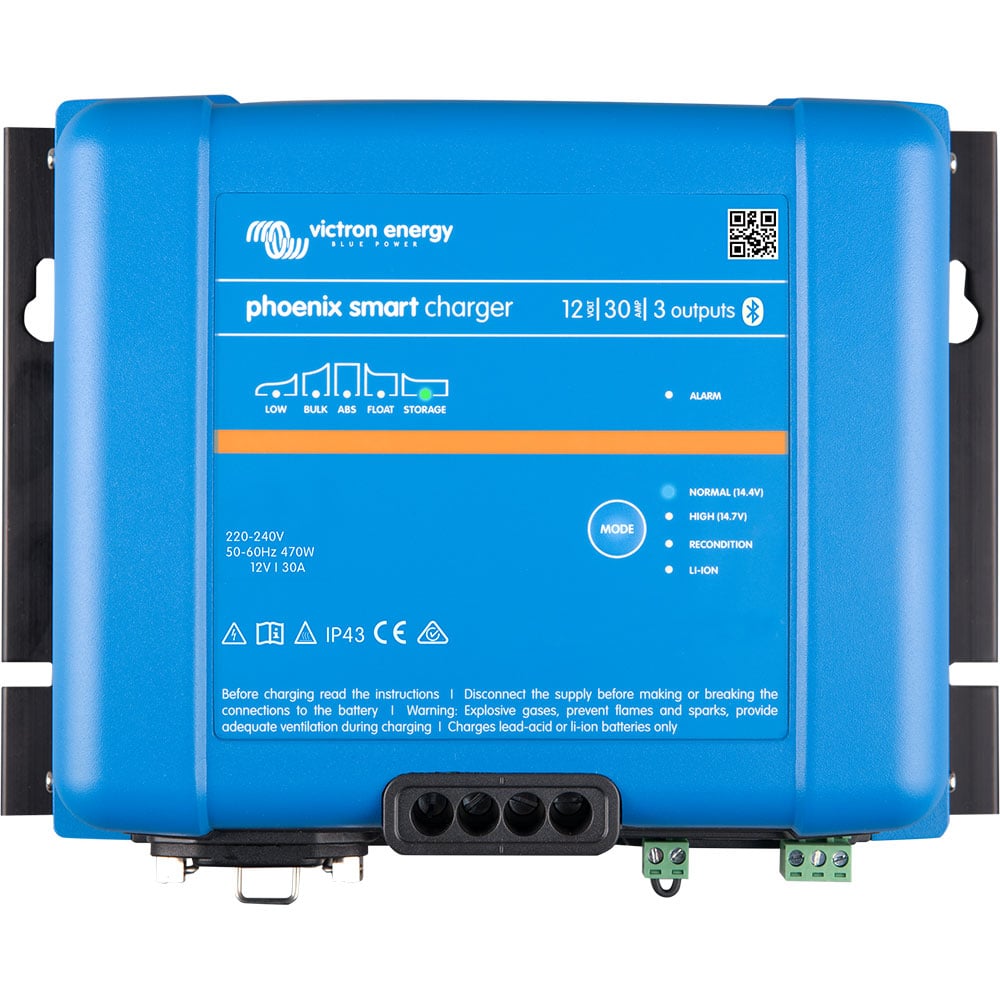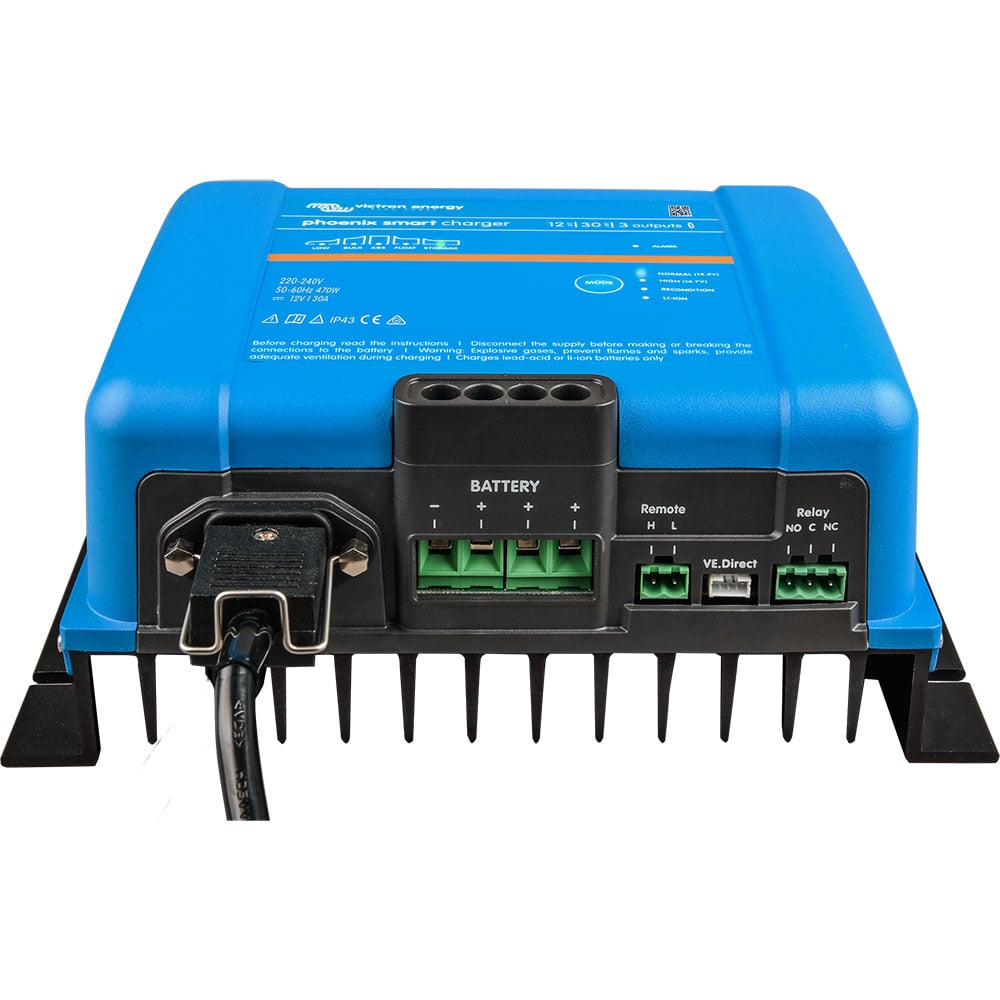 Product number:
1-67-012455
The Phoenix Smart Charger 12/30(3) ip43 from victron Energy (mpn psc123053085) is a powerful latest generation battery charger. The device is designed for 12v battery voltage and offers 3 charging outputs, each of which is capable of delivering full charging current
With its integrated Bluetooth module, the Phoenix Smart Charger 12/30(3) ip43 fits into the ever-growing Smart family from victron, which can be perfectly networked and also centrally controlled via various ways. In addition to the Bluetooth module, there is also a vE.Direct connection and a freely programmable relay. Optionally, the Smart Battery Sense can also be connected to control the battery temperature compensation. The proven five-stage charging algorithm and the possibility to program your own charging algorithm make the Phoenix Smart Charger 12/30(3) ip43 a universally applicable high-tech battery charger that can optimally charge almost any type of battery
perfect battery charger for boats and vehicles
Phoenix Smart battery chargers, which include (1+1) in the model name, have a main charge output, with full charge current and a 3a auxiliary charge output for charging starter batteries. These models are therefore particularly suitable for mobile use. The Phoenix Smart models with (3) in the model name are especially designed with marine needs in mind and provide three full current outputs for charging 3 battery banks.
Highlights of the Phoenix Smart Charger 12/30(3) ip43
integrated Bluetooth module
integrated vE.Direct connectors
3x 30a charging outputs are available (maximum 30a charging current)
automatic voltage compensation
adaptive, five-stage charging algorithm
variable constant voltage phase
charges all common battery types optimally
prevention of damage due to gassing thanks to BatterySafe mode
reduced aging due to storage with the storage mode
also charges LiFePO4 batteries and can be connected to a bms via optocoupler
fully programmable charging algorithm
Remote on/off
can be used as a power source
phoenix Smart 12/30(1+1) technical features
victron Part number: psc123053085
Number of battery banks: 3 (Each output can output the full charging power of the device)
maximum rated charging current: 30a, battery voltage: 12v
high efficiency: 94%
Protection class: ip43 (electronic components), ip22 (connection area)
further data you will find at technical data
three integrated technologies for all around healthy batteries
variable constant voltage phase: always delivers the right amount of charge
In case of low battery discharge (e.g. a yacht connected to shore power), a short constant voltage phase is selected to avoid overcharging. After a deep discharge, the constant voltage phase is automatically extended to ensure that the battery is fully charged.
preventing damage from excessive gassing: the BatterySafe mode
To shorten the charging time, the highest possible charging current has been selected together with a high constant voltage. However, to avoid excessive gassing towards the end of the constant current phase, the charger limits the rate of voltage rise after the gassing voltage has been reached (see also the graphs in the brochure)
Less maintenance and aging when the battery is at rest: the storage mode
The storage mode is activated whenever there has been no discharge within 24 hours. In storage mode, the charge retention voltage is then lowered to 2.2 v/cell (13.2 v for a 24-v battery) to minimize gas generation and corrosion on the positive plates. Once a week, the voltage is increased to the level of the gassing voltage. This provides a type of equalization charge that prevents electrolyte stratification and sulfation, the two main causes of premature battery failure.
also perfect for LiFePO4 battery
The Phoenix Smart Charger 12/30(3) ip43 can have on/off control attached by connecting a relay or optocoupler open collector output from a Li-Ion bms to the remote on/off port. Alternatively, voltage and current can be fully controlled via bluetooth
vE.Direct interface, Bluetooth and programmable relay
The Phoenix Smart Charger 12/30(3) ip43 from victron is ideally suited for a wired data connection with a color control panel, pc or other devices thanks to the vE.Direct port. Also note the victronConnect app for Android and ios, which you can use with any smartphone or tablet to wirelessly control and read your Phoenix Charger via Bluetooth. Programmable relays can also be programmed via the vE.Direct interface or a Bluetooth-enabled device to trigger an alarm or other events
accessories needed
Please note that an AC power cord is required to connect the Phoenix Smart Charger 12/30(3) ip43 to AC power. This is not included in the scope of delivery
Scope of delivery
1x psc123053085 victron Phoenix Smart Charger 12/30(3) ip43
1x AC cable clamp
1x user manual
Ambient temperature:
-20°C - +60°C
Battery type adjustable:
Acid, Gel, AGM, LiFePO4
Charging characteristic:
Adaptive battery management
Communication ports:
Bluetooth, Ve.Direct
Manufacturer:
Victron Energy
Number of charging outputs:
3
Protective functions:
Reverse polarity at battery, output short circuit, overtemperature
Temperature compensation:
Yes, via Smart Battery Sense