Victron Quattro 24/3000/70 24V 230V 2400W Sine Inverter 70A Battery Charger
Product number:
1-67-009095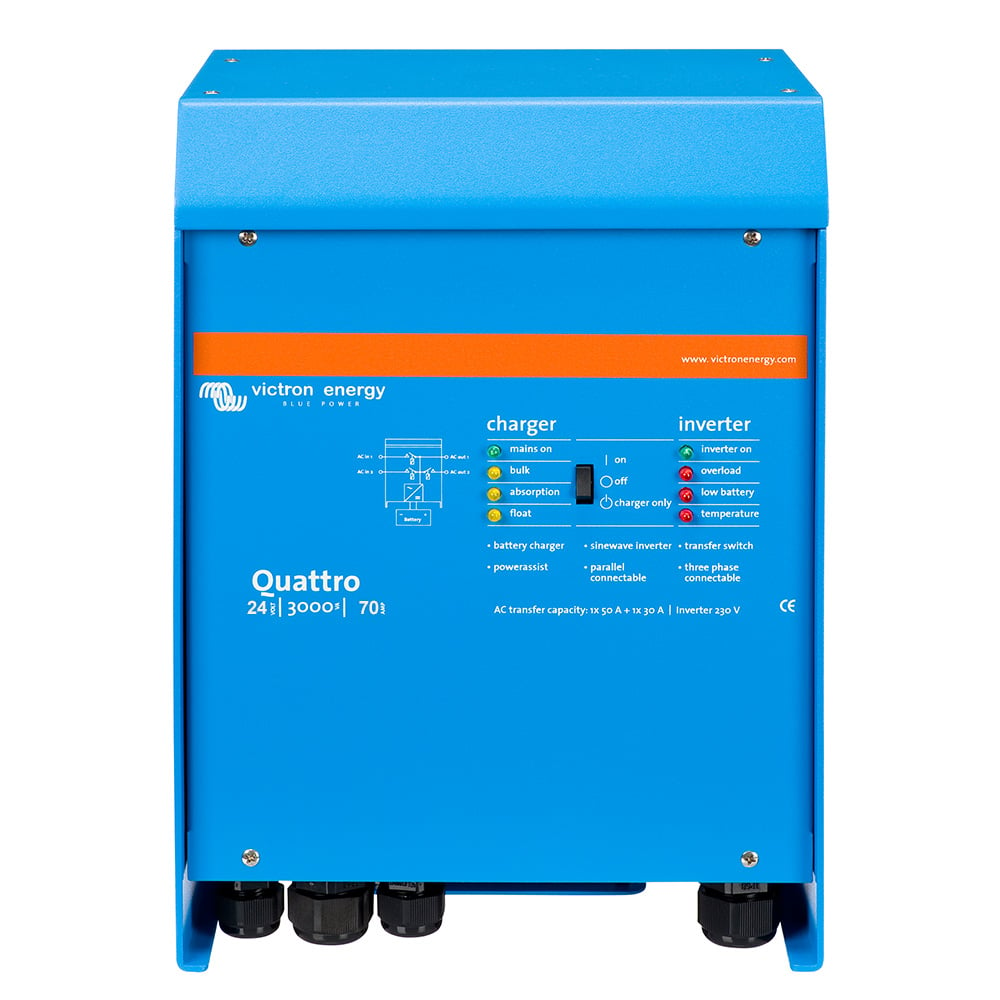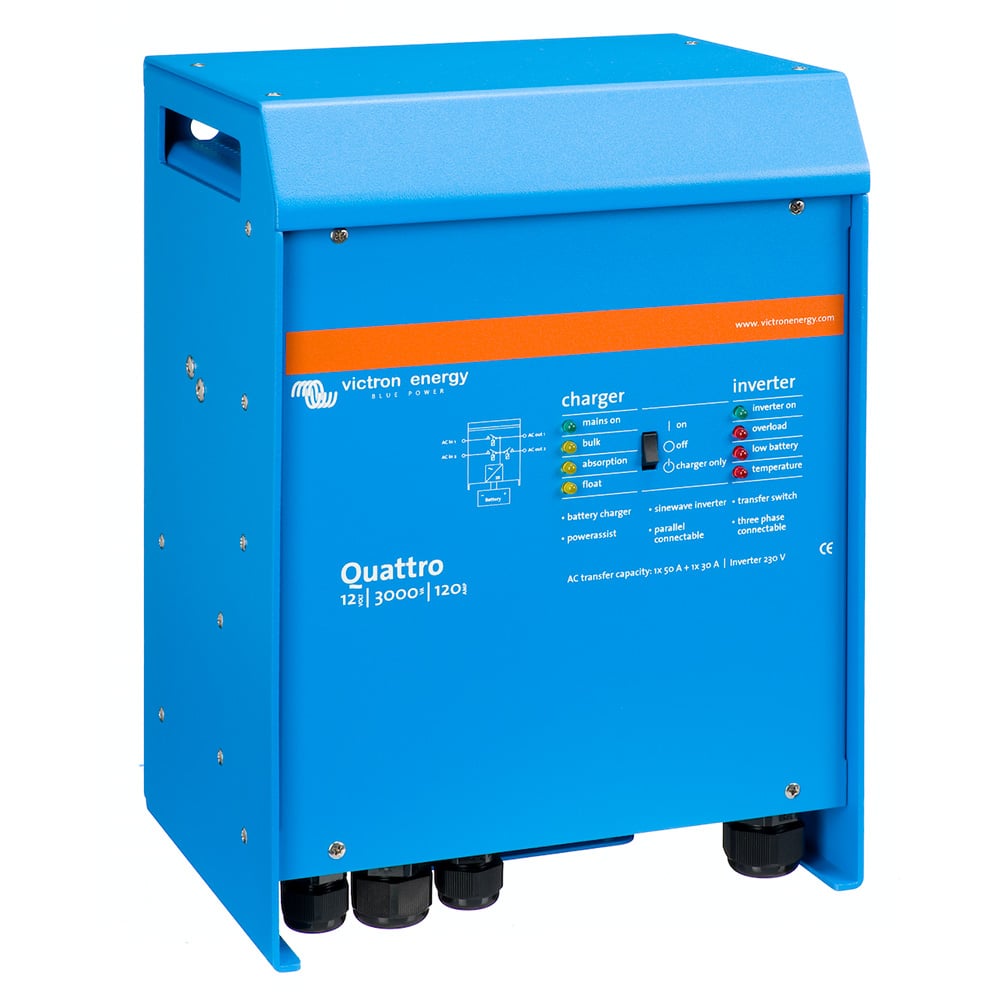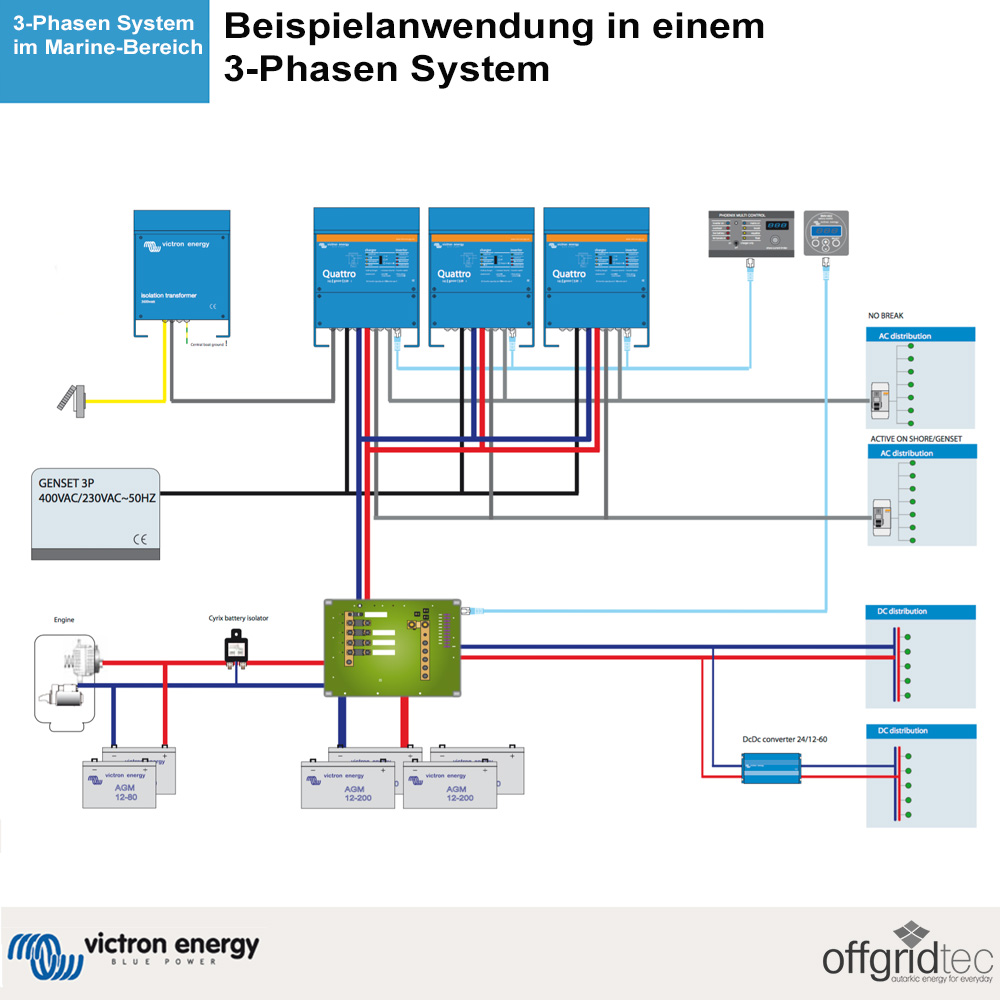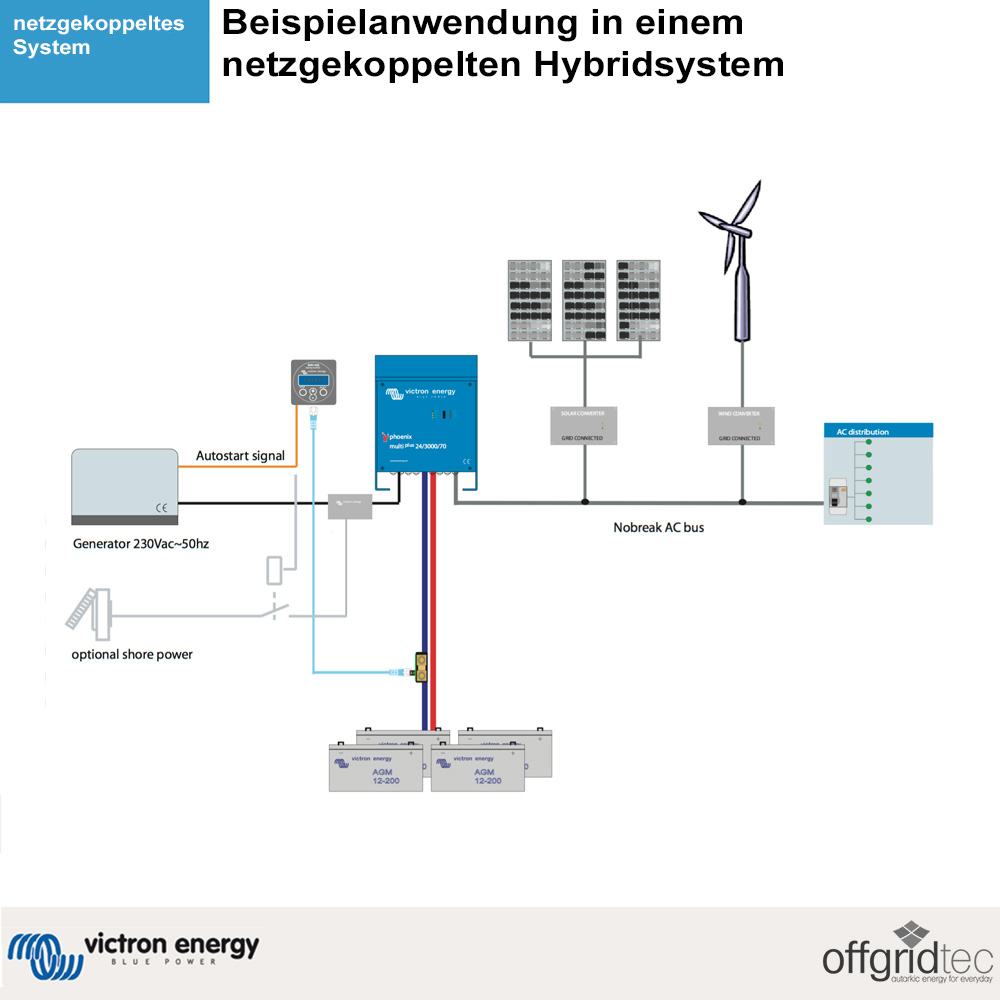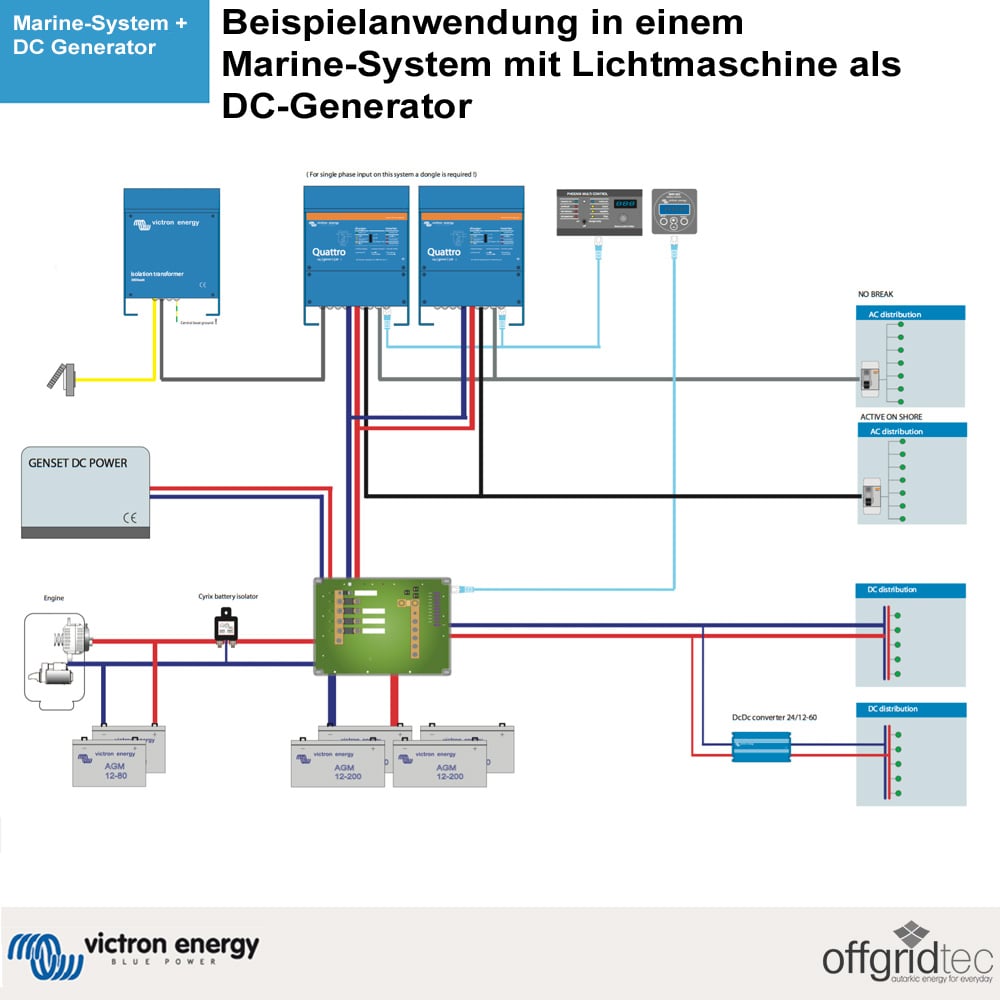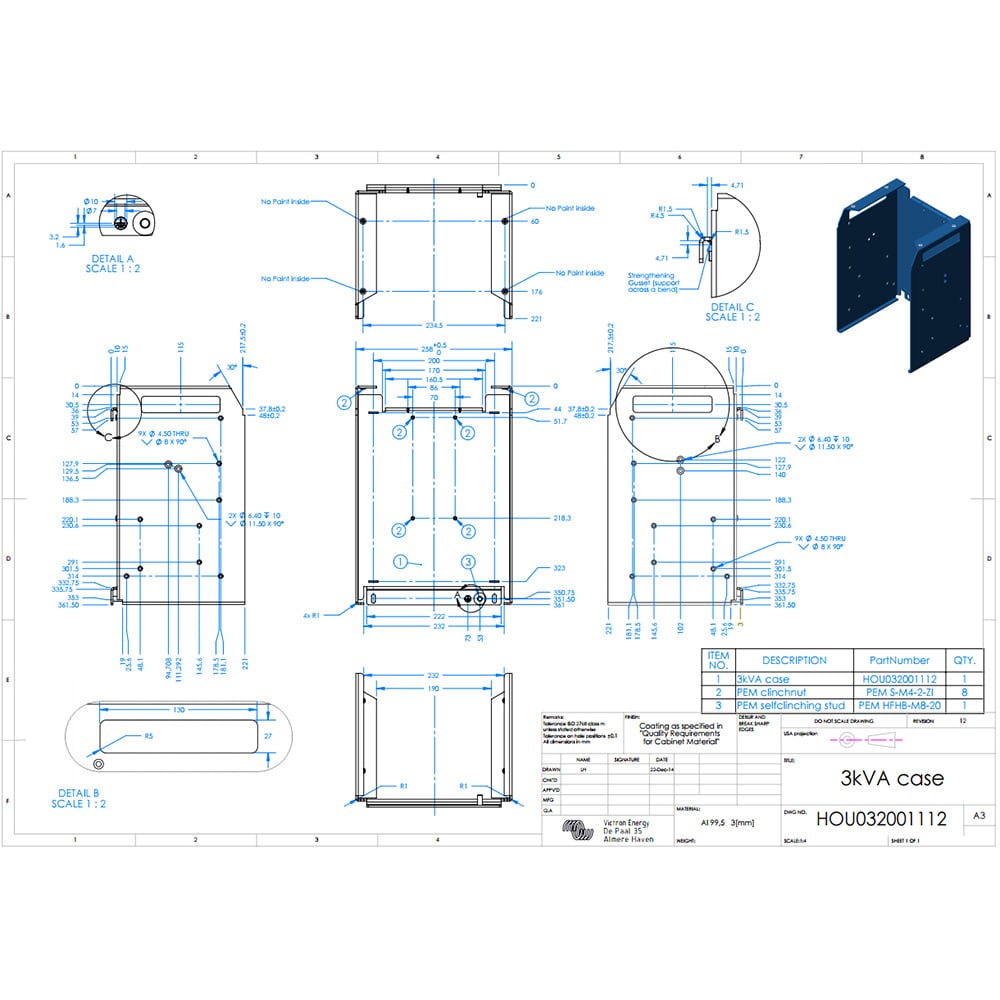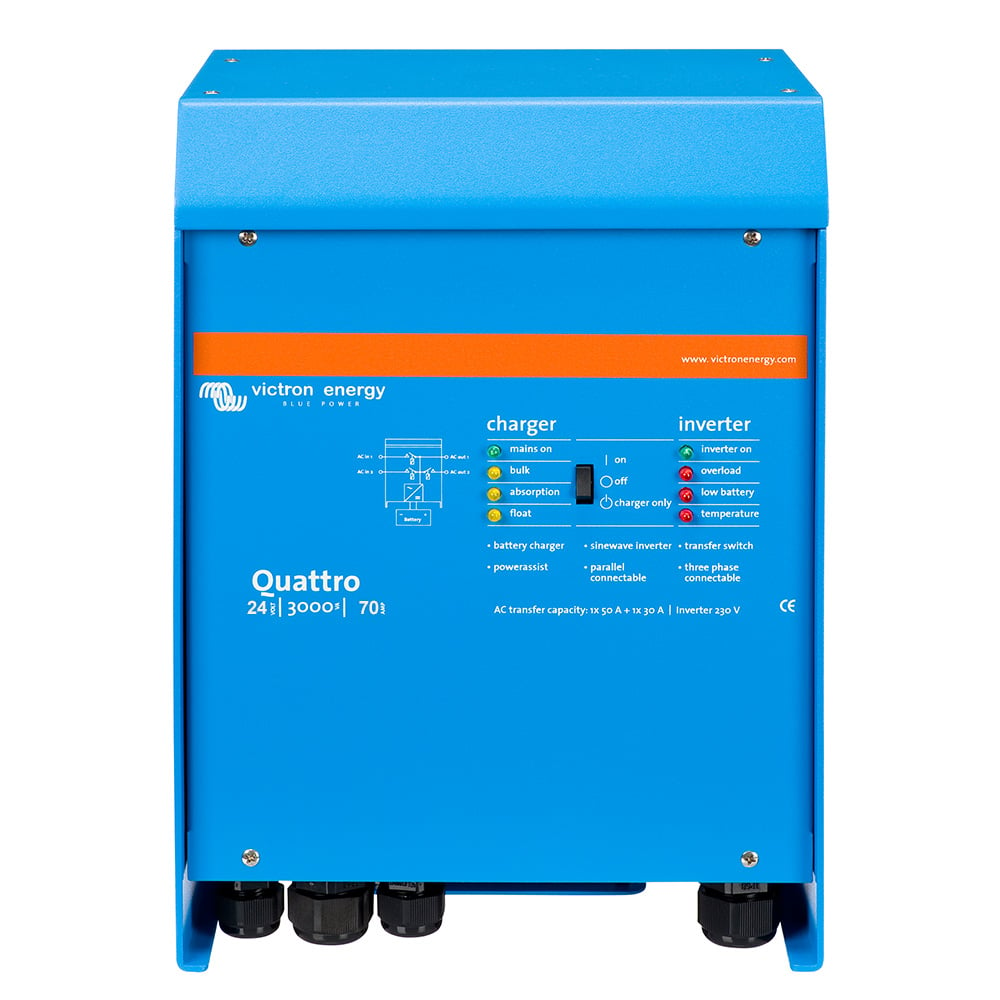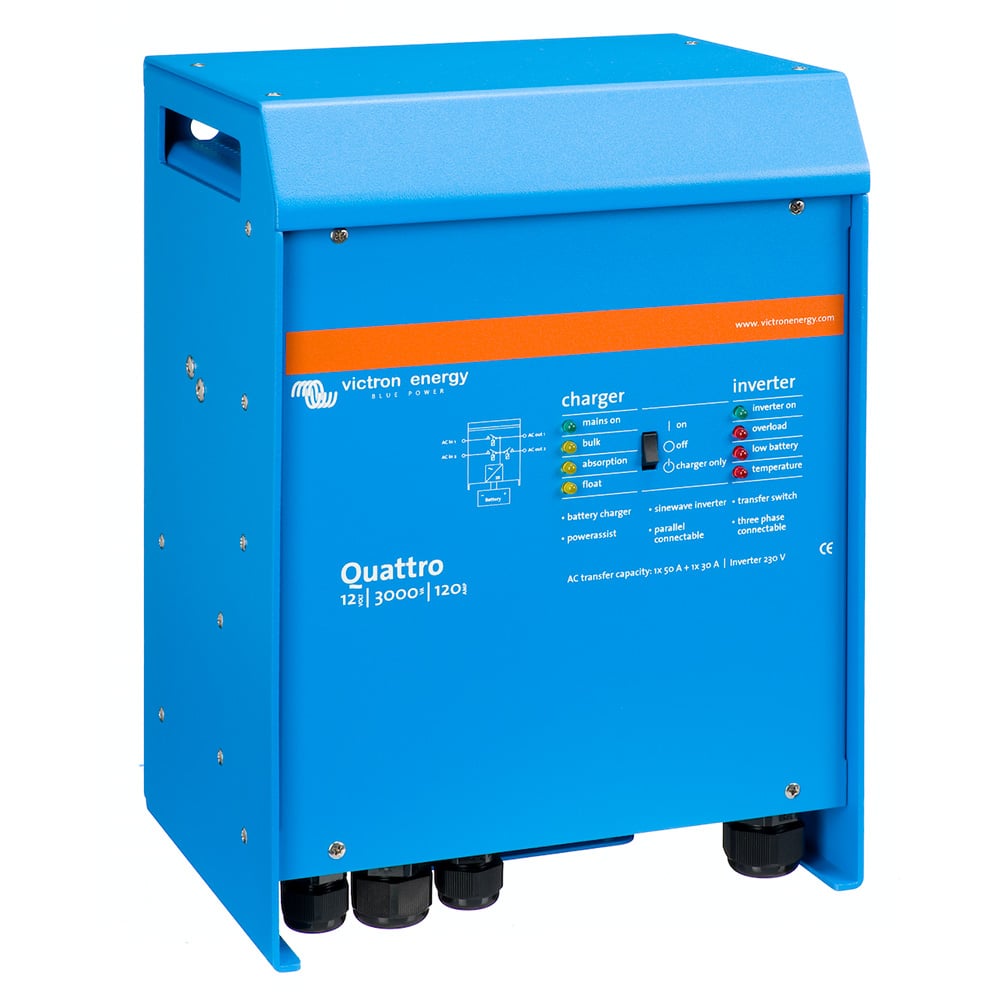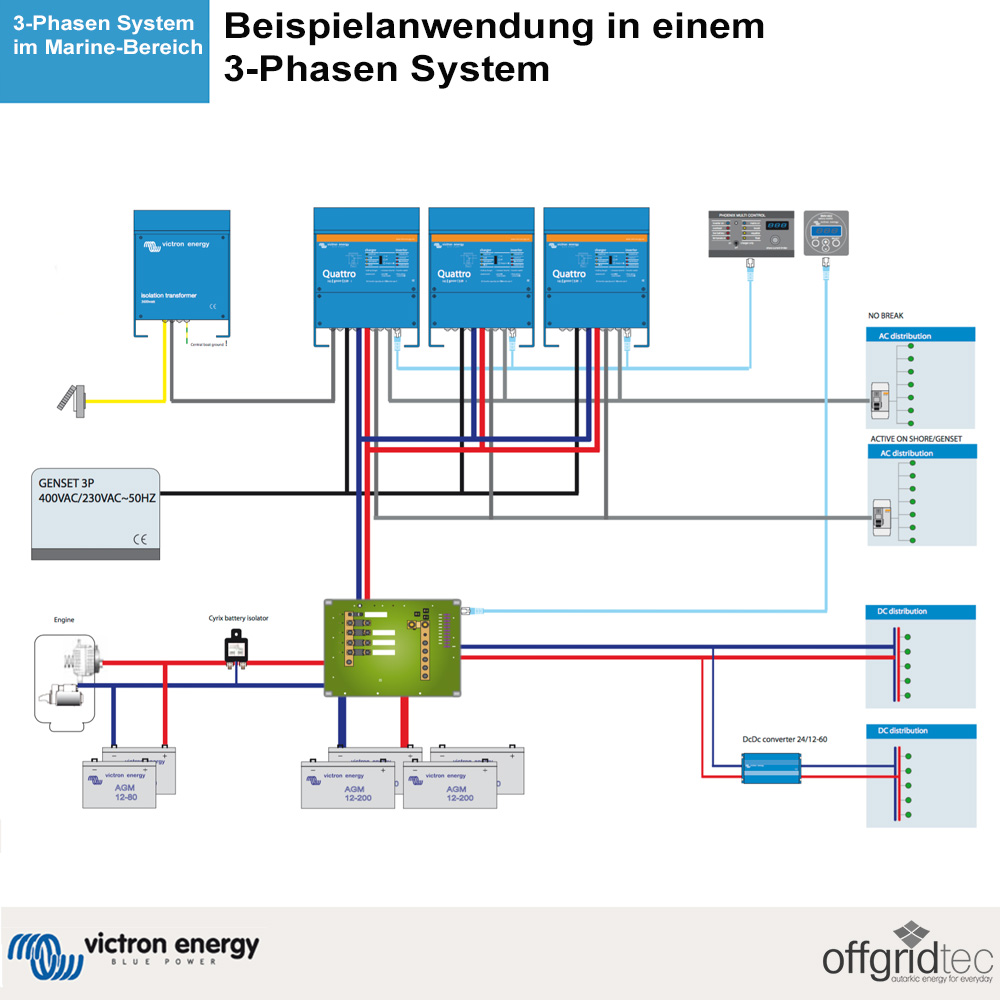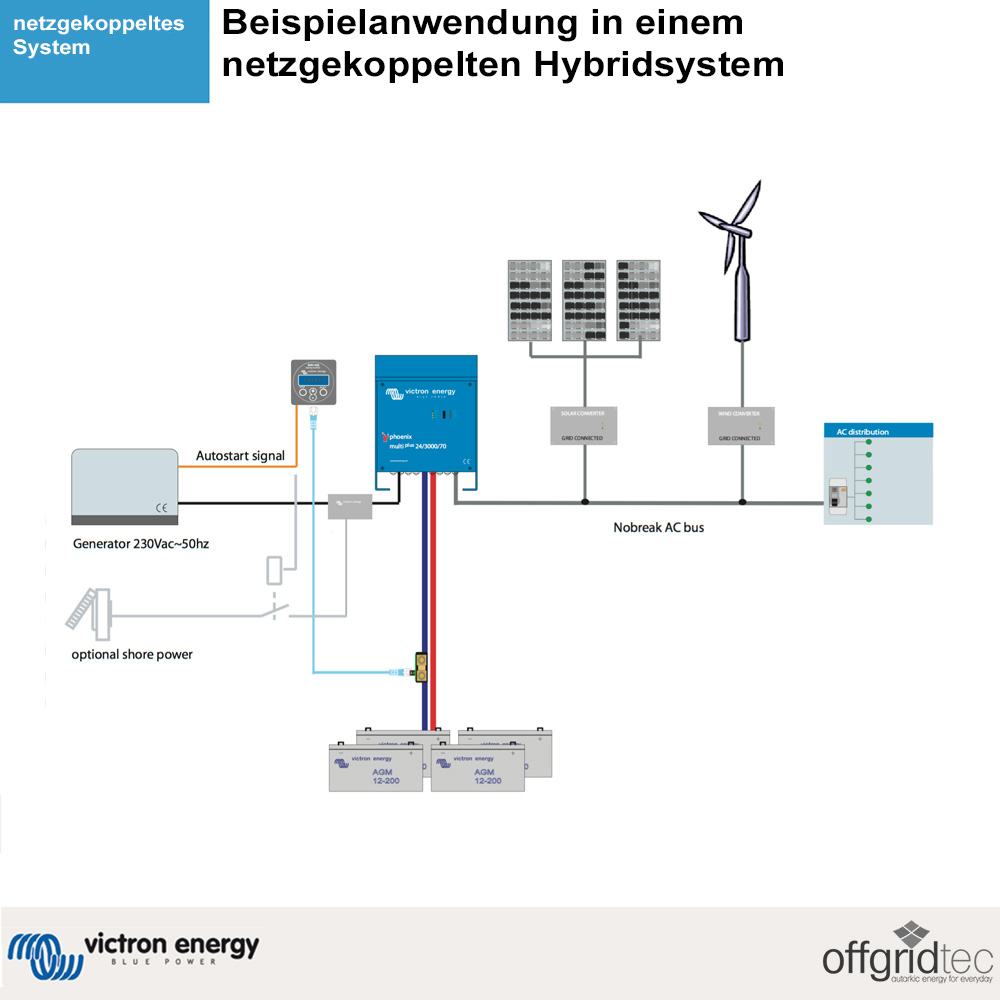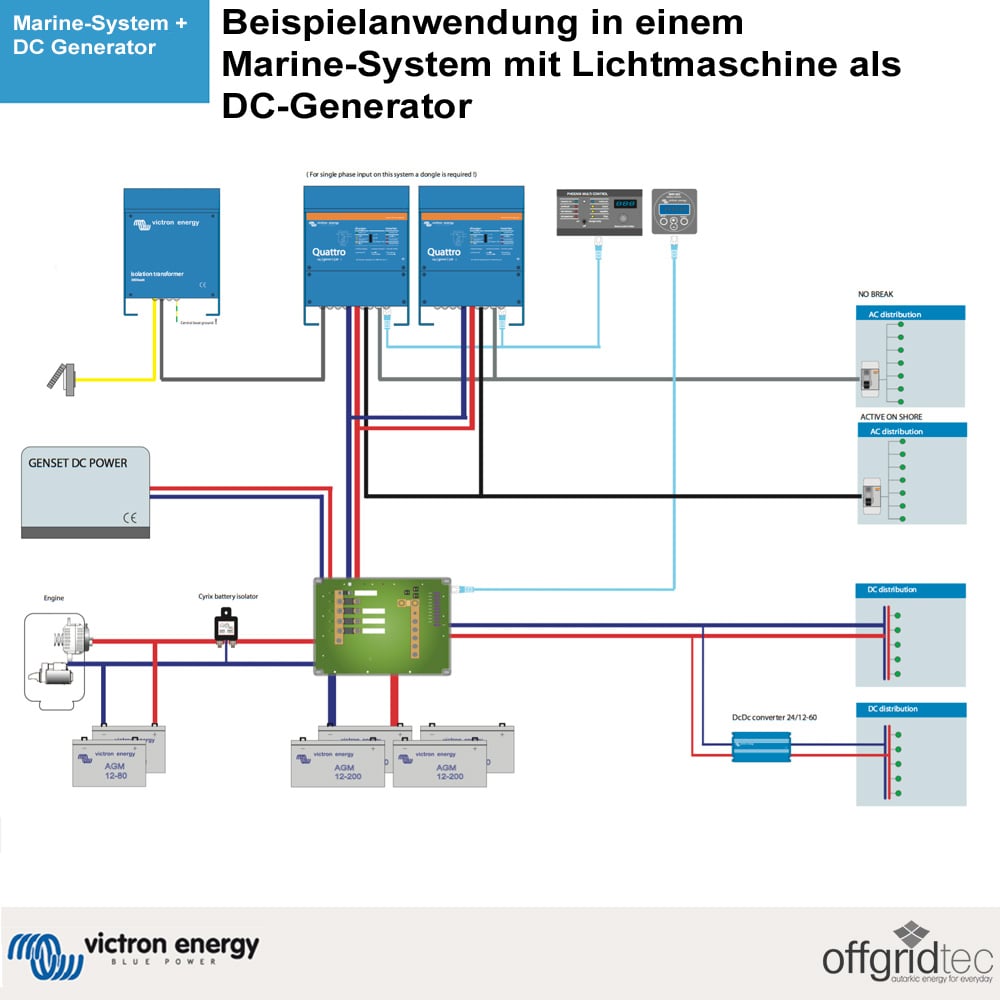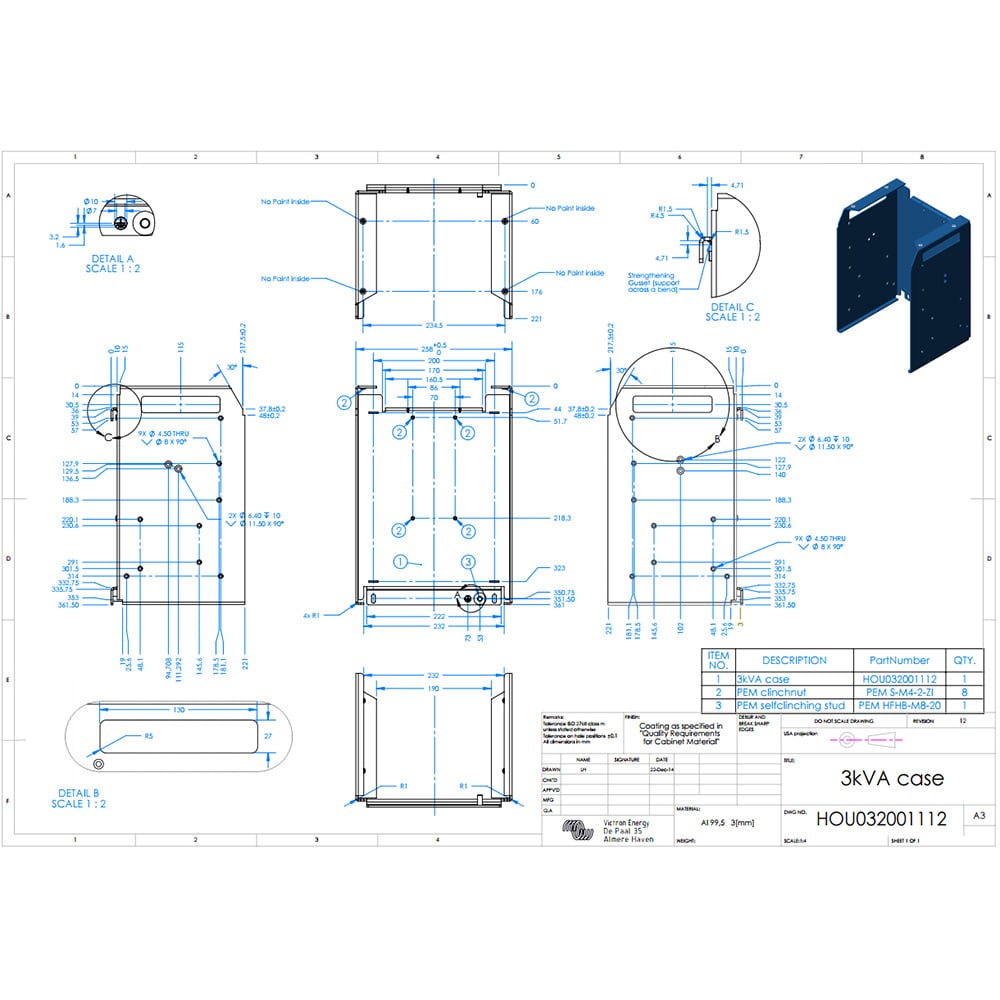 Shipped in 10-14 Werktage
Product number:
1-67-009095
The Quattro 24/3000/70-50/50 (MPN QUA243020010) is a combination of a 24V 2400W sine inverter, a powerful battery charger and a transfer-switch.
It is equipped with 2 AC-outputs and 2 AC-inputs and therefore can be connected to 2 separate AC-sources, for example the public grid or a generator. The Quattro connects automatically to the active source. The integrated battery charger provides 70A which allows quick charging even for bigger batteries as long as there is a grid connection.
The 24V sine inverter converts your DC battery current into a 230V AC current. Thanks to a pure sine wave this inverter is also suitable for sensitive electronic devices. Besides those two components there is also an integrated transfer-switch that enables you to realize many grid-tied solutions.
Integrating the Quattro into your system can be done via VE.Bus-port or 2 COM-port which allows nearly unlimited networking.
Extremely flexible thanks to 2 AC-input and 2 AC-outputs
The main output ensures uninterrupted operation. In case of a blackout or a failure in the grid/generator the Quattro takes over the supply of connected consumers. Switching happens so fast (<20ms) that the uninterrupted supply of computers and other electronic devices is ensured.
The second output only provides power if AC-power is available on one of the inputs. Consumers that must not discharge the battery - for example water boilers - can be connected to that output.
Important details:
2400W constant output and 6000W peak current, for 24V battery voltage
combination of inverter with transfer switch and 70A battery charger
provides pure 230V sine voltage at 50Hz
2x AC-inputs with intergerated transfer-switch / 2 x 50A max. switch-current
2x AC-outputs + 1 additional output that only works when AC-power is available on one of the AC-inputs.
VE.Bus communication port allows extensive possibilities in terms of connection, configuration and controlling of Victron Quattro devices
supports three-phase operation (3 units of the same model needed)
supports parallel operation - up to 6 units can be connected parallely to increase system power if needed
besides the VE.Bus-port Quattro devices come with 2 additional COM-ports which allow nearly unlimited system integration
PowerControl-function allows operation with limited generator performance as well as supply through limited shore or grid power
PowerAssist-function allows a 'performance-increase' of generators and supports shore power connection if needed
usable as UPS-solution (uninterrupted power supply) thanks to the integrated transfer-switch with 16A or 50A
usable for grid-tied systems which only drain power from the supplier when the battery current is not sufficient or other programmable events have happened
3 separate relays - each programmable
compatible with many Victron control- and monitoring-panels
very high efficiency and low consumption
Massive performance extension
Up to 6 Quattros can be connected parallely. This creates a system with 6 48/10000/140 units 54 kW/60 kVA performance or 840A charging current. Three units can be configured for three-phase operation. But that's not all:
It is possible to connecte 6 x three-phase systems parallely to generate a massive inverter performance of 162 kW/180 kVA and over 2500A charging capacity.
PowerControl - operation with limited generator performance, shore or grid power
The Quattro is a powerful battery charger which drains a lot of power (nearly 10A/5kVA Multi at 230V AC) from the generator or grid. With help of the MultiControl panel you can adjust the max. power drained from the generator or grid. The Quattro then priors other connected AC-consumers and uses only the "surplus" of energy for charging.
This protects the generator or grid from an overload.
PowerAssist - performance-increase of generators and shore power connection
With this function PowerControl is put to a new dimension by enabling the Quattro to support small-dimensioned power sources. Load-peaks often occure only within limited periods. In this case the Quattro ensures that weak shore- or generator power is compensated instantly through battery power.
BackUp-System: AC-power also during blackouts
The Quattro can be integrated in off-grid systems, grid-tied PV-systems and systems using alternative energy sources. A software that detects blackouts and grid failures is also available.
Easy configuration
If setting of a device have to be changed this can be done with help of a DIP-switch within minutes.
Parallel-connected and three-phase systems can be configured via VE.Bus QuickConfigure and VE.Bus System Configurator software.
Monitoring and controlling on site
There are several option: battery protector, MultiControl panel, VE.Net Blue Power panel, Color Control Panel, smartphone or tablet (Bluetooth Smart), notebook or computer (USB or RS232).
Remote monitoring and controlling
Victron Ethernet Remote, Victron Global Remote and the Color Control Panel allow remote maintenance and monitoring of the Quattro. Addiationally system data can be saved for free on the VRM (Victron Remote Management) website.
Remote configuration
If the system is connected to the ethernet via the ColorControl-panel you are able to change settings remotely.
Delivery scope:
1x Victron QUA243020010 Quattro 24/3000/70-50/50 Combination of 24V 2400W sine inverter and 24V 70A battery charger + 2 AC-inputs with integrated transfer-switch
1x Manual
Frequency range:
50Hz / +-0,1Hz
Manufacturer:
Victron Energy
Own consumption in idle mode:
20W
Own consumption in standby:
10W
Product Type:
Unit combination consisting of 24V to 230V sine wave voltage converter, battery charger and transfer switch. Compared to the Multiplus series, all Quattras have 2 switchable AC inputs and 2 AC outputs.
Rated output voltage:
230V AC / alternating current
Sine wave:
true sine wave
Temperature range:
-40°C bis 65°C
Transfer switch integrated:
Yes - 2 piece
Transfer switch power:
2x 50A
Voltage regulation:
24V DC / 230V AC
Warranty:
5 years manufacturer's warranty 2