Victron agm 12v 100Ah super cycle battery c20
Product number:
2-67-012245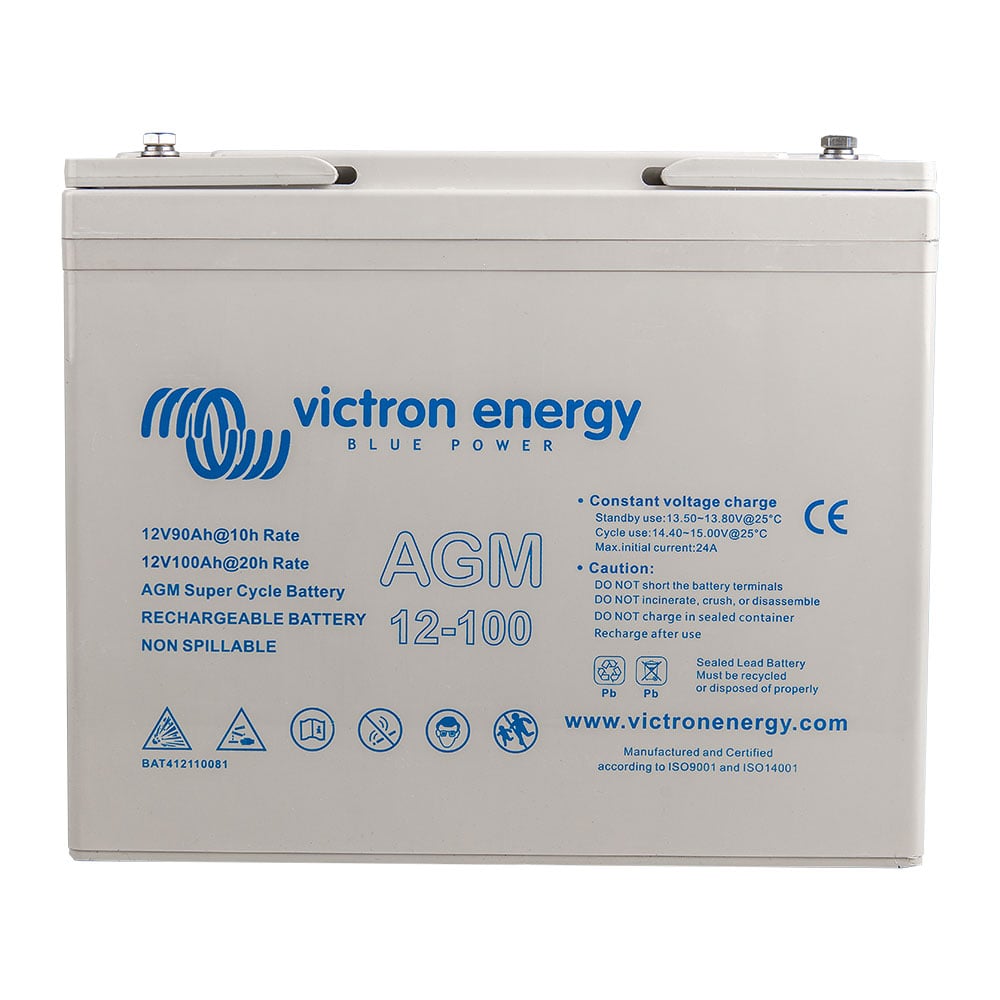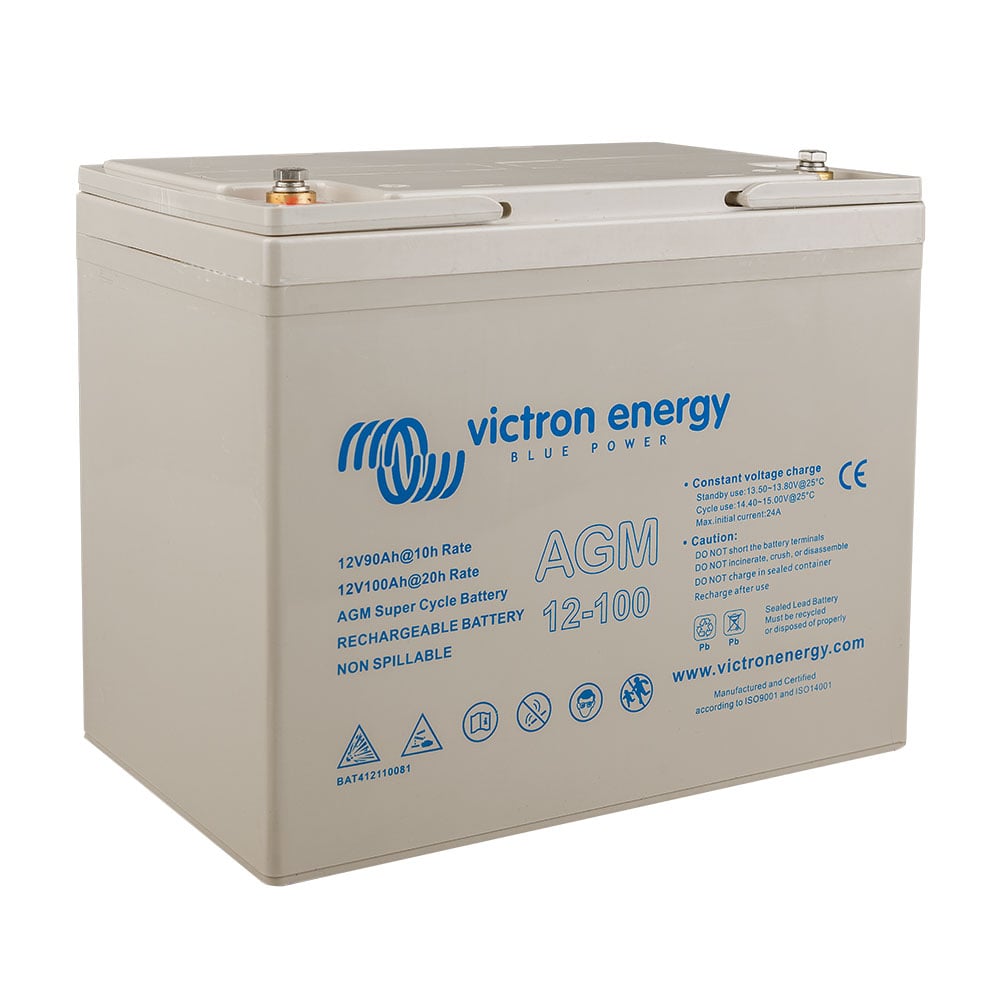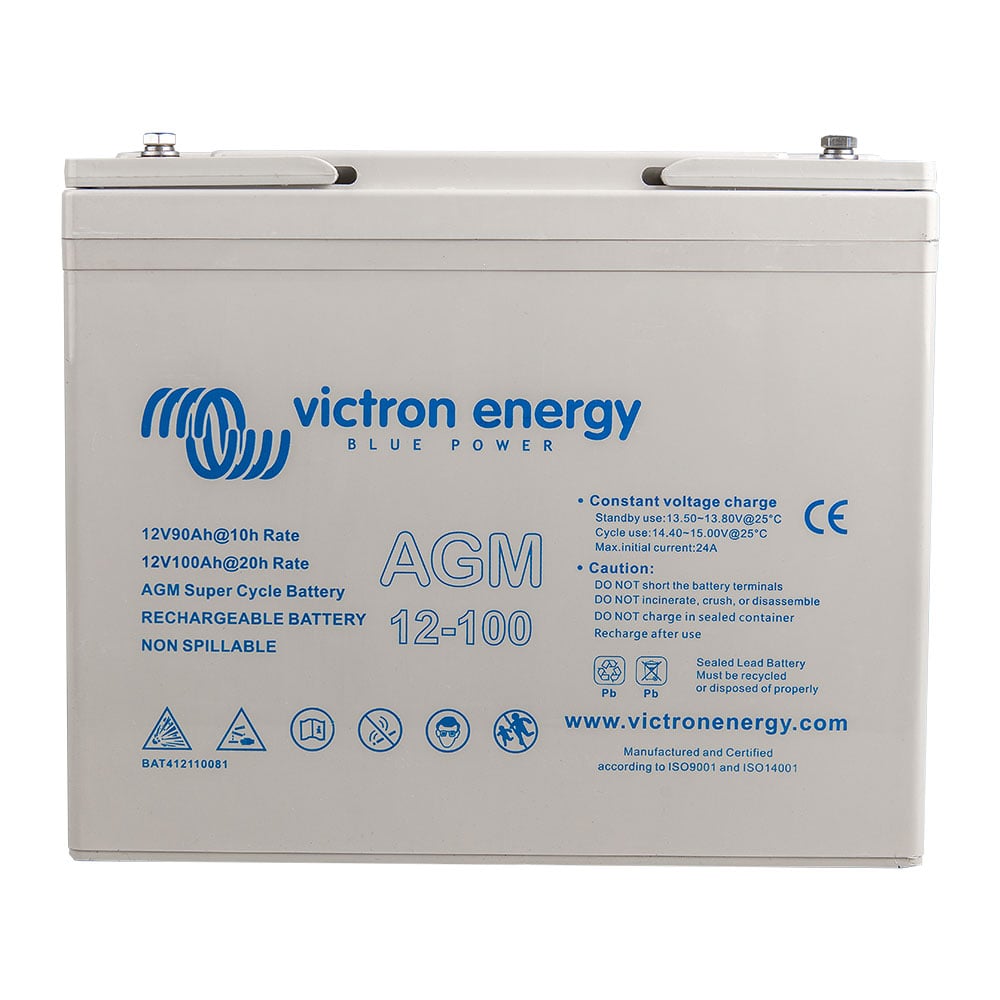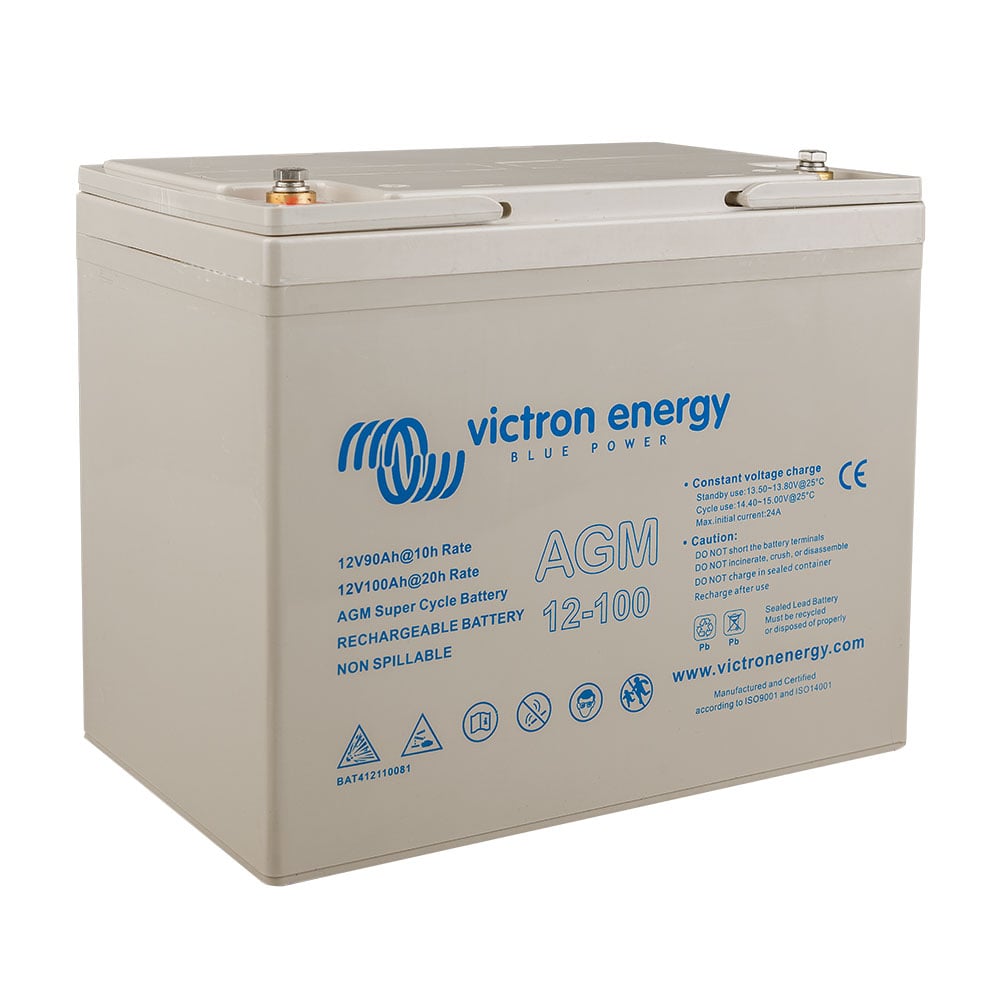 The 12v 100Ah Super Cycle Battery victron Energy (mpn bat412110081) is based on the latest findings in battery electrochemistry, providing significantly more cycles and high resistance to deep discharge. The use of a Super Cycle battery is recommended when an occasional discharge to 100% (deep discharge) or a more frequent discharge down to 60-80% is expected.
truly innovative: the victron agm 12v 100Ah
victrons agm Super Cycle batteries incorporate the latest innovations from recent advancements in battery electrochemistry. The paste on the positive plates does not soften quickly, even when the battery has been discharged 100% several times. In addition, the battery chemistry has been supplemented with several additives that significantly reduce sulfation in the event of deep discharge. The bottom line is that the Ultra Deep Cycle batteries manage significantly more cycles due to these technical innovations and therefore reach a higher age
Features of the victron 12v 100Ah Super Deep Cycle agm battery
victron Part number: bat412110081
Battery Rated Voltage: 12v
Battery capacity: 100Ah
powerful, even after three hundred 100% deep discharges
Lifetime at 20°c 7-12 years
Cycles at 20°c and 40% discharge: 1000
Cycles at 20°c and 60% discharge: 700
Cycles at 20°c and 80% discharge: 500
Cycles at 20°c and 100% discharge: 300
low internal resistance
smaller and lighter than conventional deep-cycle batteries
very good tolerance of high current discharge
Weight: 25 kg, dimensions (WxLxH): 16,8 x 26 x 21,5 cm
Exceptional performance in case of repeated deep discharge
Testing has shown that the Super Cycle battery continues to perform even after at least three hundred 100% deep discharges. In the test, the batteries were discharged daily to 10.8 v with i = 0.2 c20. They were then left in the discharged state for two hours and then recharged with i = 0.2 c20. Most batteries will be damaged if left in a discharged state for two hours 100 times, but not the victron 12v 100Ah Super Cycle battery.
Super Cycle Batteries: Smaller and lighter
Another advantage of the new chemical composition is that the batteries are smaller and weigh less compared to our previous deep cycle agm batteries
typical areas of application for the
Applications with high-current discharge, for example Solaranlagen mit Wechselrichter an der Solar-Batterie
Applications where complete deep discharge may occur from time to time or more frequent discharge down to 60-80% is to be expected
perfectly applicable as starter battery
Drive battery
Thrusters, winches etc.
low self discharge
Thanks to the processing of high purity materials and lead calcium grid in the Super Cycle agm 12v 100Ah iis ensured that the self-discharge of this battery is particularly low. This prevents the battery from discharging itself too quickly during long periods without charging
Scope of delivery:
1x victron Energy bat412110081 agm 12v 100Ah Super Cycle Battery
Manufacturer:
Victron Energy