Victron Multi 12/500/20-16 230V Inverter 12V
Product number:
1-67-011410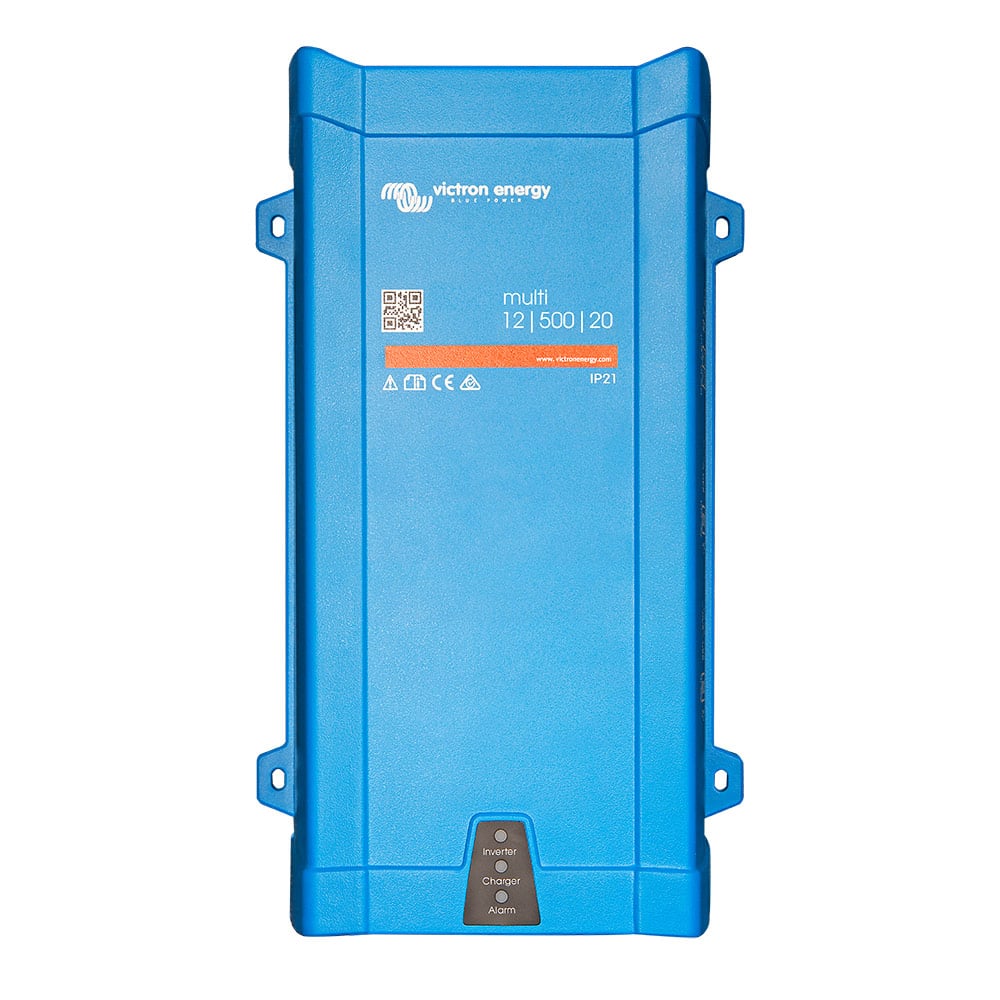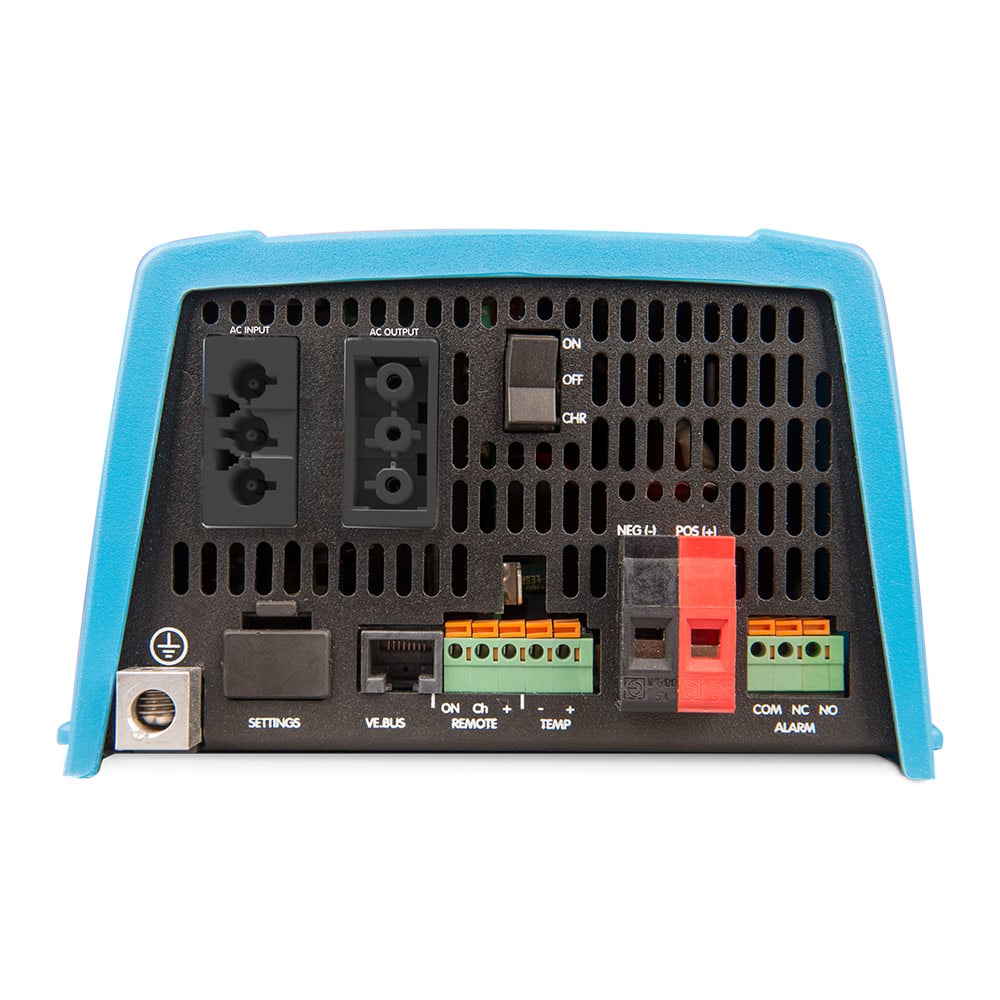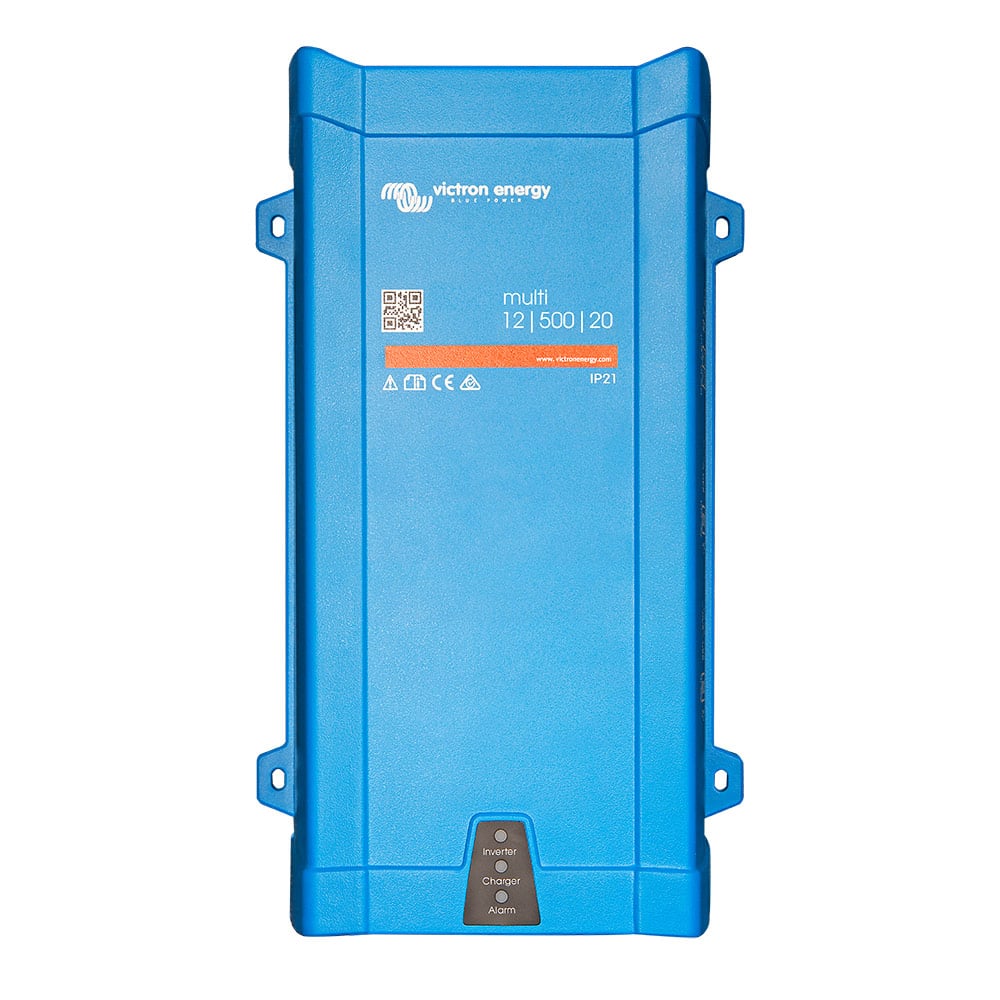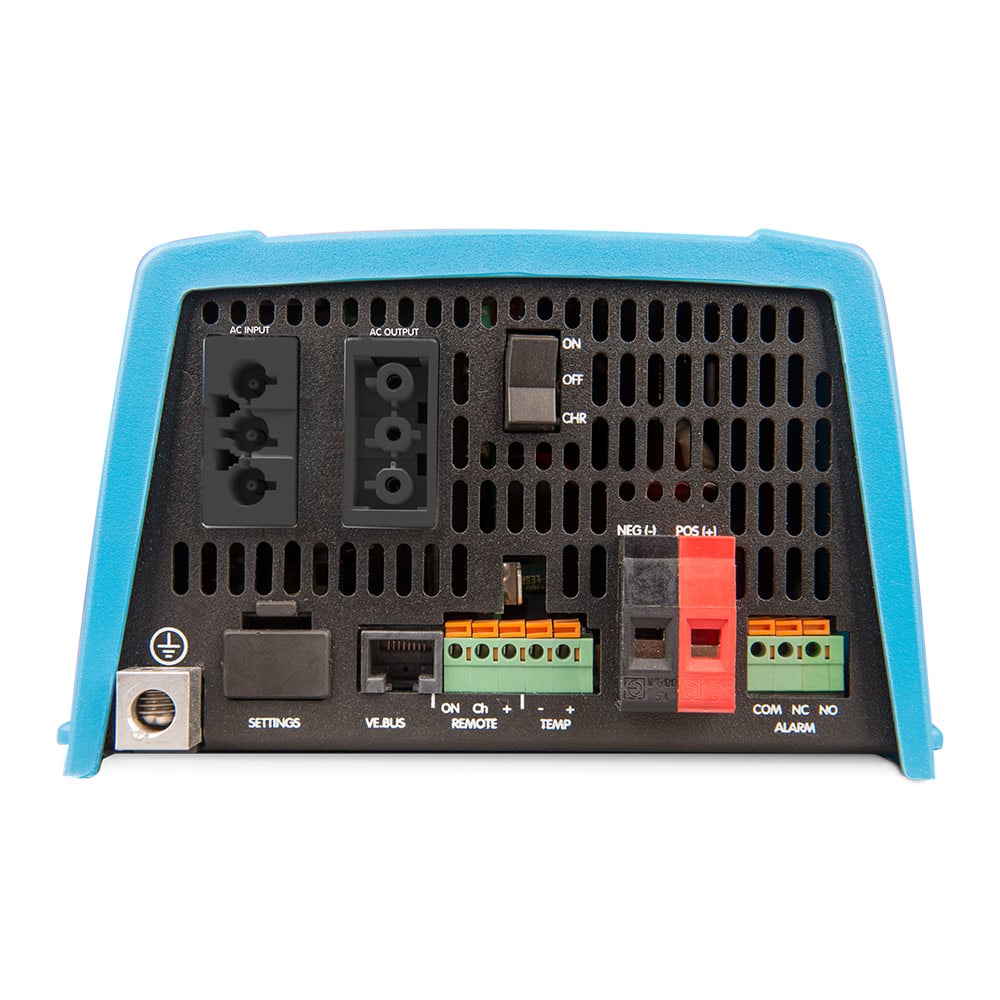 Product number:
1-67-011410
The MultiPlus 12/500/20-16 (pmp121500000) from
Victron Energy
is a slimmed down version of the successful
Multiplus
Series and provides 500w of continuous power at 230v and 50Hz. Besides the sine wave voltage converter that converts the 12v dc voltage of your battery into a perfect 230v ac 50Hz sine wave voltage, the Multi 500 is also equipped with a 20a strong battery charger and a 16a transfer switch. This makes it very interesting for a wide range of applications and at a comparatively very reasonable price.
essential features of the Multi 12/500/20
500w continuous power and 900w peak power, for 12v battery voltage
Device combination sine wave voltage converter, 16a transfer switch and 20a battery charger provides purest 230v sine wave voltage and a clean 50Hz frequency
thanks to transfer switch can be used as usv solution for uninterruptible power supply
can be used for grid connected self-consumption systems that only draw power from the grid operator when battery capacity is insufficient or other programmable events have occurred
programmable relay
proven quality and reliability
provides solid protection against overload and overheating
versatile in mobile and stationary applications
can also be used for highly sensitive electrical equipment
applicable in usv solutions
programmable relay

The Multi 12/500/20 has a programmable multi-function relay which operates as an alarm relay in the basic setting. However, this relay can be programmed for a variety of additional functions, such as a start relay for a generator

Control and remote operability

The configuration takes place via a 3-position switch (DIP switch) directly on the multi. the maximum charging current strength of the AC input can be set. A VE.Bus or other communication ports as in the Multiplus series have been omitted.

Lightning-fast, automatic 16a transfer switch

In the event of a power supply interruption or generator shutdown, Multi immediately switches to inverter mode to supply the connected loads. This happens so fast (less than 20 milliseconds) that e.g. the operation of computers or other electronic equipment continues without interruption (uninterruptible power supply - ups functionality)

powerful 4-stage battery charger
Adaptive 4-stage charging characteristics: constant current ("bulk") phase, constant voltage ("absorption") phase, charge retention voltage ("float") phase, storage voltage ("storage") phase

The battery charging system is controlled by microprocessors and can be adapted to different battery types. The charging process is adapted to the battery usage by adaptive control

other highlights of the consumed charger include:
variable constant voltage time
2 DC outputs for charging board and starter battery
Extended battery life due to temperature compensation
less battery aging due to integrated storage mode
less harmful gas formation due to battery save mode
For a detailed description of the charger's performance, please refer to the user manual which you can find under "Downloads" above.
BackUp system: alternating current even in case of power failure
The Multi 500 can be used in non-grid connected applications as well as in grid connected PV systems or alternative energy systems. Software is available to detect a grid failure.
What is the difference between the Multi 500 and the Multi(Plus) 800 and Multiplus series?
To clarify the differences, here is a small table that contains the criteria in which the device families Multi(Plus) and Multiplus differ
Distinguishing features of the 3 Multi families

| | | | |
| --- | --- | --- | --- |
| | Multi 500 | Multi(Plus) | Multiplus |
| 2 ac outputs | - | - | Yes |
| Parallel connection of multiple devices | - | Yes | Yes |
| Series connection of multiple devices | - | - | Yes |
| completely remote controllable | - | - | Yes |
| VE.Bus connection | - | - | Yes |
| PowerAssist function | - | Yes | Yes |
| PowerControl function | - | Yes | Yes |
Scope of deliveryg
1x Victron Multi cmp125010000 12/500/20
1x instruction manual
Manufacturer:
Victron Energy
Product Type:
Compact unit combination of sine wave inverter 12/230V.
Warranty:
5 years manufacturer's warranty 2